We need to talk about Kevin
Mediawatch was mightily impressed by Kevin de Bruyne last night, which is hardly news. So too was the Daily Mirror's John Cross, who purred about the Belgian in his reaction piece.
'Kevin De Bruyne looks as if he is ready to give Manuel Pellegrini the best leaving present ever. De Bruyne's return to fitness has given City an incredible lift which might just carry them all the way to the Champions League final.

'His remarkable 76th minute winner puts them into Friday's semi final draw and leaves City dreaming of the most remarkable European success in this rollercoaster season of upsets and shocks.

'De Bruyne gives City their X Factor in the way Lionel Messi does for Barcelona and Cristiano Ronaldo for Real Madrid. De Bruyne turned down Paris Saint-Germain to join City for £55m last summer and how the French champions must regret missing out.The Belgium playmaker has been back for just four games after a two month lay-off but has made all the difference, showing his class and quality.'
A quick glance across at the Daily Mirror's match ratings has De Bruyne awarded a mark of 7/10. He might 'give City their X Factor', but he was no better than Thiago Silva, Maxwell, Adrien Rabiot and Zlatan Ibrahimovic, apparently.
Those match ratings were compiled by the purring John Cross.
Reject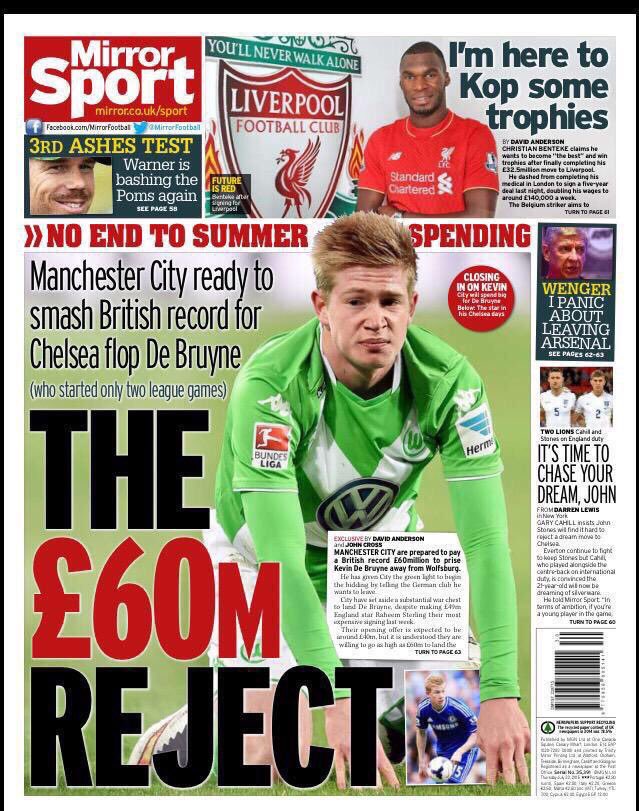 Convinced yet?
Zlat's entertainment
'Paris Saint-Germain hero Zlatan Ibrahimovic puts over-hyped Premier League flops to shame. Alan Shearer, sadly for some, has got it right. His claim this week in The Sun that Sergio Aguero is the only real world-class player in the Premier League is not what Richard Scudamore and the self-deluding flag wavers want to hear. The shocking lack of true top-drawer quality may change over the summer when Manchester City and Chelsea hand huge transfer funds to Pep Guardiola and Antonio Conte' – Steven Howard, The Sun, April 6.
That 'shocking lack of true top-drawer quality' was still enough to put Ibrahimovic's side to shame.
Slight difference of opinion
Nervy start from #PSG. It's almost as if they've never played in this formation before…

— Matt Spiro (@mattspiro) April 12, 2016
PSG playing worryingly, intimidatingly, brilliantly well. Man City need to get going again…

— John Cross (@johncrossmirror) April 12, 2016
Grim fairytale
It has been a good season for the fans of the word 'fairytale', given Leicester's rise to the Premier League summit. However, Mediawatch has seen it creep into other less heart-warming situations, and can't help thinking it may lose its true meaning.
Take Martin Blackburn in Wednesday's The Sun, on Zlatan Ibrahimovic moving to Manchester United:
'He has shown enough in the two legs against City to suggest he could still be a big hit in the Premier League. Ibra is not a Van Gaal player by any means. It would be a major clash of egos for starters. But for all the criticism levelled at the Dutchman, at least he has stuck to the club's tradition of blooding its crop of talented youngsters.

'The Swedish international's age — he is 34 — is the one thing that makes you wonder if such a fairytale could really happen.'
A 34-year-old striker with the biggest ego in the game reportedly requesting £600,000 a week for his next move? It's really one to tell the grandkids.
Yellow fever
One of the Daily Mirror's five things 'learned' from Manchester City vs PSG was that the referee should never be allowed to officiate in the Champions League again after only issuing Kevin Trapp a yellow card for his foul on Sergio Aguero.
Strong.
Walk in the Park
'Park Ji-Sung: I'm disappointed with Man United under Louis van Gaal,' reads the tweet from the Daily Express. It's always nice to complete the set of ex-players having their say.
'Key player under Alex Ferguson: What I really think about Louis van Gaal's Man United' is the headline on the Express' piece, combining both clickbait culture and weird vagueness in perfect harmony.
So, how has Park slammed Van Gaal?
"Wow, that's quite a difficult question [will Manchester United finish in the top four?]. "They still have a chance, if they perform continually well. This season is up and down quite often. It's not good for the team. Hopefully they make it and I want to see Man United in the Champions League."
Boom.
Lowest form of wit
'Chants of 'you're just a s*** Andy Carroll' were harsh on Ibrahimovic… he showed enough to suggest he can score plenty in the Premier League,' reads the headline on MailOnline.
Quick point, guys: Manchester City fans were not being entirely serious. They probably think that Ibrahimovic is better than Carroll. In short, they were taking the p*ss, as football fans tend to do.
Next week on the Mail: Bolton Wanderers fans claiming that their team are "by far the greatest team the world has ever seen" are worryingly deluded.
Favourite waste of time
'West Ham are favourites against Manchester United, says Slaven Bilic' – Telegraph Sport.
Actual quotes from Bilic:
"Every away game, no matter who we play we are underdogs. At home we are slight favourites, but when it comes to Man United I don't know. I don't gamble so I don't know a lot about it. For me it is easy to say it is not important who is favourites because it is a game of football.

"What worries me a little bit is every time United were down, they pulled out a result, whether it was against Liverpool at the beginning of the season or Arsenal, every time – make no mistake we know that. We aren't going to make our players be afraid of United, but there will be respect because they know who is coming and of course United are capable."
"I don't know" and "it is not important" became "we are favourites" very quickly.
Questions, questions, questions
'Is @DeBruyneKev key to @MCFC's success? Let us know for Sky Sports Now using #SSNHQ' – @SkySportsNewsHQ, April 13, 9.17am.
'What will decide the @SkyBetChamp race? Let us know using #SSNHQ' – @SkySportsNewsHQ, April 13, 9.26am.
'Who will win the Old Firm – @RangersFC or @celticfc? Let us know using #SSNHQ for Sky Sports Now' – @SkySportsNewsHQ, April 13, 9.44am.
'What is the secret to @LCFC's success? Use #SSNHQ and your tweet could be featured on Sky Sports Now!' – @SkySportsNewsHQ, April 13, 9.48am.
'What do @Arsenal need to change to win the @PremierLeague next season?' – @SkyFootball, April 13, 9.55am.
'Will @ManUtd deal with @AndyTCarroll tonight? Let us know your thoughts using #SSNHQ' – @SkySportsNewsHQ, April 13, 10.05am.
A heady 45 minutes for the Gods of social media interaction.
Our answers: Yes, points, don't know, lots of reasons, points, don't know.
Ask a simple question
'Pell vs Blanc – Who won battle of the bosses?' – The Sun.
Manuel Pellegrini. Or 'Pell' if you prefer. Happy to help.
Metro headline of the day
'Arsenal set to sign brilliant attacker in coming days after months of negotiations' – Metro.
It's 16-year-old Samuel Chukwueze of Nigeria's Diamond Football Academy. Naturally.
Question of the day
Would Robbie Savage pay to watch Kevin de Bruyne yet?
Worst tagline of the day
'Cris hat-trick is Berna-wow' – The Sun.
So bad it's almost good.
Recommended reading of the day
James Horncastle on AC Milan.
Archie Rhind-Tutt on Jonathan Tah.
Gareth Bland on Anderlecht and Club Brugge.
---