16 Conclusions: Sheffield United 3-0 Chelsea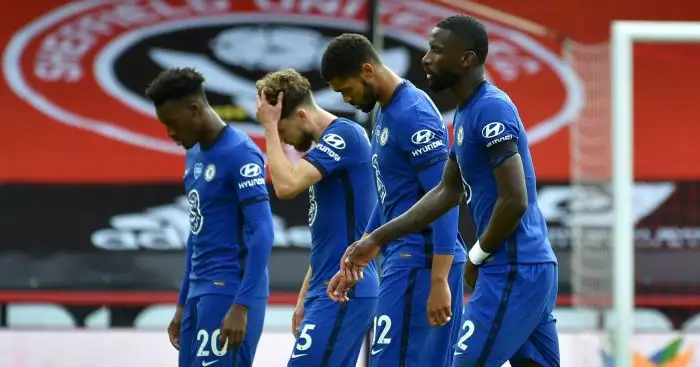 This was a showcase of Sheffield United at their best and Chelsea at their worst. "Attitude" alone was not "the difference".
1) There were two passages of play that truly captured the essence of Sheffield United against Chelsea. The wait for the first was not long: David McGoldrick's kick-off was played directly to John Egan, who found the head of Oli McBurnie with unerring precision. His flick reached Enda Stevens, who combined well with Ben Osborn to play Jack O'Connell into area on the left. His cross was put out for a corner by Mason Mount. That was Chelsea's first touch.
Sixteen seconds had passed and the visitors were already chasing shadows. The only surprise was that they didn't concede from the subsequent delivery.
Then in second-half stoppage-time, a Phil Jagielka throw-in caused as much havoc as that basic description suggests. Olivier Giroud was robbed by George Baldock, Jorginho was evaded like tax in Monaco and Stevens could not quite finish Osborn's unselfish lay-off.
For that hunger not to waver from 0-0 to 3-0, that effort in the opening salvo to be matched in the closing stages and that glorious defence be so effective at both ends throughout requires phenomenal coaching and remarkable talent. Sheffield United are special.
2) Even more so because the Blades had such an unremittingly terrible June. That draw with Aston Villa is given an increasingly unflattering sheen with each passing day of hindsight. Successive 3-0 defeats sapped away further at momentum and energy. Exiting the FA Cup was a mouldy cherry atop an inedible cake.
A brilliant season was being redirected, if not entirely derailed.
Sheffield United were tenth on July 1, four points above 14th and eight below 6th. They would have been forgiven for looking down instead of up. Yet four games against teams above them has breathed new life into a flagging campaign. Victories over Tottenham, Wolves and Chelsea – a hat-trick only Liverpool have also completed this season – as well as a draw with Burnley, who the leaders themselves couldn't beat at home, has them back in the European mix.
It is difficult to verbalise just how impressive a feat of character that is. From the manager down to the players and beyond, results like these after struggles like those are testament to a club sure of its path, its methods and itself.
Chris Wilder has to be the best manager in England for fans that follow their team week in week out. Geezer is absolutely spot on, says it how it is every time. Sheffield Utd are everything I wish Ipswich were. So jealous of them

— Joe O'Dwyer (@Joe__ODwyer) July 11, 2020
3) Chelsea fans should perhaps be concerned at Frank Lampard professing to have "learned a lot" from such a chastening defeat.
If it has genuinely taken 12 months and 35 Premier League games to embrace lessons such as 'Jorginho is not an adequate defensive shield' and 'Andreas Christensen is six inches shorter when challenging for a header', reports of the manager's intelligence have been greatly exaggerated. Chelsea were showing these deficiencies in August; hell, Derby were exhibiting many of the same problems in early 2019.
Maybe it was just for the cameras, a public show of dissatisfaction to precede private introspection. It might have been a throwaway comment, albeit one meaningful enough for it to resonate with certain players. But if it was an honest admission, that is mightily worrying.
4) The Blues kept 16 clean sheets and conceded 39 Premier League goals last season. They have managed seven and allowed 49 respectively this campaign with three games remaining.
So while comparing the points totals of Maurizio Sarri and Lampard at Stamford Bridge is largely rendered facile by the slight difference of an Eden Hazard, that excuse does not wash in defence. With the same composite pieces, minus David Luiz and plus Kurt Zouma and Reece James, Chelsea look considerably less secure and stable under one manager than the other.
They were certainly capable of capitulating with Sarri in charge but the Italian introduced a general organisation and structure that is now painfully absent. Lampard's most important signing this summer would not be Hakim Ziyech, Timo Werner or Kai Havertz, but an accomplished, specialist defensive coach.
5) Lampard, however, spoke recently of the club's set-piece issues in particular. He noted that Chelsea simply "don't have that size" in their team and that "there's a huge relation to personnel," pointing to Liverpool before and after Virgil van Dijk.
It is a lazy reference point. Van Dijk did transform that defence but from a solid one into a unit capable of winning the title. Liverpool conceded 42 goals in 2016/17 and 24 in 21 games of 2017/18 by the time the Dutchman joined that January, ranking fifth and sixth respectively. Jurgen Klopp had improved that area of the team and earned the right to go one step further externally. Chelsea have the worst defensive record in the top half and have conceded at least 12 more goals than every other side in the top seven. It will not be a mystery if they miss out on the Champions League.
In any event, it is pointless to stick another coat of paint on the wall without properly treating the damp first. The foundation has to be there to begin with and each of the three goals displayed enough systemic issues to show that Lampard would be a fool to simply change the personnel. It would help a little, but not enough.
The issue of defense is not JUST a personnel problem. We had these same players under Maurizio Sarri & we had the 3rd Best defensive record last season! So, this is also down to the coach. Lampard needs to figure out the systematic issues if he wants to compete at the top

— Nouman (@nomifooty) July 11, 2020
6) While Sheffield United did not score directly from a dead-ball situation, the first two goals can be traced back to one. A throw-in on the left led to the cross from Baldock on the right that was eventually converted by McGoldrick. Mount had tried to dribble the ball out of his own area, while McBurnie was completely unmarked at the back post and McGoldrick barely had to work to slip through Christensen and Zouma's collective grasp.
The second was scored within ten seconds of a short free-kick taken just inside Chelsea's half. James and Willian failed miserably between them to prevent a one-two between Stevens and Osborn, the former finding McBurnie with a picturesque cross. The header was great but Christensen had completely abandoned his marking duties and afforded the striker the freedom of the area. In both instances, Chelsea were undone almost immediately after breaks in play that gave them opportunities to regroup and focus. They locked the doors from corners but left other windows wide open.
7) It was Osborn's awareness and movement that facilitated the second, ghosting in from behind James to offer Stevens a passing option and play him into space down the left. The 25-year-old has been a revelation since his proper integration into the first team, waiting until July for his first Premier League start but playing every minute of wins over Tottenham, Wolves and Chelsea, as well as the Burnley draw, thereafter. He brings a certain midfield energy with an ability to switch from defence to attack seamlessly. John Fleck will have to fight to earn his way back in.
8) That speaks to an underrated strength in depth at Bramall Lane, but Egan and O'Connell might be the closest players they have to irreplaceable. They have been pivotal in the last two weeks in terms of restoring defensive solidity but also providing a platform going forward.
Few are better than Egan at maximising and diversifying distribution from deep. O'Connell is so effective on the overlap that his stand-in often suffers for the comparison. Jack Robinson did well enough as an alternative but the drop-off in terms of quality is noticeable. Sheffield United have won three and drawn one since Egan returned from suspension and won two, both with clean sheets, after O'Connell's recovery from injury. As long as both remain available, Blades will prosper.
9) The game was won and lost between the 8th and 42nd minute. In that time, Sheffield United had three shots and scored two goals despite seeing about one-fifth of the ball and completing two-thirds of their passes. Chelsea did not create a single chance with 77.1% possession and a 90% pass accuracy.
It makes little sense until you compare the strikers. Tammy Abraham had 11 touches and his closest to Dean Henderson's goal was around 30 yards out. McGoldrick and McBurnie had 12 and 10 respectively but they were dotted around the pitch and showcased their impeccable hold-up play and sacrificial defensive work. Is it really a coincidence that Chelsea have only won one Premier League game Abraham has started in 2020?
You're rarely going to create anything with Tammy Abraham on the pitch. That's made 10 times harder when Azpilicueta & Willian can't cross.

— CASDaily (@CFCDaily) July 11, 2020
10) McGoldrick and McBurnie had as many shots combined as Abraham. Both Sheffield United strikers also made two clearances each and McBurnie tormented Christensen to the point of half-time substitution.
The goals were really just an added bonus for two of the best proponents of the modern low-scoring striker. The point is often wilfully missed in favour of social-media banter and stoking club rivalries but there is a reason McGoldrick is so adored by the club and the fanbase despite these being his first league strikes since April 2019. The typical work ethic and altruism was there on Saturday and gave Sheffield United a foothold. That they were finally adorned with a couple of goals does nothing to negate that.
11) Jorginho was awful. That much is clear. But partnering him with Mount and Ross Barkley in a midfield three was akin to giving someone an umbrella and asking them to stroll into a typhoon. Sheffield United allowed him to recycle possession between the centre-halves but blocked off passing lanes brilliantly otherwise, timing their traps to perfection. When they attacked, he was simply not equipped to deal with it.
Lampard cannot make that mistake again. Fielding two attacking midfielders in that formation was negligent, especially with Mateo Kovacic on the bench. Even Ruben Loftus-Cheek offers more protection to a defence in grave need of it.
12) Well done to Graeme Souness for not blaming Chelsea's performance on Paul Pogba. But his post-match assertion that "if you were to pick a starting eleven from the players on both teams, I'm not sure if any Sheffield United players get in," seemed wide of the mark.
He went on to explain that "the difference" was "attitude, attitude, attitude," which is an over-simplified compliment. He is not wrong in that Sheffield United approached the match with far greater clarity and focus but that does them a typical disservice. While he likely said it for effect and to make it seem like an even bigger achievement, only a fool would not take Henderson, Egan, O'Connell, Stevens and at least two of those midfielders at Chelsea at the very least.
Praise them for their mentality by all means but diluting it solely to that is patronising. These players are quality as a team but many would improve most sides around them as individuals.
Love the ignorance of some pundits.

Souness: "You'd pick every one of those Chelsea players over those SHEFFIELD players, it's just the attitude that's the difference."

Another one for the wall…

— James Smith (@JimmyTheBlade1) July 11, 2020
13) Oliver Norwood is a prime example in this case. He was dreadful against Manchester United but has been close to impeccable since, culminating in a peerless performance at Bramall Lane. His range and variation of passing was as invaluable as his ball-recovery work and positional play. Jorginho would have been forgiven for stopping to take notes on a supposedly inferior technical player.
14) Reece James, then. Were we all seduced by those swinging crosses and marauding runs? Those highlights of him at Wigan were intoxicating; the reality less so.
His positional awareness is sometimes non-existent. The failure to sense the danger for the first goal and delay in reacting to it was critical: why follow Osborn's run when the space he left was eminently more of a problem? Sheffield United targeted that right-hand side in the first half for a reason and it showed.
At 20, there is time for him to develop and improve. But is there space to do so at a club hoping to compete for titles and trophies? It doesn't feel like Chelsea can afford to wait to see if he comes good or not as he has become something of a liability in the first team already.
15) The short-term outlook at Chelsea suddenly looks relatively bleak. Norwich should provide a morale-boosting three points in midweek but fixtures against Manchester United, Liverpool and Wolves to close out the season are the very definition of make or break. That kind of run may have reinvigorated Sheffield United but it is difficult to see it having the same effect on the Blues.
That could only further emphasise the gulf between a Champions League-standard attack and Championship-level defence. Hakim Ziyech and Timo Werner could form a sensational partnership with Christian Pulisic but shopping in a Europa League market will not allow for considerable upgrades at the back unless Lampard invests in the sort of defensive coaching manual Mikel Arteta seems to have got his hands on at Arsenal.
16) The most favourable or damning statistic, depending on your allegiance, was that no team has ever lost by such a heavy margin with so much of the ball. A three-goal defeat with 76% possession is a Premier League record since data was recorded in 2003/04.
This season alone, 61 games have been won by three goals or more. The winning team has had, on average, 57.1% possession. Sheffield United had less than half that and still emerged with a comprehensively deserved victory. That is testament to their work off the ball and an indictment of Chelsea's on it. This game showcased one team at their best and exposed the other at their worst.
Matt Stead