16 Conclusions on Spurs 2-1 Liverpool: Red cards, absurd late drama and significant human error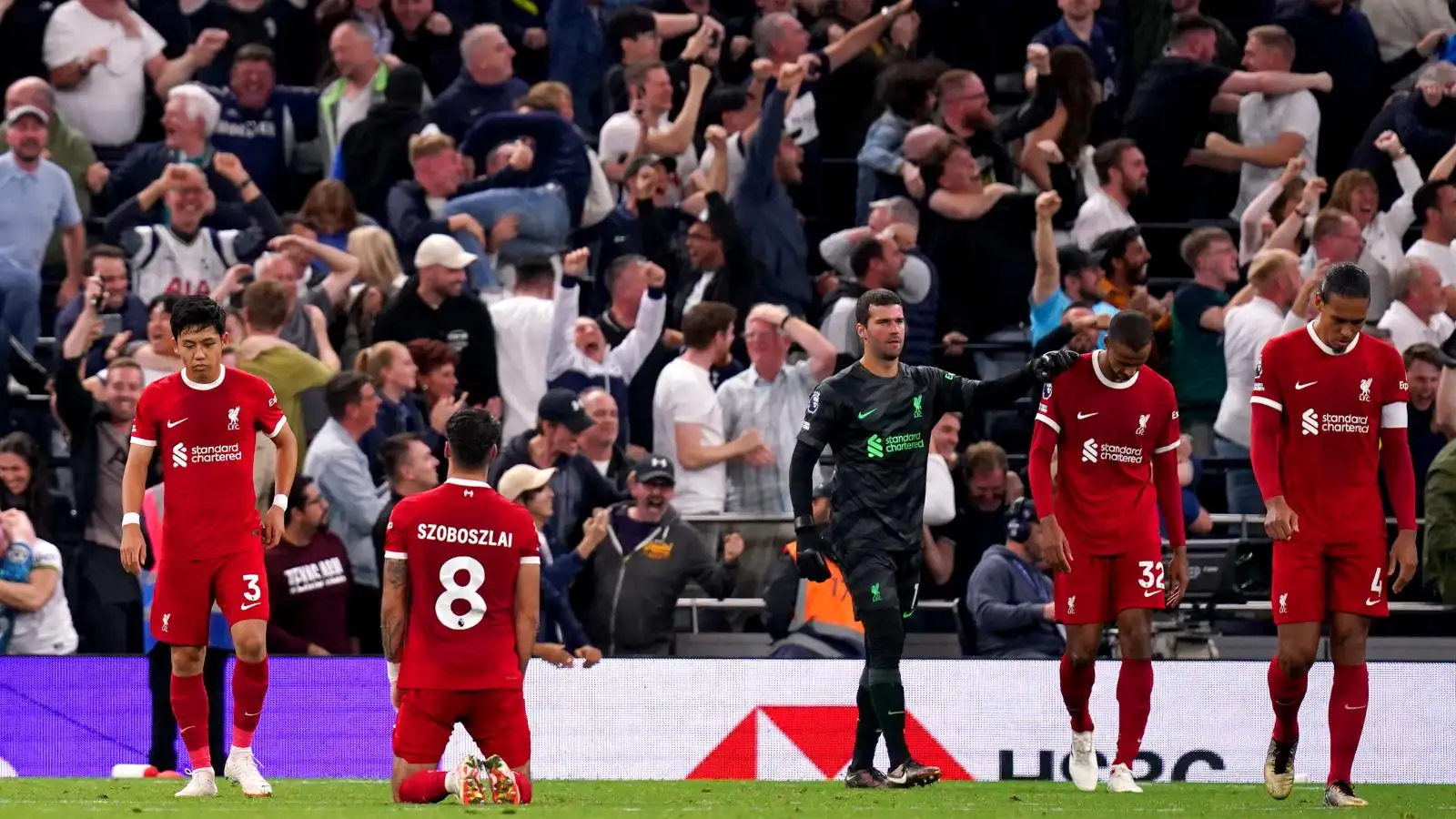 Usually, 16 Conclusions is far too many and we have serious regret about a joke the origins of which nobody can now even bother to try and remember. Sometimes, though, Liverpool have two players sent off while a VAR man looks at a big screen and fails to spot the existence of Cristian Romero before Spurs score a 96th-minute winner and 16 feels just nowhere near enough.
Anyway, Spurs are now just one point behind Manchester City and we are all existing on the banter timeline.
1. And breathe. There's 15 more conclusions coming after this one here and don't worry, we'll definitely be getting round to whichever one of the 827 things that happened in this game to piss someone off is particularly grinding your specific gears, but the first thing we want to acknowledge is the enormously welcome return of Proper Tottenham v Liverpool Matches. There was a spell there, between about 2016 and 2018, when it was just about the most reliable fixture on the calendar with Poch's best Spurs sides coming up against Jurgen Klopp's fast-improving (and also just fast) Liverpool ones. It was nearly always great, and quite often a little bit controversial.
What it always was was high-octane and high-tempo football that was enormously worth watching. This felt like a return to those days. It was a good game when it was 11 v 11, probably if anything a slightly better one at 11 v 10, and only at 11 v 9 did the levels drop a bit. And even then only really from Spurs, who then went and won the thing anyway to end a winless run against the Reds that had stretched all the way back to those before times and included the miserable Champions League final.
2. A better game 11 v 10? We genuinely think so. Gary Neville worried aloud on commentary that Curtis Jones' red card (about which plenty more later for all you fans of fence-sitting 'one-of-those' red-card analyses) might ruin the game, but it had the opposite effect.
Already an entertaining and watchable game, the red card served to crystallise and distil the game into an extended period of play either side of half-time in which both teams were doing exclusively the things at which they are best. Spurs weaved their patterns and committed men forward and pressed intently, while Liverpool remained a constant and always visibly lethal threat on the counter-attack. Spurs eventually and dramatically got their winning goal, but such a winner had looked distinctly less likely at 11 v 9 than it had at 11 v 10. And at 11 v 10 it was also near impossible to say who might get that winner. Or, given both these sides' flair for the dramatic, whether it would even be a winner at all.
We're quite sure Liverpool don't see the game remotely like this, by the way. But for those watching the first red card absolutely never threatened to "ruin the game as a spectacle" as we're so often told they do.
3. And there really must be oceans of credit given to Liverpool here. There is so much mitigation for this defeat (we're getting there, we promise) but block out all the VAR noise and offside lines and red-card debate and what you're left with was at least two brilliant yet totally different and ultimately performances within the same game. If Liverpool harness the righteous anger they feel at this result in the right way – and it feels an enormously Klopp thing to do precisely that – it could end up looking like a defining moment in their season in a good way rather than the currently very bad and intensely infuriating one.
Liverpool were the better side in a good game when it was 11 v 11, and still giving as good as they got in their own way when a man down. This was not entirely down to the genius of Mo Salah, but he was a huge part of it. At his best – and this season he is right back at it – he is one of those players who doesn't even need to be doing anything to be a problem. The latent, potential threat posed by his very existence is enough that the opposition must constantly be aware of it. You could see it even as Tottenham attacked; this is (already quite famously) a fearless Spurs team but fearless doesn't mean oblivious. The awareness of how much Salah could hurt them was always present in every pass, in every attempted throughball, in every spray out wide. Don't get this wrong, or he'll be away again.
4. Which really should have led to Liverpool taking a 1-0 lead and sending this game on a new course the outcome of which we will now never, ever know. The on-field decision to adjudge Luis Diaz offside from Salah's pass looked iffy but was certainly understandable. VAR's failure to overturn it was not.
The speed of the decision to stick with the original call left only two possible explanations. Technology failure, or human error. PGMOL confirmed significant human error, and the only possible human error that can explain that decision is – absurd as it sounds – that whoever checked the footage simply didn't even glance across to notice Cristian Romero's outstretched leg. With Diaz clearly in front of his actual marker Pedro Porro, and this season's instructions not to unnecessarily delay the game for clear decisions, the game went on with no lines drawn and no goal awarded. It's a grievous mistake but what other possible explanation remains? UPDATE: So apparently the other possible and apparently correct explanation is that the VAR forgot that the original decision was 'offside' rather than 'goal'. Which might even be worse than not noticing a Cristian Romero.
5. Yet that moment was only the most clear-cut of VAR's interventions. The most one-eyed Spurs fan knows that was onside: the only debate surrounding that particular decision is how it was made and how we make sure it isn't repeated. What can be said for that decision, though, is that it was 'only' a failure to correct an on-field error. If VAR didn't exist, that goal still would have been ruled out. The difference is that while fans and TV would still have been cross about it because that's what led us here in the first place, it wouldn't have been anything like so controversial as it is now. It's a much more understandable error when it's made in a split second by one man with one chance to make a decision that requires him to look in three different places at once. You wouldn't even call that decision incompetent, which is what it ended up being today. But even that needs reiterating. This was an incompetent decision and not a corrupt or bent one. VAR doesn't live to serve one particular club and it isn't out to get your club no matter how much it feels like it. VAR, bless it, spreads its mistakes and its inconsistencies and its significant human errors around. In any walk of life incompetence is nearly always a likelier explanation than corruption and requires far fewer people to be in on it.
6. Anyway, that conclusion was meant to be about Curtis Jones' red card. Ended up being about the offside again there, didn't it? It really was a catastrophically bad decision. The red card was not, but the point of difference to highlight was that this was VAR intruding which is really more egregious than VAR not intruding, even if the decision at the end doesn't quite feel like that. We're still not sure Jones should have seen red, but have softened our stance considerably from our initial assessment of "That's a bollocks red." He is out of control and he does, albeit accidentally, go quite hard into Yves Bissouma's shins with his studs. In modern elite football it is probably a red card.
But we have sympathy, and it's notable that just about every former pro who watched instinctively saw it for what it was. A split-second misjudgement containing no malice or forethought. Jones did not, in Neville's phrase, "set out to do him". It's abundantly clear that's correct. But does he end up sufficiently far from his intended tackle for it to be reckless? It's a tricky one, and we're just about siding with the eventual outcome here. What does make us uneasy is that when Simon Hooper is called over to the monitor the first thing he sees is a still of the end result – Jones' studs planted in Bissouma's shin – and we're not certain that's particularly fair or helpful. Nobody could deny that it ends up looking very bad, but how we arrived at that point surely also matters?
7. Let's say something about Spurs, because they did win. At the start of the season, there were two established Premier League sides who had never tasted defeat at the new White Hart Lane. Manchester United and Liverpool. Both now ticked off, albeit in contrasting fashion. They will probably admit to themselves they didn't really deserve to win this game – you'd hope so, anyway, because they'll be a better side in the long run if they do – but that's not to say there wasn't a lot that was very, very good.
And the very, very best was their move for the opening goal of the game. James Maddison didn't have his best game all round this afternoon, but like Salah he's operating at a level where his presence alone is enough to keep everyone occupied. His pass that created the goal was magnificent, breaking not one but two lines of Liverpool defence to allow Richarlison – tellingly deployed here on the left here in the absence of Brennan Johnson – to tee up the rejuvenated Son for his sixth goal of the season. It was a fine example of the very best of what Spurs are about this season and an example of the sort of goal they simply haven't been able to score for the last couple of years because they just haven't had anyone who could play the game-breaking pass that Maddison delivered even on one of his quieter afternoons for his new club.
8. Liverpool's response was exemplary, though. They've already beaten Newcastle after being forced to spend most of the game a man down and there appeared every chance of another significant rival going the same way when Cody Gakpo brought them deservedly level on the stroke of half-time. His finish was so good and so crisp after the ball appeared to get away from him that it was literally impossible for a human leg to perform the necessary contortions without getting knacked. He wouldn't reappear for the second half, and would be replaced by Diogo Jota. That was important, it turned out.
9. The second half had begun breathlessly and thrillingly. Spurs, having fatally sat back a little at 1-0 against the 10 mentality monsters of Liverpool, made no such mistake at the start of the second 45. They poured forward and hammered at Liverpool's door. Alisson, still as good as anyone in these situations, denied Maddison expertly and Son only slightly more straightforwardly.
Yet at no point during any of this were Liverpool remotely passive or allowing the game to happen to them. You'd have to acknowledge that Klopp is getting a fair bit of practice these days at setting up with 10 men, but there's no doubt he's also very good at it. Liverpool were excellent when down to 10 against a very good team indeed, and while a third goal always looked a certainty during this phase it was never clear who would get it. Klopp's approach was kind of brilliant in its simplicity; the midfield battle was largely ceded to Tottenham's numerical supremacy with Liverpool retaining bodies where they were most urgently needed in manning the defence while ensuring sufficient numbers were around for the counter-attacks that came along with pretty startling regularity. This was the best spell of the match if you like football rather than messy drama.
10. But you all like the messy drama, don't you? Instead of a third goal we got a second red card. Whatever sympathy exists for Jones does not for Jota. Arguments about the softness of his first yellow card are easily undone by noting he'd already got away with a pretty clear yellow-card offence on Bissouma within moments of coming on. And any argument whatsoever is completely obliterated by the sheer, staggering stupidity of the foul that earned the second booking mere moments after the first. If you've been booked, you just can't make those kinds of challenges any more. Basic game management stuff this, and on a day of fine football and wonky decision-making from multiple sources, Jota was the one player on either side who truly can be said to have let anyone down. It was just so, so thick.
11. And it did ruin the game. Liverpool were about to bring on Darwin Nunez, for goodness' sake. That's always a good thing for any game and we'd have been very interested to see Nunez's Chaos in a straight match-up – a footrace if you will – with Micky van de Ven's Recovery Pace. Alas, that is a battle that will have to wait for an Anfield rematch in April.
As an aside, Van de Ven might be the fastest player we've ever seen play for Spurs. And remember, we've seen Kyle Walker play for Spurs. He's absurdly fast, like hacked computer game glitch fast; it doesn't look normal and it doesn't look fair. It's impossible to outrun the man.
Anyway, Liverpool were about to bring on Nunez and had very correct designs on – for what would have been a fourth time already just in the league this season – turning a losing position into a winning one. Instead, because of Jota, they had to pump the brakes.
Instead of Nunez we got Konate, Alexander-Arnold and Endo. Fine players all, but you see our issue here. We also lost both Diaz and most gallingly Salah as Klopp took all his medicine and finished the game in a 5-3-0 that sucked all the fun out of proceedings but so very nearly worked.
12. We'll have to settle for the Celebration Police tearing into Spurs for celebrating a win that was only thanks to an own goal and against nine men but we nearly had the sight of Liverpool celebrating a draw like a win which is traditionally a rich seam for the very dullest people in football, who despise joy and hate to see anyone experience it for even a second.
Liverpool's performance with nine men was absurdly admirable. The switch to three big centre-backs was inspired, both maximising the defensive wall Liverpool could construct at one end while potentially making the most of their own single remaining source of meaningful attacking intent: the set-piece.
13. Spurs for their part lost their way. This is a result that will see their chances of the top four or heaven help us even more than that talked up and you know what? Fair enough. They're a point behind Manchester City and next week they play Luton while City play third-placed Arsenal. Things absolutely could and should get better for this Spurs team before they get worse.
But this was also a game that showed the stark gulf that exists between Spurs' starting XI (very much top four quality) and their bench (absolutely not top-four quality). When Liverpool dug in and Spurs lost Son and Maddison – both had been doubtful on Friday – they had no real clue how to go about forcing their way through or around the locked door.
14. Until they did. It took a quite embarrassing amount of time for Spurs to realise that the best way through a nine-man team containing three giant centre-backs might in fact to be going around them and crossing low rather than high, but when Pedro Porro finally tried just that 30 seconds from time the unfortunate Joel Matip could only shin the ball inexorably into the top corner to spark the sort of limbs not seen at this ground for at least a fortnight.
15. And this is where it just becomes impossible to remain sensible about this Spurs squad and its inherent and obvious self-limiting flaws. There is something happening here and it's very real and really quite extraordinary. There is, dare we say it, already something of last season's Arsenal about their belief they can win from anywhere and the sheer number of absurdities along the road to this afternoon's win is not going to shift any of the Angeball cult members from thinking the same in future games. This kind of momentum can carry teams a long way, and the sheer absurdity of the way they've acquired seven points – a total that could extremely easily, with a couple of flaps of a butterfly's wings, been zero – from their last three games is all part of the intoxicating charm.
Spurs are good, but there appears to be a chaotic force propelling them currently that defies explanation and reason. What if they simply cannot be stopped? What then?
16. We're going to end, if we may, with a no doubt useless plea for football fans to please obtain some basic grasp of the linear concept of time. This isn't even for you; we know the handsome and intelligent F365 reader needs no help here, this is more catharsis for ourselves.
You can't simply add Luis Diaz's goal retrospectively and call it a 2-2 draw. Your bet builder with Luis Diaz and Son Heung-min and Cody Gakpo all scoring wasn't let down by that one bad decision. In the alternative universe where Diaz's goal stands Spurs might even go on to win more convincingly. We just don't know. The game that played out in the alternative timeline where a man whose job it is to look at a screen and notice footballers looks at a screen and notices Cristian Romero and his enormous outstretched leg. That match no longer exists, at least not in our world. It is gone. It never was. It was never to be.
This game that we got was thus an imperfect one, but it's the only version of it we'll ever have. On which note: no, Liverpool fans (again hashtag not all etc. etc.), you'll not be getting a replay or a retrospective point or anything else. Football, like life, is just sometimes a great big twat. All you get is simmering resentment and if you're really lucky an ulcer. And if you're really really lucky perhaps a nice apology from Howard Webb.