All hail Gomez, Germany's comeback kid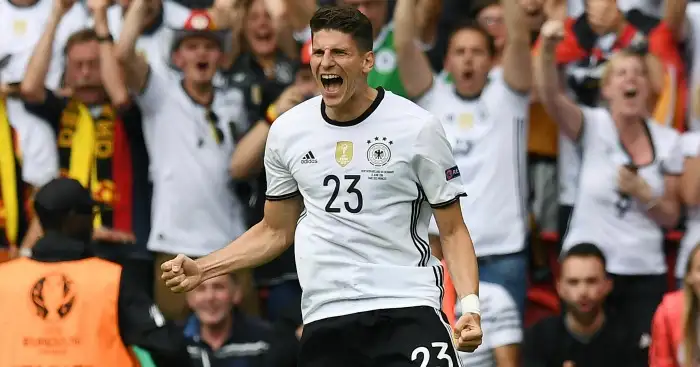 This has not been a successful tournament for strikers, only adding to the concern that the 'traditional' centre forward is dying out to be replaced by an all-dribbling, all-passing complete forward. Robert Lewandowski was perhaps the most obvious pre-tournament hope, but has scored no goals and had just two shots on target in Poland's four matches. France's two strikers – Olivier Giroud and Andre-Pierre Gignac – have been entirely overshadowed by their attacking midfielders, while Harry Kane has endured a miserable tournament. Neither Mario Mandzukic nor Zlatan Ibrahimovic scored a goal before their countries were eliminated.
Germany, meanwhile, started the tournament without a striker even on the pitch. Joachim Low picked Mario Gotze as a nominal centre-forward against Ukraine and Poland, but the Bayern Munich forward was used as a false nine. The emphasis was on 'false'; Gotze was criticised after both games, and has also failed to score during this tournament. Enter Mario Gomez, stage right.
Gomez is not an obviously natural fit in this Germany side. Low's squad is the youngest of any of the 24 countries in the tournament, and previously relied on quick passing and movement between Mesut Ozil, Julian Draxler, Thomas Muller and Gotze. The idea was that all four would be a fluid front four, impossible to mark and therefore difficult to control. It didn't work out that way.
Now 30, only Bastian Schweinsteiger and Lukas Podolski are older than Gomez in Germany's squad. While those two have shared 54 minutes of action so far in France, Gomez might now be Low's most important player. It is his arrival that has changed the mood.
Rather than the fluid front four, Gomez offers the opposite. In a tournament when target men have struggled to impact on games, Gomez has been an effective focal point. Against Slovakia he completed just ten passes and had 21 touches, but kept both Martin Skrtel and Jan Durica busy and held the ball up well. That allows Draxler and Ozil to make hay behind him; they did exactly that.
"It was good to try a different type of player up front: a real nine instead of a 'false' nine," said Low after the 1-0 win over Northern Ireland. "He likes to stay in the centre and that was important because they kept it compact and it gave them something to think about, freeing up people like Thomas Müller to get on the end of a couple of chances." That was Gomez's first competitive international start since Euro 2012.
It is an astonishing return to prominence for Gomez, who was only recalled by Low in November 2015 after drifting off Germany's radar. A move to Fiorentina from Bayern Munich brought only serious injury and subsequent poor form, and a career was on the wane. Gomez moved to Besiktas on loan last summer, and promptly found his scoring touch. He scored six goals more than any other Super Lig player last season.
"I've never worried about not being liked by the fans or the pundits," Gomez said last week. "I've always believed I could come back, even though nobody else seemed to believe in me." Come back he has.
This has been a tournament for the underdog thus far, with the progression of Wales, Northern Ireland, Hungary and Iceland capturing the imagination while the traditional elite have barely broken into a fast jog. You are unlikely to find the word 'fairytale' mentioned too often when discussing the Germans.
Yet Mario Gomez is writing his own personal redemption song. July 10 is the date of the European Championship final, but is also Gomez's 31st birthday. Given Germany's pre-tournament reputation for free-flowing, fleet-footed football, it would be a hell of a feat for Gomez to lead their attack in the Stade de France. Forget Lewandowski and Ibrahimovic, it is European football's once-forgotten man who is flying flag for Euro 2016's centre forwards. Someone press the button.
Daniel Storey