Apologetic Spurs 'hugely frustrated' over stadium delay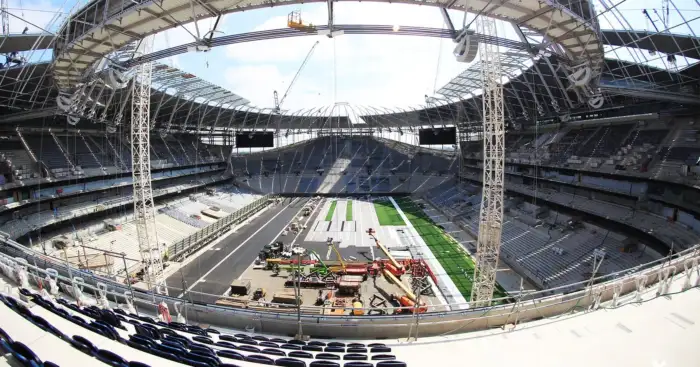 Tottenham have apologised to supporters after the "unavoidable" delay to the opening of their new stadium at White Hart Lane.
Spurs on Monday announced next month's scheduled opening had been postponed, with two Premier League fixtures now taking place at Wembley.
The London club released details of refunds and ticketing for fans in a further statement on Tuesday, which included an apology.
"Delays are common, certainly for builds of this size and complexity, however we are hugely frustrated that this has occurred with these systems at such a late stage," Spurs said in a statement.
"Whilst we would have been able to mitigate other areas, we simply cannot compromise safety. This decision was unavoidable.
"We should like to apologise to supporters for this delay. We are acutely aware of the disappointment this may cause supporters and shall now look to ensure that we minimise any inconvenience."
A safety licence must be granted before matches can be staged at the ground and that will not happen before test events – originally slated for August 27 and September 1 and now postponed – take place.
Spurs issued a statement on Monday night announcing problems with "critical safety systems" meant the new stadium would not be able to host Liverpool on September 15, Cardiff on October 6 or the NFL clash between the Seattle Seahawks and the Oakland Raiders eight days later.
No timeline is in place, leaving an element of uncertainty over when the problems will be rectified and questions over when the club will begin life at the new 62,000-seater venue.
Spurs on Tuesday insisted, contrary to reports, the option to have Wembley as a contingency plan had been arranged in late 2017.
"The option was in fact exercised at the end of last year – and not in response to this issue – as a sensible back-up given the nature of construction and the possibility of exactly such an issue arising," the club added.
In Monday's statement, which followed a board meeting becoming public, Spurs chairman Daniel Levy asked for supporters to remain patient.
"We know this will be disappointing for all our season tickets holders, premium members and our fans worldwide," he said.
Tottenham host Fulham at Wembley on Saturday, a London derby which had always been scheduled to take place at the national stadium.