Arsenal bid 'expected' as West Ham chairman Sullivan confirms Rice exit 'promise' – 'He can go'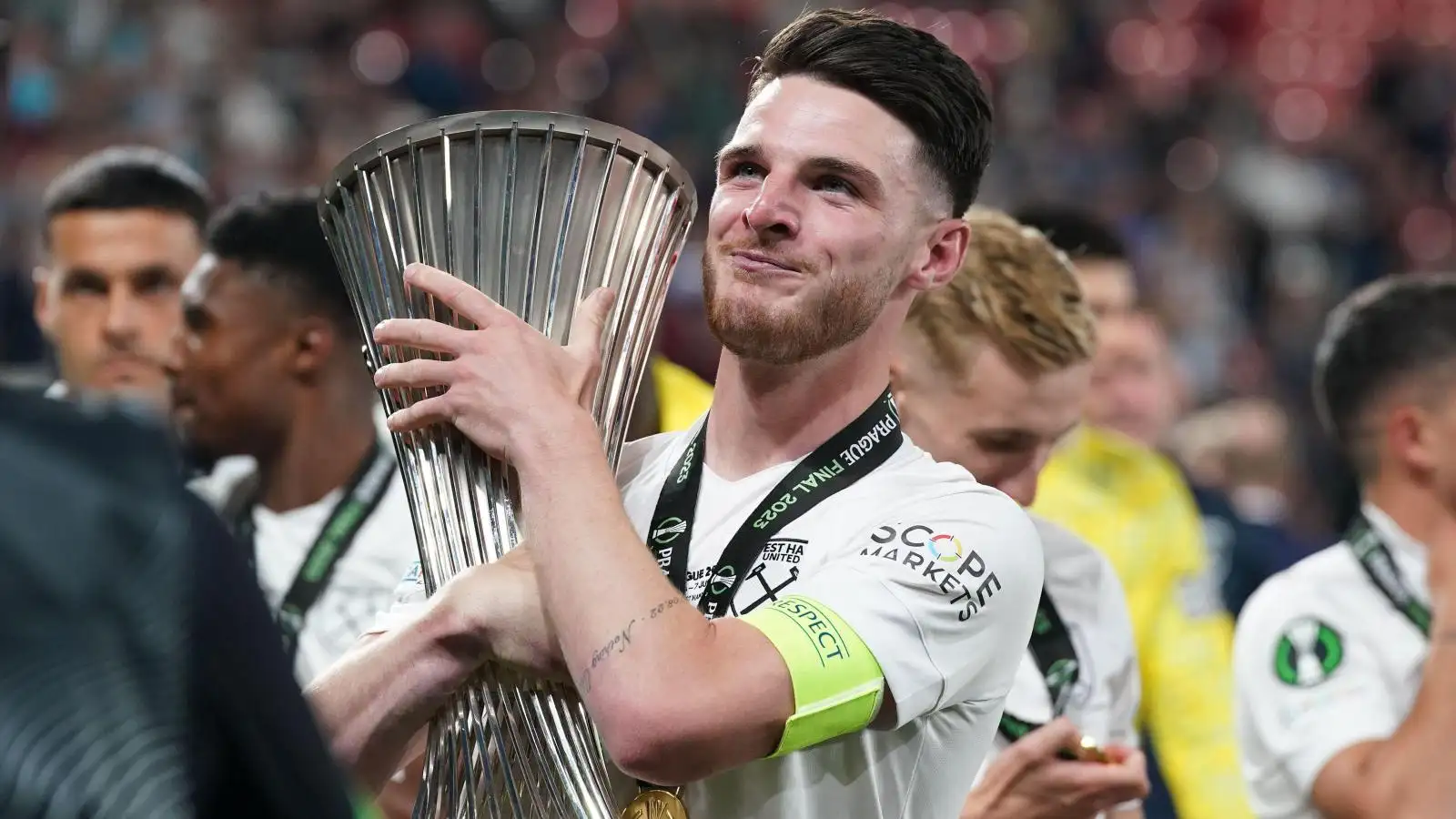 West Ham United chairman David Sullivan has confirmed that Declan Rice will leave the club in the summer amid reported interest from Arsenal and Bayern Munich.
Sullivan did not mention the clubs keen on signing the England midfielder, but did say "three or four clubs" have "shown interest".
Rice captained the Hammers to glory in the Europa Conference League on Wednesday evening with Jarrod Bowen's late winner securing a 2-1 win over Fiorentina in the final in Prague.
Several reports have claimed West Ham are resigned to losing their skipper this summer, and Sullivan has now confirmed he "promised" Rice he would be allowed to leave after turning down a £200,000-per-week contract extension.
Asked if the win over Fiorentina was Rice's last match for the club, Sullivan told talkSPORT: "I think it has to be.
"We promised him he could go. He set his heart on going.
"You can't ask for a man who has committed more to us this season.
"In due course, he has to get on and we have to get a replacement – or several replacements.
"It's not something we want to happen. We offered him £200,000-a-week 18 months ago. He turned it down.
"It's cost him £10million to stay at West Ham in that time (in lost wages). And he wants to go.
"You can't keep a player who doesn't want to be there."
MAILBOX: West Ham and Beckham doing East End proud after Europa and Messi triumphs…
Sullivan revealed no bids have been made for Rice but says he expects offers to be made on Thursday.
He added: "No. But I think the offers will start to come today.
"There are three or four clubs who have shown interest, but out of respect to West Ham, while we're still playing, you don't make offers for players.
"That's not the way decent clubs do things."
TalkSPORT confirmed that Arsenal are 'expected' to make an opening bid on Thursday with West Ham valuing the England international at a whopping £120million.
The Gunners are reportedly willing to pay up to £90m for Rice and Mikel Arteta has made him his top priority.
Rice's contract expires next year, though the club has the option to extend his deal until 2025.
Sullivan's comments have officially 'opened the bidding' for the 24-year-old with Arsenal joined in the race by Manchester United and Bayern Munich.
It has been widely reported that Rice prefers to stay in England, preferably in London, which gives Arteta's side a huge advantage in their pursuit.
United are prioritising the signing of a striker and are willing to spend around £55m on Chelsea midfielder Mason Mount, so it would be surprising to see them strike a deal for Rice, unless the Irons are happy to accept a players-plus-cash bid.
READ MORE: Premier League: Most profitable signing from every transfer window includes Ronaldo to Man Utd