Is Arsenal selling Patrick Vieira the most stupid sale of all time?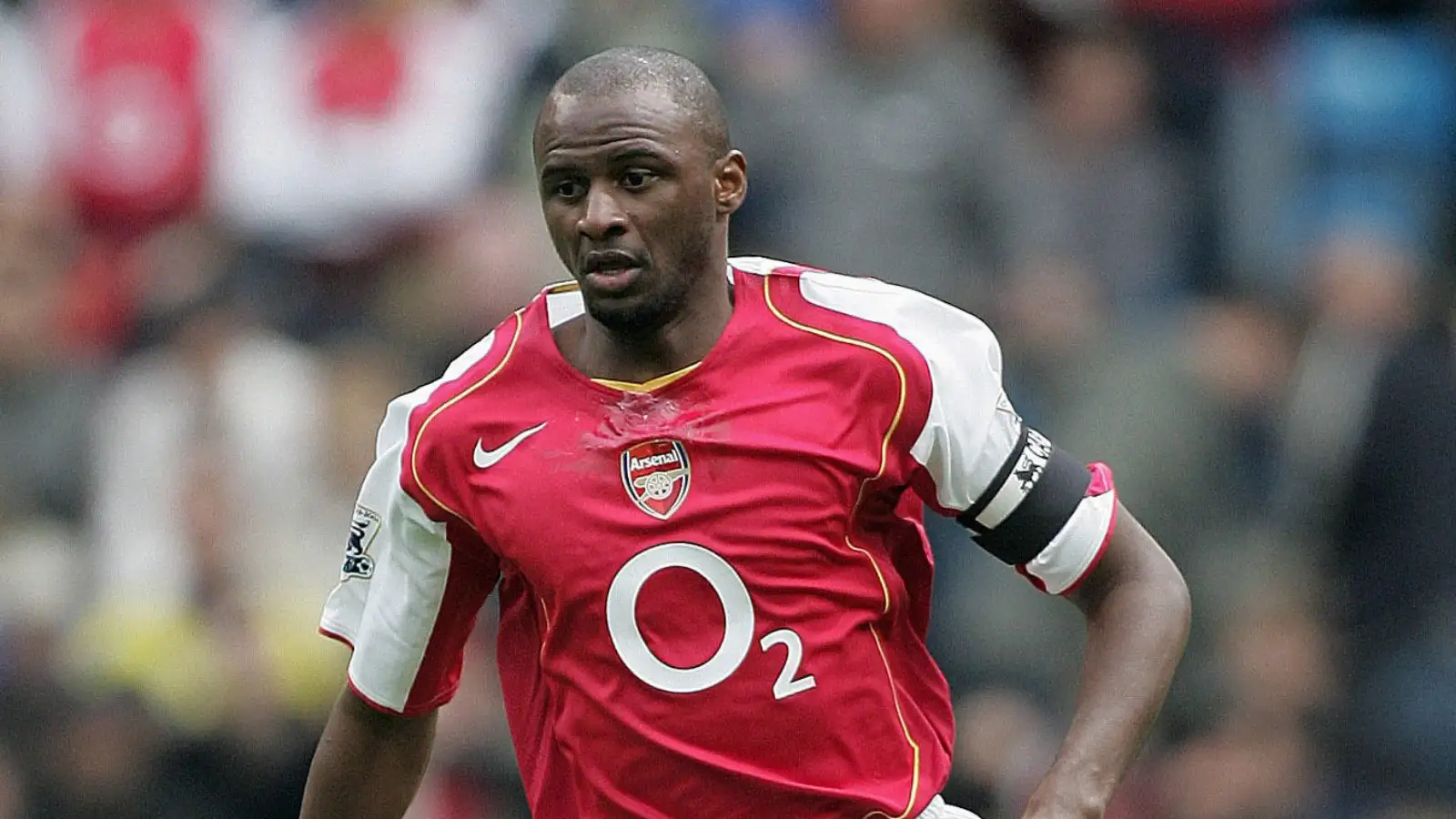 We have some views on Harry Kane, shirts and boycotting Man Utd but we lead with a question about Arsenal's most stupid sale.
Send your views to theeditor@football365.com
Was Arsenal selling Vieira the stupidest sale of all?
Wondered if you could do a top 10 of the stupidest sales?
For my money Arsenal's stupidest sale was Patrick Vieira.
I get what Arsene was trying to do. It was to clear the way for Cesc. But he was never going to fill the big man's shoes.
As he aged, Arsene could have asked Patrick to move into central defence like Desailly did in the latter part of his career.
But no, we moved him on to Juve and didn't win another trophy for NINE years.
Graham Simons, Gooner, Norf London
Would the Bundesliga count?
If Harry Kane were to go to Bayern, how long do you think it will take for criticism of him to pivot from "He's never won a trophy" to "Winning trophies with Bayern doesn't count"?
I give it approximately 3 hours…
Michael
Dear EtH
Take all the money you want to pay for Mount and another keeper, sell Maguire, McTominay and Telles, add a bit more quid and bid £100m for Kane. You paid £85m for Anthony, and he just dances for 90 minutes. Just go all out for Kane. He's worth it.
Tunji, Lagos
Follow the money on Man Utd action
I think the best line ever spoken in movies was "follow the money" from All The President's Men. It's as true in football as most walks of life.
If we truly want those money-grabbing parasites, the Glazers, out of MUFC, boycotting the Superstore for a day isn't going to cut it. We have to take the fight to them.
The evangelical assault on Target stores or Bud Light was distasteful but boy did those companies listen as soon as it hit their wallet! What we need to do is the following:
1. Refuse to purchase ANY product from MUFCs sponsors
2. Write to them and tell them why
3. Similarly identify the Glazers other businesses (they own lots of shopping malls)
4. Pick a specific game and not show up or all walk out
Create a website, tiktok, etc page to register our discontent
There are supposedly 350 million MUGC supporters worldwide with varying degrees of influence and spending power.
MUFC Supporters Trust, et al, let's mobilize and get them out!
Adidasmufc (Sportswashing? I'd rather be owned by Trump than the Glazers)
Man City do meddle but…
I've just read Dave Tickner's piece suggesting that Man City's bid for Declan Rice has been made as, 'they now deem them (Arsenal) sufficiently bothersome to include in their list of clubs in whose transfer business they are ready and willing to meddle'.
The article cites Matt Stead's from a couple of hours earlier which suggests that Man City are trying to drive up the fee rather than buy the player. This may be true in respect of Rice, who knows, it seems like the kind of thing capitalists do. But Matt Stead goes on to suggest, "it wouldn't be the first time" and gives examples.
On the basis that time is linear I would expect that meddling would first require that there is an existing situation for them to meddle in. The current situation is a good example, Arsenal show an interest in Declan Rice (existing transfer business), City make an offer, possibly just to drive up the price (meddling).
All the other examples given (Sanchez, Fred, Maguire, Ronaldo and Cucurella) are players that City have tried to buy before another club has shown an interest (existing transfer business) then dropped out as the price went too high possibly due to the other club's involvement (meddling). That seems to be Utd/Chelsea meddling with City's business rather than vice versa. Unless City tried to buy Fred just to smoke out Utd and make them overspend in which case well done.
Arsenal are apparently now included in the elite group which City target (except with the roles reversed from the other clubs in that group). Dave Tickner states targeting is a big compliment as this group is, 'historically reserved for, Chelsea and Manchester Utd'. 3D chess again from City to identify that Liverpool (who many casual viewers of football have considered City's main rivals over the past few years) are not a club that are sufficiently bothersome to be included on that list.
I know it's how you get clicks and I've read two articles with the same dodgy hook/premise so that's a win for you but sigh.
Matt Dickinson
Net spend is not Scouse math
Clearly Stijn's girlfriend has greater smarts. The idea of a xenophobic and completely erroneous and misguided statement to belittle another team's achievements is…bizarre, erroneous, amusing, confusing and eye-rolling at best.
"Scouse math"?
Imagine Apple or IBM announcing their results by only showing revenues and not costs – would that make sense? Or someone being told they are wealthy because they spent £150,000 on 3 cars, totally ignoring that 2 of them were sold for £100,000. They really only spent £50,000. Kapisch.
Net spend is a real way to judge a team's ability to pay for new players. If it weren't, then Everton should be considered a wealthy team around and have no financial issues. Of course, if you are a Chelsea or City supporter – teams that have boosted income by loans from oligarchs or sponsorship funds from allegedly fiddling the books – you want to make it look like they had exactly the same opportunity to spend big as you have. But for the bulk of the EPL teams attempting to stay within FFP guidelines and run a financially sound business, selling players to be able to afford new players is real life.
If net spend were not an accepted concept and only used by scousers, why do sites like Trasnfermarkt, Sports Illustrated, Sporting News, et al., all refer to it? And Football365.
Let's move off the idea that measuring a team's player acquisition spending is a false metric.
As for VVD, he is hot. My wife thinks so as well.
Paul McDevitt
The Italian Job
I can only assume the The_M_Rod didn't actually read the mail I sent in, but just the replies.
If he had, he would have noticed two things. First off I expressly mentioned both Zola and Vialli in my mail as exceptions. I also mentioned Di Canio and Ravanelli. Di Matteo was good and definitely not a flop but he's pretty ordinary. Imo. So apart from that list of "A few Italians who mainly played in London (This is important) in the 90's" the pickings are slim.
Next up he may have noticed that I'm not from England. So, other than an inability to resist the "Gotcha" moment of two people sharing the same name, calling me a Little Englander is idiotic. And also factually incorrect as I'm 6 1″ and Irish. Also. My entire point is that Italy is a nicer place to live than England. So there's that too.
By all means debate me but there's absolutely no need to be a total tool about it.
Brian Morrissey. Waterford. Ireland
Dortmund death
Italian players have nothing on Dortmund players when it comes to flopping in England.
Shinji Kagawa, Henrikh Mkhitaryan, Christian Pulisic, Jadon Sancho, Tomas Rosicky, Sokratis P – so much money wasted.
Against that lot only Jens Lehmann, Pierre-Emerick Aubameyang and Ilkay Gundogan can be called unqualified hits.
Jay, MUFC (maybe that's why Jude Bellingham wisely chose Real Madrid)
PS. Oh yeah and Erling Haaland who doesn't count due to being a robot. 
How it all began…flat cap to the rescue
1983, my cousins, Mark (Arsenal) and Anthony (Spurs) were trying to recruit me….this being off the back of two FA Cups in three years and a year before a third trophy in Europe by winning the UEFA Cup…Spurs were the business.
So I was leaning toward Arsenal.
Then Anthony produces a blue and white nylon flat cup with the cockerel sat upon the ball, and the words 'FA Cup Winners 1981'. I was swayed.
Spurs have won one more FA Cup, and two league cups since then. Not sure what Arsenal have won since. Fun times. Wouldn't change it for all the tea in China.
Dan Mallerman
Getting shirty
In his recent article, JN asks 'is a football shirt worth £110?' (before later admitting they actually only cost £80).
May I ask JN, "is a knock-off rock band t-shirt worth £20 (plus shipping)?" (If a polyester Nike Dri-FIT Technology(TM) football kit is 'thought to only take five pounds to manufacture', surely cotton t-shirts cost less than that to manufacture)
Different tangent this, but exhibiting addicted consumerist behaviour (insisting on buying your club's football kit – why do you need it?) while complaining that the price point is too expensive, is very funny to me. If you don't want to pay 80 GBP, don't pay 80 GBP. Wait until February onwards when the same exact shirt goes on sale. Wait until 1-2 seasons later when the same exact shirt goes on clearance. Buy a knock-off version of the shirt. Or… wait for it… don't effing buy the shirt at all!
Oliver Dziggel, Geneva Switzerland
…I didn't read the Johnny Nic article but based on the responses to it I'm not sure people really understand how shirt sponsorship payments are actually structured.
Although we call it sponsorship there are two elements; sponsorship (the company advertising on the chest and/or sleeves) which is almost always a flat fee.
Then there is kit manufacturing – a manufacturer buys a licence from the team to make a kit using their club colour and logos, for which a licencing fee is paid (sometimes a large one) but with the exception of recent deals with certain clubs which do receive a % of sales (LFC Bayern both have this) teams don't receive any money from shirt sales unless it's sold in the club shop. Even the deals with LFC and Nike still sees Nike taking the lions share with 80% but in exchange for that they paid a smaller than usual licencing fee.
The idea that a player pays his transfer fee in shirt sales isn't really correct because the team doesn't receive the money from sales, they were already paid with the licence. It's actually more common now for players to be paid from shirt sales than clubs as they can (and do) restrict rights to use their name on the kit unless they receive a % of each shirt sold with their name on it.
So is Johnny Nic right? No. Because manufacturers are paying big licencing fees BECAUSE of the huge opportunity to make big sales. Indirectly fans are putting money in the teams pocket via both kit sales and sponsorships. So he's neither correct nor incorrect really and we should just see this as an aspect of business which is mutually beneficial to all parties; companies get exposure and/or sales. Clubs get money. Fans get apparel they like to wear.
Side note : isn't it strange that we all pay massive amounts of money to essentially wear someone else's work uniform with someone else's name on?
Thanks.
Lee
…Agree with Andy the Hammer's main points on John's column, but he is incorrect on US sports teams and shirt sponsors. The NBA, NHL and MLB (with only the NFL holding out) all allow a patch sponsor on the front of each shirt, whilst not as obvious football shirt sponsors in the end the money spoke and it turned out team jerseys aren't as sacrosanct as they once were.
Nick
Souvenirs
Not sure what this is worth, but my nephew has a sock from Hal Robson-Kanu, before the Euro 2016 heroics against Belgium. Some sort of friendly, I'm a child of divorce give me a break.
Crazy kid wanted to frame it. A sock.
Another mate had a cigarette end from Kurt Cobain, useless in a diamond formation.
Another guy I worked with had David Beckham's hairband from an England game. Christ knows how. He believes it…
Do people keep this stuff?
But then again, if it was El Diego's….
Count Karnstein