The Big Six players facing a mini-season fight for their future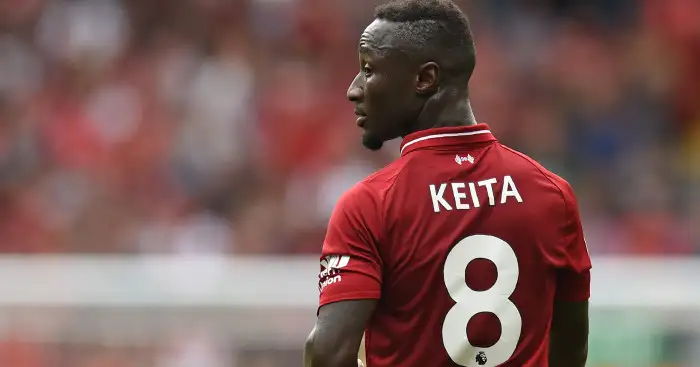 With the Premier League mini-season set to kick off, there are a number of players facing a 40-day fight for their future. Perhaps because transfer speculation has been particularly speculative after no football for three months, clubs appear to have lined up replacements for those that stand on the brink. Here's one player per member of the Big Six facing an end-of-season audition for their shirt…
ARSENAL: David Luiz
A manager tends to big up a player's dressing room "influence" when they are not performing quite so well on the pitch. As in, yes he was sh*t at actual football today, but you should have seen him patting players on the back afterwards – superb. See: Joe Hart.
Mikel Arteta says that he would "love" to keep David Luiz, citing his dressing-room leadership as a big factor. And fair enough, Arsenal do lack strength of character and a winning mentality, which Luiz – in spite of his obvious flaws – has in abundance.
David Luiz😩😩😩
Full vid: https://t.co/sCONzmUa37#arsenal #afc #brentford #premierleague pic.twitter.com/oUX8RMioai

— The Arsenal Dream™️ (@TheArsenalDream) June 10, 2020
But there comes a point – which may in fact have been a couple of seasons ago – when the 'lapses in concentration' become so frequent they become normal. The 'lapses' become the good bits. Those that suggest he would not have attempted the halfway-line ball-juggling we saw against Brentford in a high-profile Premier League game have short memories.
William Saliba, signed for £27million last summer then loaned back to St Etienne, will come straight into the team next season. Luiz's mistakes, or lack thereof, in the next 10 games will count towards whether he can be Saliba's long-term partner, or if Arsenal need to splash out for 'promised' RB Leipzig star, Dayot Upamecano.
Manchester City first up on Wednesday. Good luck David.
CHELSEA: Kepa Arrizabalaga
The Telegraph claim Frank Lampard has lined up two potential new goalkeepers, with the Chelsea boss giving Kepa Arrizabalaga a nine-game ultimatum. The Spaniard will understand the links to Nick Pope and Andre Onana, but rumours of a move for Fraser Forster must really stick in his craw, whatever that is.
But that is how far Kepa's stock has fallen. The 25-year-old lost his place to a man not quite old enough to be his father halfway through the season after a string of poor performances, and is a shadow of the record-breaking £72million player the Blues thought they were buying.
He's good with his feet, but not brilliant like Ederson or Marc-André ter Stegen. And unlike the Man City and Barcelona stoppers, he's really not very good at stopping the ball with his hands. Undeniably crucial for a goalkeeper.
Lampard looks to be building a squad to challenge for the Premier League, and recent history insists the title-winning team has a world-class goalkeeper: Kasper Schmeichel; Thibaut Courtouis; Ederson; Alisson. Does Kepa belong on such a list?
LIVERPOOL: Naby Keita
Naby Keita was trending on social media on Thursday evening. What had he done? He scored a goal in a 6-0 drubbing of Blackburn Rovers. Apparently he was "playing like prime Iniesta", and at least three people insisted "the rest of the season belongs to Naby lad".
If you think I'm going to start pushing my Naby Keïta agenda, just because he's scored in a friendly against Blackburn……..Then, you'd be absolutely correct. pic.twitter.com/EdxVGQKHu8

— Ben Webb (@BenWebbLFC) June 11, 2020
It's hard to remember a footballer who has done so little in the Premier League and is still so blindly regarded as one of the best players in the world.
He has been unlucky with injuries, and is undoubtedly talented. But maybe just not as talented as the rest of Liverpool's squad? When he's been available, he's barely been used. And when he has been used, he's done next to nothing.
We suggested a swap deal with Bayer Levurkusen for Kai Havertz, and perhaps this is the best way to use the Guinea international, rather than continuing to a bang the Keita drum in the hope it will at some point fit the rhythm of an otherwise totally-in-sync Liverpool squad.
This is the perfect time for Keita to come good under almost no pressure. If he doesn't, Klopp will surely cut his losses. Sometimes players just don't work out, and that is absolutely fine.
MANCHESTER UNITED: Andreas Pereira
For the first time in a very long time, there is a true air of optimism at Old Trafford: they have a realistic chance of Champions League football; Bruno Fernandes has got them playing some decent stuff; Paul Pogba has taken a break from complaining; Marcus Rashford is the best man in the country.
But they need to make signings. And in a time when other clubs will be tightening the purse strings amid the financial uncertainty of coronavirus, United have the wealth and status – particularly if they secure Champions League football – to have a very successful transfer window.
Their high-profile pursuit of Jadon Sancho continues to rumble on, while Van der Sar has confirmed United's interest in Donny Van de Beek, with reports suggesting Andreas Pereira could be sacrificed to make room for the Ajax midfielder.
Pereira has been a fall guy at United since his promotion into the first team, somewhat unfairly. Ole Gunnar Solskjaer is a fan of his work rate and energy, and should he impress for the remainder of the season – probably from the bench – what would likely be a big-money move for Van der Beek could be put on the back-burner…particularly with the potentially fruitful partnership of Bruno Fernandes and Paul Pogba covering the attacking bases in midfield.
MANCHESTER CITY: Leroy Sane
Bayern Munich are still very keen on a move for Leroy Sane. And with just 12 months left on his Manchester City contract, something will have to be done this summer.
Although that is likely to be the long-proposed move to the Bundesliga, a mini-season flourish could tempt City and Sane to let bygones be bygones after 18 months of tense speculation over his future.
One thing is for sure, Pep Guardiola will want to replace Sane should he decide to move. Raheem Sterling was in remarkable form for City for the first half of the season before Sane's absence took its toll and fatigue took hold of the overplayed England international. That cannot happen again.
The cost of replacing a player of Sane's ability would be eye-watering, and given the monetary implications of the pandemic, City would be wise to do everything in their power to keep the German star at the club. This could be a ten-game audition for City rather than Sane.
TOTTENHAM: Tanguy Ndombele
As Glenn Hoddle says, there's definitely "a player in there". Tanguy Ndombele is supremely talented, and it's no surprise that both Barcelona and Liverpool have been linked with a move for Tottenham's £65million club-record signing.
Jose Mourinho criticised the 23-year-old after a 1-1 draw against Burnley in March. And although the public nature of Mourinho's statement was unfair, the sentiment wasn't. Worse than looking unfit, Ndombele looked that day – as he has too often – as though he would rather be almost anywhere else.
In regard to those latest 'Tanguy Ndombele wants out' reports, he's just posted a Spurs highlights video of himself on Instagram with the words 'Nothing to report'. pic.twitter.com/TsCKEf0yLQ

— Alasdair Gold (@AlasdairGold) April 27, 2020
The Spurs midfield is packed with very similar players – those that can move with the ball, but not necessarily play key passes quickly. They need to fill the creative void left by the departure of Christian Eriksen and if Ndombele doesn't prove he's the best of the 'midfield runners', his sale could be seen as the easiest way to stump up funds for the playmaker they sorely need.
Will Ford