Big Weekend: Spurs, Anfield cheer, Flamini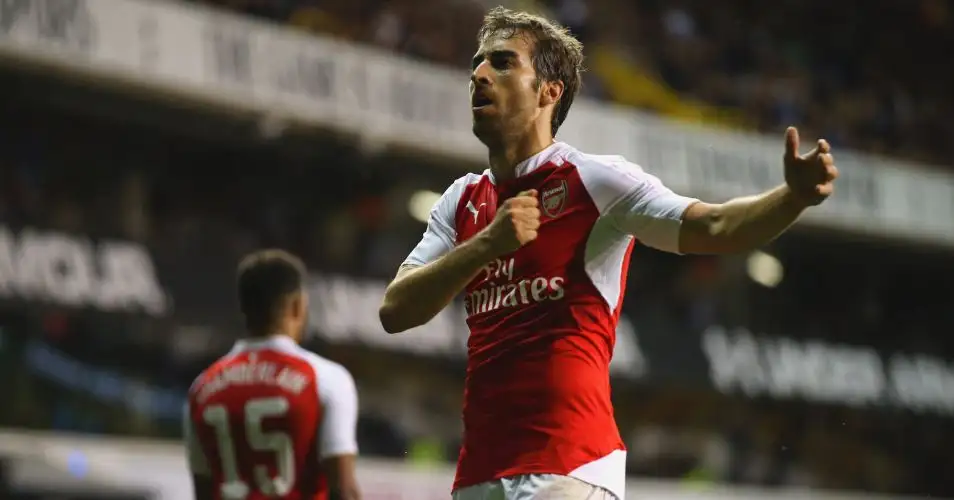 Liverpool and some Anfield cheer
After Liverpool beat Chelsea on October 31, they promptly followed that win with home defeat to Crystal Palace. Jurgen Klopp will be keen to avoid a repeat of an 'after the Lord Mayor's show' display at Anfield.
In fact, Liverpool's home form is the only thing holding them back. Klopp said he felt "pretty alone" after sections of the club's support left before the end of that Palace defeat, but fans have not had a great deal to cheer. Liverpool have taken 12 points from their seven away PL matches, but just eight from six at Anfield. 
Since beating Bournemouth on August 17, Liverpool have won only four of their ten home matches. Two of those wins were in the Capital One Cup (and one of those against Carlisle on penalties), while another was Brendan Rodgers' last home game in charge.
Klopp will be keen for the goodwill earned last Saturday to continue into this weekend's fixture against struggling Swansea, the German still searching for his first home league win in charge. Do that and Liverpool really are firing.
Leicester City
The argument made for not getting carried away by Leicester's form is obvious. The list of teams they have played so far this season is missing one or two notable names: Sunderland, Tottenham, West Ham, Bournemouth, Aston Villa, Stoke, Arsenal, Norwich, Southampton, Crystal Palace, West Brom, Watford, Newcastle.
That's pretty uncharitable on three counts:
1) They can only play the teams they are drawn to face in that order. They've not chosen to avoid most of the top clubs.
2) The big teams have also struggled against plenty of the Premier League 'rest' that Leicester have beaten. Manchester United drew 0-0 with Newcastle, for example.
3) Leicester were never aiming to win the league. It's okay to get excited about your unfancied team doing really bloody well.
Still, the point is there. The highest 2014/15 finish of a team that Leicester have beaten this season is Crystal Palace in tenth. Fixtures against Manchester United, Chelsea, Manchester City, Everton and Liverpool will give a clearer indication of where they belong.
That starts on Saturday evening at the King Power Stadium. If Leicester can beat (or even avoid defeat) against United, fans can really start getting giddy without disapproving looks from supporters of other clubs.
Tottenham
It's about this time that I get worried about touting Tottenham for the top four and beyond, but Sunday lunchtime provides Mauricio Pochettino opportunity to demonstrate Spurs' progression. Beat Chelsea and they'll enter the top four for the first time since August 2014, even if it's only for a matter of hours.
Steve McClaren
Lose at Crystal Palace and Newcastle will probably, finally, fall back into the relegation zone. Some managers enjoy a honeymoon; McClaren booked a B&B in Clacton-on-Sea in February and turned up to find his room on fire.
This week brought reports of a training ground bust-up as McClaren read the riot act. Normally that would be seen as a bad thing, but most Newcastle supporters are probably pleasantly surprised that there is a semblance of fight within the squad. Still, a 3-0 defeat at Selhurst Park will pour cold water on those dying embers.
Louis van Gaal
Defeat at the King Power Stadium last season marked the low point in Louis van Gaal's reign at Manchester United. Leicester's extraordinary comeback to win 5-3 sent United 12th in the Premier League. They promptly lost one of their next 15 in the league and moved into third. An inauspicious start had been forgiven, if not forgotten.
Should United lose away at Leicester again, Van Gaal will again be under significant pressure. They would only drop as low as fifth position, but 14 months later and the improvements in style are marginal, at best. The statistics might be satisfactory, but the aesthetics are appalling.
"Of course I am worried [about the lack of goals], but I know also goals are coming and going," said Van Gaal after United's 0-0 draw with PSV. "It's not a consequence of good performances and bad performances. We didn't score and the next game you can score out of nothing."
Van Gaal better hope that United can indeed start scoring again against Leicester, because that 'sh*t happens' reasoning will not fly for long at Old Trafford. United have failed to score in 12 of Van Gaal's 51 league games in charge, or 23.5%. Between 2010-2013 under Alex Ferguson, it was 8.9%.
Alan Pardew
Maybe we're being harsh on Pardew. Maybe he doesn't hold any bitterness for his perceived mistreatment at Newcastle. Maybe he doesn't want to get one over on the club that allowed him to leave, and the supporters who booed his name.
Hahahaha.
Sunderland
Victory over Crystal Palace on Monday night was precisely the result that Sam Allardyce was brought in to achieve. Now to continue the resurgence against Stoke on Saturday. There are countless reasons for Sunderland's perma-dirge, but an inability to string more than one decent performance in succession is the most obvious. They have won successive Premier League games once since May 2014.
Remi Garde and Aston Villa
After a week in which Aston Villa's new manager has banished Jack Grealish to the reserves and told him to be more professional, Garde would quite like the rest of his team perform at a level above amateur.
Lose at home to Watford on Saturday and things begin to feel worryingly inevitable. A total of 36 points was enough to stay up last season, but the increase in competition across the Premier League is likely to cause that to rise.
Villa need 35 points from 25 league games to reach the magic 40-point mark. That's as many as they've picked up in their last 48.
Dele Alli's replacement
Alli's yellow card was the only negative of a wonderful performance against West Ham last weekend. It was the midfielder's fifth in the league this season, a reflection of his eagerness to impress than any mean streak.
Whoever Mauricio Pochettino chooses to replace Alli against Chelsea has a heck of a job on his hands to match the 19-year-old's level. One of Ryan Mason or Nabil Bentaleb will have their performance watched very closely indeed (and yes, we're doing 16 Conclusions).
Mathieu Flamini
Because he'll need to do it against far better sides than Norwich.
Daniel Storey