Bournemouth record signing 'getting closer' to debut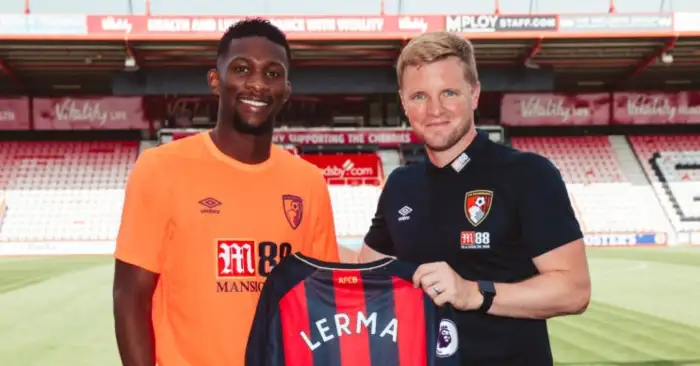 Bournemouth fans will not have to wait much longer to see record signing Jefferson Lerma in Premier League action for the first time, according to manager Eddie Howe.
Colombia midfielder Lerma joined Bournemouth from Levante in a £25million deal ahead of the transfer deadline.
However, the 23-year-old was not involved in the Cherries' season-opener against Cardiff as he continues to build up match sharpness following his return from the extended summer break he took after the World Cup.
Lerma has been compared to France's N'Golo Kante, Chelsea's midfield enforcer, in terms of breaking up play before launching quick counters.
Howe, though, is determined not to rush things with Lerma, who could yet find himself in the squad for Saturday's trip to West Ham.
"He is coming along well and has had a good week in training," the Bournemouth manager said.
"The thing we've got to remember is that he's had minimal training after the World Cup, but his performance and endurance levels are getting better with each training session. He's getting closer."
Howe added at a press conference: "At the moment he's quite quiet. There are obviously a few issues with language and he's still getting to know his new team-mates. It's a process that takes time.
"We have a lot of important games coming up, but in terms of Jefferson's availability for the weekend (against West Ham), we'll have to wait and see.
"He will have plenty of opportunities to show how he is looking."
Bournemouth recorded a victory from their opening Premier League fixture for the first time when securing a 2-0 home win over newly promoted Cardiff.
But Howe knows full well their next fixture will quickly bring the team back down to earth as West Ham look to recover from a 4-0 drubbing at Liverpool in a first home match for new boss Manuel Pellegrini.
"It is a great feeling when you win that first game, it gives you a nice confidence lift to go into the rest of the season with, but we know it gets more difficult from this point," he said.
"We know it is going to be a good examination of us, a good marker for us in terms of where we stand.
"West Ham have a very experienced manager who has won the Premier League (with Manchester City) and they've recruited some really good players, and they had a good squad already."