Dominik Szoboszlai is the 'genetical freak' who is matching Gerrard and Bellingham!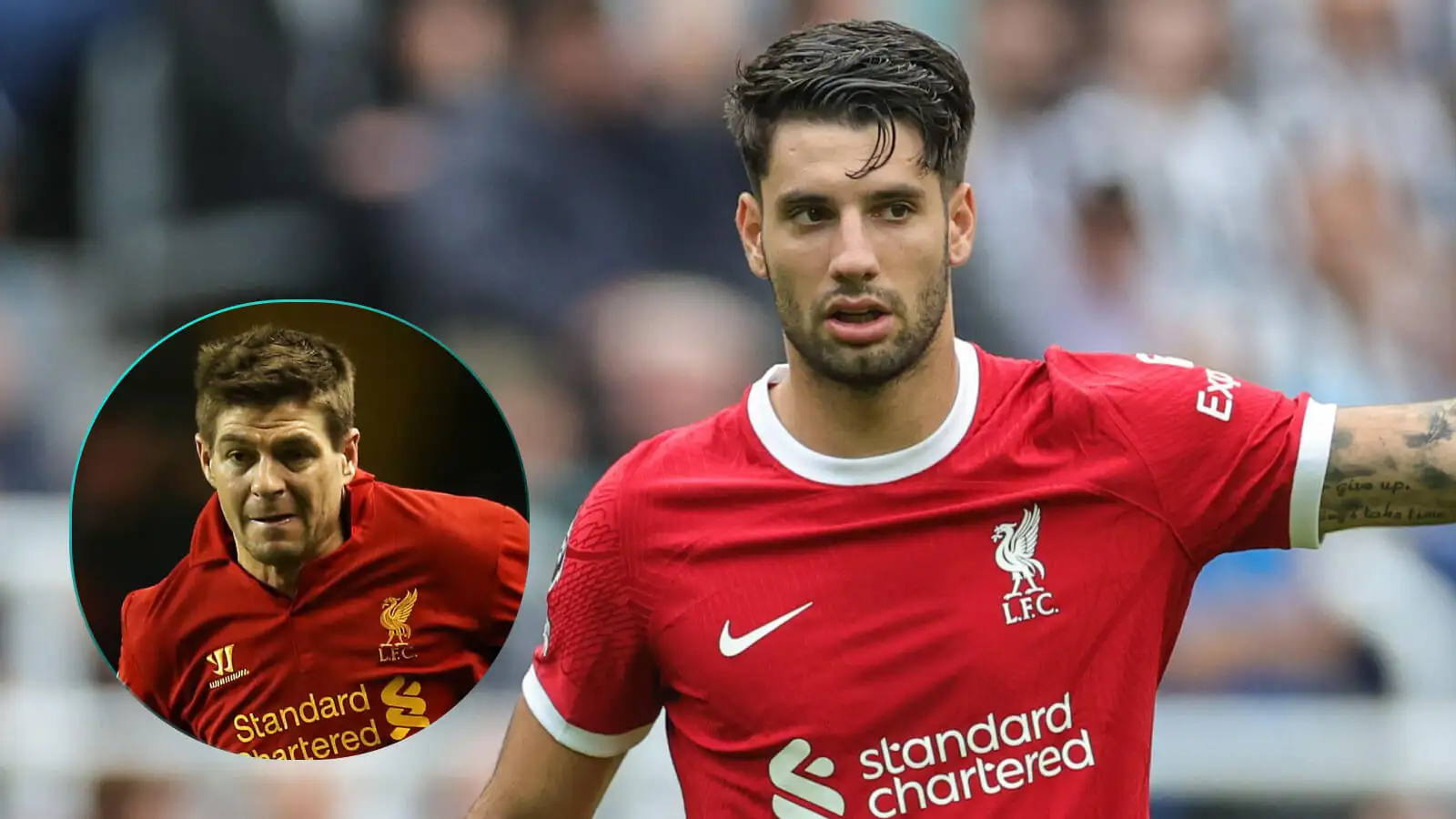 The Liverpool-based media is losing its mind over Dominik Szoboszlai. He's the new Steven Gerrard and the 'mirror image' of Jude Bellingham.
He shoots, he scores, he's the new Gerrard and Bellingham
Dominik Szoboszlai has had a very good start to life at Liverpool but it might be worth remembering that he has only played eight games. Eight games. Which leaves him 702 games behind a certain other Liverpool No.8.
Liverpool just saw Dominik Szoboszlai's true power as Steven Gerrard status earned
Yes, 'Steven Gerrard status earned' after just eight games, according to the Liverpool Echo's even giddier cousins Liverpool.com. And the last of those eight games was against Championship side Leicester.
A worthy candidate for the number eight shirt, even on Tuesday night against Leicester when he was starting on the bench, the Hungarian somehow found a way to make himself the star of the show.
Yes because nobody has ever scored from the bench before. It's a first! How did he 'somehow' do that?
But for Szoboszlai, not even half a chance was needed. All he required was a bit of space ahead of himself outside the penalty area to unleash the rocket that he can generate from his feet.

A genetical freak in the way his body has been built, with Szoboszlai crediting his small feet as the secret behind his ability to score long-range wonder goals, Anfield before tonight hadn't really seen the true power of his ability.
Hmmm. Not sure 'genetical freak' is the compliment you think it is; he's got small feet (size 7, not exactly 'freakish'), not three penises and a tail.
Granted he scored a sumptuous goal against Aston Villa with his left foot in the Premier League, which was also akin to Gerrard, but Szoboszlai hadn't really unleashed his stronger right until now.

The end result was a goal those who follow RB Leipzig or the Hungarian national team will have seen many times before, and now Anfield was able to bear witness to it as well.

This will be the first of many for the Hungarian in a red shirt. When he gets a chance like that there are few in world football who can match his ability to score. Even in the history of the game or the history of Liverpool, few have had such a powerful potent range.
'There are few in world football who can match his ability to score'? You really would have thought he might have scored more than once from 13 shots in the Premier League, if that were the case.
Seriously, the boy looks good but he has certainly landed at the right club with the right press pack to make him a hypothetical world-beater before he's barely unpacked his suitcase.
Here's Paul Joyce in The Times:
On the training pitches at Liverpool's AXA headquarters, the shooting ability of Dominik Szoboszlai has been wowing his team-mates from the moment he arrived in the summer. The secret is now well and truly out.
Well he had already scored a pretty good goal v Aston Villa, but at least Joyce avoided the Gerrard comparisons, unlike the enraptured Chris Bascombe of the Daily Telegraph:
There is a thrilling familiarity about the Hungary captain imposing his class when his side most need it. The Gerrard comparison absorbs his unerring capacity to strike with venom from distance – 'like unleashing a hand grenade' as Klopp put it – in tandem with his athleticism and ability to pick the right pass.

Only the Liverpool scouts can testify to how good they thought the 22-year-old to be when meeting his £60 million RB Leipzig buy-out clause last summer. If they truly knew this was his level, it is no wonder they were willing to walk away from Jude Bellingham. Szoboszlai is a mirror image.
How prescient of Liverpool to be 'willing to walk away' from a player who was never going to join them and would instead become a superstar at the biggest club in the world. As for a 'mirror image', Bellingham might point to his five La Liga goals in six games and Champions League winner. That might just trump a Carabao Cup goal v Leicester City.
Over to the Liverpool Echo and their take on Szoboszlai and his 17-touch cameo v Leicester City:
What Dominik Szoboszlai did at full time says everything about Liverpool decision as transfer doubt emerges
And pray tell what did he do at full-time?
The last man to leave the Anfield turf after the final whistle, he saluted all four corners of the crowd to soak up the occasion after the 3-1 win.
That really does 'say everything'. After 'somehow' scoring, that really was an extraordinary night for the Hungarian.
But what is this 'transfer doubt' that has 'emerged'?
You could be forgiven for wondering why the 22-year-old hadn't placed higher on the Reds' transfer wishlist.

After all, it was only after switching attention away from the likes of Jude Bellingham and Mason Mount that the Hungarian emerged as Liverpool's next desired target as part of their long-awaited midfield overhaul.
We could waste 300 words trying to decipher the mental gymnastics to turn that into a 'transfer doubt' but instead we will simply marvel at the propaganda pill swallowed that makes Szoboszlai somehow – there's that word again – a better bet than Bellingham.
Mason Mount, we will give you. Now that's proper baffling.
VERDICT: Liverpool 2.0? God help us if this Jurgen Klopp side are nearest challengers to Man City
What is this fresh humiliation?
There is an art to tabloid journalism that can go under-appreciated but Mediawatch would like to genuinely doff its cap to The Sun for this back page for it surely is a belter:
Sun sport: Nic win Blues goal of the month #TomorrowsPapersToday pic.twitter.com/OmpJpcaZcf

— George Mann (@sgfmann) September 27, 2023
It's funny, it's sharp, it's exactly the approach a tabloid newspaper should have taken the minute that it became clear that Chelsea were not going to lean into the crisis narrative and lose to Brighton.
And then you go their website and it's just a mess of Twitter/X comments dressed up as news:
Fuming fans claim Carabao Cup draw is 'most rigged ever' as Newcastle tie AGAIN raises eyebrows after 'human error'
'Fuming fans' will claim that because they are idiots. And those idiots are being served justification for their idiocy with such headlines, merrily tweeting quotes that nobody has actually said.
Chelsea AND Brighton fans fume after finding out Carabao Cup has no VAR as both teams suffer refereeing controversy
There's way too much 'fuming' in football. Love football, hate fuming.
Chelsea fans 'realise Cucurella was playing wrong position for a year' as Pochettino tactical tweak revives £60m star
Who the f*** are you quoting? And who gives a sh*t? Worryingly, someone must because content farms do not harvest such crops unless there is a sizeable market.
And then there's this utter filth about a mistake on the Chelsea team-sheet given to the press:
Chelsea bizarrely name player from Premier League RIVALS on team sheet in fresh humiliation for out of form side
Now that's a 'human error'. And it's not 'bizarre'; it's just a small mistake. And whichever way you try and spin it, it's not 'fresh humiliation'. It's not frigging news, let's face it. And the RIVALS in question? Nottingham Forest, where Andrey Santos (who is still a Chelsea player) is on loan. It's not like they named James Maddison in their team for LOLs.
Let's drill down into this one because it really is quite something…
THERE have been so many comings and goings from Chelsea's bloated squad following Todd Boehly's £1billion splurge that even those printing the team sheets are losing track.

One Blues bod accidentally listed Andrey Santos in place of new boy Cole Palmer on the printed sheets handed to media and corporate boxes ahead of the game.
'Bod'?
It's embarrassing enough to list two Chelsea players the wrong way around, but gets all the more worrying when you remember that Brazilian Santos is on loan at Nottingham Forest.
'Worrying'? It's a typo.
Baffled fans took to social media to react to the error, with one person tweeting: "Well, I guess Andrey Santos isn't getting any minutes for Nottingham Forest…"
'One person'? That would be Liam Twomey, a Chelsea correspondent for The Athletic.
Another added: "To be fair it looks like Santos has as much chance of playing for #CFC right now as #NFFC for some reason."
'Another'? That would be Simon Johnson, also a Chelsea correspondent for The Athletic. We're not sure either would appreciate being called 'baffled fans'.
While a third wrote: "THEY PUT ANDREY SANTOS AS THE CHELSEA HOLDER! Wasn't he at Forest? HOW BAD THIS TEAM IS!"
If you are so desperate for content that you are putting Portuguese tweets through Google Translate then you probably don't have a story. It should be 'fresh humiliation' for The Sun but unfortunately, nobody cares but Mediawatch.