Diego Maradona: Genius, entertainer, bull, demi-god, greatest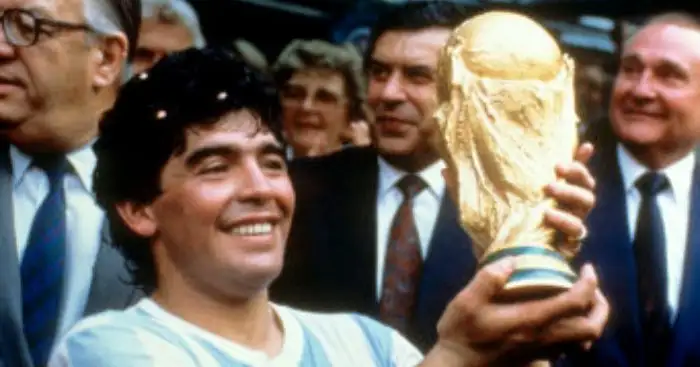 Rest in peace, Diego Armando Maradona.
Who's this then?
Diego Armando Maradona was a 5′ 5″ forward, born in 1960, who for at least 40 years has widely been acclaimed as a genius. Many feel none better ever set foot onto a pitch.
Born in Lanús, Buenos Aires and raised in poverty in Villa Fiorito, a shantytown on the southern outskirts of the capital, even at a young age he would entertain people with his ball-juggling skills.
In a 21-year career he played for six clubs: Argentinos Juniors, Boca Juniors (twice), Barcelona, Napoli, Sevilla and Newell's Old Boys. In total he played 588 club games with 312 goals to his name. He would play 94 times for his country and score 34 times.
However, his list of silverware is relatively modest for someone so blessed: 10 titles, including one World Cup.
He was just short of 16 years old when he made his debut for Argentinos Juniors, for whom he would play 166 games and score 116 goals. One year, 40 games, 28 goals and a league title at Boca Juniors followed, before a move to Barcelona for 58 games and 38 goals across two seasons impacted by injury.
His subsequent transfer to Napoli for a record £6.9million fee in 1984 began a seven-year stint in southern Italy which would cement his name in the pantheons of sporting greats. 85,000 people greeted him at the Stadio San Paolo, a wild, chaotic scene that opens the spine-chilling Maradona documentary and was emblematic for his whole time in Italy. The bald stats are that he played 259 games and scored 115 goals but that really doesn't tell the story. Although he only got over 20 goals in one season, he was top scorer five campaigns out of seven and led them to their only two Serie A titles to date. And even that barely scratches the surface.
When he left, following a couple of positive drug tests and other extracurricular distractions, they retired his No. 10 shirt.
He went to Sevilla for the 1992/93 season in a largely forgotten period, then headed home for five games at Newell's Old Boys and wrapped up his turbulent playing career with 31 games and seven goals for Boca. What followed was an even more turbulent retirement which included stints managing six clubs, and 18 months at the national side's helm which saw him leave with a 75% win ratio. He worked in the middle-east and Mexican second division, perhaps just to be involved in the game, perhaps knowing that without football his life would spiral completely out of control, because with the discipline of playing football no longer present to at least act as some sort of check, all his demons began to run amok.
His passing is sad, of course it is. And his nation is rightly mourning him, but he was a man who lived three lives in the space of one. Everything, all the time, was his mantra and he pretty much always had the pedal to the metal. Given that fact, sadly, it was likely only going to end one way for this broken down angel
Why the love?
In discussing Diego, there are two things to be avoided: the first is the debates about whether he was better or worse than any other player you care to name. The Greatest Of All Time arguments are like trying to measure mist; they feel vaguely childish and waste all our time.
Similarly, it would be easy for this column to dwell on what we must euphemistically call his 'issues'. Many of the pieces written this week about Diego do exactly that. It's tiresome. The judgemental press default of making entertainment out of distress and dissolution seems to make it inevitable. But while we must acknowledge those issues existed and were extreme, let's face it, they have been documented in detail since the 1980s and they are not why Diego was and will always be so revered. His legend lies in his football talent and in nothing else.
Maybe no genius gets their brilliance for free. It comes with the caveat of wildness, of madness even. But like any genius in any art form, he moved the atoms of our existence quite profoundly. Almost no-one does this. And nothing seems quite the same once they have left the stage.
He changed world football in relatively few seasons. This wasn't a long career. Outside of Argentina, he was at his peak from aged 21 to about 25. After that, there was much chaos and physical decline woven through the fabric of his brilliance.
Since he stepped onto the pitch, we saw football taken to a level that we previously didn't know existed. It is so easy to say that, but it is absolutely true. Interestingly, if you look at his stats, they're excellent but not stellar. Anyone who never saw Diego play and looked purely at his numbers might wonder what all the fuss was about. He only broke 30 goals in a season once in his career and that was in 1980 at Argentinos Juniors, for whom he scored well over one-third of his career goals from 1976 to 1980.
It's worth remembering that his career was pretty much over in 1991 when he left Napoli, at which point he'd been playing for 15 years. There were six years of wind down at Sevilla, Newell's Old Boys and Boca Juniors but his powers were hugely diminished.
He had taken his homeland by storm, rising from poverty as a fully-formed ball of brilliance at 16, but how did he have such an effect on the world? After all, though he'd scored his first senior goal for his country against Scotland at Hampden Park in 1979 we saw little of him until the 1982 World Cup where he played in all five games, scored twice and was sent off, but was largely kicked and bullied out of games with a ferocity that would shock the younger modern football watcher. He came with a big reputation, having just been transferred to Barcelona for a world record £5m, but it was the toughest of bows on the biggest stage.
And yet for at least four years to that point there was talk of this kid from the roughest area of Buenos Aires who had magic in his feet. There was discussion of the wunderkind controversially being left out of the 1978 Argentina World Cup squad. Even though most of us had probably had never seen him kick a ball, we'd all heard of him.
Now, in the information age, reputations grow, blossom and quickly die, but back then, if you'd heard of pretty much any player from outside these shores before they played here, then you knew they simply had to be something special. The UK media, especially the press, was largely inward-looking and parochial (then as now), so you had to be something special to break their wall of xenophobia and ignorance to become known outside of the World Soccer readership.
Such was Diego's reputation, we had all heard of him before the 1982 World Cup and the tournament did nothing to stop his reputation growing. This goal in 1983 was shown on Football Focus, partly because of its audacity but also because Real Madrid fans applaud him for it.
The 1986 World Cup is a field that has been over-ploughed down the years, the game against England especially so. The fact was, how he played in that game was exactly how he had been playing for 10 years at that point. The do-anything-to-win mentality forged as youth, the outrageously close ball control, married to speed, strength and vision.
The Hand of God goal, which Tim Vickery poetically calls "the revenge of the street kid," came just four years after the Falklands War and there's no understating that as a subtext to the game. Here was a street punk bossing the inventors of the game, making our best players look like tortoises. Sticking it right up us, with the biggest f**k you on the biggest stage. Even in 1986 many of us admired him massively for that.
Bryon Butler's sonorous tone, rising to shaken astonishment, on radio commentary of the second goal was not only quite possibly the most perfect piece of football broadcasting ever, it was a perfect summation of the man.
"Maradona,turns, like a little eel and comes away from trouble. Little squat man, comes inside Butcher, leaves him for dead, outside Fenwick, leaves him for dead – and puts that ball away. And that's why Maradona is the greatest player in the world."
Commentator John Murray has said of the goal that he had "the devil in his hand, the angel in his feet". Of course, we all know that the goal was more Peter Shilton's fault for not being able to dominate and out-jump a 5′ 5″ man, and that failure would cost England again in 1990. That Shilton still gripes about it now tells us who was always the biggest man in that challenge. As the chant still echoes across Argentina: "If you can't jump, you're English."
And he repeated the performance in the next round against Belgium.
1986 was his football nirvana. He was utterly unplayable. Wearing magic magnetic boots, he was now stocky, strong, with heavy-duty thighs and buttocks. He looked like a wee bull that could do ballet. No longer was he going to be kicked around, but he was also fit and fast with a burst of liquid speed that surged into the opposition bloodstream. It all went together to make a player like none other before or since. Shilton called him a cheat but Diego was far more cheated against. He was kicked from pillar to post for most of his time on the pitch.
By this time he was playing for Napoli and it was in Naples that Maradona mania really went off the scale. As Naples native Fabio Cannavaro, who was in the youth ranks at Napoli when Maradona was there, said:
"Maradona is a God to the people of Naples. Maradona changed history. In 80 years, we had always suffered, fighting against relegation, yet in seven seasons with him we won two leagues, a UEFA Cup, two Italian Cups. I'm a fan too and to live those years with Maradona was incredible."
And when he could score goals like this, it is no surprise he was worshipped as a god.
He was perfect for Napoli, a side patronised and dismissed by the richer, more elite northern clubs. A side that had won nothing and was down on its luck. It suited Diego's mentality to lead the fight against the odds, to be the street fighter sticking it to The Man. That he led them to two league titles and three cups was little short of incredible. That he did so while developing a drug habit, even more impressive.
Perhaps uniquely, he was both an extraordinary individualist capable of amazing feats of outrageous skill, but also a team player. Yes, he could win a game all on his own if he had to, but he had the vision to make his teams function successfully as well. He was no mere trickster with a grab bag of moves. At times it appeared as though he must be seeing the game being played at an entirely different speed, his place in the action unhurried and always two steps ahead of the rest. He worked as a kingpin in how the team played, able to lead or support with equal ease.
Argentina, a decent but limited team, would not have won the '86 World Cup without him, nor would they have gotten to that dreadful final in 1990. Indeed, had England played them in that final rather than West Germany they would've surely beaten them, Maradona's brilliance blunted by an ankle injury and by his increasingly bucolic, wild rover's lifestyle in Italy.
His last goal for Argentina was against Greece in the 1994 USA World Cup. He tested positive for ephedrine, but his goal celebration made us all think he was on something much stronger as he ran to the camera with bulging Bez eyes, like a dire wolf howling at the moon.
After his retirement, his subsequent exploration of dissolute living and uneven attempts at management did nothing to harm his reputation as a footballer. He remained atop the snowiest of peaks, unchallenged by anyone, with none as a rival for his crown.
And if we want to look for a reason why that is, I would speculate that it is because seeing a true genius at work permanently alters our brain chemistry. That is their forever gift to us. They make us feel different. Theirs is the kiss of the divine that time does not diminish.
People who make us feel like this are so special, so Other, it is their destiny to live on in our hearts and minds forever bathed in the post-coital holy glow of the ecstasy they brought us to.
What the people say
You have to be in your mid-30s to even remember Diego at the 1994 World Cup and middle-aged to recall the 1986 triumphs but even so, his reputation has survived to such an extent that all generations know of and have seen his extraordinary talents.
There was Diego
And there was Maradona
They changed everything

— 4_4_haiku (@4_4_haiku) November 27, 2020
'We've all seen numerous victory parades over the years, but nothing compares to the scenes when Napoli returned to southern Italy with the UEFA Cup in 1989. A five day riot of unbridled ecstasy, with fans hanging from buildings and lamp posts, all thanks to Maradona. Crazy scenes.'

'This might be slightly tenuous, but by extension, the greatest contribution Maradona gave to the world is the hours of endless amusement you get from reading the replies to every Peter Shilton tweet ever.'

'Maradona had immortalised himself on the streets of Naples. He'd led them to success but he had to be in Italy in different colors, defending a different side. Italia 90 WC. In the semis, Italy vs Arg, there was a banner that read 'Maradona in our hearts, Italy in our songs'.'
We often read a lot of hyperbole about players but if Maradona was playing in this era on perfect pitches with tackling barely allowed he would truly have been unstoppable, he was that good.

— PeteD (@RebelRefrainx) November 26, 2020
'Greatest player I've ever seen. Totally eclipses Pele and the modern pretender. Low centre of gravity, pace, strength and what seemed like superglue sticking the ball to his feet. Almost single-handedly dragged his team through a World Cup tournament. Incredible player.'

'Genius. Read somewhere that his flaws made his life relatable. And that's why he's universally loved.'

'Super vignette in the official WC 1986 video, where all the team are in the dressing room after the semi (I think) and they are all singing…."Argentina campeon"….and as a picture of a team on a high it is perfection.'
Went on holiday to Argentina in 2006, simply impossible to overstate his cultural significance there. More pictures of him on display in public than of the Pope in Italy. No exaggeration to suggest this may essentially be Argentina's Diana moment.

— Ally Cinnamon (@allycinnamon76) November 26, 2020
'Forget stats, and comparisons to other footballers, he can only be compared to Ali, he transcended sport, and made a huge cultural impact, a hero and inspiration to so many.'

'Playing football at primary school in the late 1980s whenever someone dribbled or did something skillful they would shout "Maradona!'

'My dad recorded the '86 World Cup matches for me to watch at more reasonable times. I remember him warning me as a 7 year old that England didn't always win before I had watched it. I was gutted and in awe in equal measure by what I saw.'
""Pele scored more goals. Messi won more trophies. But if you ever saw Diego Maradona with a football at his feet… you'll understand"

— James Walker (@serious14) November 26, 2020
'Watching Al Wasl FC, Dubai when Maradonna was boss was an experience. Mediocre football but fireworks on the touchline as Maradonna shouted, screamed, kicked the water buckets – great fun, all watched on from the stand by his girlfriend who had the biggest false lips (yes, lips!).'

'All I can say is that he was easily the best I've seen in my lifetime. Nobody else comes close. I should add that Pele was before my time but from the clips I've seen I would say Maradona eclipses even him.'

'His greatest achievement was to lift the citizens of one poor miserable nation and one city to the ultimate heights, so much that it changed not only the perception of others, but more importantly how those people saw themselves. He brought them happiness, but also self-respect.'
… would line up footballs on the halfway line and say which he would hit, the left or right goalpost or the crossbar. He only saw him miss once. Preposterously talented and a man of the people, beloved by all fans he played for. I share his birthday, I think of him every year.

— Alistair Gilmour (@wolfmangilmour) November 26, 2020
Three great moments
It is still incredible. This is the work of someone who exists on a higher plane:
His ball control was superhuman, the ability to pull a ball out of the sky and kill it dead with what seemed to be the lightest of touches. This reel is mindblowing:
Such utter brilliance it provokes a pitch invasion:
What now?
His legend will if anything grow and grow upon his passing. There is something eternally inspiring about him, precisely because his is such a compulsive blend of glory and heartache.
It is no exaggeration that he is venerated in Argentina and Napoli as a demi-god and that he will forever be preserved in football's legend as a player of almost superhuman talent married to an all too human man.
For many years, he was familiar with the dance we do every day with the shadows of our own mortality. He walked to the edge and peered over it many times, a ball balanced in his instep all the while. It was inevitable that one day, a day that came too soon, he would score that final goal. But though he has died, in so many important ways, he will always be alive.
John Nicholson