F365's top ten teenagers at Premier League clubs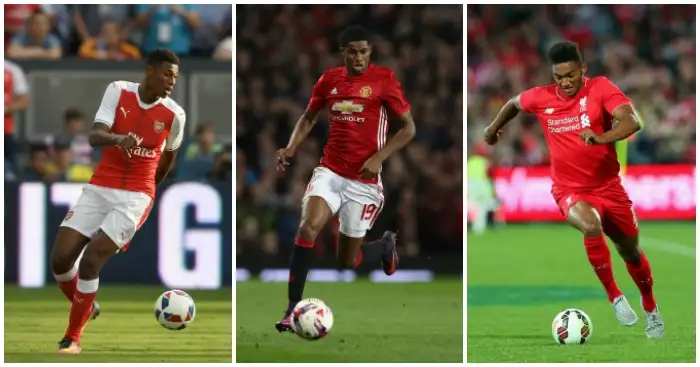 10. Cameron Carter-Vickers
Comparisons with former players are often tiresome, but in the case of Cameron Carter-Vickers, they are forgivable. He is a centre-half who combines confidence on the ball with a commanding physical presence off it. The 19-year-old is Tottenham's very own reincarnation of the still-live Ledley King – albeit with presumably more knee cartilage.
Carter-Vickers is having to work for his playing opportunities, such is the challenge facing any young talent learning under Mauricio Pochettino, but he has impressed when afforded the chance. His first-team debut for the club came in the 5-0 EFL Cup win over Gillingham in September, while Liverpool provided a more seasoned opponent in the next round.
Against Aston Villa on Sunday in the FA Cup however, the centre-half did not look out of place in a defence featuring the beautiful Toby Alderweireld. The American won ten aerial duels – the same as each of Villa's players combined – and one-upped Beyonce's husband by having 99 touches while thwarting any real problems. He might even have edged ahead of Kevin Wimmer in the pecking order, particularly if Pochettino continues to favour a three-man defence.
9. Tom Davies
'We told you so,' crowed Southampton fans in unison, having witnessed Ronald Koeman hand just 310 Premier League minutes to Everton teenagers before December. The common accusation held against the Dutchman during his time at St Mary's was that he neglected the club's emerging youth. He was doing little to assuage fears of a repeat.
Such a stance would not be popular at Goodison Park, particularly after the end to last season saw a number of young talents feature in the first team. Matthew Pennington, Jonjoe Kenny, Kieran Dowell and a sprightly Gareth Barry all played in the 3-0 victory over Norwich on the final day. The expectation was that Koeman would aid their development, not hinder it.
Didn't think Spanish kids would have heard of Tom Davies https://t.co/L468xfC6fe

— campbell (@acampbell68) January 2, 2017
It has taken time, but Tom Davies has eventually broken through. While he made just three substitute appearances before the festive fixtures, he has finally earned his manager's trust. The 18-year-old has played Everton's last three league matches, including only his second ever Premier League start in the 3-0 win over Southampton.
8. Josh Sims
On the subject of grumpy Ronald Koeman's general suspicion of anyone who wears baseball caps backwards, doesn't tuck their shirt in and doesn't eat their vegetables, the Everton boss delivered one of the most underrated quotes of the season in November, one lathered in snide.
"I wasn't aware of Josh Sims when I was here and he is not my problem."
Sims had just starred on his Premier League debut against Koeman's Everton, the winger assisting the only goal in a 1-0 win. Koeman's short fuse was understandable: he had just been embarrassed by the 19-year-old. Sims was one of the individuals perceived to have been held back by the manager at Southampton; this was the perfect response.
"About a year ago Ronald went for the academy a little bit which was a strange thing to do, I thought, especially given what the club has produced over the last few years," said Matt Le Tissier in response to Koeman's comments two months ago. "It was a strange thing to say and it came back to bite him on the backside I'm afraid."
The teenager is held as the leading light of the club's famed academy, the stick with which to beat a former manager. He has every chance of joining Liverpool in a few years.
7. Ovie Ejaria
Nine years of development under Arsene Wenger at Arsenal. Four years of development under first Brendan Rodgers then Jurgen Klopp at Liverpool. Three of football's greatest managers. Two of football's greatest clubs. One player with a whole lot of expectation on his broad shoulders.
Ejaria, of course, is capable of living up to the hype. Jordon Ibe was unfairly touted as the successor to Raheem Sterling, but the 19-year-old is more equipped to take on such a mantle, and has arguably overtaken Sheyi Ojo at Anfield in terms of development. He has played six games so far this season, and Klopp is undoubtedly a fan. There are few managers more capable of helping a young player reach their potential; Ejaria is in good hands.
Perfect game for Ovie Ejaria. Adept to picking locks in tight spaces, don't think he's put a foot wrong for the first team yet.

— Jack Lusby (@jacklusby_) January 8, 2017
6. Marcus Edwards
"The qualities – it's only looks, his body and the way that he plays – remind me a little bit of the beginning of Messi."

And with one innocuous description, Mauricio Pochettino bestowed upon Marcus Edwards a reputation that is almost certainly impossible to live up to. 'Tottenham's Mini Messi' screamed the subsequent headlines, the media already frothing at the prospect of reporting on how the selfish b*stard had bought his mother a house, or how he had been shopping at Poundland. The effigies are already prepared for his crucial World Cup sending-off in 2026.
The comparisons with Messi are simple, if unhelpful: Diminutive, left-footed, skillful, and with hundreds of YouTube videos showcasing his talents long before he has exited his teenage years. His playing opportunities have been restricted due to injury and illness – he has not made a first-team appearances since his debut against Gillingham in the EFL Cup in September – but to say Tottenham fans are ruddy excited about the 18-year-old is an understatement.
5. Reece Oxford
The youngest member of this list, and yet perhaps the individual who has enjoyed the longest, if not the brightest, spotlight. That is testament to Oxford's immediate impact at West Ham, his first-team debut spent shackling Mesut Ozil and Arsenal in the first game of last season, before the then-16-year-old bragged about it to his mates at school. He has played just 131 minutes in the Premier League since that fixture in August 2015, with fans continuing to clamour for his inclusion. He was a victim of the club's success last campaign, Slaven Bilic unwilling to risk form by playing an unproven quantity. West Ham's current struggles have seen him suffer just as much this season, with Bilic reluctant to rely upon a teenager.
A brief loan move might be the best option for central defender Oxford, who turned 18 just last month, if he cannot break through. He was publicly courted by Manchester City, Manchester United and a host of London clubs over the past year before signing a new four-and-a-half-year deal with West Ham in December. Time to remind us what all the fuss is about.
4. Jeff Reine-Adelaide
"Something special" were the two words Arsene Wenger used to describe Jeff Reine-Adelaide in summer 2015, and who are we to argue? The France youth international has flirted with the Arsenal first team since his debut in January 2016, feeding off the scraps thrown to him in cup competitions. The 18-year-old will find it difficult to establish himself in an already crowded midfield, but he stands as good a chance as any youth player of making the step up.
Jeff Reine Adelaide is the future of arsenal screenshot dis

— New tk?⚡ (@iamTkxy) September 20, 2016
You f***ing heard him. Screenshot dis. Now.
3. Tammy Abraham
One gold star to the individual who can name each of Chelsea's 35 players currently out on loan. From Nathan to Wallace, with a brief stop at Michael Hector, the Blues have farmed out stars to fellow Premier League sides, as well as clubs in Italy, Germany and the Netherlands.
Few have impressed quite as much at their new home as Tammy Abraham has at Bristol City. "I knew what I was going out on loan for when the deal was agreed and I had to get into the right mentality," he said in November. "I'm playing men's football now and just needed to adapt to the situation," he added, and he has certainly done just that. The 19-year-old has scored 14 goals in 25 Championship games, with only Dwight Gayle and Glenn Murray more prolific. They are playing for the clubs second and first in the table respectively; Abraham's Bristol City are 18th.
The striker is by no means ready to challenge Diego Costa for a starting place in the Premier League just yet, but little more can be asked of him during his first half-campaign of regular first-team football.
2. Joe Gomez
Of the ten players named in the same list of the Premier League's best teenagers in September 2015, just two survive to take their places over a year later. The ravages of time have rendered Anthony Martial, Dele Alli, Ruben Loftus-Cheek and friends as helplessly old as the rest of us. Only Reece Oxford and Joe Gomez remain.

Liverpool defender Gomez has made just two appearances for the club since the list was published: Against FC Sion in the Europa League Sion in October 2015, and against Plymouth in last week's FA Cup draw, a full 15 months later. Returning from one long-term injury was difficult; recovering from two has been mentally and physically draining.
Yet here stands Gomez, still only 19, still a useful, versatile option for Liverpool in a squad which desperately needs useful and versatile, and still with the middle name of 'Dave'. Not David, Dave. Deal with that.
1. Marcus Rashford
The winner, and by quite a margin too. Not even a year has passed since Marcus Rashford's remarkable ascent was completed with his first-team debut for Manchester United against FC Midtjylland in the Europa League. He has 14 goals for the club since his breakthrough in February – only Zlatan Ibrahimovic has more in that timeframe.
Twenty-one teenagers have made an appearance in the Premier League this season. Rashford has featured over four times as much as any other. He has 829 minutes to his name, the faraway leader with Stoke's Ramadan Sobhi (196 minutes) in a distant second. There are no teenage kicks in the Premier League, particularly without the presence of Manchester United's new golden boy.

Rashford blasting balls into open goals > Rooney equalling club record pic.twitter.com/8P4DrITESy

— Nooruddean (@BeardedGenius) January 7, 2017
The debut goalscorer. The wide forward who is succeeding under Jose Mourinho. The boy with the trademark unsophisticated finish which serves as a reminder to his tender years. The star of both present and future. Rashford has already enjoyed a stellar career littered with highlights and honours. He does not turn 20 until October.
Matt Stead