The best XI of players linked with Newcastle in January…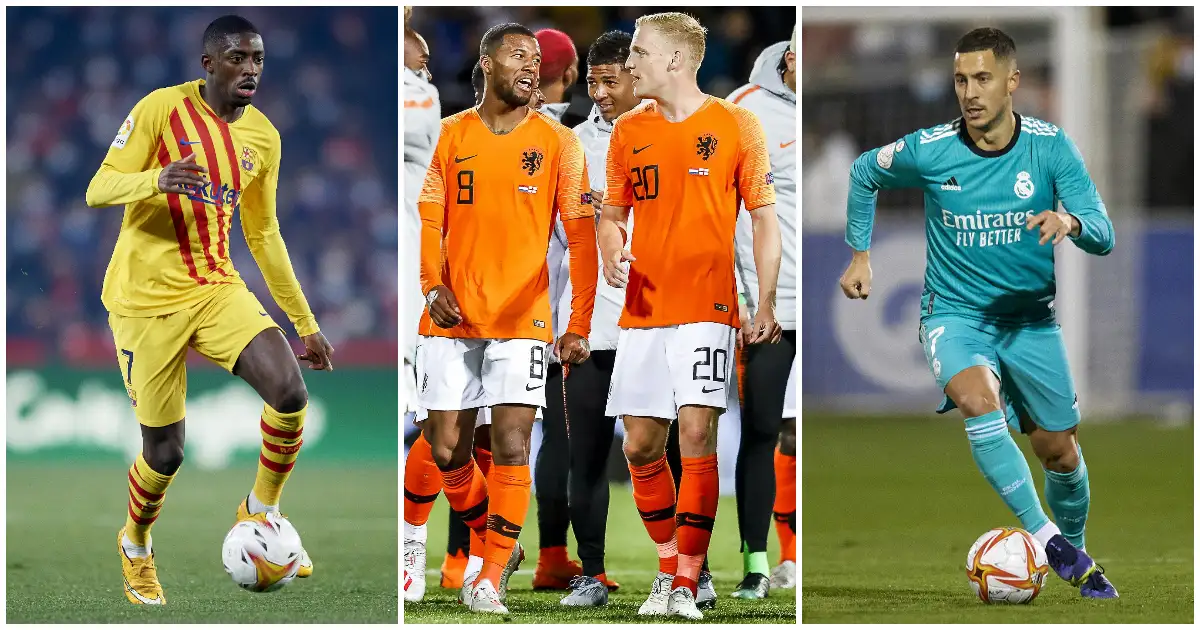 A couple from PSG, a pair from Man Utd and a Germany duo feature in what could have been a decent Newcastle side.
The Magpies are struggling to make the necessary signings, despite being linked with 427 players since their change of ownership. Here's the best XI we can muster with the players reasonably linked with a January move to St James' Park…
Keylor Navas
Kieran Trippier          Sven Botman          Niklas Sule          Robin Gosens
Georginio Wijnaldum          Donny van de Beek
Ousmane Dembele          Eden Hazard          Anthony Martial
Darwin Nunez
GK: Keylor Navas
Freddie Woodman struggled badly; Karl Darlow didn't show his best form; Martin Dubravka has been unusually unreliable since his return from injury. So Newcastle wouldn't be blamed for looking for a steadier pair of hands to guard their goal for the rest of the season, ideally one not prone to anxiety given the defending that the three other stoppers have had to contend with. Navas was linked with Newcastle as early as October, while Dean Henderson has been mentioned as a target too. A move for either would perhaps solve a problem for the selling clubs, with PSG refusing so far to choose between Navas and Gianluigi Donnarumma, while Man Utd have a depreciating asset sat on the bench with a face like a slapped arse.
RB: Kieran Trippier
Newcastle got their man with the type of decisiveness that seems to be eluding them with other targets. Trippier will doubtless be a good buy but he alone can't carry the Premier League's second-worst defence. They need centre-backs, urgently…
CB: Sven Botman
The Lille defender seems to have been Newcastle's primary target to reinforce the flimsy centre of their defence, and Botman appeared content to sign given the flirting he engaged in. But Lille have stood their ground, with a Champions League last-16 tie to prepare for, even if the defending champions are stuck in mid-table in Ligue 1. So the Magpies must look elsewhere…
CB: Niklas Sule
Bayern Munich's walking wardrobe has perhaps the best credentials of any of the other centre-backs Newcastle have been linked with. Sule is engaged in a contract stand off with Bayern at present, making Newcastle's new-found wealth and reported interest a Godsend for the Germany international's agents. With Barcelona now sniffing, it seems the Newcastle link has had its desired effect for Sule, who is no longer said to be interested in what the Toon have to offer. Diego Carlos seems to be the most likely addition from Sevilla, but Eddie Howe could really use another tried and tested centre-back.
LB: Robin Gosens
Howe also needs a left-back, despite Paul Dummett's return from a long-term absence at the weekend. Newcastle were said to be interested in Lucas Digne, but in searching for an escape from Everton, Chelsea appeared to hold greater allure for the Frenchman before Steven Gerrard came knocking. So Atalanta flier Gosens is one of the latest names to be linked with Newcastle, which would be quite a coup. One that would see the Germany international triple his current salary, if reports from Italy are to be believed.
---
One free agent with Prem experience that each club must sign
---
MF: Georginio Wijnaldum
The idea of Wijnaldum returning to St James' Park was first floated at the same time the takeover went through, while the Holland midfielder was struggling to establish himself at PSG. His fight continues, having started 11 of 21 games in Ligue 1 and half the Parisiens' Champions League matches. As one of a number of free transfers that haven't worked out quite as PSG had hoped, talk remains of Wijnaldum being available for loan, but the player reportedly doesn't fancy a relation battle…
MF: Donny van de Beek
And nor does Van de Beek, despite playing even less for Manchester United than Wijnaldum does for PSG. The former Ajax star has yet to start a Premier League game for United this season, despite the obvious weaknesses in the Red Devils' midfield. Which makes you wonder how bad he must be in training. Reports suggest he would rather sit on his arse at Old Trafford than go to Newcastle for six months and engage in a scrap at the foot of the table.
RW: Ousmane Dembele 
Barcelona must have been delighted to see the Saudis roll into Newcastle knowing how much deadwood they had to shift for as close to top dollar as possible. Dembele was one of the first Barca outcasts to be linked with Newcastle, alongside Philippe Coutinho and Samuel Umtiti. Coutinho went to Villa instead and Umtiti is crocked. Dembele, though, is still available having refused to sign a new contract as he approaches the end of his terms in the summer. Is a wide player a priority for Newcastle? Probably not, but it's just the type of signing they could panic into making just before the deadline while other deals stall.
AM: Eden Hazard
There have been conflicting reports around Newcastle's interest in Hazard. At first it was reported that they had an offer worth £33million rejected at the start of the window and they didn't return with a follow-up bid. But it has been claimed in recent days that the Magpies have gone back to Madrid with further add-ons to that initial fee, which has received a more favourable response. From Real Madrid, at least. Apparently, the player isn't interested in what Newcastle have to offer right now.
LW: Anthony Martial
The frustrating Frenchman isn't the first name that comes to mind when you think of the characters Newcastle might need to battle against relegation. He doesn't seem to have the stomach for the fight at Manchester United – or even to sit on the bench – but there's no doubt Newcastle have explored the possibility of signing Martial. When they probably discovered that he's only interested in moving abroad, most likely to Sevilla, Barcelona or Juventus, if they can copper enough cash to pay a reasonable portion of his huge wages.
CF: Darwin Nunez
Newcastle have already signed Chris Wood but that particular deal reeks of short-termism, especially if Newcastle stay up. You might say he was signed with last weekend's game in mind above anything else, and now the Magpies are chasing other centre-forwards. Apparently, Nunez (we have never seen him play) is their preferred choice but Benfica are looking for around £50million for the Uruguay striker since they have to pass on 20% of the £30million profit they would make to Almeria. So they have turned their focus instead to Duvan Zapata, but Atalanta also want more than Newcastle are prepared to pay. Now really isn't the time for the Saudis to get frugal.