Captain and keeper among five Man Utd careers which were ended by Sevilla surrender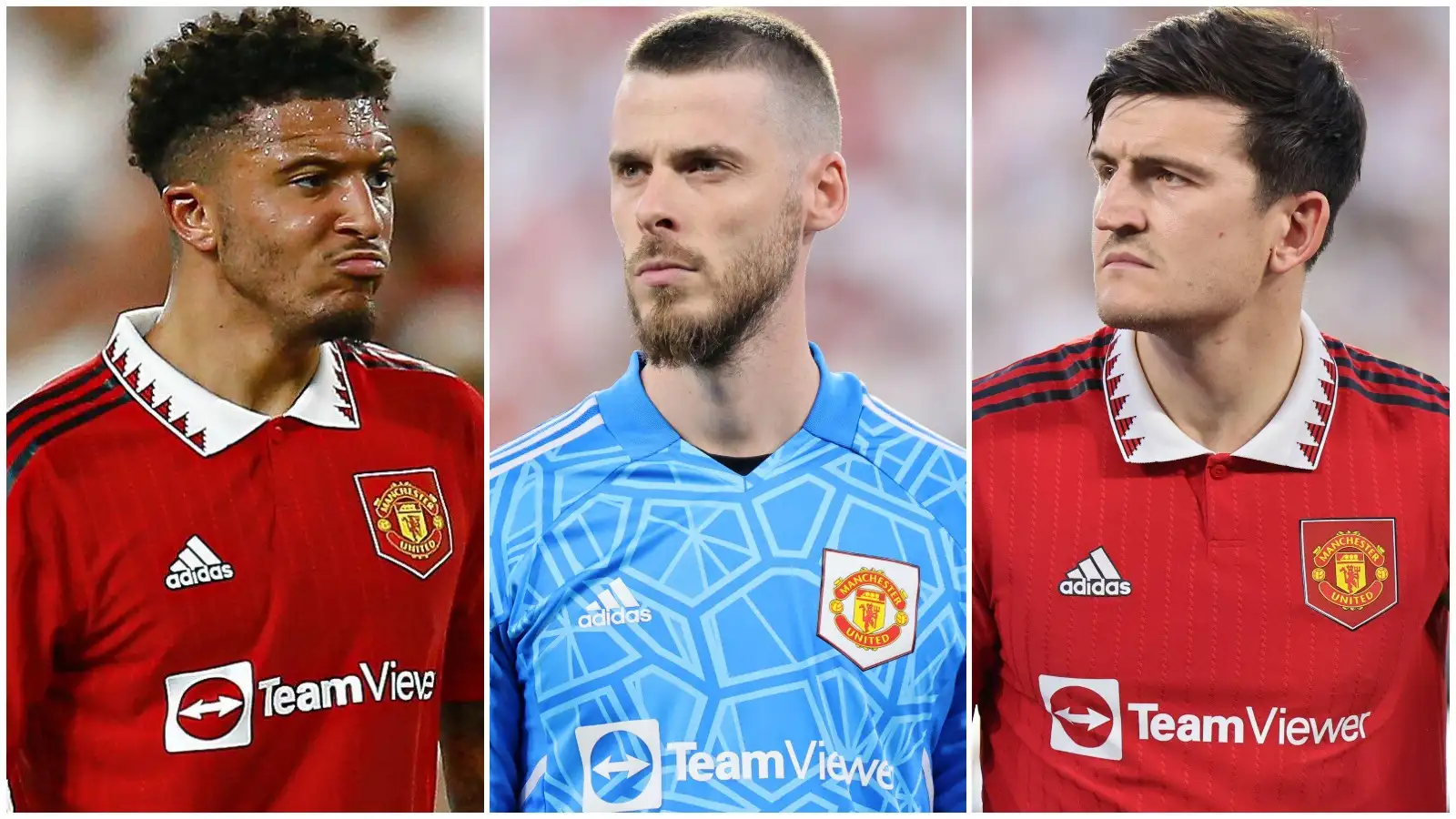 Manchester United's abject Europa League exit at least reinforced to Erik ten Hag who he needs to get rid of this summer. These five have blown their last chance…
David De Gea
The jury was still out on the United No.1. But Sevilla, whose three goals De Gea could be held accountable for, returned a verdict that should spell the end of a 12-year career at Old Trafford.
Ten Hag has never really been convinced by the Spanish stopper. He has made some fine saves, and some important ones too, but the sense has always been that De Gea is simply not Ten Hag's style of goalkeeper.
The United boss, like most these days, needs a No.1 who can pick and play a pass, setting the tempo from the back while serving as the extra man to play through, around or over an opposition press. De Gea simply does not look comfortable when forced to make decisions with the ball at his feet.
That highlights the shift in expectations upon keepers. When De Gea moved to United to replace Edwin van der Sar, he was hand-picked by Sir Alex Ferguson and Eric Steele largely because of his quality in possession. Fast forward a dozen years, and De Gea appears a relic.
He's hardly solid with his hands either. Some of the errors he has made over the last 18 months would embarrass schoolboys. Sevilla's all-important second was very saveable, with De Gea seemingly distracted by the bar. Remember the goal he conceded against Everton in the FA Cup, when he refused to let go of the post? Schoolboys would be ashamed.
It was almost as though the goalframe served as De Gea's comfort blanket, and the fact he refuses to stray too far from it does him no favours. He rarely comes for a cross, which feeds the narrative that De Gea lacks the necessary bravery to be a truly top-class no.1.
He's out of contract in the summer, and though there are talks over a renewal on vastly reduced wages, that salary is still said to amount to around £200,000. That's a big price to pay when it offers no solution to a big problem.
Read more: De Gea and Maguire top the bill in an astonishing Man Utd disasterclass in Sevilla
Harry Maguire
Maguire's time was already up but Sevilla hammered the final nail in his United coffin.
It wasn't just the opening goal, woeful though it was. Some blame Maguire, others hold De Gea responsible. There's plenty of blame to go around. The goalkeeper made a poor choice and a poorly-weighted pass; Maguire failed to recognise the escape route when he was cornered by three Sevilla attackers before surrendering possession almost willingly.
It was obviously a ploy of Sevilla's: let Maguire have the ball. Plenty of United's opponents have done the same, but more often than not, it's in the knowledge that he'll make bad choices if you allow him time to think. Sevilla didn't even give him that.
The difference between Martinez and Varane's intent on the ball and their penetrative passing is stark compared to the sorry sight of Maguire putting his studs on it before walking out at snail's pace.
Then there is the actual defending. Maguire isn't so bad at the very basics but, again, Martinez and Varane have demonstrated what a top-class defender looks like. No matter how many times Maguire sweeps over his quiff, it isn't him. It's a similar story for the captaincy. Bruno Fernandes leads, even if you don't appreciate his style; Maguire seems to view the armband as a status symbol, a personal accolade.
He needs to get away and rebuild his reputation – it's beyond repair at United. He has enough credit in the bank with England to attract offers. He and United ought to take them.
Anthony Martial
This was Martial's 427th chance to nail down a place at Old Trafford. Surprisingly to absolutely no one, it went the same way as many of those before. Anonymous, injured, subbed.
No player has been afforded as many opportunities to establish themselves as the frustrating Frenchman. Those are privileges for being the owner's favourite player, perhaps. But unless he has nudes on the Glazers – imagine those photos for a moment – even they must want rid now.
There is no doubt that Martial is a good player in moments. It's just that those moments are woefully sporadic, and often separated by long periods littered with injuries.
And he seems to give not a shiny sh*te. That may be just his personal demeanour, one that betrays a burning desire and an all-consuming drive to succeed at United. But his body language suggests he isn't arsed either way.
We know he's not United's centre-forward, and we'd doubt he's a centre-forward at all. Martial's best work seem to come off the left flank. Through the middle, he must be a centre-back's dream.
The problem for United is, they tried to get shot once, last year, when he went on loan to Sevilla. It was a fiasco. Who would pay decent money for him now? That might be the only thing that saves Martial's United career.
Jadon Sancho
Jamie Carragher had it right…
Antony has done more in six months than Sancho has in two years.
Yet Antony gets plenty of criticism & Sancho gets very little 🤷‍♂️ #SEVMUN

— Jamie Carragher (@Carra23) April 20, 2023
Sancho seems to have been spared because few really know what's been going on in the winger's world. Since joining United for £72million, he's appeared a shell of the player who set the Bundesliga on fire with Borussia Dortmund.
With United, he can hardly beat a man. Was he always that slow, or has he lost a yard or two since returning to England? He's certainly lost his England place, and when his former international teammates were at the World Cup, Sancho was in the Netherlands working with coaches recommended by Ten Hag. Aside from the odd fleeting glimpse, it doesn't appear to have done him much good.
There was talk that Sancho could be moved inside and employed as a No.10 and he might do a perfectly passable job. But he would never be Ten Hag's first pick for that position, nor seemingly any other.
It looks as though the weight of expectation at United is too great for Sancho. Let him go while there are clubs still willing to pay for what he might become.
Aaron Wan-Bissaka
Credit to Wan-Bissaka. His United career was dead, buried and pushing up daisies prior to the World Cup. Ten Hag's opinion of the £45million right-back was evidently no more positive than Solskjaer's or Rangnick's.
But Wan-Bissaka has put up a fight and he has restored some credibility. His performances since the restart have been far more encouraging and, no question, he has improved on the ball. But it was a low bar. He remains some way short of the full-back Ten Hag wants.
That was highlighted against Sevilla. He was hooked at half-time, with Diogo Dalot shifted across to right-back in the hope he would offer a greater attacking threat. It was Wan-Bissaka who had United's best chance of the first half, but he shot meekly at the Sevilla keeper. At least he hit the target – he missed an open goal from three yards against Everton last week, highlighting why he has only two senior goals in almost 200 appearances.
If Ten Hag could combine Wan-Bissaka's aptitude in a one-versus-one battle with Dalot's attacking intent, he might have a right-back. But he can't so he might well sell both. The manager wanted a right-back last season but funds were required elsewhere. United can't afford to redirect the funds this summer, despite the obvious weaknesses elsewhere.