Five increasingly tenuous and contrived reasons for 10th-placed Liverpool to be cheerful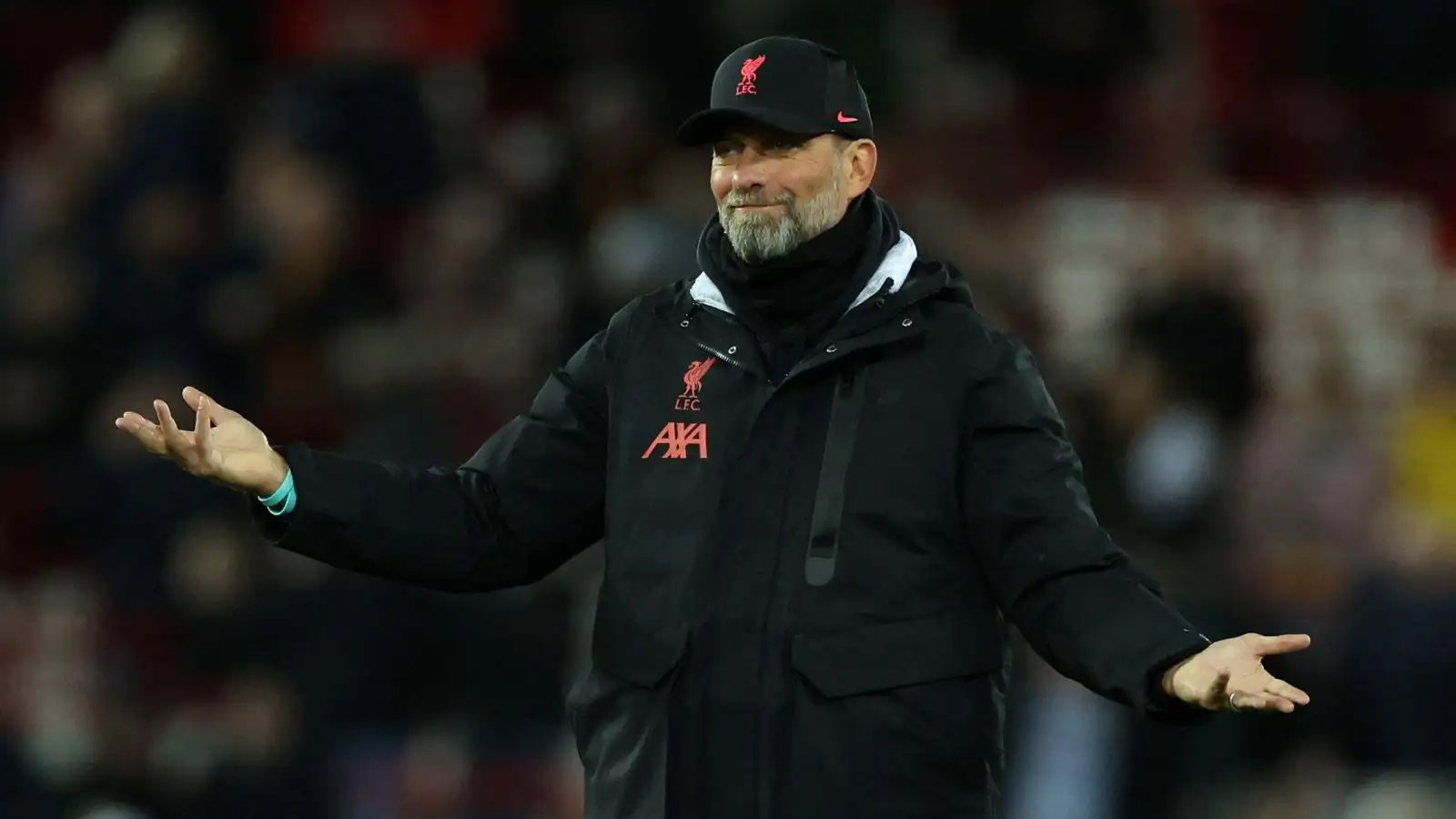 Things have gone quite badly wrong for Liverpool this season. They are 10th in the league, out of both domestic cups and keep getting absolutely spangled off teams like Wolves.
But this is no time for panic. Nothing is fucked. It will be fine. It might be fine. Okay, there's a dwindling chance it will be fine. It might be fucked.
Does this mean there are no reasons for cheer on the red half of Liverpool? Of course not. You just have to look quite hard for them. Here are five, and we've even managed to resist the usual "You are still not Everton" option.
1. Liverpool still have the right man in charge. Ish. We think
Okay, we'll admit to being a bit less sure of this one than we were before the Wolves atrocity, after which Klopp sounded really very broken indeed and at one point issued the largest sigh ever broadcast in the UK as he attempted to analyse the baffling and basic malfunctionings of his once champion team.
We're not too worried about him disallowing Wolves third goal for being scored on the counter attack. If anything, it's encouraging. Klopp has never been a good or gracious loser and we'd be more concerned if he showed signs of becoming one now. It would suggest a manager resigned to helplessness.
So perhaps he still has the requisite belly fire to turn this round. We certainly don't find ourselves looking around the Premier League and seeing too many managers Liverpool fans should want to trade Klopp for. Even if he is tired.
2. Key attackers returning soon so Gakpo-Nunez shitshow isn't forever
Diogo Jota, Luis Diaz and especially Roberto Firmino should all be back in action soon. Firmino would not ideally still be such an integral and irreplaceable part of Liverpool's attack in the year 2023 but we've all by now seen more than enough of Cody Gakpo cosplaying as a number nine. It's not fair on anyone.
Liverpool have wildly underperformed on xG this season, which isn't good news exactly but did rather suggest the underlying choir of the team isn't quite as irredeemably broken as it might appear. Just need someone to start taking chances, which as we all know is a piece of piss and why strikers don't cost much money.
3. Missing out on the Champions League every now and then is okay really
February means Champions League knockouts and by this point your Bayern Munichs and PSGs and in the old days even the Juventuses of this world could all focus their energy entirely in the direction of Big Cup having long since squared away the domestic title. English clubs rarely have that luxury, but Liverpool have found a novel way to achieve the same thing by plonking themselves so thoroughly in mid-table. Classic Klopp, always innovating.
And what it means is they can absolutely unleash everything in their last-16 clash with a Real Madrid side definitely owed a beating by the red men.
Being in the Champions League knockout stage is a reason to be cheerful itself, of course. Barcelona aren't. Juventus aren't. Tottenham are, but ignore that. Lots of clubs would be delighted at the prospect of a two-legged tie against the most successful team in the tournament's history. Perspective is important.
But it's also not necessarily a bad thing to miss out on it once in a while. As long as you get the summer right and see the crisis through there is an opportunity to reset on offer. Look at Arsenal this season! But also don't look at Arsenal for the last eight or nine seasons before this! Those are less inspiring!
4. They might get Champions League anyway!
We're also not entirely ready to rule Liverpool right out of the top four picture anyway. Chelsea have written this season off already and also gone kind of insane so that helps.
Liverpool don't need to worry about the top three, they're gone, but to get fourth they don't really need to do that much or overcome anyone that good. Over an 18-game run they just need to be 11 points better than an overachieving new-to-all-this Newcastle side who keep drawing, 10 points better then a Spurs team who are Spurs, five points, four points and three points better than Brighton, Fulham and Brentford and one point better than a 14-year-old's Champ Manager experiment Chelsea. Daunting, especially now we've written it down, but not impossible and the sort of run peak Liverpool would peel off in their sleep.
5. There's surely now absolutely no way they don't get a proper midfielder this summer
Surely. Okay it might not now be Jude Bellingham (unless all that stuff above happens) but there can be no further ignoring the massive hole in the middle of the team where Georginio Wijnaldum used to be and a proper replacement secured rather then some last-minute panic borrow from Juventus.