Five times forwards were left stunned by a keeper's save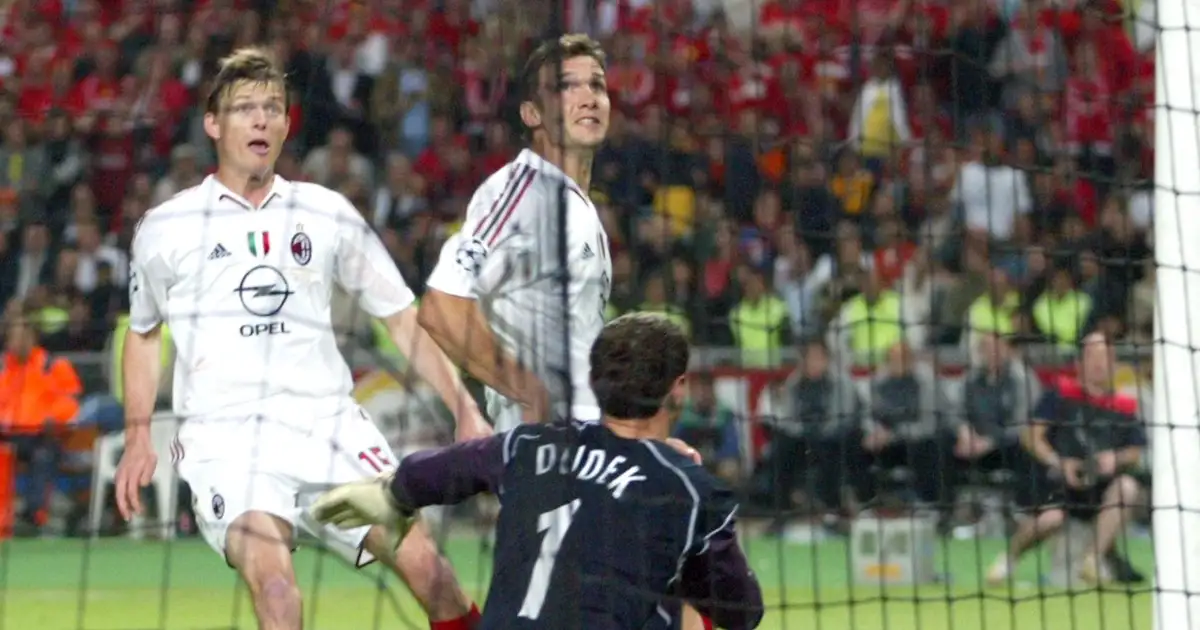 Romelu Lukaku could not believe Bernd Leno dared save his shot. But the best of the genre might come from Liverpool in the European Cup final.
Despite his rampaging performance on Sunday, Romelu Lukaku looked shocked that Bernd Leno kept out his late header. It's not the first time a forward simply couldn't believe the net did not bulge.
Ole Gunnar Solskjaer v Arsenal
'Twas getting to the era post-Invincibles when Arsenal were bullied out of any title race. Arsene Wenger was lowering his sights while Sir Alex Ferguson lasered his focus on the Special One swaggering into town with all pistols drawn. Even so, the Gunners could still play on their day. They were excellent in this 1-0 win over their familiar enemy in September 2006 at Old Trafford with a late Emmanuel Adebayor goal.
Ole Gunnar Solskjaer was thrown into the mix for the last 13 minutes and cracked a terrific snapshot from the right side of the box, heading like an arrow for the corner. Somehow, despite instinct and optics from normal vision suggesting this was 1-1, Jens Lehmann got fingertips to it to turn the ball around the post. To this day, we are with Ole in his incredulous look at John O'Shea, mouthing what seems to be: 'F**king hell, how did he save that one?'
Their reaction says it all pic.twitter.com/UsAVsQXk8u

— The Somali Gooner🇸🇴 (@Shafka_Gunner) September 17, 2019
Andy Carroll v Petr Cech
The 2012 FA Cup final was, for the most part, a stroll in the park for Chelsea against a Liverpool side that boasted Jay Spearing and Stewart Downing. For an hour, Chelsea were superior by far and had a two- goal lead to prove it. Then Kenny Dalglish turned to £35million mega misfit Andy Carroll on the bench and immediately John Terry and company were having kittens. How titans can look like termites sometimes.
Carroll pulled one back with 25 minutes to go and the Reds thought they had the Blues where they wanted when the Geordie powered a header at the far post that Petr Cech somehow turned against the woodwork. Luis Suarez was already celebrating. So was Carroll behind the goal. Interestingly, only Dirk Kuyt followed up to try and turn the ball home for Liverpool. In the age before goalline technology could clarify, this was too much to bear. Suarez was booked for dissent. Naturally. The comeback was dead.
Still can't believe Cech saved this Andy Carroll header pic.twitter.com/udOOfRiu9i

— My Greatest 11 (@MyGreatest11) January 9, 2021
Arsenal v David de Gea
Once upon a time in a world not so far, far away, David de Gea used to make saves. Loads of them. Often all in the same match. No, he would still not save penalties but there would always be his hands, legs and feet to beat in normal play.
Arsenal reined in 33 shots against him at the Emirates in December 2017. The Spaniard repelled 14 of those on target. One memorable moment in time was Alexandre Lacazette's shot which somehow he got down to only for Alexis Sanchez to surely prod home. Nope. Both were denied and their body language was of the top-notch 'WTF' variety.
If you can't beat them, join them. That's what Luis Muriel did when De Gea got a strong right arm up to tip the effort over the bar in the first leg of the last-16 Champions League tie against Sevilla in 2018.
The Colombian gripped the post in bewilderment before congratulating De Gea for denying him. Escudero's outright slumped reaction to what looked like a certain goal is pretty good, too.
It gets better with every watch. Another 😱 stop from De Gea 👏

📺 https://t.co/DsWLtlwSmK #UCL @D_DeGea pic.twitter.com/T1EH2k6E5U

— UEFA Champions League (@ChampionsLeague) February 21, 2018
Andriy Shevchenko v Jerzy Dudek
Jerzy Dudek's double save from Andriy Shevchenko just minutes from the end of extra-time in the 2005 Champions League final was the real miracle of Istanbul. Having repelled the Ukrainian's goal-bound headed effort from eight yards out, he then managed to turn over the rebound shot up, up and away into the Turkish night sky.
🗣 Jerzy Dudek on his double save from Shevchenko:

"I don't know how I did it. It was fortunate for myself that I did it. Fantastic for me. I was waiting for this moment. I had difficult moments in this game but this is fantastic." 🧤😍

— Steven Gerrard (@Gerrard8FanPage) May 25, 2020
Shevchenko looked almost as crestfallen then as he did after missing the shootout penalty that handed Liverpool their fifth Old Big Ears. Dudek just nodded his head as if it was all in a day's work. That was the coolest part of the evening.
Shevchenko insists Liverpool cult hero Dudek doesn't believe what happened either: "I have seen him several times in the last few years and I have asked him: 'How did you manage to save my shot?' It has become a joke between us. What still surprises me is the trajectory of the ball after his save – that the ball went over the bar instead of coming back at me or going in the net. I think that it was destiny."
Theo Walcott v Manuel Neuer
Back in the day when Arsenal were regulars in the Champions League, a famous night at the Emirates got them back on track against Bayern Munich in the 2015/16 group stage. It looked for all the world like Theo Walcott had converted a cross from six yards out with a stooping header and he arced away in celebration. Trouble is, Manuel Neuer stuck out one of his bionic arms to knock the ball to safety. Theo's stature immediately shrunk, like he was a 16-year-old in a Word Cup squad all over again. Aaron Ramsey was also culpable, putting his hands up as if it was a done deal and then reacting too late to put the rebound in.
Reporter: How did you manage to save Walcott's header
Neuer: With my left hand pic.twitter.com/1x4tqr12Nw

— Bayern & Germany (@iMiaSanMia) October 20, 2015