A Football365 love letter to… Gazzetta Football Italia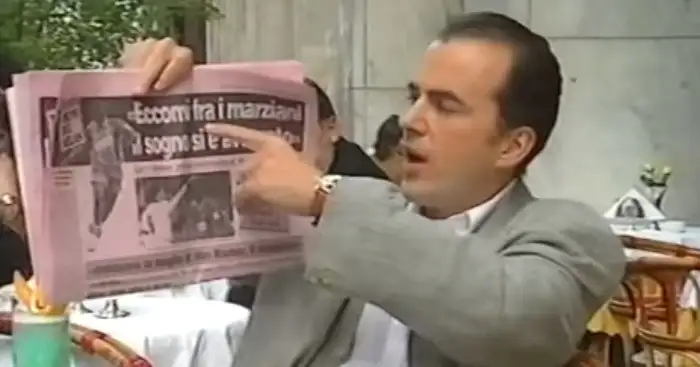 Johnny has loaded his frankly unnaturally large and long love gun with his special golden bullets of devotion. This week he's eating an enormous gelato and drinking coffee whilst pointing at a pink newspaper. That'll be Gazzetta Football Italia, then.
Why the love?
In a perfect moment of accidental synchronicity, Channel 4's coverage of Serie A started in 1992, just as Sky had bought football from terrestrial telly. It was a time when few of us had satellite dishes and thus rarely saw live football. So Football Italia was a chance to watch brilliant games played by wonderful international footballers, live, every week. It was an immediate big hit, garnering an amazing three million viewers for the first game – a thrilling 3-3 draw between Lazio and Sampdoria.
It was also right at the time when Paul Gascoigne was a superstar and had moved to Lazio, albeit with a gammy leg after THAT tackle. Here was a chance to watch him live on a Sunday afternoon and messing around on a Saturday morning, along with other English players such as David Platt, Des Walker, and later Paul Ince.
Gazza was originally supposed to present the Saturday highlights and features programme, Gazzetta, which would have been a nice pun, but that idea didn't last long and the untested James Richardson took over, pretty much only because he was the one person around who could speak Italian. It proved to be a great move and it really hit its groove and became a cult classic for 10 years before leaving Channel 4 for a long slow fade out on other channels. James left after 14 years in 2006, by which time it was stuck on Bravo and getting a mere 20,000 watching it.
While the live coverage on a Sunday was always welcome, the revolution was really happening on Saturdays with the Gazzetta show. We hadn't seen anything like this. Firstly, it wasn't presented by an ex-footballer. Secondly, it treated the viewer like a sentient creature. Finally, it didn't pander to the well-established football cliches of the era. It also seemed sophisticated in comparison to watching British football. The players were simply better, the games more exotic and exciting, at a time when Serie A was stuffed full with the world's best footballers.
James, famously, would review the Italian papers, and again, this was unique. No-one scrutinised the papers back then and I'm sure the British papers wish no-one did any more, so they could continue to churn out guff without people laughing bitterly and shaking their heads in sheer disbelief.
A memorable theme tune cemented the programme into our consciousness, which all of us thought ended with an Italian commentator screaming "GoalllllLazio" but felt guilty about that, fearing we were being typically British and linguistically thick, and that surely it must have meant something else very different. It didn't. But as James now says:
"As for the theme tune, even though I assumed it was GOLAZO, they were using a Jose Altafini bit of commentary. The composer did confirm, years later, that he was basically saying 'Go Lazio.' I assumed through the 10 years that there was no way he could possibly be doing that!"
Seeing and hearing the opening credits again just makes it feel like it is the early 90s all over again. It seems so recent and yet, at the same time, so long ago. Where does the time go? And, oh, for a chance to take the roads not trodden since. This will "send you back down the vista of years", as DH Lawrence once said, on hearing someone playing a piano – a man who went to live in Italy, as it happens.
Superhero skills
On Saturdays it was always must see TV to catch James sitting in a cafe somewhere, huge coffee, pastry or steadily devoured gelato on hand as he went through the Italian papers commenting on stories, from a series of beautiful Italian piazzas. It felt like we were going on holiday.
The estimable Sean Ingle once wrote of James's presenting style: "Anyone who resists football's twin turkey twizzlers, cliché and monosyllable, as he does, should be commended."
We all loved it. Then there was the funny little skits with Gazza, like this one. How lovely to see him in younger days. My God, remember that game he played for Lazio against Roma? Incredible.
But it wasn't always sitting in glamorous places with coffee; there were other pleasures to Gazzetta. Kenny Wolstenholme's run through the week's highlights gave them some heft. There was news from the league. There was Jimbo's interviews with players – sometimes serious, sometimes silly, at one time even getting Attilio Lombardo to do the lambada and David Platt to dress up as the Terminator. On Sunday there was the great Peter Brackley in tandem with Ray Wilkins (at the peak of his Tango years) or Luther Blissett.
Style guru?
As I think we all know, Italian men, by some sort of act of sorcery, can look cool in anything they wear. They tend towards innate insouciant grace and I always felt that this rubbed off on our glorious host. This was when AC Jimbo had hair, of course, which now looks a little unnerving. There are men who look far better bald than hirsute. Better older than younger. James is one of those. I always thought it looked like he was in a Style Council video for Long Hot Summer in those little cafes. There was a chance of spotting him wearing some sort of chino, which makes any decent chap shudder in horror these days, but back then, was not the fashion faux pas it has since become.
Loosely structured jackets, light woollen knitted waistcoats and open neck shirts were the order of the day, or sometimes quality jumpers worn without a shirt underneath. Shocking. How continental. Maybe even a roll neck sweater under a jacket in the winter. These were not radical fashion choices, but in the context of the times, they were for a football presenter whose fashion choices were largely influenced by Saint and Greavsie. Here was someone who looked modern and in touch with a life that didn't revolve around Rotary Club dinners, golf and casual racism. We liked that. We liked it a lot. But TV producers seem intent on ignoring this audience to this very day, locked in a death dance with the downmarket and downright dumb.
Proper Football Man rating
Ouch! Frosty.
No PFM worth the pint of Pepto Bismol washing around his ulcerous gut would enjoy watching football played between teams he's never heard of and players whose names he can't pronounce. The PFM knows only two things about Italian football and he will tell you them with the degree of certainty that only people who don't know how little they know can ever have. First, it's slow and defensive. Second, they invented diving. Oh and another thing: All their tanks only have a reverse gear, Jeff. All of them, literally, Jeff. I blame that there pasta, Jeff. It's just boiled wheat, y'know.
They've never taken to Jimbo due to him actually knowing stuff, which every PFM think is a waste of time when you can just rely on cliches and notions which you absorbed 30 years ago and have never once thought to update. And being bi-lingual just makes them snigger because I've never touched a bloke like that, Jeff.
As they've only ever been interested in foreign players when they play in England, they'd never have watched Gazzetta. Also, it was on Channel 4, which they thought was only for gays and commies. And the PFM is not a fan of either of those, unless they're appearing naked in specialist magazines. And no, I don't mean Marxism Today.
Reidy would surely have thought Limoncello was aftershave and that pannacotta was a cooking utensil. Also t,he idea of reading newspapers what are written in foreign is anathema to all of them and it's pointless anyway Jeff, because all foreigners can speak English if you just shout at them loud enough. Rushie had lived there for a bit and he said it was like a foreign country, so you'd have to take out a massive amount of tins of beans just to survive. And they eat pasta, Jeff. Which is boiled wheat. I know I keep goin' on about this, Jeff, but who boils bread? It's mad. That's why Italy has the second most fat kids in Europe (35%), next to Greece (41%), Jeff. I read it, so it must be true.
They do like Gazza though, because they like laughing at drunks, feeling that drinking is only a problem if you've run out of drink. They never liked Platty though. He was too intellectual, and you could tell that 'cos his head actually looks like an egg.
If the PFMs have heard of Gazzetta or even of Serie A, they probably think it's a modern programme on BT Sport and as such responsible for the downfall, humiliation and laughter at all things they consider holy: Keys and Gray, sofas, leg-squeezing and shouting loudly about things they know very little about, whilst being told by their mates how modern they are due to having a hi-tech bunker with an iPad and a white board and everything.
I'd go so far as to say there'll be some PFMs who simply don't know the show ever existed and has still never heard of James Richardson.
What the people say
It was very popular and so it is not surprising it lives on, curled up in front of the roaring fire of nostalgia, like a contented cat. It definitely made people feel good. It entertained and educated and it made us all feel just a little bit more clever than beforehand. It was also good to have it in your cultural portfolio and was a test of whether you might be simpatico with someone. Only a certain sort of person would watch Italian football. To many it was puzzlingly irrelevant. So even then, it helped separate you from the PFM tendency, which basically occupied 98% of football's British cultural landscape, with only When Saturday Comes occupying the more lofty, literary grounds.
I've included a huge amount of comments this week because I felt it important to show how a TV show can help shape positive life outcomes, and also how it can become a bookmark in your life from which good stuff grew.
This is so much the case that someone is selling these:
'Made an 11-year-old self want to play football, drink coffee and read a newspaper (preferably pink).'

'It was the first time I ever heard a pun, JR holding up an Italian newspaper which said something like Sacchi getting the sacky.'

'I loved the random nuggets like Franz Carr, Del Piero on National Service, Beppe Signori's too small boots, so many more, & Incey/Jimbo antics.'

'Watching @acjimbo with a coffee and the biggest gelato you have ever seen was the most cultural thing I had experienced at 10!'

'Commentators who were clearly watching it on a screen (missing incidents/confusing players) but pretending they were actually at the ground?'

'Didn't have Sky when I was young so football growing up for me was centred around Signori and Batigol, a world away from my schoolmates.'

'It was perfect timing with my nan's bacon, sausage and beans.'

'Perfect gateway to football hipsterdom, pre-internet. Wolstenholme was a cracking commentator and Richardson was the antithesis of the PFM.'

'Desperately want to get a copy of the Gazzetta Dello Sport so I can sit outside my sister's speciality coffee shop à la @acjimbo circa 1998.'

'…how exotic C4 made Italian football seem to a young boy growing up in Dublin without Sky!'

'Fantastic. We'd watch this in the morning and ran Fußball later for Bundesliga magazine show. Great era for Jerseys.'

'I spent quite a long time assuming he was a tiny, tiny man sitting behind a normal sized coffee…'

'Not only was it a pretty big leap from C4 to do it. The idea of treating fans like intelligent adults was pretty radical too.'

'Newness of foreign football pierced our eyes like morning sunshine. Perfect time after majesty of Italia 90 + coming of a cosmopolitan sport. Plus James Richardson – he knew all the Italian words! And mixed insightful footy chat with wry humour & a gelato effortlessly/'

'Brackley and Butch Wilkins were class.'

'They had great commentators and presenters and the best players in the world on live every Sunday lunchtime. Hard to beat.'

'My profile pic is me at the Olimpico this year. I went to an evening top of the table game 10 years ago. I have Football Italia to thank.'

'The lasting memory is Jimbo sitting outside a cafe with a set of pink papers drinking coffee and eating gelato. It was a simpler time.'

'The flares, bangers & atmosphere generally at the evening derby/top of the table clashes looking like it was from another planet. 'Gazzetta' being one of the finest footballing shows ever mixing comprehensive highlights, features & wit topped off with a dash of culture.'

'Made my 8 year old self aware there was footballing culture out there nothing like what I saw on MOTD or watching Sunday League with my dad.'

'My first exposure to cultured football. Like swapping cans of Tetley's down the park for a glass of wine at the table.'

'Uhlsport balls, Weah's red boots, Richardson being the coolest man on tv, nobody knowing what the commentator said in the opening titles.'

'Obviously watching someone else read Italian sport newspapers while drinking coffee and eating ice cream is extremely entertaining.'

'It was the gem in the C4 crown… The fact it is still so revered now tells you everything you need to know.'

'I remember Ince dressing as an animal (can't remember what one) to help out James Richardson on a (presumably) quiet week.'

'All of these comments just remind me of how brilliant the programme was from start to finish.'

'When I went to Italy for the first time, I bought copies of Gazzetta & Corierre purely because of @acjimbo paper reviews!'

'The theme tune,teams with world's best players, ACJimbo, Brackley+Wilkins double act,the lattes + sundaes, Paolo Montero getting sent off.'

'At a time when English football was very tribal, this was something to be enjoyed as a neutral.'

'Great memories of Gazza, 'gooalll achio', Ronaldo phenomeno destroying all defences + James R teaching us club names like 'rossieneri' etc.'

'I can't think of anything else that would give diadora that much mystique.'

'Literally how I fell in love with football. Cultured and exotic, but completely accessible.'

'The pinnacle of Sunday football. The theme tune, the presenter, the quality of football were all brilliant!!'

'Essential viewing. Almost gave up entirely on English football for a bit because of how enjoyable these were.'

'My first experience of continental football. Complete with a delicious coffee or dessert on Richardson's cafe table.'

'Peter Brackley, Mancini and that Sampdoria kit uber cool, Des Walker, Gazza in his heyday, Abel Balbo and Batigol. Class programme.'

'Taribo West being bonkers (ISTR @acjimbo going round his house and all his equally scary mates were there). The "Yellow Submarine" chant.'

'Loved James Richardson sitting outside a cafe with the Italian papers…felt like a doorway into a different football world.'

'Absolutely loved it.seemed so glamorous. Jimbo getting it right. I was at uni at the time perfect for recovery Sunday when we didn't have Sky.'

'It remains the only football show I've felt totally comfortable watching every single time.'

'Sunday as a kid was play football in the morning and come home and watch Football Italia.'

'I have fond memories of playing Championship Manager & watching Gazzatta in the days when I was too young to have gone out the night before.'

'Don Howe's hat. The incomparable pairing of Brackley n Butch. Elvis Costello. Scoffing a bruschetta while watching the Sunday game.'

'Weird to think now most kids on a Monday morning would talk about the game on Ch4 rather than what happened in the Prem League over the w/e.'

'Seeing @acjimbo with a copy of Gazzetta and a cappuccino will always bring a nostalgic smile to my face.'

'Mooched around Florence recently until Mrs agreed to let me sit with a Gazzetta and an espresso. She didn't get why that made me happy.'

'Remember being a young lad sat in a dingy pub after one of my dad's Sunday morning games and watching Tino Asprilla be amazing for Parma.'

'Asking me dad "where's cremonese?" "Somewhere in the heel bit" "where's reggiana?" "Somewhere in the heel bit" "where's Foggia?""Er heel bit"'

'Obviously the time Butch Wilkins was co-commenting with Brackley on a Fiorentina game and they were discussing the merits of Batistuta. After talking over his skill as a player, Butch lustfully lamented "I must say, the chap has got a smashing head of hair too." Triffic.'

'Loved it. Reminds me of Sunday afternoons watching Serie A with my dad, while he extolled  virtues of the best league in world at that time.'

'Couldn't wait for it every week when I was a kid. If it wasn't for it I don't think I'd be as big of a fan of football as I am.'

'How many superlatives do you want? It also hugely influenced the BBC and Sky – it was loved and left a legacy.'

'Watched it every Sat and Sun, then straight down the park to recreate the goals. This programme was my weekend.'

'Greatest football show ever. Ignore @acjimbo Sergio Georgini jacket – where else would you have Elvis Costello reviewing the day's goals?'

'James Richardson, looking suave, sipping an espresso at an Italian street cafe, ruminating over the Italian sports broadsheets. Marvellous!'

'Didn't get Sky Sports until 94 so it was either Football Italia or the regional nonsense dished up by ITV. Pretty easy to guess who won!'

'Think a whole generation of youngsters grew up wishing we paid more attention in foreign languages at school.'

'This is what made me realise football existed outside of England. Best league in the world during Gazzettas' pomp.'

'I was I think 13 when it was on…developed a passion for Foggia. Realised a world outside  British football. Mate was Atalanta fan.'

'Used to wake up steal loads of biscuits in the morning and munch then watching it before swimming!'

'It was a time when "foreign" football had a real mystique. Players u knew nothing about or superstars we had seen who would never come here.'

'Hungover Saturday mornings at university, Jimbo in a piazza with papers and a huge gelato. A visual comfort blanket..'

'And they had Peter Brackley AND Ray Wilkins "afternoon Peter, afternoon everybody"'

'The greatest football program ever!'
Future days
Jimbo went on to many other admirable football presenting gigs, of course. It'd be nice to think that one day a broadcaster might revisit the Gazzetta format, though it's certainly the case that it could never seem quite so exotic again in these days of commonplace global football broadcasting. The world is much smaller now. BT Sport had the nearest thing to it in the European Football Show, which was absolutely sodding well disgracefully cancelled at the end of the season. Hopefully this piece and all your many memories will stir some terrestrial TV exec out of their coked-up, hand-curated artisanal coffee psychosis to realise there is a sizeable audience for European football presented with intelligence, articulacy and wit.
I'll leave the final words to the man who made it such a success and who, though the mainstream probably have no idea of this, exerted more influence on football TV broadcasting than anyone else.
"The show was something of an anomaly at the time, a novelty to have a foreign league broadcast on British TV. It seemed exotic and I guess there was a real glamour compared to a lot of football people had been watching. For a lot of young and impressionable people, myself included, there was a romance to it. Everything seemed better back in the '90s. The football was excellent, it was different to what we'd seen before and the programme was different. There was a certain sense of community with the viewers which I guess has meant that people look back on it fondly."
Amen to that, James. Now, I'm off to eat a bombolone the size of my head.
John Nicholson