Gossip: Half of Ajax coming to Arsenal and Tottenham…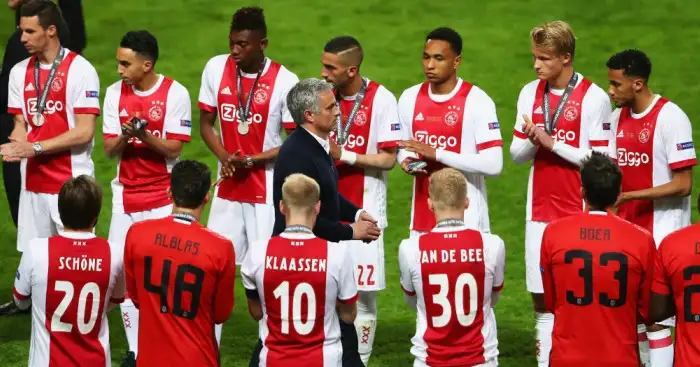 DOLBERG AND DE LIGT TO ARSENAL
There is talk (pretty weak talk) of Marc Overmars joining Arsenal as director of football, and if that happens, we are told that we can expect Matthijs de Ligt and Kasper Dolberg to follow. Because of course Ajax will allow Overmars to wander out with them tucked under his arm, like a redundant office manager sneaking off with a stapler and a hole puncher (are hole punchers still a thing?).
Reports from Spain suggest that Barcelona's Raul Sanllehi could yet be Arsenal's choice to replace their 'fixer' Dick Law, but let's go with Overmars for now as that brings De Ligt and Dolberg into the equation. You have probably heard of the latter because he scored 23 goals last season despite being just a teenager, but it is De Ligt who has admirers all across Europe. He is just 18 but is a first-choice centre-half at Ajax and has already been capped by his country.
They would be excellent signings for Arsenal.
SPURS WATCHING AJAX PAIR TOO
Except this is a different Ajax pair, according to Sky Sports. Justin Kluivert and Donny van de Beek are the two names mentioned as possible targets to follow Jan Vertonghen and Davinson Sanchez from the Dutch club to Spurs. Van De Beek is just 20 but is established in the Ajax midfield and recently received a call-up to the full Dutch squad. With Tottenham still looking for midfield reinforcements, he could be an option.
Kluivert (yes, son of) is an 18-year-old winger/striker who is already managed by Mino Raiola and scored two Eredivisie goals last season. Also being monitored – according to Sky – is Bayer Leverkusen's forward 18-year-old Kai Havertz.
OPTIMISM IN BARCELONA OVER COUTINHO
Of course there is. There always is. The headline in Thursday's Mundo Deportivo reads 'Optimismo: el Liverpool ya pone precio a Coutinho' which we believe means that Liverpool have already put a price on Coutinho. And it turns out that it's the same price being quoted on Wednesday: £135m.
But that price is too much and Mundo Deportivo believe Barcelona and Coutinho can push that price down between now and January. Good luck, fellas.
AND THE REST
Newcastle and West Brom are interested in signing Wolves' 24-year-old defensive midfielder Conor Coady…and that's your lot. Thanks.