Harry Kane landmark goals as he beats Tottenham record and reaches 200 in Premier League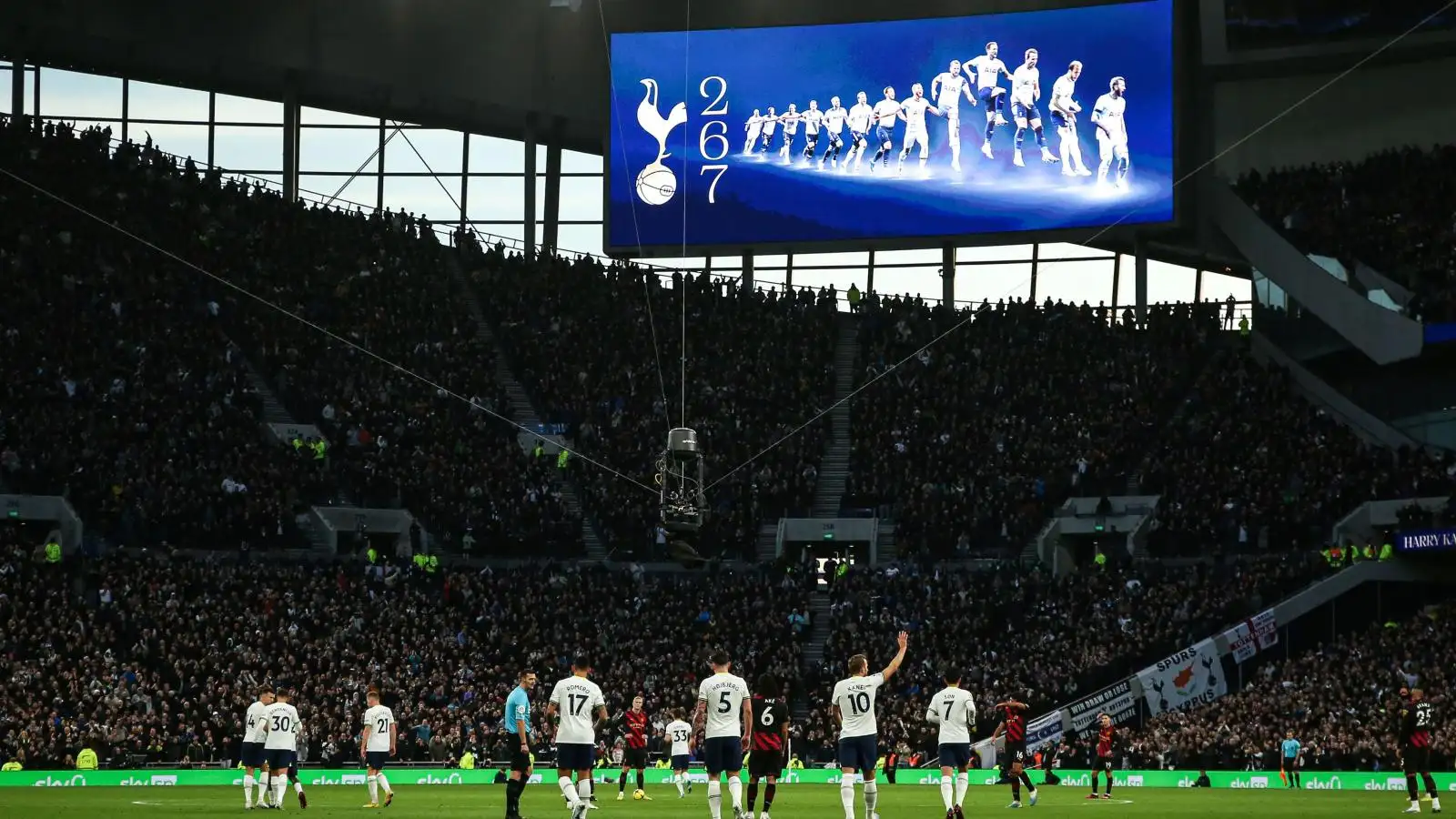 Harry Kane may be allergic to trophy-winning but he is absolutely not allergic to scoring goals. 
By opening the scoring against Manchester City on Sunday he both overtook Jimmy Greaves as Spurs' all-time leading all-competition goalscorer with 267 while also becoming only the third person ever to score 200 Premier League goals and the first to score the lot for a single club.
Here's some of the big ones along the way…
The first goal: December 15, 2011 – Shamrock Rovers 0-4 Tottenham (Kane 90+1)
Like so many others, Kane's earliest chances at Spurs often came a) from the bench and b) in the Europa. It wasn't until his sixth appearance in that year's competition that he finally got off the mark, providing late gloss to the scoreline after a veritable who's who of Tottenham goalscoring greats had sealed the points before half-time: Steven Pienaar, Andros Townsend and, to be fair, Jermain Defoe.
Thanks for all the messages ! Ashame we didn't get through ! Pleased for my 1st goal ! First of many !xx

— Harry Kane (@HKane) December 15, 2011
The first Premier League goal: April 7, 2014 – Tottenham 5-1 Sunderland (Kane 59)
Having been discovered after a run of three defeats in four games during Tim Sherwood's gilet-and-banter reign, Kane finally got his first Premier League goal to put Spurs 2-1 up against bottom-of-the-table Sunderland. It was set up by Christian Eriksen, which is something that would happen a further 32 times over the years to come.
The first hat-trick: October 23, 2014 – Tottenham 5-1 Asteras Tripolis (Kane 13, 75, 81)
We're now at the start of the Mauricio Pochettino era, and the single greatest game of football ever played. Shut up, it is. First, it was the game where Erik Lamela gave every football fan a raging Rabona with a ludicrous goal. Around that, Kane scored thrice playing as a number 10 behind Emmanuel Adebayor. Then, in an early shadowing of his future all-round adaptability, Kane ended up in net after Hugo Lloris got himself sent off four minutes after Pochettino had used his final substitution. Turns out that goalie is the one position Kane can't play, though: he let a tame 89th-minute free-kick squirm under him to give Asteras a consolation.
🗓 #OnThisDay Six Years Ago, Tottenham Hotspur 🆚 Asteras:

🏟 Location: White Hart Lane!

🎩 Harry Kane's First-Ever Spurs Hat-Trick!

🤩 Erik Lamela's Rabona Magic!

😅 Harry Kane Ending The Match In Goal And Conceding A Howler!

😂🤣😭#THFC #COYS #UELpic.twitter.com/x7BJ2sap2H

— Last Word On Spurs (@LastWordOnSpurs) October 23, 2020
The breakthrough Premier League goal: November 2, 2014 – Aston Villa 1-2 Tottenham (Kane 90)
Kane scored three Premier League goals under Sherwood at the back end of 2013/14 but was second choice behind Roberto Soldado under Pochettino in the Premier League. Kane's prolific Europa League form was making a strong case, and he came off the bench just before the hour mark with Spurs a goal down at struggling Aston Villa. Nacer Chadli equalised with 10 minutes to go before a deflected Kane free-kick in the final minute earned Spurs a huge three points. It was big for Spurs, but bigger for Kane. He started the next Premier League game and really has hardly looked back. It is also the one and only Premier League goal Kane has ever scored direct from a free-kick despite quite literally millions of subsequent attempts.
The 'Sorry about that, Jose' goals: January 1, 2015 – Tottenham 5-3 Chelsea (Kane 30, 52)
Kane was halfway to completing his one season of wonder and Chelsea were well on their way to the Premier League title when Jose Mourinho's in-form side arrived at White Hart Lane to be spectacularly torn apart by Pochettino's Spurs. Kane scored twice, the first a spectacular equaliser in which he somehow manoeuvred his way through challenge after challenge before arrowing a 20-yard strike into the bottom corner.
The first NLD goals: February 7, 2015 – Tottenham 2-1 Arsenal (Kane 56, 86)
Two second-half goals turned a half-time deficit into a famous win, Kane's late, clinching header really kickstarting the 'One of our own' legend. Kane now has 14 Premier League goals in north London derbies – another record.
The 50th goal: January 10, 2016 – Tottenham 2-2 Leicester (Kane 89pen)
Kane's 50th goal came in an FA Cup clash with Leicester. A fitting landmark goal for many reasons, containing as it does a great many separate Kane goalscoring tropes. A late goal, against Leicester, and a penalty. None more Kane.
The Golden Boot goal: April 18, 2016 – Stoke 0-4 Tottenham (Kane 9, 71)
Kane's ninth-minute opener at Stoke was his 20th of the season and would ultimately be the one that sealed his first Golden Boot. He scored a second after the break in what would prove to be Tottenham's final win of the season as their title bid unravelled spectacularly in the closing weeks. The 22nd and final Premier League goal of Kane's season came soon after at Chelsea, and is not what that particular game is best remembered for.
The first Champions League goal: November 22, 2016 – Monaco 2-1 Tottenham (Kane 52pen)
Spurs' 2016/17 Champions League campaign was, frankly, crap but Kane still got his first couple of goals at the highest level of club competition along the way. More memorable – for better and worse – nights in the competition lay ahead.
The Golden Boot back-to-back hat-trick goals: May 18, 2017 – Leicester 1-6 Tottenham (Kane 25, 63, 89, 90); May 21 2017 – Hull 1-7 (Kane 11, 13, 72)
Spurs finished second in the 2016/17 Premier League, seven points behind Chelsea, but Kane secured the Golden Boot once again by scoring seven goals in the last week of the season, helping himself to four at Leicester in midweek and three more at Hull on the final day as Spurs logged their record Premier League away win twice in four days.
The 100th goal: September 9, 2017 – Everton 0-3 Tottenham (Kane 28)
After failing to score in August as was by now customary, Kane got off the mark for the 2017/18 season with a mishit cross at Everton in just his 169th Tottenham game. Scored a more conventional second after half-time and was off and running once again.
The calendar year record back-to-back hat-trick goals: December 23, 2017 – Burnley 0-3 Tottenham 3 (Kane 7pen, 69, 79); December 26, 2017 – Tottenham 5-2 Southampton (Kane 22, 39, 67)
Let it never be said that Kane doesn't know how to get a goalscoring achievement over the line. Having scored back-to-back hat-tricks to win the Golden Boot in May, he did it again in December to break Alan Shearer's record for Premier League goals in a calendar year, eventually reaching 39 from 36 games (Shearer scored 36 from 42 in 1995). Even though that's not a thing.
Kane scored a thoroughly ludicrous six Premier League hat-tricks in 2017 – more than Dimitar Berbatov, Andy Cole, Ruud van Nistelrooy, Robin van Persie, Ian Wright, Jermain Defoe, Les Ferdinand, Fernando Torres and plenty more managed in their whole Premier League careers – to go with one in the FA Cup and another in the Champions League. Perhaps weirder still, has yet to score another Premier League hat-trick since.
The 100th Premier League goal: February 4, 2018 – Liverpool 2-2 Tottenham (Kane 90+5)
Kane's 100th top-flight goal came at the end of a ludicrously fun game at Anfield. Spurs twice came from a goal down to nick a point, with Kane scoring a last-gasp penalty having seen Loris Karius (remember him?) save an earlier effort. It was Kane's 141st Premier League appearance, making him second fastest to the century behind only Alan Shearer (124).
The contested goal: April 7, 2018 – Stoke 1-2 Tottenham (Kane 63)
Kane was bidding for a third straight Golden Boot but trailing Mohamed Salah when Christian Eriksen's free-kick at Stoke appeared to evade everyone before finding its way into the net. Kane claimed it flicked his shoulder, and Spurs successfully appealed to have a goal taken off one of their own players and given to another. Salah still won the Golden Boot, while Kane earned himself a reputation for guileless selfishness that no amount of quarterbacking and build-up play or millions and millions of assists for club and country can truly expunge.
The 20th Champions League goal: November 27, 2019 – Tottenham 4-2 Olympiacos (Kane 50, 77)
Kane's second-half brace helped Spurs overturn a 2-0 deficit in Jose Mourinho's first European game at the club and also took Kane to 20 Champions League goals in just 24 games – which was faster than anyone else had ever reached that particular arbitrary landmark until the absurd Erling Haaland came along and casually did it in 14 games.
The goal that wasn't an assist: September 20, 2020 – Southampton 2-5 Tottenham (Kane 82)
Kane scored Tottenham's fifth of a bizarre afternoon at St Mary's where Spurs had been second best for a large chunk of the game. But the goal wasn't Kane's big contribution to this one, having previously set up every one of Tottenham's first four goals, each of which were scored by Son Heung-min. It was the first time anyone had assisted the same player four times in a Premier League match.
The 200th goal: November 5, 2020 – Ludogorets 1-3 Tottenham (Kane 13)
2️⃣0️⃣0️⃣ goals for Spurs!

𝒪𝓃𝑒 𝒪𝒻 𝒪𝓊𝓇 𝒪𝓌𝓃#UEL ⚪️ #COYS pic.twitter.com/PistZMjI9D

— Tottenham Hotspur (@SpursOfficial) November 5, 2020
The first goal came in the Europa; the 200th came in the Europa. Once he was named in the starting line-up for the group game in Bulgaria with 199 goals to his name you thought it wouldn't take long for his 300th appearance for the club to become a double milestone. Missed a second-minute sitter, smacked the post from 20 yards, and then eventually nodded home a corner to end 13 minutes of agonising wait. He got an assist 10 minutes later as well, because that's what he does now.
The 150th Premier League goal: November 8, 2020 – West Brom 0-1 Tottenham (Kane 88)
And just three days later came another landmark as another late Kane winner made it 150 Premier League goals and took Mourinho's side top of the Premier League for a few hours until Leicester replaced them by beating Wolves. All this is only just over two years ago. Anyway, it was only Kane's 218th appearance in the competition, making him third fastest to the landmark behind only Shearer again (212) and Sergio Aguero (217).
The second-place goal: February 10, 2021 – Everton 5-4 Tottenham (aet, Kane 83)
Kane's 209th Tottenham goal took him clear of Bobby Smith and into second place in Tottenham's all-time goalscoring charts but wasn't enough to keep Spurs in the FA Cup. His late goal (another one…) made it 4-4 in a very silly game at Goodison, but an extra-time winner from Bernard meant Kane's ongoing wait for a single scrap of silverware would go on. No end in sight yet on that score…
The 'One of our own' 250th goal: August 20, 2022 – Tottenham 1-0 Wolves (Kane 64)
Kane's 250th goal for Tottenham was also his 185th in the Premier League, taking him past Sergio Aguero's total of 184 for Manchester City and therefore setting a new benchmark for the most by any player for a single club in the competition. Wayne Rooney is third, having scored 183 of his 208 Premier League goals for Manchester United. Kane is now stretching his record to a point where Haaland might have to stay at City for a good four years to break it. Kane's winner against Wolves was also Tottenham's 1000th home goal in the Premier League, which you didn't even realise you needed to know until right now.
The 100th Premier League away goal: October 1, 2022 – Arsenal 3-1 Tottenham (Kane 31pen)
A quirk of Kane's Premier League goalscoring record is that he's scored more of his goals away from White Hart Lane(s)/Wembley than at home. As he reaches 200 Premier League goals he's already well past 100 away goals, having got to the landmark in undeniably fitting style with a penalty in a NLD defeat. This is one outright Premier League goalscoring record Kane already holds, with no other player making it to 100. Rooney scored 94 away goals, with Shearer managing only a surprisingly meagre 87. It was also the seventh Premier League penalty Kane had scored against Arsenal – equalling Shearer's record of seven against Everton for most penalties scored against a single club – and his 44th goal in Premier League London derbies, breaking Thierry Henry's record of 43.
The 300th Premier League appearance goals: January 4, 2023 – Crystal Palace 0-4 Tottenham (Kane 48, 53)
Kane scored his 197th and 198th Premier League goals with a quickfire double early in the second half at Palace. His opener also marked the first time in 11 games that Spurs had scored first in any match, while he also became only the second player to score on his 100th, 200th and 300th Premier League appearances. Teddy Sheringham was the first to do so.
Kane's goals also took him clear of Shearer (196) for most goals in a player's first 300 Premier League games and there is clear daylight behind the top two, with Andy Cole (151), Michael Owen (146) and Robbie Fowler (140) rounding out the top five. Those two goals at Palace also moved Kane within two goals of Jimmy Greaves' all-time club record, and he cut that deficit to a single goal with the winner against Portsmouth in the FA Cup third round.
The record-equalling goal: January 23, 2023 – Fulham 0-1 Tottenham (Kane 45+1)
Failed to get his customary NLD goal in a dismal 2-0 defeat and wasn't on the scoresheet as Spurs threw away a 2-0 lead at Manchester City but moved level with Greaves and one away from 200 Premier League goals with an extremely Harry Kane effort at Fulham. Not a penalty, no. The next best thing: a crisp strike taken early from around 20 yards and arrowed in to the bottom corner. He's scored literally dozens of goals just like it. Many of them, like this one, were also assisted by Son Heung-min.
The record-breaking double-hundred goal: February 5, 2023 – Tottenham 1-0 Manchester City (Kane 15)
A scruffy finish in truth and one that could have great significance for the red half of north London as well, which seems fitting given the way north London derbies have been so integral to the Kane story. It was both the 267th goal for Spurs in all major competitions, to go one past the great Greaves, and his 200th in the Premier League. Only Shearer (260) and Rooney (208) are ahead of him since football was invented in 1992.