In defence of Harry Maguire: His Man United dreams may be delusions, but he's entitled to them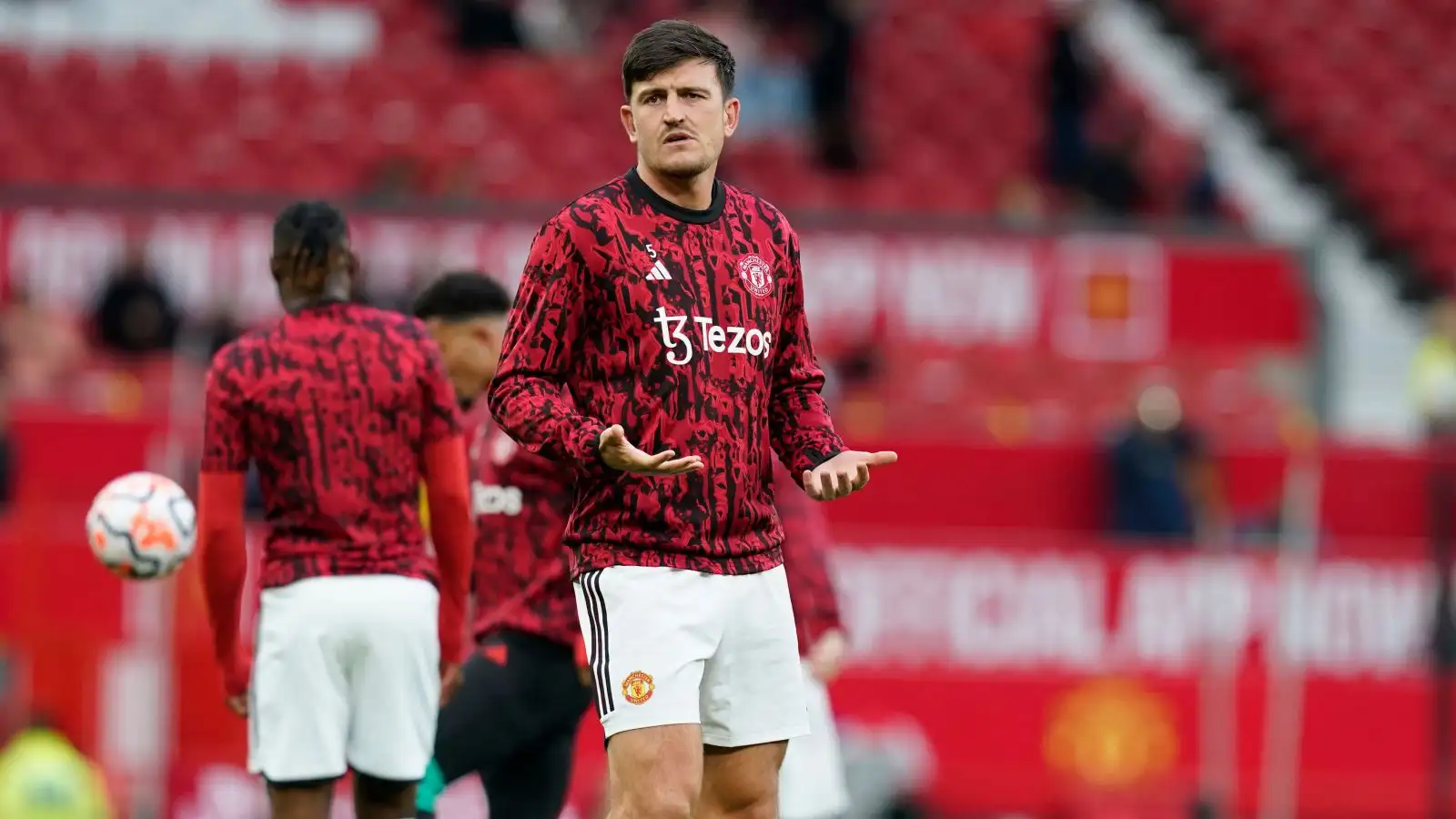 If Harry Maguire believes he can win back his place at Manchester United then he's contractually entitled to try. An obvious point, but apparently needs making.
Harry Maguire is a footballer who provokes strong responses.
There's something about him, even when playing at his very best, that seems incongruous. The slight awkwardness. The undeniably outsized head. That memorable description of his frequent forward forays resembling an over-confident Hollyoaks star at Soccer Aid has always rung true, even when he was also England's best defender.
Maguire somehow doesn't look like an elite footballer. He's a League Two player who found some magic boots at the back of a cupboard and ended up joining Manchester United for £80m.
And here we are. A player whose success apparently arrived by almost willing it into being, by believing himself to be good enough to play for Manchester United and England and thus making it so is now infuriating wild numbers of United fans by continuing to believe in it.
It's fair enough. That confidence in his (genuine, if currently misplaced and always incongruous) abilities has taken him a long way. The United captaincy. Fifty-seven England caps and three major tournaments.
Even last season at United when clearly no longer first choice, he still made 31 appearances in all competitions. Even now, when United are actively trying to force him out of the club, he was on the bench for the scratchy 1-0 win over Wolves.
Much was made of Maguire remaining on the bench even as Erik Ten Hag used all his five substitutes, including replacing Lisandro Martinez for his own good with Victor Lindelof at half-time. That's not really relevant; had right-sided centre-back Raphael Varane needed replacing and Maguire still not got the nod, that would have been damning. He is currently, at best, United's fourth-choice centre-back.
But that doesn't mean he is obliged to leave the club because that's what they want. He certainly doesn't have any obligation to make a move he doesn't personally want to make just because the fans and manager and even his team-mates might possibly think it the best thing to do.
He absolutely does not have any obligation to forego what he is contractually due just to help out poor little Manchester United.
Absolutely no footballer is ever under any obligation to be forced to go and play for David Moyes at West Ham. This is still, just about, a civilised country with laws against that kind of thing.
Maguire may well be utterly deluded in believing he can prove his doubters wrong and win a fight for a regular place in the United team. Those closest to him very possibly should be advising him to find a move that appeals in order to save his career – especially his England career. But if Maguire thinks he can still succeed at United then it is his prerogative to try. He is under contract – a contract nobody forced United to give him. If Maguire intends to honour it, then United have no choice but to do so.
As Mauricio Pochettino famously put it, you sign a contract to train not to play. If Maguire continues to fulfil his side of the bargain by turning up and training hard and making himself available, then United can agree as many fees with as many inferior clubs as they wish. If Maguire doesn't want to go, they cannot force him out.
And if Maguire is contractually due £15m if he does leave against his will having put in no transfer request or even tried to game the system by doing everything short of that to push for a move but retain his big, fat loyalty bonus, then again for United that is unfortunately tough shit.
He does not owe United any favours here. It was hilarious to read one notorious United cheerleader/apologist insist that United should never have to pay a player to leave, because this is Manchester United Football Club we're talking about. If they don't want Maguire to be there anymore, then he should just accept that.
There was even the suggestion that as Maguire is a wealthy man he can't 'plead poverty' and demand his contractual dues from *checks notes* Manchester United Football Club.
Clearly, that's at the absurd and extreme end of the position, but we've had mails from United fans wishing broken legs and worse on a man whose crime is to not be quite as good a footballer as the club hoped he was when they signed him and who doesn't want to leave the club for a worse one, thanks.
That really is all there is to it. It doesn't matter whether you or I or even Ten Hag thinks Maguire should leave United. Staying and fighting for his place or getting what he is contractually due is entirely his prerogative. Nobody put a gun to anyone's head when United signed him.
There's also a lesson here for fans of all stripes. We're all quick as fans to demand loyalty from players when they consider moving on halfway through a six-year contract or whatever; we rarely as fans show the same loyalty to players we'd quite like to leave our clubs.
It's very likely that Maguire's best career path here, at 30 years old, is one that takes him away from Old Trafford. It's very likely that continuing to try and prove something at United is neither the best thing for him or the club.
But if he sees that differently, that's up to him and there really is very little United can do about it. Contracts work both ways.
Free agents: The 20 best out-of-contract players still left on the shelf