Safehands Seaman, England's No.1 and the bloke next door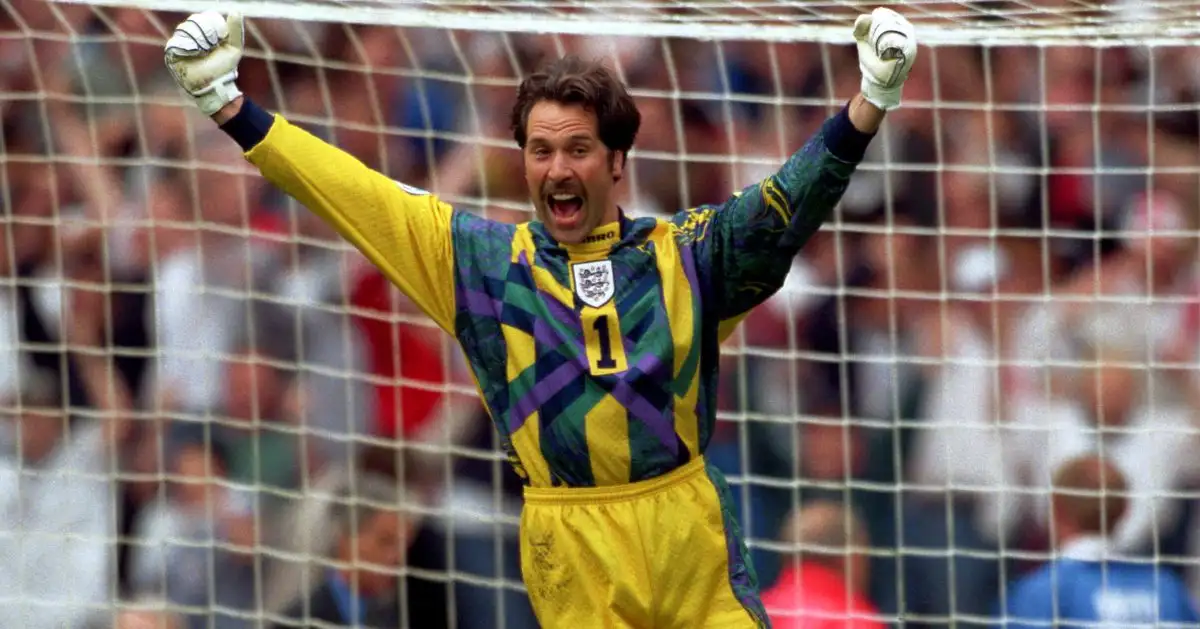 An unflappable presence in England and Arsenal's goal for around 427 years, Shovelhands David Seaman receives some Johnny love…
Who's this then?
David Andrew Seaman is a 57-year-old ex-goalkeeper who, for a while, was the dominant gloveman in England and right across Europe. Born in Rotherham, the 6' 3" Yorkshireman played for six clubs: Leeds United, Peterborough, Birmingham, QPR, Arsenal and Manchester City.
He played a mighty total of 958 times for clubs and 75 times for England, the second most-capped keeper after Brexit's Peter Shilton, not retiring until he was 40 years old.
Starting his career at Leeds, he was soon offloaded to Peterborough, then in the old Division Four for £4,000. He played for Posh 91 times before being snaffled by Division Two Birmingham for £100K. He was part of their promotion side in 1984-85. He played the next season in the top flight but they were relegated. However, Dave was offski again, this time to QPR and now commanding a fee of £225,000. He spent four seasons at Loftus Road, playing 175 games.
This is where I first remember him from as they got to fifth in the 1987-88 season and would've qualified for Europe if English clubs were not banned. Only two clubs conceded fewer goals that season, in part due to Dave's work. He was probably the standout player in that QPR side and it was inevitable he'd move on.
It was George Graham at Arsenal who captured his signature for a goalkeeping record fee of £1.3 million in 1990. It was money well spent as the Gunners let in just 18 goals that season in winning the title, losing just once. It was to be the first of 13 seasons he spent at Highbury, a time that saw Arsenal rise to being one of the top clubs in the land with only Manchester United as rivals and saw Dave become an institution: always there.
He won two Premier League titles, four FA Cups, a League Cup and, perhaps best of all, a Cup Winners Cup which saw them beat PSG in the semi-final and then-holders Parma in the final with a lovely Alan Smith strike. The Cup Winners Cup was a brilliant competition, pitting, as it did, cup winners against each other, from all across Europe in knockout-from-the-start tournament. That it was scrapped in 1999 in favour of more pointless shite games in the Champions League between the same old sides was and remains an awful, money-driven decision, which was, as it turned out, the start of the end of real football and its replacement by the corporate money hoovering and vomiting which continues to this day.
But all that was for the future, as 'The Goalie', as Ian Wright still calls Dave, was playing over 50 games per season for the first half of the 90s. Later he would share duties a little with John Lukic from 1996-2001, who weirdly, was the man he had originally replaced. A variety of second and third-choice keepers such as Alan Miller, Lee Harper, Vince Bartram, Alex Manninger, Stuart Taylor, Richard Wright and Rami Shaaban all played a few games. But no-one could dislodge Dave.
---
Everybody Loves… Edwin van der Sar | Ally McCoist | Manuel Neuer | David Batty
---
His final act as an Arsenal player was to lift the FA Cup, his eighth major trophy. Dave played in goal for Arsenal more times than anyone else, and is second only to the Ginger Pele that is Ray Parlour in all-time Premier League appearances chart for Arsenal, with 325 on the board.
He joined Kevin Keegan's Manchester City, lasted 26 games, got injured and while recuperating declared himself to be hanging up the old pony tail 'n' 'tache for good, coming in at just 42 short of the magic 1000 games.
Internationally he got his first cap in 1988 under Bobby Robson, spent eight years in and out of the side before really making it big for England at Euro '96, enhancing his penalty-saving reputation with his saves against Scotland (the ball was moving!) and Spain. His international career was undone by being lobbed by Ronaldino from outer space in the World Cup quarter-final in 2002 and by letting a goal in from a corner by Macedonia later that year. Safe hands was deemed no longer to be so safe. Well, he was 39 at the time but England's addiction to keeping the same men in goal for far too long was still alive and well in 2002.
Since retiring he's been on a few of those dancing/ice/cooking/guess-the-arsehole shows, as well as taking part in creaky, contrived football-based comedy programmes and the sort of shows which makes you actually wince, but does so with the sort of relaxed, almost detached bonhomie.
Why the love?
Affection comes in many forms, I think Dave got the love because he was a great goalie, yes, but also because he seemed so down-to-earth, as befits a working-class man who didn't have an indoor toilet until he was 14.
With a deep, rich, resonant basso-profundo voice and the blunt South Yorkshire vowels, this was not a man who would have much truck with fads and passing fashions, despite at time having to wear some of the most psychedelic mandala football shirts made by Indonesian slave labour ever seen.
There seems no side to him at all. A substantial character, if slightly shy, but with a good sense of humour all the same, it is hard to imagine him playing in the modern-day Arsenal side full of its self-regard and overpaid, underperformers, few of whom are fit to polish the boots of Seaman, Wright, Bergkamp, Parlour or even Sylvan bloody Wiltord.
Being a salt of the earth character is important – or it was – because it allows the working class fan to believe that it could be them, or if it couldn't, someone they know, or if not that, then at least someone who would understand what their life was like: one of us.
Most assuredly not someone who is protected from everything we know as reality by the tinted windows that obscene wealth brings today. The feeling for Arsenal fans in 2021 is that the players do not really care. They say they do, but they don't. And they don't because they earn more in one week than most of us will earn in five or ten years. There's no escaping the DNA-deep disgust that inculcates in fans and no escaping how it might demotivate a footballer from giving their best all the time, despite protestations to the contrary. In any normal person, it absolutely would and clearly does.
None of this could ever have been said of Dave, of course. A man who was very, very well paid by any normal standards but whose wages would be thought paltry by today's standards.
I sincerely believe his was the past generation of footballers who were connected in some profound, unspoken way to their supporters, in a way that has almost totally gone now at this level. It is just one of the many things that makes top flight football a worse experience today, possibly than it has ever been, as anything other than an exhibition sport suitable for clipping into social media content.
Dave was also part of a back five that seemed virtually unchanged for years. Dixon, Bould (later Keown), Adams, Winterburn. So perfectly drilled, they worked like a machine, each a different cog that made the whole thing work. It was a thing of beauty. And as importantly, was one of life's certainties and we need certainties to help anchor us in the choppy seas of life. Without them, everything seems temporary, pointless and unmoored.
Today, with its constantly shifting cast of characters, football cannot offer that degree of reliability. Today's team is here today and often quite literally gone tomorrow. Even if it isn't, the likelihood it will be, is just as bad. In that Arsenal 1990-91 title winning team, nine players played over 30 league games, four of the back five played all 50 games the club turned out for, only Tony Adams missed 13. Was life worse for it or for the players? They will tell you no, it was bloody great and it was a lot harder physically than now. The suspicion we've been sold a lie about 'resting' lingers.
When he began to make a name for himself, he was one of, if not the tallest, goalie in the league. Today, you don't get the gig unless you're 6' 3" minimum, preferably 6' 6" or taller. But it wasn't uncommon in the 80s and early 90s to find keepers around the six foot mark. Dave, as broad as he was tall, absolutely filled the net and must've been an intimidating sight to have him running out of his goal at your feet.
My missus, Dawn, says he's the sort of man who, even when clean-shaven, looks like he's got a moustache, and I know just what she means.
David SEAMAN – QPR 1988-89 pic.twitter.com/fyU15zQqvd

— Old School Panini (@OldSchoolPanini) January 6, 2021
I vividly remember him at QPR in a crowded box as a corner came over. Sir Les was back to defend it and, as those of a certain age will well recall, Sir Les had such a prodigious leap on him that he could go up, light a cigar and take a look around, before coming back down to earth. So up went Les to defend the ball, only to find our Dave already above him, reaching the ball before he did, and punching it away for a throw-in. That's how high he could jump.
He absolutely bossed the box on corners and high crosses, had agility and fast feet. Quick to get down, he had fantastic twitch reactions and massive strong hands. In his pomp he genuinely did appear to be unbeatable. That the infamous lob by Nayim from the halfway line, and the Ronaldinho free kick, stand out at all is because they were so out of character. He never should've been playing internationally in 2002 aged nearly 39. It was a reactionary, conservative choice to play him.
Finally, and perhaps most importantly, he was unflappable. Calm and being in control are the first two things the side needs from its goal custodian. There was never any chest beating while waiting in the tunnel from Dave. Indeed, one would like to think that he would've sneered at anyone who was mouthing off in a very Yorkshire, passive-aggressive manner, saying,. "What's he got to shout about? He's nowt, he is."
Also it must be said, when you're called Seaman, you're going to give everyone a lot of fun and embarrassing moments for commentators. This should not be underestimated as a plus.
What the people say
When you're middle-aged, 20 years ago seems recent in a way that is impossible to grasp even when you're in your 30s. So to me, it feels like Dave has just retired, when it was actually 18 years ago now. So you'll need to be in your late 20s to even remember seeing him playing and into your 40s to really remember him playing in that brilliant Arsenal back five. Nonetheless, there were some lovely comments this week. As ever, we start with a 4_4_haiku
The safest of hands
Ponytail floating through air
Clawing off the line

— 4_4_haiku (@4_4_haiku) April 30, 2021
– I remember going to a friendly at the old Wembley for England v Hungary, with my school football team, I was only young & innocent back then, so I got my face painted, with the England flag, & the word "Seaman" on my forehead, & yes, I have received stick to this day about that!
The best thing about David Seaman is his chuckle. The second best thing is this save.pic.twitter.com/Fc1qtW9ukS

— GoalScorer Challenge (@GoalscorerC) April 29, 2021
– I live in Ireland & back in 2003 I only had the Irish terrestrial channels. My grandfather had BBC1/2 & ITV. I used to go to his house to watch games on those channels. I remember watching that save as a 9-year-old in his sitting room and being astounded by how great it was.
– Went to watch England play Denmark (Venables' first game). One very pissed northern lad, next to us, would occasionally wake up, chant "Seaman comes from Rotherham!" at the top of his voice, then fall back asleep.
– Got done by the odd wonder goal but just a mighty fine presence in between the sticks. Best English goalie I can remember.
– Somehow vastly, vastly underrated. How, I have no idea. But if you were to ask people for the Premier League's best keepers and I bet he'd struggle to make the top 5. However, he was a brilliant stopper, capable of the outrageous even, and a thoroughly nice guy, so it would seem.
– Watching how David reacted and supported Paul Merson on "Harry's Heroes: Euro Having A Laugh" last year when Paul opened up on addiction truly showed what a caring type of guy he is, heart warming down to earth gent, on and off the field.
– It's his laugh isn't it? One of the best in the business.
– Love that he signs autographs off with 'safe hands'! Met him at Arsenal World of Sport probably 20 years  ago and got his autograph. Always stuck in my mind for some reason
His greatest contribution to the sport is always two-thirds of the way down this transcript https://t.co/PH1wmEHAZb

— Football365 (@F365) April 29, 2021
– I like how David Seaman looked like a middle aged man at the start, middle and end of his career.
– He probably went on a season or two too many, but as much as people remember the Ronaldinho goal, he saved England on so many occasions. Best English GK in my 40 years on the planet. Stand out performances during Euro 96, and he was phenomenal for Arsenal in their 1994 CWC win.
– Met him once at a fishmongers in Whitby. He agreed to hold a big fish with the owner for a picture for their wall (he was in buying a dressed crab for his mam). Someone watching from the doorway shouted "don't drop it". He did not see the funny side. He was a regular there apparently (the town and the fishmongers).
– Loved by me if only for the sight, and mainly the sound, of hundreds of people shouting 'Seamen!, Seamen!' in pubs during Euro 96. Life really was better then wasn't it?
He was the one keeper who seemed genuinely amused when Leeds fans did the "Ooooooh… You shit bastard, ahhhhh!" at goalkicks. I remember him laughing and turning around to applaud the ER kop over a song above the size of his arse.

— Rev. A Mol (@RevAMol) April 29, 2021
Three great moments
An amazing one-handed save. He still had it aged 39 and a half.
The near-post save from Gordon Durie's header gets forgotten. The penalty save was a bog standard one for Dave. A game which still stirs the emotions. This. This was football. The football that the current game still trades off.
And here he is advertising cheese.
Future days
By deciding not to play a full-time role in football on retiring, Dave has put a kind of firewall between himself and the modern game. He retired just before Abramovich's money changed everything. Before the doors opened to the conniving evil billionaires and their lackeys, thus he serves as a useful bookmark, a corner of the novel of our lives turned down. After Dave, everything began to change markedly, taking it away from the people bit by bit, bit, before Dave, it was mostly still the game we'd grown up loving which we took seriously by taking the pish out of it. A time before football became no laughing matter.
You'll still hear Dave pop up on TalkSport. As it happens, he was on this week chuckling away in the background as Neil Custis and Jim White got their arses out, supervised (in the, "let's all calm down, we've all had a drink" sort of way) by Alan Brazil. The spat was not the sort of thing Dave would bother about in the slightest. He does shows about fishing and seems to get all sorts of media invites, most of which he treats in exactly the same relaxed way.
For that reason, and because he was a brilliant footballer, he will always be remembered fondly, students of defence will still marvel at that 1990-91 back five and the goalie will give his low, rumbling chuckle, look quite bashful and say "aye they were good times"
Cheers, Dave.