Everybody beyond Barcelona loves Luis Figo for a reason…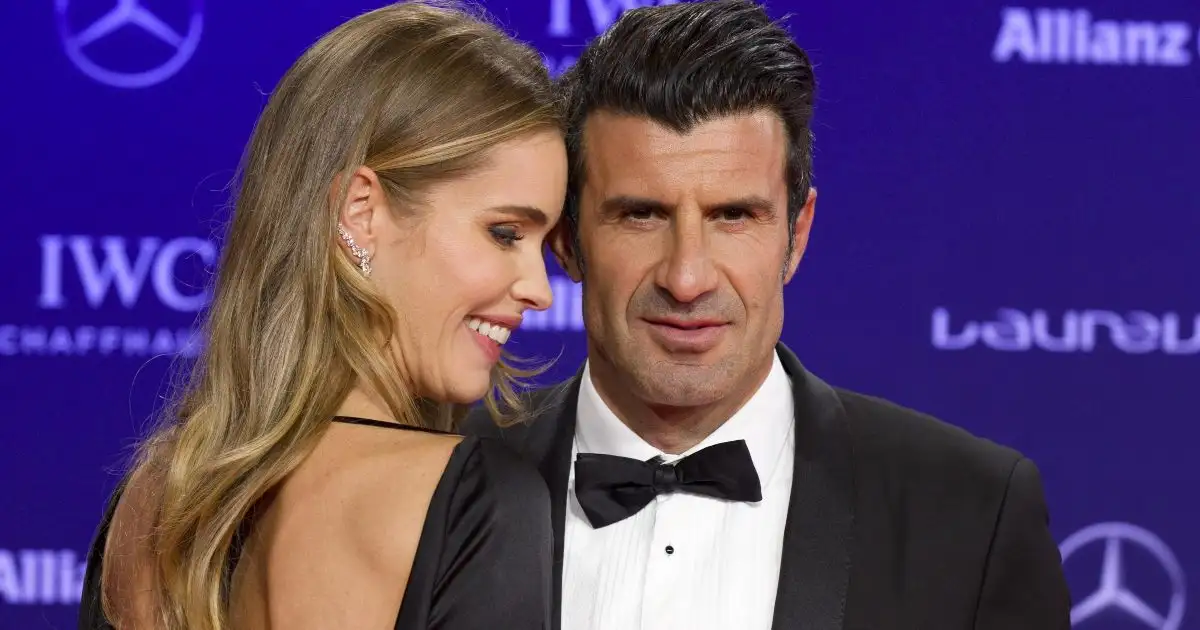 Everybody beyond Barcelona loves Luis Figo. Why wouldn't you? The supremely talented, impossibly handsome b*stard…
Who's This Then?
Luís Filipe Madeira Caeiro Figo is now 48 years old and was, in his time, one of the greatest creative players of his generation, blessed with, what old-school British footballers still, rather bizarrely, call 'a wand' of a right foot, even though a wand is typically carried by fairies, or Sooty and not attacking midfielders or wingers from Almada.
A winner of many awards, he is a highly-decorated player winning Portuguese Footballer of the Year in 1995, 1996, 1997, 1998, 1999, 2000. He won the Ballon d'Or in 2000 and FIFA World Player of the Year in 2001. He still holds the record for second most assists in La Liga behind Lionel Messi.
He won two league titles with Barcelona, two more with Real Madrid and four with Inter Milan. He claimed a Cup Winners Cup with the Catalonians and a Champions League with Los Blancos.
On top of that he got a runners-up medal for Portugal in 2004 when they contrived to lose the final to Greece, and 11 assorted cup wins.
Getting his start at Sporting CP in 1990. He played five seasons, racking up 158 games and 23 goals, largely playing on the wing. His signature was widely coveted across Europe and somehow, in 1995, he ended up signing for both Parma and Juventus, got banned from Italian football as a result, could've gone to Manchester City but ended up going to Barcelona – a lucky escape.
It was at Barcelona where in the UK, we all started to really notice Luis as he won the 1996-97 Cup Winners Cup, with a 1- 0 win over PSG in the final. Playing alongside Real Ronaldo and Patrick Kluivert, they began to tear up La Liga, winning the 1997-98 title by nine points from Athletic Bilbao and by 11 from Real Madrid the following year.
He played 249 games, across five seasons, scoring 45 goals, playing over 50 games for four out of five of those years and he became widely seen as possibly the best attacking midfielder and winger in the business.
But in 2000 Real Madrid paid a world-record fee to match the release clause in his contract and sprung him from Catalonia for a mere 62 million euros. Remember when this was an astonishing amount of money for one of the world's finest footballers and not mere 13million more than you'd pay for a Joelinton?
He won the Ballon d'Or that year but got one of the most vicious receptions at the Camp Nou when returning, with fans giving him an absolute caning throughout. They won La Liga that year though. The following year, it was, if anything even worse and as he was taking a corner, someone threw a pig's head at him, as anyone might, who just happens to have a pig's head to hand. The ref suspended the game for 20 minutes.
📆 #OnThisDay in 2002

Angry Barcelona fans threw a pig's head at Luis Figo during El Clasico 🐷 pic.twitter.com/mii6VVk9PA

— Goal (@goal) November 23, 2020
The following year delivered another title. Because he never seemed to get injured in 10 years, he never played less than 43 games in a campaign and clocked in over 50 in seven of them. Not for the first time in this column, we should wonder if we haven't been sold, if not a lie about the need to rest players, then an exaggeration.
In 2005 he left on a free transfer to play for Inter and promptly won four back-to-back Serie A titles. On the day he won the last title with them, now 37, he announced his retirement. It had been a brilliant 20-year career, 792 games with 136 goals. His international career stretched to 127 games and 32 games, often, it seemed, being axiomatic to Portugal defeating England.
Why the love?
Figo always looked on the verge of middle-age pretty much his whole career. Even today, approaching 50, he doesn't look markedly different from how he did 25 years ago. This timeless quality, and being part of Portugal's 'Golden Generation' which did better than any previous side, has meant his legend lives on long after his retirement.
Figo's great art was his vision. It is one thing to have all the technique in the world, it is another to have the ability to deploy it to maximum effect. As a figure, he had gravitas, time and space and, in his pomp, bossed a game from start to end.
As with so many players featured in this column, he was able to play the game at his own pace. Never hassled or hurried, he could ruin your defence with a single pass.
While he scored frequently, his best return was 14 in 2003-2004, it was his approach play and ability to set up strikers which really made you draw your breath. Whether playing through the middle or out on the wing, he could thread the ball through the proverbial eye of a needle, or cross to find the head of his striker with an insouciant ease.
---
Everybody Loves… Fabio Cannavaro | Samuel Eto'o | Johan Cruyff | Hristo Stoichkov
---
Obviously, his move in Spain raised a lot of hackles but to outsiders, this was something very much in the plus column. To have the balls to make that move showed an inner steel to him. Not everyone would've fronted that out, pigs head and all. Actually, it was a wee suckling pig's head, not a full-sized, be-tusked boar. So, that's alright then.
Football's ability to turn relatively sane people into raging fools is well-documented. The reaction to Luis by Barcelona fans was not only proof of this, but an example of how people take football far too seriously. The more extreme and emotional their reaction, the more out of proportion it was.
Somehow, through it all, he seemed to maintain a serious, placid attitude. Not one for emotional outbursts, not a strutter or a preener, not one to eat himself with a spoon, he was a very cool player with real authority.
What the people say
Because he didn't seek the limelight in the same way as some Portuguese players, I wondered if he might have somewhat gone under the people's radar. Not for nothing was he the most expensive player in world football, but that doesn't always mean you'll register much in the synapses of the notoriously inward-looking English public if you don't play in England. But I was wrong, plenty remembered just how good he was…
Strangely forgotten for a world record transfer and Ballon d'Or / WPOTY winner, maybe because of Zidane/R9 being more prominent at the time. Was fast without ever looking fast, and skillful without ever being jaw dropping, weirdly. Superb player though. Had the lot, really.

— HB (@BlunderbussHB) May 6, 2021
– Did the basics so good it made you salivate for the upcoming skinning of the poor left back he was about to torment.
– Some woman I used to work with said she saw Figo on a beach back in the 90's when she was on holiday and according to her "was the finest male specimen I've ever laid eyes on". Good at footy too.
– The man who made Pig Heads famous long before David Cameron came on the scene.
– Not directly about Figo, but after his goal against England in Euro 2000, AS (newspaper) described Davis Seaman as "a piece of meat with eyes".
– World class. Very skillful and a good drop of the shoulder. In the beautiful category of footballers who could beat a man without touching the football. A fantastic footballer back in his time. Was disappointed he went to Real Madrid though.
– Quality, just quality.
Never forgotten pic.twitter.com/KrJgRDZNVd

— Phil (@philc1978) May 7, 2021
– He has a great bar in Vilamoura, Portugal.
– He starred in probably the best football advert that ever will exist. Olé.
– A sauntering run and a drop of the shoulder that could make a man weep
– He followed Blyth_Spartans on Twitter one afternoon when another famous cup upset was on the cards. We all enjoyed that.
– When I went to Barcelona in 2000 I bought a Barca shirt with Figo on the back at the stadium. The very next day he went to Real. I didn't wear it for the rest of the holiday.
Four great moments
Look at how many of these go in the top corner…
Was it a cross or a shot? It was brilliant…
Pathetic watching-but-not-defending from England as he runs from the half-way line and buries it…
And he took part in one of the best extended adverts pretty much ever, Nike's "Scorpion KO"…
Future days
He doesn't seem interested in coaching or in managerial work. Fair play to him for that. It seems he lives entirely for pleasure these days. He owns an upscale bar in the Algarve region of Portugal, as you would. He also works as an ambassador for Inter Milan, which, let's face it, is not a proper job and mostly just involves hanging around the players lounge, enjoying snacks and cold drinks.
He is also a board member of the Inter Campus charity project run by Inter Milan and is the founder of Network90, which is described as "a private members' networking site for the Professional Football Industry". Which does sound like a cover for a criminal gang that is plotting to do a heist in Las Vegas, Oceans 11-style.
A multi-linguist, he can speak fluent Portuguese, Spanish, English, Italian and French, the smarty pants. And he's married to Helen Svedin, an almost impossibly-attractive Swedish model. Of course he is. They have three daughters. He did initially run to replace Sepp Blatter as Fifa President in 2015, but eventually backed out, since which time, he's done some World Cup draws on TV and is currently in an image rights dispute with Birmingham City Chief Executive Officer Ren Xuandong and Tweeted his opposition to the ESL in no uncertain terms.
This so called « Superleague » is anything but « Super ». This greedy and callous move would spell disaster for our grassroots, for women's football, and the wider football community… (1/2)

— Luís Figo (@LuisFigo) April 19, 2021
(2/2) only to serve self-interested owners, who stopped caring about their fans long ago, and complete disregard for sporting merit. Tragic.

— Luís Figo (@LuisFigo) April 19, 2021
Given what we know about humans and the nature of life, it cannot be as it looks from the outside, but you could be forgiven for thinking Luis, as he approached his 50th year, is living the perfect life.
Viva muito e prospere Luis!