Liverpool captain the GAME CHANGER on Saudi Arabia (if you forget Benzema and Neves)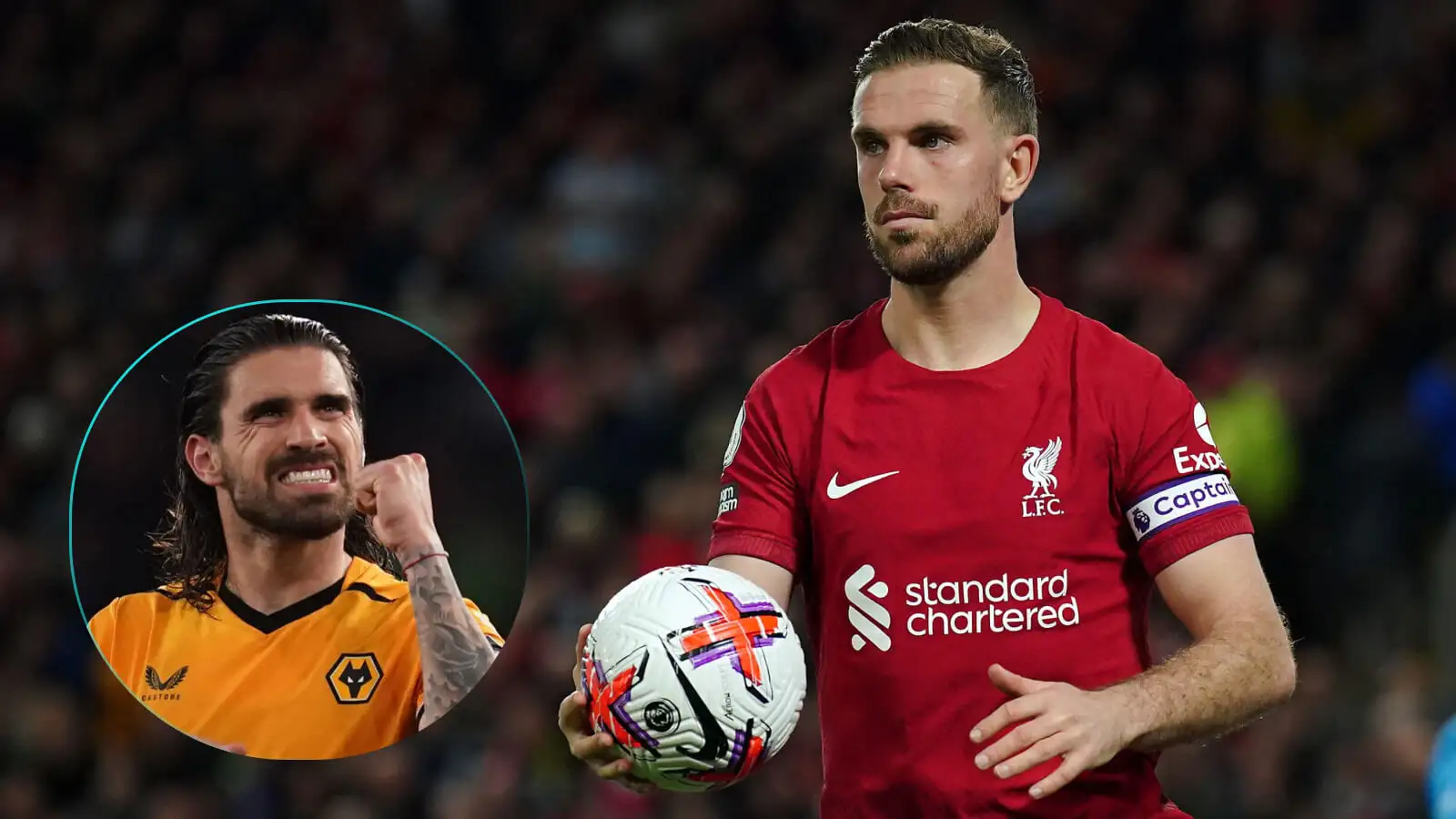 Would every Premier League player be 'obtainable' if Jordan Henderson goes to Saudi Arabia, or just the ones who are 33 and offered stupid money?
The Hend of days
There's a danger when you write pretty much exclusively about Liverpool that you truly believe that this means more, that you fail to see the world outside of your own little red bubble. Which is how you get headlines such as these:
DOMINIC KING: If Jordan Henderson goes to Saudi for £700,000-a-week it's a GAME CHANGER. For a league nowhere near European elite standard to take Liverpool's captain would be remarkable
They already have literally the most famous footballer in the world and the reigning Ballon d'Or winner. But yes, it's signing the 33-year-old captain of the team that finished fifth in last season's Premier League that will be the game changer. Sorry, GAME CHANGER.
This would be the deal that changes everything. This would be the transfer that sends shock waves through every Premier League club and tells them nobody is unobtainable.
Would it? Or would it tell Premier League football clubs that if they have 33-year-old players that are about to be side-lined by a raft of new signings that there are clubs that will still pay them a fee?
Here is Henderson's level: he's international class, crucial to setting standards in dressing rooms, and has plenty of gas in the tank to compete in the Premier League. He's not shuffling around at the end of his career, getting five minutes here and there, fighting against the dying of the light.
You know who even better fits that description? Former Wolves midfielder Ruben Neves, who went to Saudi Arabia at the age of 26. There's no mention of him in King's piece because it's not Liverpool and so absolutely doesn't mean more. But that is a transfer far more indicative of Saudi Arabia becoming a genuine destination for excellent footballers.
Now we are in situation where Al-Ettifaq, managed by another Anfield giant in Steven Gerrard, are pressing and desperate to make him the standout figure in a rebuild they hope will see them become Saudi's top club.

And this is what makes the situation so remarkable: this potentially could be a transfer – if it was to happen – that redefines the landscape. For a league that is not anywhere near the standard of Europe's top divisions to take the active captain of Liverpool would be remarkable.
It was remarkable that Ronaldo went there. It was remarkable that Karim Benzema went there. It was remarkable that Neves went there. It will be remarkable if Henderson joins them but these are now diminishing returns of remarkability.
If anything, it will be remarkable because he would be the first England international to make the switch, not because he is Liverpool captain.
And it would be remarkable because Henderson has been an outspoken LGBT+ ally and he would be moving to a place where homosexuality is illegal. Oddly, that's not mentioned amid all the talk of this potential groundbreaking transfer.
Henderson is not Cristiano Ronaldo, sulking and preening and desperate for one last hurrah, trying to show that his powers have not waned; he is not Kalidou Koulibaly, whose form is nowhere near the level that made him such an imposing performer for Napoli and Senegal.

He is not, even, his old Liverpool team-mate Roberto Firmino, who was out of contract and accepted the chance to sign for Al Ahli after Klopp deemed him surplus to requirements last spring – Henderson, certainly at this stage, would be expected to start the season opener against Chelsea.
And Benzema would have started against Athletic Bilbao if he had signed a new Real Madrid contract. And Neves would have absolutely started against Manchester United if he had stayed at Wolves. It's almost like there is life outside of Liverpool, Manchester United and Chelsea, and some of that life has already defected to Saudi Arabia.
But Al-Ettifaq are pushing at a door they hope will open. If they prove to be successful, every Saudi club will back themselves to prise away the biggest figures at every club in the Premier League and the evidence they would have would be Henderson.
We don't think 'every Saudi club' will be able to offer everybody £700,000 a week, fella. This would be a statement signing because it is the Liverpool captain but even that kind of money would not tempt most footballers not staring at the arse-end of their career.
From here, there is much to discuss. But, equally, there is also much at stake. Those who have been quick to dismiss the Saudi-Pro League as a retirement home will have to think again if Al Ettifaq can lure away a man as influential as Henderson. What happens from here is huge.
There was 'thinking again' when a Saudi club signed 26-year-old Neves. And more 'thinking again' when 28-year-old Sergej Milinković-Savić followed. The signing of a 33-year-old – regardless of his 'outstanding physical shape' – is not the moment to stop dismissing the Saudi league as a retirement home.
Pesky fact: He's actually older than both N'Golo Kante and Roberto Firmino.
Dele
Every online content creator is guilty of a degree of click-baiting. There are very good reasons why you will rarely see player names in the headlines for transfer speculation and why emotional words are attributed to footballers and managers without quotes. We at Football365 are not as guilty as many but we are still guilty. Wages have to be paid.
But there are things that you should never clickbait. Stories that you should never obfuscate. Death, depression, abuse.
Yes, so f*** you to the website that sh*t out this headline…
'Heartbreaking': 27-year-old says he wanted to retire during working with Jose Mourinho at Tottenham
We won't name them because they're not worth anybody's time, though we will name MailOnline for pumping out a total of nine stories within a couple of hours of the Dele Alli interview's release.
Among them was this:
Dele Alli accuses Amazon of selective editing during 2020 Tottenham documentary after being labelled 'lazy' by Jose Mourinho – claiming footage failed to show the ex-Spurs boss apologise for using the term
He really f***ing didn't. He expressly said that the apology came when "it was only me and him"; Amazon could not 'selectively edit' something which they literally did not catch on camera.
There are enough villains in this particular story – the family friend who abused Dele, those who made him a drug dealer, the man who hung him off a bridge, the 'friends' who took advantage of him – to pretend that he has any beef with Amazon.
His bigger beef – and the quotes are oddly missing from the Mail or The Sun's extensive coverage of the story – is with the tabloid newspapers who have forced him into having this exposing conversation with Gary Neville before he was truly ready.
"I maybe could have done with a little bit more time, in terms of when I was talking about it, but unfortunately the way the world is now – you know the tabloids – they found out and were calling my team a lot and telling, you know, that they knew where I was and stuff."
So keep that in mind when The Sun are calling it a 'brave and heartbreaking interview' and including helpline numbers in their coverage.