The FA desperately need to protect Saka – he is one tackle away from being the next Eduardo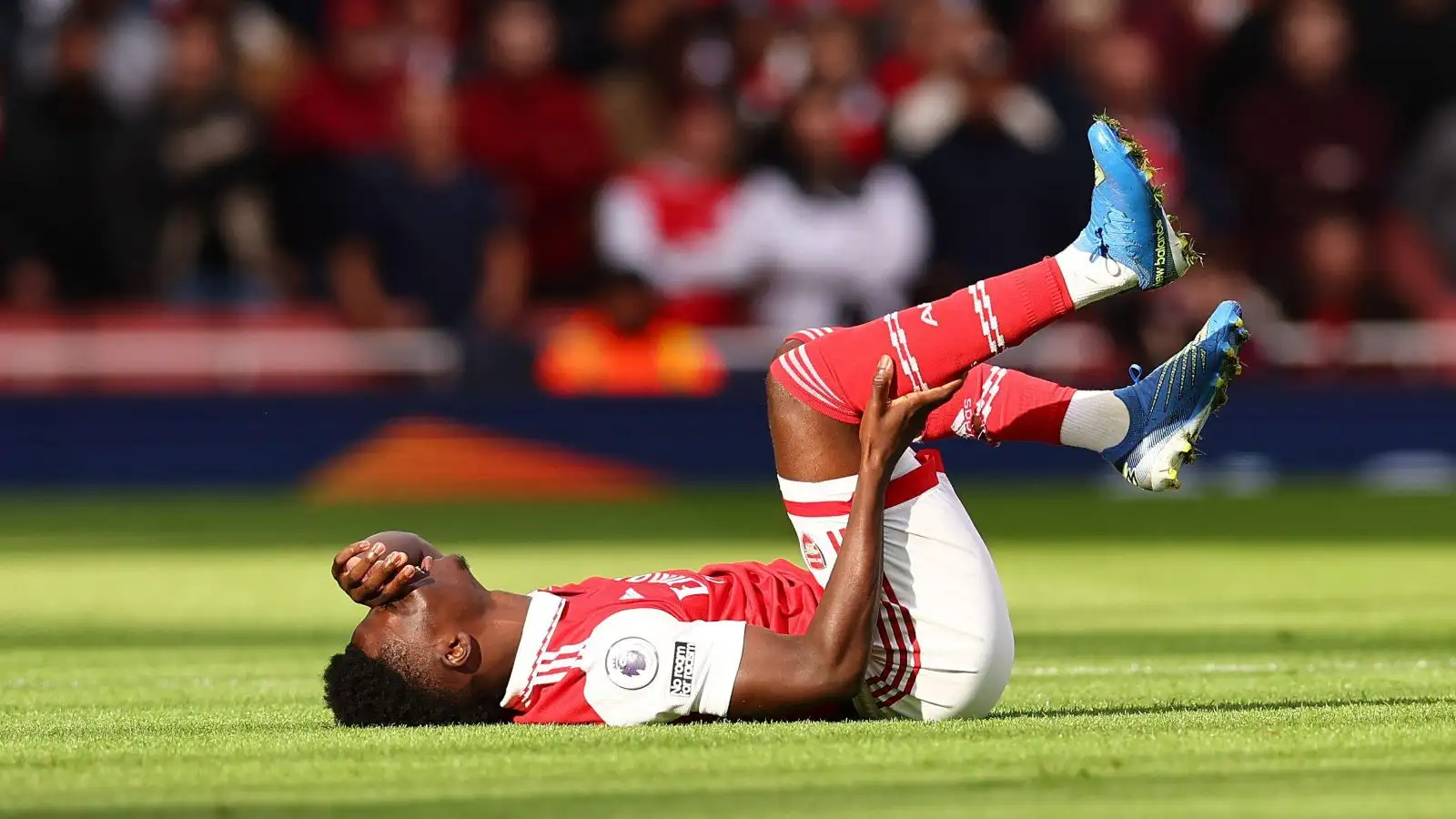 One reader has called for a boycott, or a Twitter hashtag, to avoid the constantly battered Bukayo Saka being the victim of a career-ending tackle. Also, a Liverpool fan will reluctantly be cheering on Man Utd in a cup final…
Send your views in to theeditor@football365.com.
What a game at Villa Park. In all honesty it would have been a travesty if Arsenal hadn't won. Rivals will point to a dose of luck for the 3rd goal but Arsenal did more than enough especially second half to win that game twice over. The finishing was poor otherwise we'd have wrapped the game up long before Jorginho's 93rd minute goal.
Talking of which I'm sure there were a few French fans with a smirk on their face at the fate of Emi Martinez. He's easy to dislike (and to be fair probably easy to love if he plays for your team -that's how it works). There is a certain satisfaction for the goal to bounce in off his head in the 93rd minute when he's proceeded to waste so much time in the game. 3 gk in Arsenal's last 4 games have had yellow cards, that and the constant fouls by of Saka seems to be the route to stopping Arsenal. The Saka thing is getting ridiculous now, the lack of free kicks and cards for fouls on him and that he can pick up yellows for reacting or breathing near an opponent. I'm sure palace and Liverpool fans have said similar about Zaha and Salah. If ever there was a guy you'd think would get some biased protection from English refs it would be England youngest star boy, humble, intelligent, likeable. It needs explaining. We have pundits lining up to say someone like Grealish is 'clever' but Saka needs to get used to it and must expect that he's going to be targeted for dirty fouls!
Back to Jorginho, another superb game from him. Chelsea look like they could use someone like him with his calm line breaking metronomic passing.
Arsenal get called out for any dropped points always seemingly being down to some psychological defect, being soft/weak and not mentally up to it. Utterly terrible take, sometimes teams can lose games to simply not playing well enough. But even more so there are countless examples of money in the bank for the mental fortitude this side has shown, so why is the isolated one-off used as the precedent of returning to like? It's lazy and wrong.
I'm looking forward to forensic analysis of Pep's touchline behaviour affecting Man City getting the win, oh if only he was calmer and not berating officials and waving his arms around like a lunatic.
Again, for the millionth time – no Arsenal fan is celebrating winning the league, no Arsenal fan probably even has us as favourites – we're simply celebrating the wins (what's the point if you don't?) and enjoying the massive cojones this team has. Because let's be honest as much as our rivals love to hate Arsenal if your team was the youngest in the league, with a group of talented English academy players, led by a rookie passionate young manager and also playing fantastic football you would all love to be supporting a team like this.
Rich, AFC
Would Saka Ever Get The Protection His Talent Deserves?
Great win by the lads yesterday. A cracking game with high-quality goals with Saka and Jorginho's in particular. Aaron Ramsdale's outstanding saves to keep Arsenal in the game. Champions stuff by Arsenal to come from behind to win. Also a goal and an assist from former Gunner and arch-sh*thouse, Dibu Martinez. But of far greater concern for me, and should be for every fan that loves this game, is the constant brutal assaults that Arsenal's crown jewel, Bukayo Saka, has to endure anytime he gets on the pitch these days. For the umpteenth game, he was kicked up and down the pitch with his assailants gleefully getting away with it. To make it even more ridiculous how he's getting no protection, he ended the game with a yellow card! You don't even need to resort to stats to see this. A simple eye test would suffice. If you watch any game he features in, that's one of the first things you'd notice. PL players get emboldened to kick lumps into him week in, week out because they know referees rarely dish out appropriate punitive punishments, instead turning a blind eye to their tactics.
Before the World Cup, fans of other clubs thought Arsenal fans were being unduly alarmist as typified by former Aston Villa manager Steven Gerrard dismissing his claims of being constantly fouled and asking him to get on with his job. However during the Qatar Mundial, the boy's predicament was beamed to a shocked and concerned global audience. One expects the FA to have done something to protect the lad but no, nothing is being done. Yet, his England teammate, Harry Kane gets all the protection he wants and some despite having some snide tactical fouls in him,(the backward leaning into a defender who is going for an aerial duel, his favorite.) Is it until, Heavens forbid, his leg is snapped into two like Aaron Ramsey or Eduardo da Silva before something is done?? Then pundits across the country begin to justify the player by saying; "he's not that kind of player™"??
This is not even about derailing Arsenal's season. It's about the good of the game. Over the years, Arsenal has been derided for being soft touch when similar complaints like these were made. The likes of Stoke City, Bolton, aided by their intensely dislikable managers Tony Pulis and Sam Allardyce often goaded their players into a frenzy to manhandle Arsenal players to devastating effect. Something has to be done to stop these constant and persistent fouls on Bukayo Saka. A boycott, an official complaint by the club to the FA and PGMOL, a hashtag on Twitter, fellow players taking up for their teammate ala Rodrigo de Paul being Lionel Messi's on-pitch bouncer. Something. Anything. All it takes is one wrong tackle for the promising career of one of the World's finest talents to be truncated.
Something really has to be done to protect Bukayo Saka from these persistent fouls.
Alphonsus (I hope Richard Keys sufficiently blew his top by a) Mikel Arteta's touchline antics mimicking the referee and b) Gabriel Martinelli celebrating before scoring), Abuja Gunner.
Saka fouling
I honestly feel like I'm far from the first person and not just Gooners (obviously) but neutrals plus multiple F365 writers to bring this up in the last 12-18 months – is the reffing against Saka not even a little bit questionable?
MAW, LA Gooner (No further elaboration as to make the question as generic as possible. Also, no this isn't excuse-making ahead of time. Just asking a question.)
Karma
Hilarious couple of goals at the end of the game to give to Arsenal Martinez. All that time wasting got you zilch.
Chris, Croydon
An alternative universe
I often see a lot of vitriol and laughing in the Mailbox when (in particular) Arsenal, Liverpool or United drop points. Sometimes it can get a bit samey and I think people need to up their games with the #bantz. So seeing as Arsenal almost lost to Villa, I had a feeling some tired mocking emails were quickly deleted. To save these people time writing in with the same old stuff throughout the season, I've got a jump on them and provided them here now – so we can save the mailbox space in the future. If Arsenal lost to Villa: "This is the definition of bottle jobs, you can excuse a loss to City but not having the balls to pull it back against a Villa team who haven't won in their last two is inexcusable for a team supposedly in a title race LOL"
If Arsenal don't win the league: "Never has a team capitulated as much as this in the history of our league. You had it sewn up by December but some how found a way to throw it away, utterly pathetic!"
If Arsenal win the league: "You may have technically lifted the trophy but that was only because the rest of the league was so awful. Nobody could have dreamed of City dropping this many points / having points deducted! It's worse than Liverpool's Covid league win! Pointless trophy, Gunners.
When Arsenal finish above Spurs: "First time in ten years LOL with your spending it was to be expected (quote figures from SwissRamble and mention Spurs' new stadium).
For what it's worth, I think Arsenal are having a great season and I have a bet going from pre-season that Arsenal would finish 3rd. No Arsenal fan will be disappointed no matter how this season ends. Smiles all around, guys!
Hermann Bando
I assume the so called Gooner (official troll) Stewie, along with his buddy 'Keysie' from the comments section must be feeling a little deflated at the moment.
Arsenal, the so called 'bottlers' managed to show resolve after going behind twice to win their game and get themselves back on track whereas City cocked up. Did they bottle it today?
Every team cocks up. To reiterate 99.999% of every Gooner I know never felt we were going to win the title at the start of the season and none of us are 'creaming' ourselves now. We're just enjoying the season.
Arsenal have dropped points in five games. Cracking season Stewie, please get a life.
Chris, Croydon
Were you watching on Saturday Stewie Griffin?
That is all.
Charles Heale
Re Stewie Griffin (Sat 18 Feb). What's the name for that stage of unhealthy obsession where you invent Arsenal fans' excuses, give your response to those invented excuses, then pat yourself on back for responding so well to those invented excuses?
Arsenal are in the title race. They probably won't win the thing. It's fun as fans to enjoy it whilst we can. Often they play well, sometimes they don't. Sometimes fans get carried away.
Shall we just leave it there?
Jonny
Presumably all of those saying Arsenal bottled it last week will be back saying City wilted under the pressure of playing catch up and bottled it? And Stewie will be back with some more straw man arguments..
JT
I know I've moaned about him before, but Eddie is simply not good enough to be anywhere near a team with title winning aspirations (though I accept we won't win the title).
I'm not sure he's even Premier League quality. Too slow to react, doesn't read the pass and when he does have a chance, he usually misses. I know he's our 'back up' but he's just not very good.
We desperately need an upgrade in the summer.
To those who wish to protect him and disagree with me. You are wrong.
Shame we've hit a rough patch, but if you'd told me we'd be in this position at the start of the season, I'd have been more than happy. So, ya know, can't really complain.
Except about Eddie…and maybe Odegaard after that miss!!!
Stu (Eddie reminds me of Franny Jeffers. 4 goals in 22 games for Arsenal – not ideal for a striker. Actually, 40 in 235 games over his entire career. Not a great return. Thank you Wikipedia) Gooner in France.
Premier League is anything but dead
Enjoyed the letter "Premier League is Dead" from Raul, London and I do know what he means. But it brought forward a thought that's been germinating a while – that on its own capitalistic terms, the Premier League is not dead, and may very soon become the ultimate victor.
As noted at the time, Haaland is almost the first superstar player to transfer into the league in his prime. Alongside the incredible amount of world class talent throughout the league that previously would have been found in the upper echelons of Spain/Italy/Germany etc, a point is very close to being crossed. Bayern still have a draw for players, particularly to nearby countries and Real/Barca have a huge romantic draw. As well as, for the time being, great chances of CL success.
But this is a cumulative process and I wonder if we are reaching a tipping point where the premier league is the only location (possibly bar players playing for their childhood teams and the odd oil backed mega offer from France.) I don't mean in the next five months, but maybe five years? Look how the amount of really top level players has dropped in La Liga in just the last few years.
Players will see the Premier League as the "only" place to go which leads to more viewers, money and the cycle ramps up (if it isn't already doing so). And this plays into the formation on the European Super League. In my thoughts, in a few years, the Premier League will be the de facto Euro Super League (and therefore World Super League?). Which makes you wonder if City/United/Chelsea etc dodged a bullet by not joining and if PSG/Bayern's noble stance will be regretted in the near future.
In addition to their obvious financial worries, it makes you wonder if Juve/Real/Barca can see this coming and why they're so desperate to get the Euro Super League off the ground ASAP. And maybe why Boehly etc are pumping so much money into the league, because there is a positive side for Premier League fans, but the cynic in me can see that once this primacy is achieved, next will come franchises etc etc
Sorry for the ramble, keep up the good work.
James, South Wales.
During the Newcastle/Liverpool match today Peter Drury blathered some utter nonsense to the effect that "no one wants to see a pin put in the balloon of the feel-good news story that is Newcastle's Cinderella season."
Well sorry Peter, but that sort of mindless, parroted public relations drivel very much makes me want to put a pin in their feel-good bubble. And more.
I want to dismember their good news story and dissolve it in acid. I want to drag their Cinderella season into a town square and behead it. I want to dress up their "plucky return to Premier League success story" in their Saudi Arabia national team kit and asphyxiate it in a locked garage. I want to send up an F-16 and blow their good news balloon out of the sky.
And not just because it is appalling that the Saudi climate criminals were allowed to buy a club and forever besmirch the reputation of the Premier League. And it's not just because the man on whose behalf this sports washing enterprise is being conducted, Mohammad bin Salman, is a monstrous murderous psychopath.
No, it's also because for the first time in my long life I'm going to be forced to cheer for Man United to win a football match. I'm going to have to back United to beat these sports washing bastards next week in the League Cup Final. And that very much makes me want to stick a proverbial pin in this disgusting Newcastle feel-good balloon.
CanuckLFC
READ MORE: Two conclusions as Liverpool revive top-four hopes and Newcastle's Pope suffers Carabao heartbreak
Reaching out to Bridgetjonny, the chief of celebration police, at what must be a tough time.
Chin up lad, at least your medical team seem to have improved fitness levels so that numerous cases of cramp and concussion didn't lead to 8 minutes of injury time.
James Outram, Wirral
Liverpool trying to sneak into the top 4 is like three kids on each others' shoulders, wearing a long coat, trying to get into an adult movie.
Aidan, Lfc (shouldn't be anywhere near it but you never know)
You know when you scatter a 1000 piece jigsaw puzzle across the table and you sift through for what seems like an age trying to find the last edge piece before you can continue = Potter.
Just maybe Boehly has pocketed it?
Sarn Smith. (I called his sacking by Christmas a while back)
Nick Pope gets a red card and a one game ban – Southampton's Mara a yellow card for putting Azpi in hospital and endangering an opponent, absolute madness.
Gibbo (MUFC down under)
Eddie Howe: "I suppose technically it is a handball, I don't know the rules on the red card." He is a Premier League manager, with many years' worth of formal coaching credencials and experience, and claims he doesn't know the rules…
Eddie (the name is the only thing I have in common with Howe – I know the rules of the game, he doesn't)
Referees
So far all the messaging about respect the referees we have today had arteta mocking the referee on TV and commentators saying nothing. And in the not allowed be broadcast for an arcaic reason 3pm game jack Grealish sarcastically applauding the ref…
I remember when big teams (Manchester United) got punished for these things but its OK now that even commentators forget.
Hit and hope kids
Ian King wrote Stewie's next email for him
This is the laziest correspondence I'll ever write as Ian King has already done the heavy lifting in his "Arsenal have an out…" article. His view is articulated well in the following paragraph.
"It cannot simply be put to one side that this was not a good performance for much of the preceding 90 minutes. Had Aaron Ramsdale's fingertips not flicked Leon Bailey's shot onto the underside of the crossbar we might well have been talking about their heads having gone and the title race being in the bag by five o'clock. League championships aren't decided in February…. but while this was an excellent result for them, the defence still looks porous and to suggest that this was a good performance overall would be wide of the mark".
Now, I'm sure people are asking themselves why is this chap copying and pasting an article and trying to pass it off as worthy of inclusion in the Mailbox? The reason for my blatant plagiarism is simple. Ian King has basically written the email the Baby Griffin will send in. We all know that Arsenal fans getting excited by such a victory just isn't acceptable for our dear Stewie so he will undoubtedly compile a missive aimed at puncturing and deflating any and all enthusiasm for that result, gleefully highlighting all that was wrong about the Gunners performance.
Unfortunately, Mr King has already done that albeit in a balanced and mature way and notably without the usual Stewie trolling, an approach designed to appear so bitter that it would make a lemon squint. I say "designed to appear" bitter as we all know Stewie is merely performing a role and he does it well to give credit. He plays to the Mailbox gallery, perfecting the art of being the character we all love to hate, his claws ready to tear down all things Arsenal, However on this occasion he has been declawed and disarmed by a grown up article.
Eoin (shtick: a repetitious performance or routine, an adopted persona) Ireland