Mails: Kaka broke the transfer market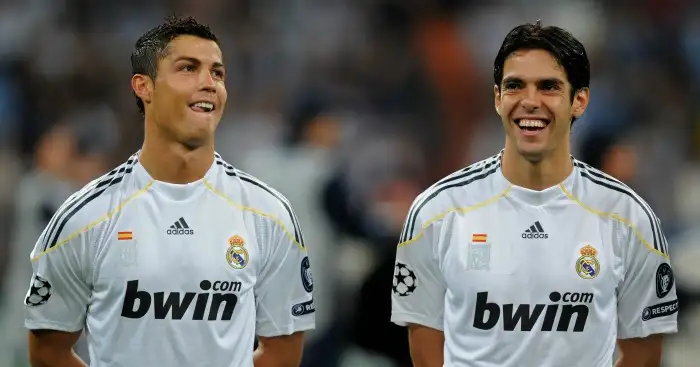 Keep those thoughts coming to theeditor@football365.com…
Actually, why aren't Liverpool signing Joe Hart?
Firstly, let me say that I am Pep's biggest fan, but I can not help (in my wisdom, not seeing any training, or being privy to his plans) thinking that he is being a bit hasty with Joe Hart. Sure Joe Hart made an error at the Euros, and looked uncomfortable but under the ridiculous scrutiny of our media and the Engeeeeerland brigade what reasonable human could perform perfectly?
Joe Hart has been a phenomenal shot stopper for years now, and I know that there is a penchant for keepers who can 'play out from the back', but for me I would rather my goalkeepers defining characteristic be that he is good at stopping shots on goal! You know, his job!
When he is motivated and he has that swagger then Joe Hart is brilliant, so step forward Jurgen Klopp. A man manager who could motivate anyone! He would tell a fat guy, he is not fat….just easier to see! Hart would be a great fit for Liverpool. I know they have signed Karius, and LFC fans are very happy about it, but that is based more on unhappiness with Mignolet than any review on Karius ability.
I think it is an ideal fit.
Ben, Aylesbury
Hart's being defended because he's English
Reading the article on Barton's comments and also from what I've read on other sites and seen on sports news, the general consensus is that Hart isn't being treated fairly by Pep. I wonder why this sentiment.
Is it because he's been at City for long or is it because he's English. Hart gets paid a fortune to do his job. Like all other jobs when you have a new boss you adapt to what processes/methods your new boss wants to use. Your new boss has objectives to achieve. He might be wrong in the way he wants to achieve these goals but you do owe it to yourself and to your boss to try his new ideas. It will also be difficult to say in this case Pep's ideas on football haven't been successful so there's no need to question his judgement.
Joe Hart has known for a while now that Pep was going to be the new manager. If he's any bit interested in football outside of City and the England team he would have known what to expect and as such started working towards fitting that requirement. If he hasn't done this and is still incapable of doing this then he doesn't deserve a place on the team. There should be no fuss. He is not owed any favours. This is after all job like all else. What happens when an employee doesn't fit the new job description? His place is taken by someone who does.
For all the foreign managers and foreign players in the EPL, it seems English players and managers are still very insular and want to learn nothing beyond what they know and grow up with. The top managers today want players who are intelligent and can adapt to different tactical situations. Passion, knuckling down and being ready to bleed for your team aren't good enough on their own anymore.
Papa C
…Perhaps Pep (who seems qualified to judge a footballer's ability more than most) thinks… wait for it … Joe Hart just isn't a great goalkeeper. (Ok he's 'good', but world-class … no chance).
Maybe, he thinks despite the English media love-in for Hart, and behind his chest pumping, anthem yelling, 'fronting up', big man image that Hart likes to portray lies a half-decent keeper that's bought into his own-hype a little too much. Perhaps the inflated ego Hart tows around behind him, a result of years of back-patting from the English media, is finally weighing him down.
It's no coincidence Hart's best performances came last season after Pellegrini dropped him for a spell. (aspell the English media castigated Pellegrini for … surprise surprise).
There is pretty recent damning evidence elsewhere in the PL that too many egos in a dressing room (training ground) can be detriment to a football club, maybe (given City's knack of shooting themselves in the foot) he wants less egos, and more mental fortitude in his squad. Maybe.
Yours sincerely, Willy Caballero (Dave)
Charlton: A proper basket case
In January 2014, many Charlton fans breathed a sigh of relief, as a multi-millionaire saviour from Belgium swooped in to rescue us from the incompetent clutches of Tony Jiminez and Kevin Cash. Less than three years later and Roland Duchatelet has left us begging for mercy.
There are many basket case owners through the leagues: Allam, Ashley, the Venkys and Cellino to name but a few; Duchatelet holds his own against the very worst.
The relationship between the fans and the club has never been more broken. Duchatelet's theories of how to run a football club are entirely at odds with the expectations of even the most forgiving fan. Duchatelet's CEO – Katrien Meire – admitted that the club's owners wanted the fans to be able to watch future Premier League stars play at The Valley before they were shipped off for profit. We've got through seven managers (some more than once) and Meire appears oblivious to any deterioration in standards.
The protests at the end of last season helped to increase media attention in the plight of the club, but in all honesty the owners have done more than enough damage without the help of the fans. In March, Duchatelet accused many of the fans of wanting the club to fail. This summer, the club asked a fan to sign a contract restricting criticism of the club on social media before issuing his season ticket.
The Football League appear blind to this critical situation, and incredibly have appointed Katrien Meire as a representative of the Football League to the FA Council. What an indictment of the morals associated with those at the top.
Charlton fans will continue to protest against the mismanagement of the club. But we will support the manager and the team on the pitch because – despite what the owner thinks – all we want is the club to succeed and start climbing the leagues once more.
Paul, Kent
The Premier League broke the camel's back
Daniel (I've sent a friend request to Mak Bewon because he seems very sad) Scotland asks which transfer was the straw that broke the camel's back.
Speaking as a lower league supporter, I would say it was the transfer to Sky and the Premier League in 1992, which brought with it a commercial drive that was entirely unrelated to the fan in the stadium. From that point on it was only a matter of time before (a) that fan in the stadium became irrelevant to the financial health of the club, and (b) the money men involved wanted more and more money for their assets (e.g. the players).
Each generation will point to a transfer fee that was "too much". The first transfer fee I remember being shocked by was when Ferguson bought Andy Cole for 7m plus Keith Gillespie. My Dad would tell you that it all went wrong when Clough paid 1m for Trevor Francis. I'd bet that Mancunians of a certain age are still talking about Denis Law going to Torino for 100k. And I have no doubt at all that Willie Groves moving from West Brom to Villa for the princely sum of £100 in 1893 was heralded across the nation as the end of times.
The truth is that the current generation of football fans have grown up with Sky TV, and The Best League In The World TM, and set squad numbers for players, and net spend, and shirt sales, and agents, and "tapping up" just not being a thing anymore, and amortisation of transfer fees to make the accounts look right, and player-club-kit sponsorship deals being as important for selection (or maybe even more important?) than whether the player is actually one of the best XI.
I don't mean to sound like a grumpy old man (although I probably am one, and I definitely do sound like one), but this genie isn't going back in the bottle.
Terry Hall, Switzerland
Kaka broke the camel's back
Having had a long hard think about it, I would be inclined to pin it on the heartthrob, the Ballon D'or Winner, the philanthropist, the one and only family man who shattered the world transfer fee in 2009 by moving to Real Madrid.
No, not him.
It was in fact Ricardo Izecson dos Santos Leite also known as Kaká.
If you look at all the transfer fees before Kaka signed for Real Madrid, you will notice that very few of them broke the c. £30+million barrier which for a very long time was the accepted range to pay for top, top players i.e. Beckham, Veron, Ferdinand, Berbatov, Shevchenko etc. it wasn't until the new money came in to the clubs (mainly by the Sugar Daddies) that the fees slowly creeped up beyond the magic £30million mark a la Robinho, etc. Crazy at the time, but nothing earth shattering at that moment.
Then came Kaká for £56,000.000 – This was unchartered territory for a transfer fee and of course it had to be Real Madrid looking at buying an icon, a player who would play well and also bring in the shirt sales. If you look at every major transfer after Kaká, you will notice that the fees rocketed and in previous ages where £30million got you the cream of the crop, suddenly players with half a reputation were sold for atleast £35 million. (looking at you A. Carroll)
Yes of course, CR7 comes into this argument, I haven't completely tried to escape blame from him, being a self proclaimed fanboy, but he was special, something else. Only him & Messi have the right to be stood out alone on the transfer fees the same way Zidane was before them for so long.
Now, players are bought at the start of their careers for ludicrous amounts of money i.e. Martial, Sane, Stones etc. and you just wonder where this will stop.
Pogba is not a Ronaldo or Messi nor is Bale therefore had the Kaká deal not gone through in 2009, they would have been lucky to have sold for £40million as would have Aguero, James, Torres and the rest of the 'new wave' players.
What I am trying to get at is, on footballing merits alone, Zidane should currently be the second most expensive player ever before Ronaldo (and Messi if he ever were to leave) with every other player behind these three. The reality is that footballers are not now bought on footballing merits, rather they are bought in accordance with the commercial aspirations and philosophies of the club.
Just don't get me started on the Chinese transfer policies.
AA MUFC GLA
Robinho broke the camel's back
Daniel asked who is to blame for the sudden increase in the cost of fairly average players, and my instant thought was Real Madrid. However, having trawled through their transfer history (which actually wasn't as mental as I thought it would be, although still enough to suggest somewhere between 'lavish' and 'extortionate') I came across one name…
Robinho (to City)! He was, and let's not pretend otherwise, a statement signing; signed for what he signified rather than his talent. I think it was clear to most people by 2008, the year of his move to City for £33m, that he wasn't going to fulfil his potential – so why did City spend so much on him?!
In 2008, the transfer world record was £46m for Zidane in 2001; this was despite the fee having been broken 9 times in the 90's and twice in the 00's, prior to Zidane. This was different, IMO, to the big money being spent on potential, because Robinho was so unlikely to reach that level (I know it's not uncommon for someone to push on from 24, but I really don't remember this being the case here).
It also coincided, at least in my mind, with the influx of 'sugar daddy' owners, who wanted to spend their money on becoming massive clubs without organic growth. Sure Chelsea had spent money, far too much in some cases (SWP) but they were already in European competitions etc. City spent this money simply to get noticed, and as such opened the door to other clubs to follow suit. Robinho was a statement signing, made with little interest in actual return on the pitch – it was this attitude that made transfer fees seem irrelevant; why worry when someone else will be just as ridiculous in a matter of weeks/months?
I wouldn't be happy to be proved wrong (I'm a very small person) but I would be interested to know others views.
Jack (We have spent some daft money of course – looking at you Anderson) Manchester
No straw, no camel, no broken back
I don't think any straw has broken the camel's back – the camel is fine and has full manoeuvrability. What I mean is transfer fees have been rising tenfold every 20 years or so since they were invented. If you extrapolate from all the previous record transfers since the first £100 transfer at the back end of the 1800s then we're overdue the first £100M pound player.
There's nothing unpredictable about increased player fees especially when you consider how revenues have increased so dramatically. Arsene Wenger thinks the fees are crazy. He needs to adjust his reality.
Ashley (I did graphs and everything) Metcalfe
…In response to Daniel, Scotland. I don't think there was a single straw that broke the camel's back, but rather a blooming great hay bale of money that the camel is happily munching its way through.
I don't know if graphs are allowed in the mailbox or not, but if you look at the graph below the amount of TV income in the premier league has increased tenfold since 1992/97 from a paltry £191m to a gargantuan £5.136bn in 2016/19, that's £10.2m per game.
Add to these sums the money made from ticket sales, advertising and naming rights etc as well as new investment from owners with bucket loads of petrochemical dollars, you'll find the Premier League awash with cash. With the exception of the top clubs in each of the European leagues, PSG, Bayern Munich, Real Madrid and Barcelona; Premier league clubs are now the richest in the world and with that can afford to spend ridiculous amounts on wages and transfers fees to outbid most of the other clubs in Europe.
It won't be long before premier league players will be demanding £500k per week in wages and transfers of over £100m become normalised. The main thing for me though, is that there now no longer seems to be a correlation between clubs spending large amounts of money, and the quality of the player it buys.
If you spent a load of cash in the 90's it was usually on a key signing who was a known world class player, now teams break their transfer records on any Tom, Dick or Harry just to make up the squad numbers i.e. £20m on Yannick Bolasie!
It would be slightly more palatable if some of this cash actually trickled down and was invested in the grassroots of the game, however I don't think that there is much evidence for this and that leave me with the hump.
Chris, THFC, Royston
…In response to Daniel Scotland (surname or location?) who says "Things don't ordinarily become six times more expensive every generation" here are some of the british record transfers approx. 20 years apart :-
1893 – £100
1914 – £2500
1938 – £14500
1957 – £65000
1977 – £500000
1996 – £15m
So it turns out that in football they actually do
Richard , Carrigaline, Ireland
Arsene only shares the blame with players
Guy S has a point – to an extent. Yes, Wenger has in some ways 'ruined' players like (here we go) Wilshere, Walcott, Ramsey, Oxlade-Chamberlain, Gibbs, Chambers… (still with me? Good, I'll carry on) Senderos, Djorou… you get my drift.
But they're all adults. There was and is absolutely nothing stopping the likes of the Ox or Gibbs agitating for a move elsewhere. Certainly, in a cash-rich Premier League, money is pretty much no obstacle to say – picking at random – Walcott to West Ham, Gibbs to Palace and the Ox to Southampton. Ramsey is now a £50m player, but seems content to stay at a club which seems no nearer to realising his best position.
It's not even about ambition. Most of the above players have spent – at a reasonable guess – 25-40% of their time at the club injured. As Arsene and Arsenal seem to have absolutely no idea how to prevent or manage muscular injuries then why, as an athlete dependent on fitness to perform, would you stay?
The answer? Because no one at that club is challenged to win anymore. Remaining in the top 20% of clubs is now deemed sufficient. 'Do what you always did and you'll get what you always got' used to be a criticism, but now seems to have been adopted by Arsenal as a guiding philosophy.
From Henry to ennui in 10 short and very long years. And still no end in sight.
Norrie
The final thing on Arsenal spending until the next crisis
I think in the aftermath of all the criticism Wenger is getting a very obvious point is being overlooked by the media and this is not difficult to see.
Wenger has his faults but I strongly believe he has been protecting the Arsenal board for years and it's about time he came out and said things that need to be said.
In my view the Arsenal Board have no ambition whatsoever which begs the question what is happening to the money Arsenal make. Let's look at what is happening at the moment
Arsenal need an experienced Centre Half and Striker. They have identified Mustafi and Lacazette to fill those positions. These two will cost £30m and £40m respectively. Man City, Man U, Chelsea would put the money down and get them straight away. The word is that Arsenal are haggling and are unlikely to meet the Mustafi price as they also want a striker. The bottom line is that they will settle for cheaper alternatives who would likely not be good enough in the long run.
Do people honestly think Wenger will say no if the Board insist on paying the £70m for those two? This is a Board headed by a multi-millionaire owner who refuses to put his own money into the club but insists on charging the highest ticket prices in the land.
It makes me laugh when people say the Board should sack Wenger. They will never do this as he protects their interests. Imagine Pep or Mourinho had been available and had rocked up at Arsenal. Do people really think they would have been given the funds they wanted to secure the players they need. I am not even talking about spending levels those two are enjoying at the moment. I am talking about £100m spending which those two would have wanted as a bare minimum.
Wenger did not go for Vardy because he was what he wanted. He went for him because he was the cheapest.
Now I am all for not spending what you have not got. But Arsenal have had a bit of money recently and looking at the books should be able to spend £100m needed (Xhaka, Mustafi, Lacazette). Not doing so is negligence.
It's time Wenger stopped taking all the flack and help expose the Board for the charlatans they are. Otherwise in my eyes he will be complicit in the wrongdoings they have been getting away with for ages.
Michael O, Walthamstow
Palace are also messing about on Benteke
Eamonn, Istanbul (not Constantinople) did a good job of summarising the Christian Benteke situation. I too cannot fathom why Liverpool are being so insistent on recouping every penny of what they paid for him.
However, on the other hand, I don't understand why Crystal Palace are doing what they are – it's been obvious for a while that Liverpool don't want to sell a player for a massive loss who they know will do well at the right sort of team. This is even more baffling when you remember that Palace have already agreed personal terms with Benteke – the Reds ace is willing enough to come to South London, and this seems like needless and futile haggling.
Basically, other than Benteke, who was frozen out by his current club, agreed a deal with a new team, and has largely kept his counsel on the matter and let everyone else do the talking, this whole thing is just a load of infuriating fannying about. There is some room for negotiation, when both sides see a bit of sense, but the longer it goes on the more likely it is that Palace will be gazumped by someone else and we end up losing out.
The literary Ed Quoththeraven (hoping James McArthur can grow a Viking beard)
Oh Joey
So Joey Barton says of Manchester City; "It is not the club I left…". No it isn't, and all the better for your departure Joey.
Rick
Don't think that Storey won't beg and plead
No question I'll be buying the Portrait of an Icon book on release.
Not only has the series been utterly wonderful and a highlight of my internet browsing week, but the proceeds going to a great cause, to the foundation in the name of probably the best icon in the series and a true great of the game (and indeed one that brought a tear to my eye.)
Andy Wilson