Man City dominate United…and our Team of the Week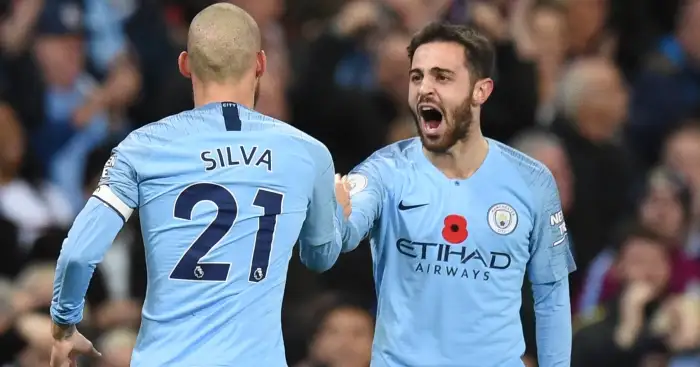 The slide into despair started about 1pm Eastern Standard Time on Sunday, when it became clear there wasn't a formation ever devised that could get all the worthies on this list. It was an extraordinary week at some of the positions, and there was simply no way to do it right. I'll take all the flak, but consider some compassion for your helpless and rather sleepless correspondent. As always, I'll try to do everyone justice. It's a fairly narrow 3-3-3-1:
Goalkeeper: Bernd Leno (Arsenal)
What's the next level beyond 'stupendous'? Stumped for a word, I asked my wife, who instantly replied 'rombostic!' (Now you know why I married her.) It was indeed a rombostic weekend for keepers, with top-drawer saves the length and breadth of England and Wales, and no way to chronicle them all. Up until late Sunday evening, it looked like Asmir Begovic would outstrip Sergio Rico, Jordan Pickford and Rui Patricio, all of whom might have walked onto the list in a different week. But Leno vaulted over them all with his game-saving stop from Adama Traoré, his fourth great save of the night, his second one-versus-one. Begovic's collection was equally remarkable, but maybe, just maybe he could have done better on Newcastle's first goal, and Leno had the newbie tiebreaker in his favor.
Lucky to get a point from that. Awful performance, missed the one really good chance we created, and the goal was a fluke.

Without Bernd Leno we'd have lost that today.

Not one of the team or Emery's best days.

— arseblog (@arseblog) November 11, 2018
Centre-half: Lewis Dunk (Brighton & Hove Albion)
Sadly the bookies don't quote prices on making this list, but if they did, Shane Duffy would have been easily odds-on. Cardiff-Brighton? Aerial balls unlimited from the men in blue, against the clearance master himself? And when Brighton had a man sent off early, the odds would have shot off the scale. At half-time Duffy had eight clearances to Dunk's three and had hired a limousine to pick up his trophy. But in the second half it was Dunk who made all the plays, including both a goal-line clearance and playing Sol Bamba offside on the bogus late goal. I thought Gareth Southgate flattered him a bit with the call-up, but he certainly did his chances no harm on Saturday.
Centre-half: Ben Mee (Burnley)
An old friend makes his first appearance this season, with an outstanding match in the goalless draw at Leicester City. James Tarkowski was missing, and Kevin Long was inconsistent, but Mee carried the extra burden with ease. It was Return To Sender whenever the ball came his way, and he was also effective coming out to shut off attackers when needed. He tired just a bit in stoppage time, but made no significant errors. Nice to have him back.
Centre-half: Federico Fernández (Newcastle United)
Last time he made the list (only two weeks ago), I opined that he was at his best when moving to cover for teammates. Boy, was he at his best against Bournemouth. I honestly don't think there's anyone better in the league at shifting sideways to pick up attackers. Those things don't show up in the stats, either. He displayed some leadership as well, giving Fabian Schär, filling in for Jamaal Lascelles, a few well-deserved tongue-lashings. One thing, though: very early in the match he may or may not have clipped David Brooks for what might have been called a penalty. Watching the video, I can't decide. If you think a penalty was appropriate, drop him and put Conor Coady or maybe Chris Smalling on. But he was something special otherwise.
People just don't no how good and how important Federico Fernandez is to @nufc. Absolute warrior and a lesson to everyone who wants to be a defender. 👏🏻👏🏻👏🏻

— Kev Stott (@1Kevs) November 11, 2018
As for Coady, he was magnificent all evening against Arsenal with clearances and blocks, an absolute shoo-in for the list – until Pierre-Emerick Aubameyang got free in front of him (and behind Willy Boly, another contender) for a sitter. Aubameyang missed, but Team of the Week knows no pity. Smalling was caught flat-footed a couple of times as City blew out of the gates, but recovered to have an excellent match, not letting Raheem Sterling or anyone else past him. It's no coincidence that City's clinching goal came when he had to vacate his spot to follow Sterling.
Elsewhere, Christopher Schindler looked finally back to form, notching his share of powerful clearances and picking his spots to challenge Marko Arnautovic. Fabián Balbuena and Mamadou Sakho also deserve honourable mention.
Deep Midfielder: Wilfred Ndidi (Leicester City)
Absolutely dominated the midfield against Burnley. He's a good candidate for steadiest performer in the league: you get something like 7/10 every time out, which means he doesn't make this list often. But a few times a season he delivers a stormer, and here he is. He went touchline to touchline, got to every ball, was astonishing in the air (winning ten duels!), and got forward both to shoot and create. You didn't even notice Nampalys Mendy was there. He's younger than Ruben Loftus-Cheek and Harry Winks, by the way.
Deep Midfielder: Mario Lemina (Southampton)
He's been the Saints' best player recently, and when on his game is their best player period. Whatever you think of Mark Hughes, a draw against Watford (that with different reffing might have been a win) is a decent result, and Lemina's the main reason they got it. He's strong and mobile, and both qualities were needed against a central midfield of Nathaniel Chalobah and Abdoulaye Doucouré. Time for a statline: five tackles, four interceptions, six clearances. That'll do nicely, sir.
For #MUFC in January I'd be going after 2 players: Edin Dzeko and Mario Lemina. Centre back might have to wait til Summer

— Michael (@granvillepoet) November 4, 2018
Deep Midfielder: Fernandinho (Manchester City)
A very fine game from one of the great City players. The passing was even more incisive than usual, and the defence more consistent. He even won a few aerial duels. City are a side perfectly suited to his current skill set: passing, passing, and more passing; defence here and there. I hope he plays for City forever, and with Pep as the manager, he might pull it off.
Marouane Fellaini was in contention for a while. Unlike Fernandinho, he's there for defence, and mostly played it quite well, with some useful passing added in. At the same time, he struggled a bit with City's early onslaught, and his contribution declined in the second half. But considering the opposition, this was a worthy 90 minutes. Elsewhere, Jonathan Hogg stood out for Huddersfield.
I could have gone with a 3-4-2-1, which would have given spots to wide players, but none of the three central midfielders had made the list this season, while all the wide candidates had. On the left it was a tie between Andrew Robertson and Marcos Alonso, both of whom had good attacking matches. I probably would have picked Robertson because of his lovely assist for Xherdan Shaqiri. On the right it was Aaron Wan-Bissaka again (!), doing well at both ends of the pitch, attacking a bit more than in previous weeks. Matthew Lowton had one of his better matches for Burnley, too. And I have a regular abbreviation in my notes: FITNOE. It stands for Femenia If There's No One Else. Kiko's been playing well for Watford lately, but each time there seems to be someone else.
Attacking Midfielder: Bernardo (Manchester City)
I love this guy maybe even more than Pep does. There's no better pressing midfielder in the league, and when he gets the ball, look out. So many outstanding runs with the ball, so many fine passes, topped off with that perfect cross for Gündoğan's clincher. Man of the match.
A game of three silvers: David, Bernardo and Agüero's new hair.

— Jonathan Wilson (@jonawils) November 11, 2018
Attacking Midfielder: David Silva (Manchester City)
The one and only. In the first 15 minutes it looked like a derby display for the ages. In the end we had to settle for standard midfield mastery, which was enjoyable enough. He now has two right-footed goals this season, a career high. Don't forget that Sergio Agüero, of all people, cost him an assist by botching a low cross.
Read 16 Conclusions if you haven't already.
Attacking Midfielder: Eden Hazard (Chelsea)
No assists and no goals, and the big names usually need some end product to make the list. But Hazard tried everything he knew and then some, and got virtually no help from his teammates. Plus, if Morata gets a harder contact on that cross and/or Pickford doesn't make a diving save, or Willian scores after that through ball, it's one or two assists and the whole narrative changes. Chelsea don't have enough creative players or reliable scorers to support him, which is one reason they won't win the title. But he's the best player in the league, so let's all send him adoring fan letters so he stays.
Take three hundred guesses who's next on the list. I'll spare you the effort: it's Robert Snodgrass. The Scotsman was excellent for West Ham at Huddersfield, pushing the attack at every opportunity. You can't really use the word 'scintillating' to describe Snodgrass, but let's use it anyway, for his best top-flight match in a hundred years. Beat his man to the line and sent in the cross leading to the equaliser, too. For his opponents, Alex Pritchard was fantastic in the first half, getting to the ball at every opportunity and scoring their only goal. He tired fairly quickly after the interval, but that's the kind of showing that can keep the Terriers up.
No wingers on this list, but some good performances. Kadeem Harris, notable for the most prominent derrière in the league, stood out for other reasons: good pace, two-footed crossing and shooting. Hit the bar on a shot that was going in until the last second. Helder Costa tormented Arsenal defenders on the counterattack, got a very-well-deserved assist, and was denied a goal on one of Leno's beauties. Kenedy was inventive in attack, worked hard in defence, and sent in a perfect cross for Salomón Rondón's bullet header.
Striker: Salomón Rondón (Newcastle United)
And here's the man himself. I probably wasn't the only one scratching his head when Rafa plumped for the big Venezuelan. At West Brom he had been intermittent and inconsistent, giving no reason to think that would ever change. There's still no reason, but he delivered a wonderful performance against Bournemouth, with the complete package: very near hat trick, hold-up play, aerial prowess, danger on the counter, praise from Alan Shearer. We've seen this movie before – against Spurs last year he was just as good – and maybe this time we can get a few more showings.
Peter Goldstein
If you enjoyed this, feel free to give us and our very own John Nicholson some love in the the FSF awards. Head here to vote…