Three Man Utd stars grumble about 'undroppable' Ronaldo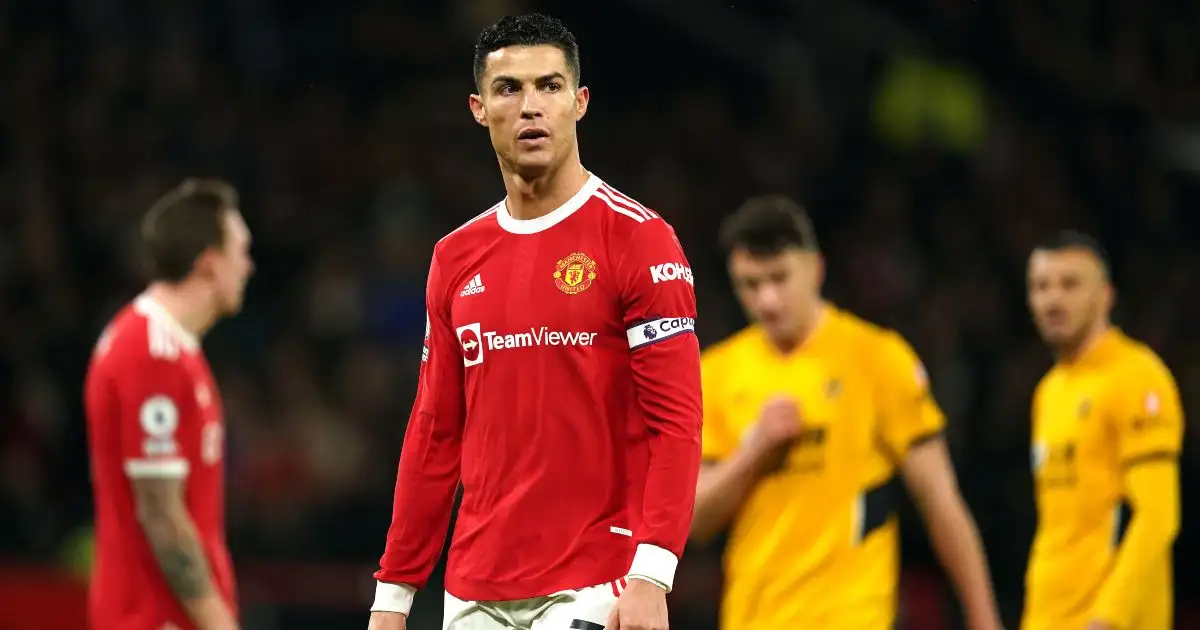 Harry Maguire, Edinson Cavani and Mason Greenwood have all expressed their frustration at Cristiano Ronaldo's status at Man Utd, according to reports.
The Portugal international – who has scored 14 goals this season – rejoined the Red Devils in the summer transfer window after 12 years away from Old Trafford.
Man Utd signed his former Real Madrid team-mate Raphael Varane, as well as Jadon Sancho from Borussia Dortmund, in an attempt to close the gap on their title rivals.
---
Ranking the 29 Manchester United players by right to gripe
---
However, it has gone terribly wrong for Man Utd in the Premier League this season with Ralf Rangnick's side currently seventh in the Premier League table after their 1-0 defeat at home to Wolves on Monday evening.
There was hope that replacing Ole Gunnar Solskjaer with Rangnick until the end of the season would have had a positive impact on the team's performances.
And, although Man Utd have only lost one of their first five Premier League matches under Rangnick, some would argue displays have actually been worse under the German.
Former defender Gary Neville has been frustrated at the Man Utd players' poor body language in recent weeks and now the Daily Express claims there are big divisions emerging in the Old Trafford dressing room.
The 'dressing room is understood to have grown into several small cliques' as the 'crisis' at the club deepens with Rangnick 'battling to hold the squad together'.
The newspaper adds that Rangnick is 'struggling to keep a lid on growing divisions' after Luke Shaw was the latest player to hint at an unhappy camp.
It is understood that Maguire, Cavani and Greenwood 'have found the undroppable presence of Cristiano Ronaldo a challenge to their expected roles' while 'there is frustration from some others about the influence he holds over international team-mates and other Portuguese-speaking players'.
And there are already doubts from some that Rangnick will be able to get a grip and turn this Man Utd squad around.
Paul Merson claimed yesterday that the Red Devils have been "lazy" by not appointing a full-time manager and opting for the German instead.
"Everyone was telling me Rangnick was the one, but he's not worked with these players before. He's not worked with this standard of player," Merson told Sky Sports.
"It's alright going to a lower club and saying I'm going to do this; these players want to get to there and will listen. These players are there already.
"Now you need someone to come in and be special.
"I think Manchester United have been lazy. They have taken the easy option in not appointing a full-time manager. This is Manchester United. It is the biggest club in the world. Go and do something. Bringing someone in for six months is just lazy.
"Talking about what he did at RB Leipzig or what he did at Schalke, they were two clubs down at the bottom. Of course, Leipzig are the club they are now, but it is not like he's come in with a record of winning a lorryload of stuff.
"Then everyone goes on about the pressing. We were pressing in 1989. The great Everton team of the 80s, the great Liverpool teams of the 70s and 80s, they were all pressing. They were all closing people down.
"When you watch this United side, you can't tell me they press.
"Moutinho is 35 years old, and he ran the show at Old Trafford. Not one person tackled him in the whole game. I mean, seriously!"