Liverpool have 66/1 Quadruple 'within their grasp' now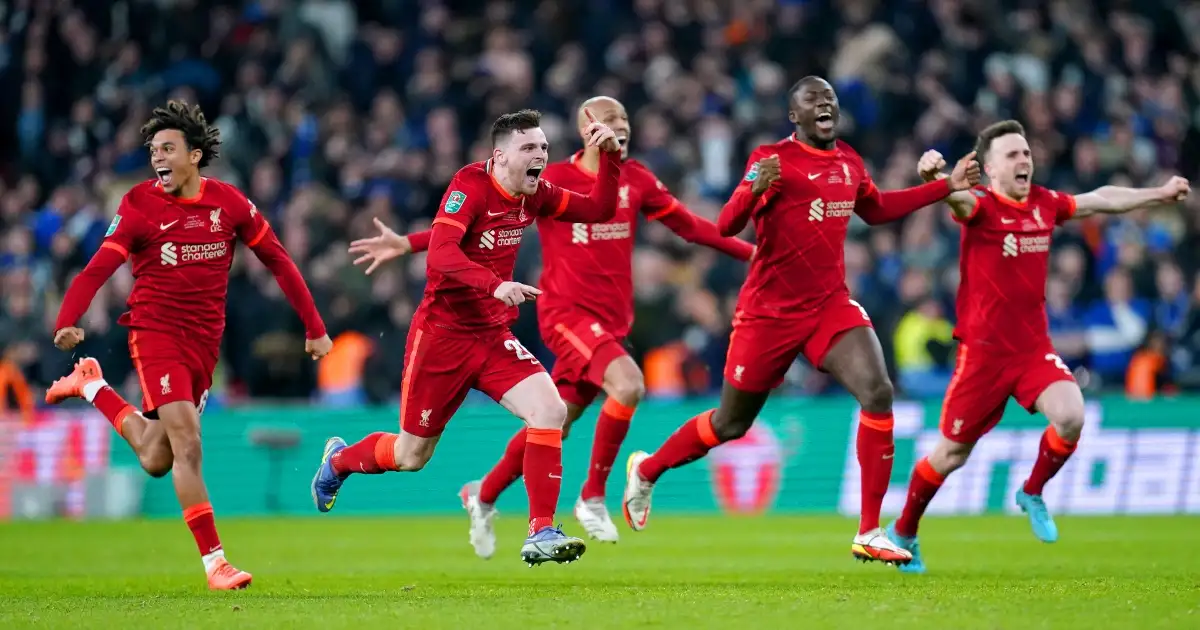 Can we not just let Liverpool quietly celebrate the Carabao Cup without expecting the near-impossible?
Capital stuff
Tabloid websites love a word in CAPITALS and The Sun are no different in their coverage of the Carabao Cup final (sorry, FINAL. Does this work?).
So 'Kepa the Wembley villain as he comes on just for shootout…and SKIES deciding penalty,' while 'Liverpool pen hero Kelleher was a STRIKER and didn't play in goal until he was 14' and 'Chalobah slams ref and reveals he needed STITCHES in groin after Keita lunge'.
But Mediawatch is most interested in this classic of the genre on their football homepage:
'Subbed Mendy looks LIVID as he watches Kepa miss decisive pen for Chelsea.'
Sorry but did he f***. He looked upset. Like every other Chelsea player.
And The Sun absolutely know he looked upset and not LIVID because this is the headline when you click:
'Edouard Mendy forlorn reaction to Kepa missing decisive penalty for Chelsea revealed after shootout drama vs Liverpool'
Forlorn: pitifully sad and abandoned or lonely.
Livid: furiously angry.
Not remotely the same emotion and not remotely expressed in the same way, though Mediawatch is habitually both.
Finders, erm, Kepas
MIRROR SPORT: Jeepers Kepas #TomorrowsPapersToday pic.twitter.com/9BKUjsMmWx

— Neil Henderson (@hendopolis) February 27, 2022
The Daily Mirror there, merrily ignoring actual pronunciation since time began.
The sound of silence
So what of Kepa? The Mirror website tell us breathlessly that he 'has broken his silence after his penalty miss saw Chelsea lose the Carabao Cup final to Liverpool', after keeping his counsel for two whole hours after the final whistle before posting on Twitter. Did anybody call the police when they didn't hear from him while he was on the pitch, collecting his loser's medal and then getting changed in the Wembley dressing-rooms?
'The Spaniard did not speak after the game, but has since broken his silence on social media, thanking the players and fans for their support.'
We think he probably did speak after the game – but maybe just to his friends and colleagues – before 'breaking his silence' by tweeting pretty much as soon as he finished work. Like a normal person.
Confirmation bias
But the real Carabao clicks come from this Mirror doozy:
'Carabao Cup prize money confirmed as Liverpool beat Chelsea in thrilling final'
Confirmed, you say? By who? Oh, just you. And how was this 'confirmed'? By taking a piece from sister site football.london written before the final and cannibalising it after the final whistle. Ingenious really.
'While most cup finals will see the winners walk away with millions in prize money, the Carabao Cup offers a significantly reduced prize pot' becomes 'While most cup finals usually see the winners walk away with millions in prize money, the Carabao Cup offers a significantly reduced boost to the winning club's coffers'.
Then 'the total pot for the entire tournament stands at just £200,000 – but is only handed out to those who make it to the semi-finals or further' becomes 'the total pot for the entire tournament stands at just £200,000 – but that is only dished out to those four teams who make it to the semi-finals or further'.
And so it continues for the next four paragraphs.
'Confirmed' and 'copied' do at least start with the same tw0 letters.
Party poopers
So how did Liverpool celebrate winning this pitiful amount of money (once it had been confirmed by the Mirror)?
'PARTY TIME: Inside Liverpool's quiet dressing room celebrations as Reds focus on quadruple.'
Let's read the details of these 'quiet' celebrations?
'The Reds ended a 10-year wait for domestic up success and celebrated accordingly, singing Gala's "Freed from Desire" in their Wembley dressing room after picking up the cup.

'The Liverpool players and the backroom staff placed the famous three-handled trophy in the middle of the dressing room and danced around it as the iconic tune played.

'Goalkeeper Adrian shared a close-up video of the team chanting the song and it's fair to say there were a few happy faces in the Liverpool camp.'
So they sang and danced quietly? I mean, they absolutely didn't.
And @LFC madness! 😍 pic.twitter.com/mnj9XYWrr8

— Adrián San Miguel (@AdriSanMiguel) February 27, 2022
The man himself calls it 'madness', which might be a slight exaggeration but it's not 'quiet' and nor is it focused on the quadruple. Because that would be weird.
Can we just, you know, maybe let them celebrate one trophy before we start talking about three more? Maybe?
Four f***'s sake
The answer is obviously 'no' because…
'One down, three to go? Liverpool's quadruple bid off to perfect start with epic Carabao Cup victory' (Goal)
'Carabao Cup kicks off Liverpool's Quadruple quest, while Chelsea's Kepa-for-Mendy gamble backfires' (ESPN)
'Carabao Cup final: Liverpool's win against Chelsea could turbocharge historic quadruple bid' (BBC)
'This is the start': Klopp eyes quadruple after Liverpool win League Cup' (Yahoo)
The latter is particular bollocks as Klopp never mentioned the quadruple. Of course he didn't. What he did say was this:
"That is the start, we are not silly. We need to have luck – we had luck, that could have been 5-5.

"I'm fine now but I would have been fine with 90 minutes and 1-0 to Liverpool and we go home. I am happy for the people in dark times to celebrate something like this.

"We have to work hard. We play on Wednesday again, which I cannot believe now. We will give it a try. It is a home game and it will be rocking because of tonight."
Even with one trophy in the bag, it's a 66/1 shot that Liverpool will win three more. It's literally never been done before because it is practically impossible.
So over to the Liverpool Echo:
"'Quadruple in sight' – National media react to Liverpool Carabao Cup final win over Chelsea'
Except the national media did not say a 66/1 shot is 'in sight', did they? That's more than a little misleading. The only person who wrote that was the Echo's own Paul 'Giddy' Gorst, who says:
'There's a lot of football to be played before that tantalising prospect is a reality, but the naked fact that a truly unprecedented quadruple is still in sight at the start of March will whet the appetite for what could genuinely be halcyon days, even at this most storied of football clubs.

'Liverpool have never won the League Cup, FA Cup, the domestic title and European Cup in the same year, but having seen off Chelsea here at Wembley, that gigantic, almost laughably impossible task now stands in front of them, within the grasp of the best collection of footballers in decades on Merseyside.'
Nobody has won the League Cup, FA Cup, the domestic title and European Cup in the same year, fella.
Can something the bookies have priced at 66/1 be 'within the grasp' of Liverpool? If so, Manchester United winning the Champions League is practically nailed on at 25/1 and West Ham should book the Europa League trophy bus now (15/1).