'Safe' on Thursday morning, sacked after 'losing the players' by Friday. The dreaded vote of confidence from the Daily Express.
Man, I feel like a…
Congratulations to Eva Carneiro. Not for reportedly being on the verge of returning to the club after winning a court case against them. Oh no. Congratulations to Eva Carneiro for re-assuming her role as a 'woman'.
The Daily Mirror proudly adorn their front page with an article on 'The woman who brought down the Special One,' while the Daily Express ask – also on their front page – whether Carneiro is 'the woman who triggered his downfall'.
Just when we thought it had all passed…
Like 10,000 spoons
'Managers get overhyped,' Harry Redknapp told the Evening Standard as he reached for a knife, but was instead greeted with 10,000 spoons. 'So many managers think they are geniuses.' This is going to be good.
'When I took over Tottenham in 2008, people were talking about them getting relegated. It was never going to happen because we had top players. People gave me the credit for the recovery but my missus could have kept them up,' Redknapp says, in a quote which Mediawatch will present without comment.
Within hours, Redknapp had taken to his Twitter account to air more managerial views, this time on Pep Guardiola.
"Guardiola's going to leave Bayern Munich at the end of the season," Redknapp tells Kicca. "I'd like to see him go to Dagenham and Redbridge. I think that would be a challenge for him. Let's see if he can get them up to the Premier League; if he does that, we'll all say he's the greatest manager we've ever seen. See if he can do better than the lad who's there now." His name is Wayne Burnett, Harry.
"I'd like to see some of the top managers take over clubs in the bottom divisions or at the bottom of the league. Would he really take Norwich into the top four? I don't think so."
Considering Guardiola has been linked with Chelsea in recent times, you could say that taking over a club "at the bottom of the league" is precisely what is being reported. The Blues are 16th, just two places above Norwich.
Also, out of Guardiola and Redknapp, Mediawatch can see only one out-of-work manager. Why isn't Redknapp touting himself for the Dagenham job?
Speaking to BBC 5live later on Thursday evening, Redknapp was asked his thoughts on Juande Ramos taking over at Chelsea: "Juande Ramos?!" he replied. "I mean listen, he was great at Tottenham. Before I went there he had two wins from eight games." Redknapp jokingly added: "I would think he'd be a fantastic candidate."
Never change, Harry.
Hearing problems
Are you wondering what the Daily Mail's Neil Ashton is 'hearing' this week? Wonder no more.
* Things 'could have turned out very differently' for Leicester this season if Claudio Ranieri had persisted with a sweeper system he utilised during pre-season. Why is Ashton only just hearing about this now?
* Andros Townsend has 'knuckled down' in Tottenham training in recent weeks, this after being frozen out following a dispute with fitness coach Nathan Gardiner.
Mauricio Pochettino on Andros Townsend, December 3: "There is not an issue with Andros. He was on the bench in some games and was out of the squad against Chelsea. He asked us to play in the Under 21s against Middlesbrough. It's a very good thing because, for me, it's a very good attitude to play for the Under 21s and wanting to keep working hard and keep his physical level."
Ashton really ought to listen more intently.
On the Pard stuff
'Pardew should be longterm successor' reads the headline in The Times. Consider Mediawatch's interest suitably piqued.
'There is one obvious candidate to be the new Chelsea manager and that is Alan Pardew,' writes Tony Cascarino. A strong start, no doubt. Cascarino lauds Pardew's 'ability', 'ego', 'bravery' and penchant for dealing with difficult owners. For Roman Abramovich, read Mike Ashley at Newcastle. 'Pardew would heal the wounds and get them winning again,' Cascarino believes.
Pardew has undeniably done a wonderful job at Crystal Palace since taking over in January, and currently has them in sixth place, three points behind Manchester United. He has coaxed fine form from Yannick Bolasie, Wilfried Zaha, Scott Dann and Jason Puncheon, among others.
But this is a man who lost more games than he won at Newcastle and Charlton, and whose best win percentage as a manager is 55% over 40 games at Palace. Such a record is excellent at Selhurst Park, but it betters only Claudio Ranieri and Andre Villas-Boas of the 10 managers appointed since Abramovich bought Chelsea in 2003.
Cascarino isn't done there, however. 'If not Pardew, then Abramovich should consider Mark Hughes,' he adds.
Mediawatch promptly shut its copy of The Times and set it alight.
No way, Jose
'Did Jose Mourinho pull one final trick on the media?' asks Mike Henson of BBC Sport. 'On Thursday afternoon, a man with his hood pulled down over his face was driven away from Chelsea's Cobham training ground,' Henson writes. Jose Mourinho, right? Wrong.
It has since been reported that it was in fact Chelsea player liaison officer Kevin Campello, but Henson's theory makes for compelling reading.
In full, his final point, this after discussing the lack of a 'chunky wedding ring' or expensive watch:
'Has the shock of losing his job caused sudden and severe manual hair loss? Did Mourinho – who shaved his head between losing to Leicester on Monday and losing his job three days later – also take the clippers to his hands? Or is it just the effect of a flurry of camera flashes?

'Either way, the man in the passenger seat on Thursday evening seems to have silky smooth hands where Mourinho, certainly last week, did not.'
Ahh, Jose Mourinho, and his famous 'non-silky smooth hands'. Accompanying the argument is the following picture: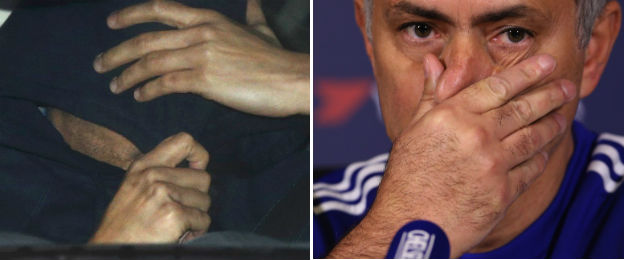 It's time to officially welcome BBC Sport to football reporting in 2015. Excellent work, fellas.
Ex exclusive
'EXCLUSIVE' screams the back page of the Daily Star. David Woods has the big scoop on Friday morning. 'Chelsea want Guus Hiddink to save their season after they finally axed boss Jose Mourinho,' he claims. Massive news, and a huge exclusive.
But wait, what's this? 'Guus Hiddink emerges as prime contender to take over Chelsea if Roman Abramovich decides to sack Jose Mourinho' – Daily Mail. On December 16. Less 'exclusive', more 'two days old'. Not to mention the fact that the Daily Mirror, Daily Express, Daily Mail and The Sun all tip Hiddink as the favourite to take over in the interim.
Ex exclusive, part 2
It's a great day for exclusives, it seems. The Daily Mirror's Adrian Kajumba and John Cross claim one with their scoop that Mourinho 'enjoyed a festive last supper' before his departure was confirmed. The Sun, the Daily Mail and the Daily Star all report the same.
Recommended reading of the day
Jonathan Wilson on Jose Mourinho.
Sam Tighe on Tottenham.
Edward Stratmann on Javier Hernandez.
Thanks to Richard Newbold and Tadhg Foley. If you spot anything that belongs on this page, mail us at theeditor@football365.com, putting 'Mediawatch' in the subject field.