Ronaldo can help guide Manchester United to 'history' and 'title tilt' after Antony message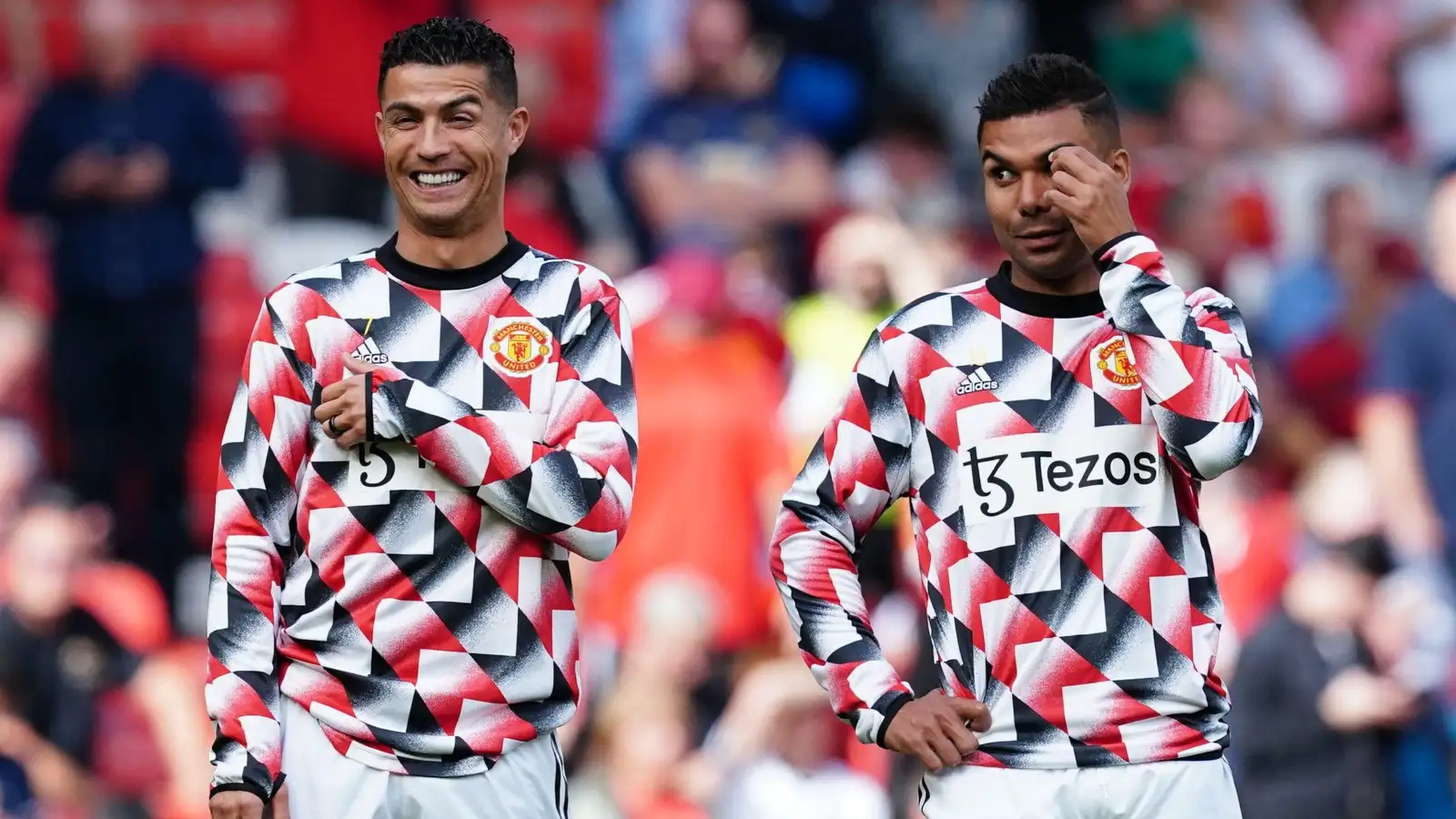 When even Cristiano Ronaldo is celebrating Manchester United goals then anything is possible. Like the Premier League title. Or actual history.
Crist cross
Neil Custis, The Sun, February 13:
'The truth that is now staring everyone in the face, and clearly Ronaldo himself, is that his days as a top-class footballer are over.

'This chapter is unfortunately not one he or any Manchester United fan will want to be re-reading. It is of a legend whose legacy is now being tainted.

'There is no magic any more, it has all gone.'
Neil Custis, The Sun, July 28:
'CRISTIANO RONALDO is in danger of entering football exile.

'The 37-year-old's continued presence while wanting to move elsewhere can only drag people down.'

'A player who believes those around him are not good enough to take him where he wants to go.'

'At the same time, how can a player like Ronaldo just hang around while not playing?'
Six games into the season – of which he has started one – under a new manager, what is the current Custis consensus on Cristiano?
'Now, he can be part of the rebuild, the comeback.

'He can be an inspiration again to young players who had gone into their shells around him on and off the pitch.'
The headline to that article is a bit of a stitch-up, but bearing in mind the whole 'a legend whose legacy is now being tainted' and 'in danger of entering football exile' thing, it is hilarious all the same:
'Ronaldo might just be grateful he's stuck at Old Trafford with a chance to make history all over again'
A chance to make history! They're fifth, it's September and they lost 4-0 to Brentford three weeks ago! Find the sodding middle ground!
Title card
Mind you, Custis is busy writing elsewhere that 'after two humiliating opening defeats to Brighton and Brentford, United fans are now dreaming of a title tilt'.
Mediawatch awaits a semblance of proof that a single one of these fans exist. Manchester United supporters will undoubtedly be feeling more positive but 'dreaming of a title tilt'? Give over.
Revolution is a mystery
The headline to that Custis piece is another doozy: 'Ten Hag vows it's just the start of his Man Utd revolution after Arsenal win'
That Ten Hag vow, in full from the man himself:
"I'm not thinking we're there, but we're on our way in a good direction. We have to keep going. We have to keep pushing, the attitude and mentality, set high standards every day, we have to do better, there's a lot of room for improvement. Everyone has to bring their maximum to Carrington. From day one we set high standards. We live by those high standards, when you show discipline, you create a winning culture, that is what we have to work for. That is my demand, we have many players in the team who have won trophies and they have to bring that standard. I understand fans are dreaming, the standards of Manchester United has to be good, we're at the start of a process, we're still far away. We have to get better if you want to win trophies in the end."
Alright, Che Guevara. Steady on.
Also a massive fan of Custis using the word 'speedsters' in his first paragraph. Has there ever been a more football tabloid term?
IceFerg theory
'Erik ten Hag does Sir Alex Ferguson proud with approach to Arsenal victory' – Daily Mirror website.
At what point can Manchester United stop being viewed through the prism of a man who retired nine years ago?
Spotted: dick
'Cristiano Ronaldo's touchline reaction spotted as Antony scores on Man Utd debut' – Daily Mirror website.
Oh it was 'spotted' alright. On a live broadcast watched by millions around the world. It was hardly some Easter egg noticed by a hawk-eyed fan.
Get even
That moment, a Manchester United player celebrating a Manchester United goal, is apparently a groundbreaking development:
'Even the benched Cristiano Ronaldo – the last United player to score on his 'debut' on his comeback match against Newcastle a year ago – gave the new boy a standing ovation' – Dave Kidd, The Sun.
'Even Cristiano Ronaldo, still on the bench, rose to his feet, clapped his hands above his head and joined in with the Manchester United fans as they celebrated the moment 35 minutes into Antony's debut' – John Cross, Daily Mirror.
'Antony, the £85million arrival from Ajax, scored on his debut and celebrated with magnificent exuberance – with even Cristiano Ronaldo standing to applaud' – Jason Burt, Daily Telegraph.
Notice the common theme? Stop treating a 37-year-old man like an actual child.
Pop idolo
That obviously then gives way to this, from the Daily Mirror website:
'Antony sends message to Cristiano Ronaldo after seeing his reaction to debut Man Utd goal'
What a paragraph this is, by the way:
'The 37-year-old eventually came off the bench to replace Antony just before the hour mark at Old Trafford, with the Brazilian posting a picture of the pair on his Instagram story with the caption "idolo"… which literally translates to "idol" from Portuguese.'
Huh. Who knew?
Winner, winner, chicken dinner
'Antony celebrates debut Man Utd goal hours after the game against Arsenal as he walks home from dinner with pals' – The Sun website.
Well he wasn't going to celebrate his debut Man Utd goal hours before the game against Arsenal, was he?
Crooks corner
Let's finish with a Garth Crooks hat-trick from his BBC Sport Team of the Week.
First up:
'At Wolves, Coady looked commanding and I still can't quite work out why they let him go.'
To change formation to four at the back and subsequently maintain the best defensive record in the Premier League after six games.
Next:
'As for Forest, they have a deep and troubling issue taking place at the City Ground. They seem to have an owner who thinks, by simply throwing money at a Premier League club, he can save it from relegation.'
You might also say they seem to have an owner who thinks, by simply throwing money at a Premier League club, he can ensure they don't start the season with about two contracted players.
And finally, on Arsenal:
'Having five substitutes doesn't mean you have to use all of them.'
Good job they only used four.