The most expensive forwards/wingers ever: Manchester City provide three of top 20 after Doku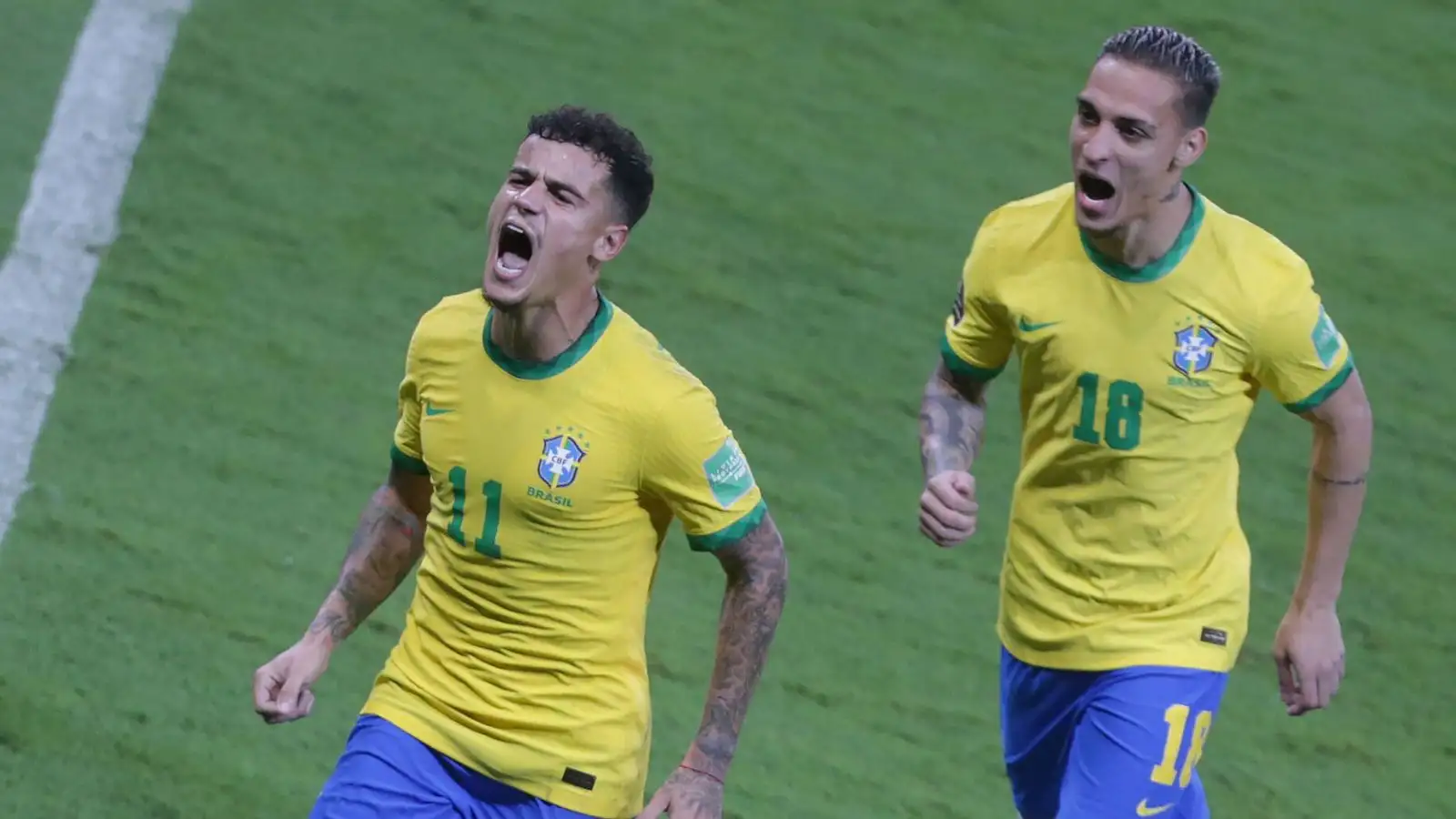 Jeremy Doku and the player he is replacing at Manchester City are among the most expensive forwards in football history, with a new teammate far ahead.
1) Neymar – £200m/€222m (Barcelona to Paris Saint-Germain, August 2017)
A fee so ridiculous La Liga refused to receive the payment so PSG said LOL to FFP and handed the money straight to Barcelona, activating one of those stratospheric release clauses designed to typically make such transfers essentially impossible.
2) Eden Hazard – £143m/€160m (Chelsea to Real Madrid, July 2019)
The initial payment of £88.5m alone would have been a disastrous transfer, but Hazard has accidentally activated enough variables in between numerous injuries to make this an all-time great waste of money.
3) Philippe Coutinho – £142m/€160m (Liverpool to Barcelona, January 2018)
It's difficult to pinpoint the most damning aspect of this deal from a buyer's perspective, but it's somewhere between the £106m initial fee, the £26.4m in clauses paid out for Coutinho's first 90 appearances, the £89m premium Barcelona reluctantly agreed to pay if they signed any further Liverpool players in the next two years, the fact Coutinho won the Champions League with Bayern Munich while on loan from the Nou Camp, scoring twice in the 8-2 quarter-final humiliation of the Catalans, or the knockdown price of £17m they sold the Brazilian to Aston Villa for after four underwhelming years.
4) Ousmane Dembele – £135m/€147m (Borussia Dortmund to Barcelona, August 2017)
With a bruised ego and the Neymar cash burning a hole in their back pocket, Barcelona had tried all summer to sign Coutinho but after facing resistance from Liverpool, they went cap in hand to Dortmund for their back-up instead. And lessons were learned with a £369.6m release clause inserted this time – not that the Frenchman has ever come close to warranting such lavish interest.
5) Joao Felix – £113m/€126m (Benfica to Atletico Madrid, July 2019)
Perhaps the worst match of player and manager there has ever been for a club-record transfer. How strange that the skilful individualist forward who doesn't track back never meshed with a totalitarian coach who demands suffering and sacrifice from his subordinates. How strange that Atletico committed such sums on a teenager with 45 career first-team appearances. How strange that they can't find someone to buy him.
6) Antoine Griezmann – £107m/€120m (Atletico Madrid to Barcelona, July 2019)
After The Decision favoured Atletico in 2018, the Frenchman could no longer avoid the Barcelona pull a year later in a sale which enraged Los Rojiblancos, considering a £180m release clause had only expired a couple of weeks prior. Griezmann has somehow managed to remain without a La Liga winner's medal through it all, timing his moves back and forth to Atletico and Barca comedically poorly.
7) Jack Grealish – £100m/€117.5m (Aston Villa to Manchester City, August 2021)
While it looked like an ungainly fit at first, Grealish went an awfully long way towards justifying his astronomical fee as a key part of a Treble-winning, mass-celebrating machine in his second season at the Etihad.
8) Neymar – £86.3m/€100m (Paris Saint-Germain to Al-Hilal, August 2023)
That world-record, market-breaking move to France delivered neither the Ballon d'Or nor the non-Barcelona Champions League that Neymar craved, so the Brazilian has decided to cheat by joining the most successful side in AFC Champions League history for loadsa money, loadsa cars, loadsa bedrooms and loadsa saunas.
9) Gareth Bale – £85.2m/€100m (Tottenham to Real Madrid, September 2013)
After cramming half of his total Premier League goals by that point into a single phenomenal season, Bale became the latest obsession of a Real Madrid side desperate to win La Decima. The Welshman helped deliver that in his first campaign with a decisive goal in the Champions League final – the first of five European Cups and second of 15 trophies for a player the supporters nevertheless came to hate.
READ MORE: The Gareth Bale Season of 2012/13 at Spurs was one of the greatest the Premier League has seen
Real Madrid signed Cristiano in 2009 and they didn't win a UCL till they signed Bale in 2013 https://t.co/spjwATB02l pic.twitter.com/ez5cPRq3Lw

— Andy (@andy_Fcb_) June 11, 2023
10) Antony – £82m/€95m (Ajax to Man Utd, September 2022)
Erik ten Hag put all his eggs in the Antony basket but a few must have cracked in transit from Amsterdam, the relatively slow and predominantly one-footed winger scoring eight goals and assisting three in a 44-game debut season.
11) Jadon Sancho – £73m/€85m (Borussia Dortmund to Man Utd, July 2021)
In his three full seasons with Borussia Dortmund, Sancho's least productive campaign was his first, when he scored 13 goals and provided 20 assists in 43 games. Across his two whole seasons with Man Utd, the forward has scored 12 goals and assisted six in 79 games. And they'd accept £45m for him two years on. So it's not gone too well so far.
12) Nicolas Pepe – £72m/€80m (Lille to Arsenal, August 2019)
After offering the closest challenge to Kylian Mbappe for the Ligue Un Golden Boot, Arsenal spent what remains for now a club-record fee on a player who has since returned to France after long being outgrown by the upwardly mobile Gunners.
13) Kai Havertz – £71m/€80m (Bayer Leverkusen to Chelsea, September 2020)
Expensive flop who never fit into one defined position and suffered for regular managerial upheaval? Or scorer of the winning goals in the Champions League and Club World Cup finals? A little from column A, a little from column B.
14) Kai Havertz – £62m/€71.7m (Chelsea to Arsenal, June 2023)
Mikel Arteta saw enough in those three mixed years at Stamford Bridge to deem Havertz as crucial to his Arsenal process, with the German apparently earmarked for a slightly deeper role.
READ MORE: Kai Havertz is a marginal gain for Arsenal when they need giant leaps forward
15) Mykhaylo Mudryk – £62m/€70m (Shakhtar Donetsk to Chelsea, January 2023)
The biggest possible fee is the one most often quoted but Chelsea would be absolutely delighted if they end up paying the full £88.5m/€100m for Mudryk, who has flattered to deceive in his short time so far.
16) Riyad Mahrez – £60m/€68m (Leicester to Manchester City, July 2018)
An underappreciated Premier League legend only reinforced his status at Manchester City. Just 10 players have won more Premier League titles – none of whom have a medal with two different clubs – than Mahrez, who ranks joint 53rd all-time for goals and 21st for assists.
17) Angel Di Maria – £59.7m/€75m (Real Madrid to Man Utd, August 2014)
Sold less than a year later at a £15.7m loss as the future World Cup final goalscorer and winner went from British record signing to 'complete fanny'.
18) Christian Pulisic – £58m/€64m (Borussia Dortmund to Chelsea, January 2019)
"It is incredible to see what Eden can do. He is a guy to look up to and what I would love to become. It is definitely a goal. Any player would be dumb not to want to be in the same team as him," said Christian Pulisic in May 2019 of his ambition to play alongside Hazard. The Belgian left five weeks later, although Pulisic did manage to roughly emulate him. Shame it was the Real version.
19) Jeremy Doku – £55.5m/€65m (Rennes to Manchester City, August 2023)
Signed on the recommendation of compatriot Kevin de Bruyne, the hope is that Doku can be the rapid replacement for the departed Mahrez. But 20 career goals in 144 games means that is no guarantee.
20) Ferran Torres – £52.6m/€62m (Manchester City to Barcelona, January 2022)
Shortly before Barcelona started to pull their various economic levers, they were making signings they could definitely afford for players who are no longer particularly required.