Nuno out at Spurs? Kane, Ole's genius, Arsenal, Liverpool and more…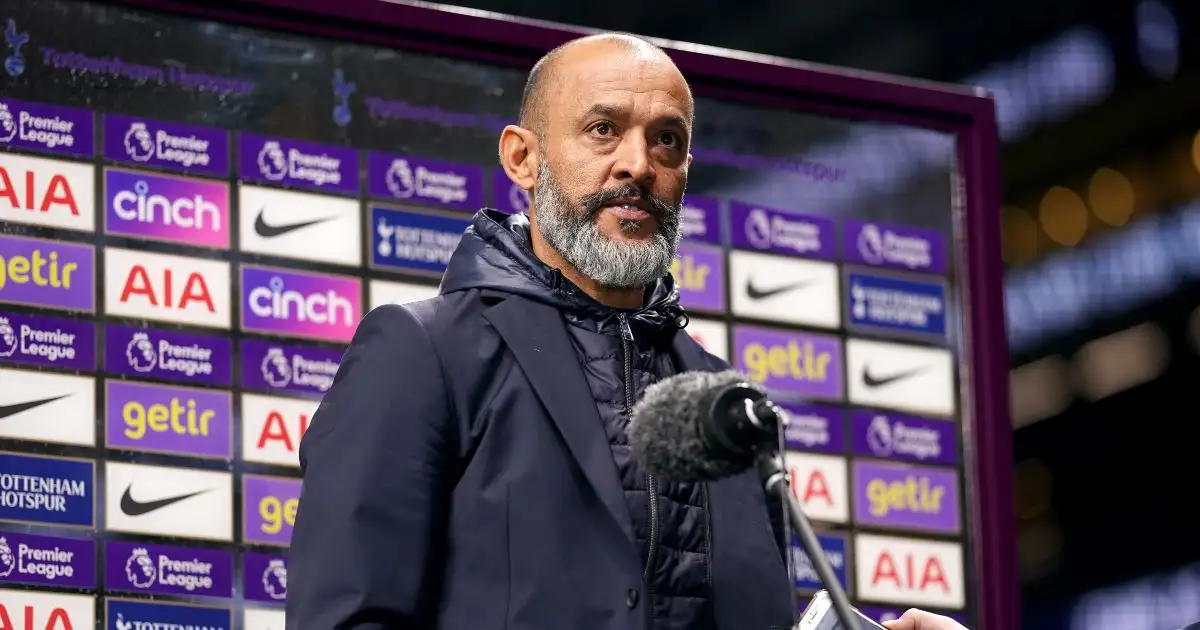 Nuno out, right? But then what? How does Solskjaer keep pulling rabbits out of hats? And lots more of your mails…
Keep sending your thoughts to theeditor@football365.com…
Spurs pain
Spurs are in trouble and the 'painful rebuild' has turned to 'excruciating crisis'.
There are so many things wrong with this team and club at the moment. The disgust from the fans with the substitution was justified and it felt like a watershed moment with our relationship with Nuno.
If it's not over, it's a long long way back for him. Mourinho had a body of work to fall back on which demanded respect. Nuno doesn't have that. He should never have got the job and now we're seeing why.
Tactically, Nuno can't balance a solid defence with an exciting attack. It looks like attacking phases aren't worked on in training, or more damningly, if it is, it's appalling. The defenders and the defensive midfielders can work the ball around nicely, but progressing it to the middle and final third? It's not happening.
In the days of Poch our players were brave on and off the ball. This team looks scared to play football or they don't know how to any more. Probably both.
Nuno out, right? But then what? Another manager swimming against the tide of Levy and ENIC. I don't know how this club gets better without changes at the very top.
Yes the new stadium is epic. But I'd rather have White Hart Lane with Poch and Champions League football. Man Utd and Arsenal have shown how difficult it can be when your successful manager leaves (clam down folks, success is relative and I'm not claiming Poch is on their level), the difference is, Spurs' ceiling wasn't as high and our floor is much much lower.
This is my first season as a season ticket holder. Feels like i've turned up to the wrong party and everyone's passed out. Ahhh to be a Spurs fan.
David, Battersea
In the last 2 years my wife and I have had our first child and relocated to another part of the country so watching spurs hasn't been my top priority of late. Life, who knew eh?
Luckily I'm not as invested as I used to be but even the 3 min highlights on YouTube are just so bad to watch.
I blame the chairman whose ego tells him he's clever enough to make all the football decisions himself with no input from anyone. And our new director of football. He used to be the Juventus DoF so great yeah?!
No, he not only just wants to buy/hire everyone from Italy, but he wants to play defensive only play to win football. I couldn't give a sh*t about winning or whether Harry Kane stays or leaves. I'd just like to be entertained, which, lets remind ourselves is ultimately why we watch football in the first place.
Apparently our DoF scrapped the deal to hire Paulo Fonseca (according to him no less) because his brand of football wasn't defensive enough. Well if he does end up at Newcastle I dare say that their fans will start enjoying watching their team far more then any spurs fan this season.
Stephen, (Tottenham f**king Hot Spurs, in case you hadn't guessed)
Nuno no no no
Ain't nothing better to cure a hangover than playing Tottenham.
You're welcome, Ole.
Jon, Lincoln
Kane thinks he's better than Spurs
Everyone has been wondering what is wrong with Kane all season but watching him play with Ronaldo on the same pitch today, it is clear to me: Kane thinks he is better than Spurs and plays like that.
He will give it his all if there is a chance, he will play to the best of his ability, he will try his best to score but he looks like he can't be arsed if things are not going Spurs way, he is not going to run himself into the ground each game and he won't be bursting a gut to track back to prevent a counter attack.
Ronaldo plays like he does because he has to, Kane does it because he wants to.
Shehzad Ghias, MUFC, Karachi (Cavani is the best number 9 at United)
Ole's genius
Half time and we are a goal up, but it doesn't even matter.
Ole's genius move is to move to 5 at the back a game too late, against a side that isn't exactly freely scoring.
Obviously looked up the Conte formation after hearing the links (and ignoring the feedback that maybe it was the wrong approach) and decided to try it while not actually dropping any of the players who cost us against Liverpool and all the other games this season.
Thinking seems to be "So what I we have a squad full of great attacking players,  going to keep the same underperforming players on, and drop all the creatives because Rashford gave the ball away once." He's gone full Southgate.
Whole set up is designed to not lose. And just like Southgate, still looks like conceding (narrow offside saved him). Just utterly dumb.
It doesn't even matter if we win 5-0 like this, the actual lessons that some players aren't good enough hasn't been learned. Fred, Maguire, Lindelof all still playing. McFred still used. Still the static forward line (he who cannot be dropped). And the huge attacking talents in the squad marginalised.
Absolutely fucking wonderful.
Badwolf
Another rabbit from Solskjaer…
Never seen a manager pull so many rabbits out of so many hats when the chips are really down.
Can we not just sign Ole up to a 1-week rolling contract?
James, MUFC
Man Utd DNA
The startling truth behind ManU's DNA is surely their appalling record for hiring managers and splashing the cash.
Basically since WW2, they've only had two successful managers (Busby and Ferguson). The rest have been almost without exception terrible, with Tommy Docherty even taking ManU down to Div 2. Post Ferguson, it's been just as bad; only Fergie thought Moyes would be up to the task; the insanity of LVG; the Jose circus; and finally the hilarious captain's pick of Ole. In every case, it's turned out pretty much as everyone outside of Manchester fully and joyously expected.
So now to the future.
Obviously, in this light, Conte is the go to pick and would be a blast – best case Thomas Tuchel with meltdown after two years; worst case – Jose with Italian attitude. The money would be spent, Ronaldo would be shot, fights would erupt, the defense would be solid, many would be sacrificed, and ManU might win something silver. The collateral damage would surely be enormous. Can't wait.
Both Busby and Fergie lasted many years not months and built multiple sides. Replicating that would be a different process, and may not be even possible. However, in that light, the only real candidate is Rogers (young, talented, good at building teams).
Of course, now Ole has beaten Spurs, ManU get to keep him and stagger on – a win/win for all concerned.
Matthew (ITFC)
If his transfers work, and the results are working…
In case we didn't know it already, judging a Premier League team after 3 matches is madness, but Arsenal were tipped for relegation. First 3 games against a buoyant Brentford, Premier League Champions and European Champions. Half our first XI out due to Covid/injuries. Things looked bleak.
Then 17 points from 21 points, 6 clean sheets, wins against our current competition Leciester, Aston Villa and Spurs). Every summer signing proving to be excellent purchases. Ramsdale has to be one of the best keepers in the league on current form, Tomiyasu looks a steal, Tavares is a very very good Tierney back-up, Lakongo looks like he's added some serious steel in our midfield. Ben White has a great partnership building with Gabriel. Only Oedegaard is struggling for form a bit.
The main criticism as things were turning around was a lack of goals, we've scored 2 or more goals in 5 of the last 6 games. Time to start trusting the process? It's definitely looking like something is building and if you told us we'd be 3 points of 4th and City, I'd have bitten your hands off.
I sent in mails before saying if we were top 6 at Christmas he should stay, he's dangerously close to winning us over.
Rob A (looks like us non-united fans need to make more effort in the inbox…)
Evans, Laporte and proper use of VAR
Hugely enjoyed Arsenal's win. There will be bumps in the road, but if we get more of the last 10 days than not, we'll be fine this year (some form of Europe and maybe a cup final or win) and build from there. But my email isn't about Arsenal but the non-intervention of VAR.
Two similar events, two different outcomes.
Both Evans and Laporte committed fouls as last man back denying clear scoring opportunities – of the two Evans was more obvious red to me (Leicester players not even close compared to City players…also Aubameyang is fast, no one was going to catch him), but only got a yellow.  I think VAR got it right by not overturning it. Although I think he was wrong, Michael Oliver gave a yellow and seemed to be aware of the foul, ball position, and other Leicester players. Jarred Gillet (VAR) looked at it and didn't overturn it. A caveat here – if both Oliver and Gillet thought it was only a yellow, both should be fired. However, assuming Gillet saw what everyone else saw that it was a red, and also saw that Oliver had all the same information and decided on a yellow, then I am happy he didn't overturn it. The match official officiated the match, and I'm ok with that.
Note: Had Evans popped up for a last minute equalizer knowing that he should have been sent off if not for the red, then two yellows (kick out on Ramsdale), then I'd be fuming about how VAR is useless and needs to do what it should do by correcting clear and obvious errors
Steve (AFC – Australia)

Another baffling refereeing inconsistency.
How are the two incidents involving Leicester's Evans and City's Laporte different? Both saw them wrestling the strikers down in central positions about 30 yards out. One got a yellow, the other saw red. I presume both were reviewed by the same VAR team.  I can only guess that it came down to the initial decision of the referees, which were not overturned. The likely reason- No clear and obvious error? If that is so then the rule is ridiculously vague and allows for bias.
Tired (of controversy) Gooner, London
Did Liverpool miss Fabinho?
Against a team as good as Brighton I think we really missed Fabinho today. Henderson is very capable in the six but today he probably needed a work horse like Milner by him in order to maintain control. With Jones and AOC it was just not realistic to keep control but those two are too offensively minded.
In the second half we lost all control of the game and ultimately were possibly lucky to draw and not lose. That said if I'm being honest I don't quite understand why the Mané goal was disallowed. It hits his foot first which I thought meant the handball isn't really an issue? I do appreciate he gains a huge advantage because it comes off his hand but just wasn't sure how the law was being applied this week.
Very few positives to take out of that game. Keita injured yet again. The whole team poor except for possibly Alisson and Mané. Zero control over a game we were winning comfortably at home. That's basically 4 points dropped this season against Brentford and Brighton plus a wasted opportunity against 10 men Chelsea. Those 6 points will be huge at the end of the season and we may regret these moments.
Minty, LFC
Giggling
Do you think Man City would mind Arsenal's dull draw against Crystal Palace?
Croydon Gooner (Maybe we should not judge seasons after 3 games?)
Football Focus
Football Focus. Where to start with that. Rightly applauded for replacing Dan Walker with Alex Scott. But then force her to read out tweets and pretend that every question must be delivered via a jokey tone or act like every answer is the funniest thing she's heard that day. Couple this with the in the field interviewer's shock and amazement at footballers completing everyday tasks on their own. "You washed your own dishes at your Nan's ?!!" EPIC Banter Nans right! Love a Nan
Note to the BBC. We don't expect or want football pundits to be funny. We want them to tell us things about the match we didn't know. If they just happen to be funny then great. But it's not essential. Like Art Garfunkel. A bonus.
And then we get to Dion Dublin and his interview with Harry Maguire on this morning's episode. If that doesn't go down in history as the moment FF jumped the shark, skied down the side of a volcano and landed in a speedboat with Rodger Moore I don't know how to finish this sentence.
I haven't even watched MOTD X With Jermaine Jenas but I know exactly what the studio looks like. Abandoned building/warehouse with minimal lighting and stupid couches. Then he goes on the bloody One Show. Yeah BBC. Urban
Thank You.
Brian Morrissey. Waterford.  Ireland