The specifics of Saint-Maximin's Newcastle exit are strange, and Howe sob story doesn't help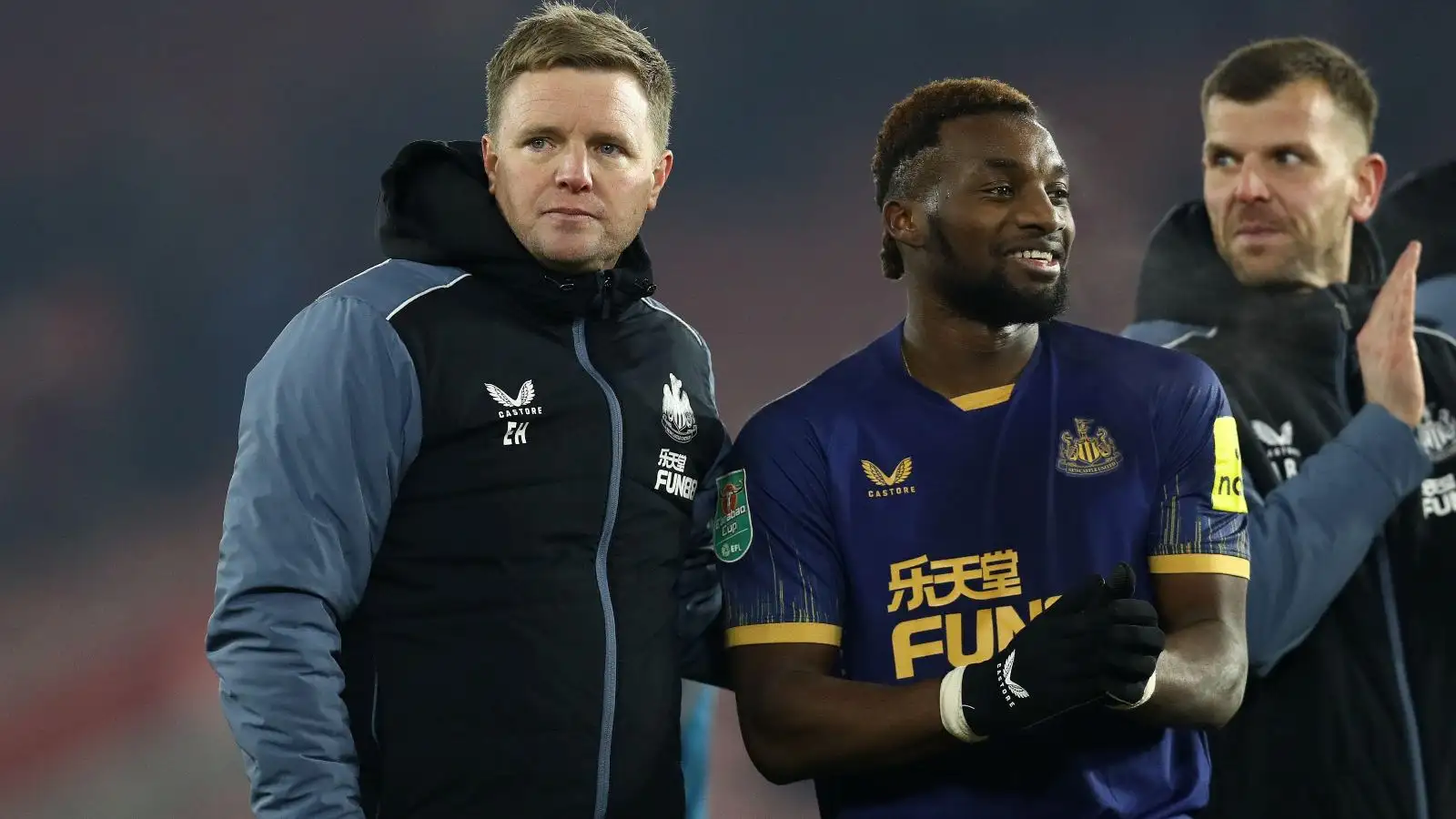 Can we talk about Allan Saint-Maximin's impending exit from Newcastle, please?
Because it's a bizarre situation made odder still by the baffling way Eddie Howe talks about it.
We all know Howe only wants to talk about the football, because that's how he's able to sleep at night, but the scenario where Newcastle's Saudi owners are going to buy Saint-Maximin from Newcastle for Al-Ahli in order to move some money in to Newcastle so Newcastle can buy other players is stretching the new world order in football to its elastic limit.
Yet to hear Howe talk about it you'd think this is unwelcome interest from a rival club rather than financial jiggery-pokery that will allow him to buy Harvey Barnes. This is all happening out of Financial Fair Play necessity, sure, but it is geared towards Newcastle's benefit. Yet Howe is apparently bereft.
"Allan is in discussions regarding a move to another club. Nothing is confirmed, nothing is done. But that's why he wasn't here today. With Financial Fair Play you have to trade, for us we were stuck in a position where we could not trade players the other way.

"That's how FFP works. We understand that. Maxi is a top player and we definitely don't want to lose him we want to strengthen the group.

"Sometimes these things happen and we have to accept that."
There are many scenarios in which one can have sympathy for a manager and his club during the transfer window. This isn't really one of them, is it?
Howe long ago lost the run of himself, burying his head in the sand and remaining oblivious to the reality of how he and his club came to be in their current situation.
For all the impressive work he has done with Newcastle's squad – and there's no denying that work, because this is not a squad that just anyone could take into the top four – he continues to behave as if this is a normal football club in a normal situation that should be treated normally. It just isn't the case.
He doubled down a day later, as well, once again lamenting the idea of talking about Maximin in "the past tense". He's just moving to a different football club, Eddie, for your benefit. He's not died. He's not a dissenting journalist.
"It's early to speak of Maxi in the past tense. Certainly our respect for him is the same as the supporters, so if we do lose him it will be a difficult moment for us.

"When I spoke to him on Monday, there was actually a lot of emotion between us. I don't want to speak for Allan but when a player has done very well for you, which Allan has for me, I'm very grateful for every player that commits and gives their all for the team."
Don't sell him then, Eddie. This is all happening for your benefit just because the pesky rules don't allow you to just spend all the money all at once. If you want to keep him, you can. You're not even really selling him, just moving him sideways within the company.
It's fascinating in lots of ways. Because when Newcastle got their game-changing windfall it was widely assumed that Saint-Maximin might be the one player within the wildly underperforming team who might be able to hang around and be a significant part of the coming revolution.
Instead his significance has gradually waned as Miguel Almiron, Joelinton and others have stepped up under Howe's undoubtedly impressive coaching.
It may be that Saint-Maximin is one of those sorts of players who just looks much better when all around him is misery and despair. When his box of tricks enlivens the grim reality of everything else. When he offers the one ray of hope in a sea of churning shod.
But when things in general look brighter, his light becomes that bit dimmer. He is now expendable, even if it does make Howe a bit teary.
Don't get too upset just yet, though. There is still light at the end of this gloomy tunnel. There's one more Howe quote on the subject that just opens up a tantalising possibility that really would boil all manner of piss.
"There's a time where he could end up with us again. If that is the case we'd love to welcome him back."
Imagine if he comes straight back on loan from Al-Ahli. Imagine everyone's reaction to that. And then imagine Howe thinking everyone else should be pleased about this delightful and normal turn of events.
READ MORE: Ruben Neves giving up on CL dream for Saudi Arabia a dispiriting taste of things to come