F365 Says: Hornets hide flaws better than barren Burnley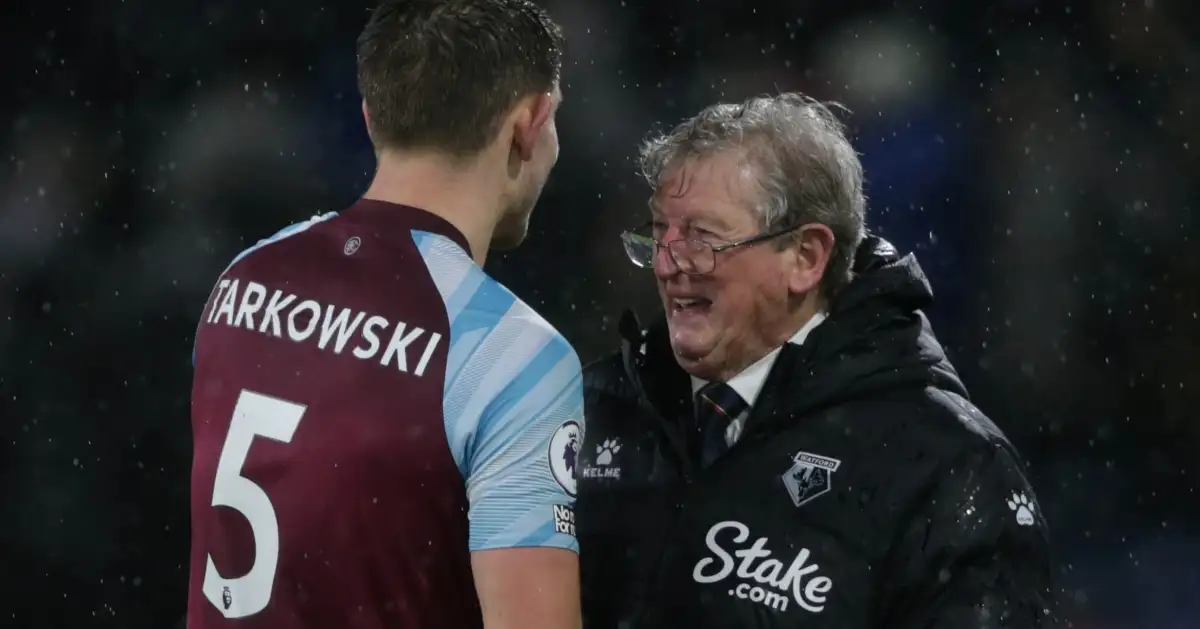 Roy Hodgson provoked a much-needed defensive improvement from Watford but Burnley require an even more dramatic upgrade to avoid relegation…
They don't like change at Burnley. A decade of Sean Dyche illustrates that. But without some swift innovation from the manager, the Clarets will be facing a very different challenge next season.
Burnley took just one point from the six supposedly at stake against Watford at Turf Moor, with the visitors only marginally more pleased with a stalemate better best forgotten.
Watford have made their change. Bloody loads of them, in fact. Roy Hodgson occupied the dug-out for the first time as Hornets boss, presiding over several new players tasked with improving their recent awful form. A clean sheet – their first in 30 matches and almost two years – certainly represents progress and gives Watford a platform to build upon under new management.
Watford keep a first Premier League clean sheet since Roy Hodgson was a youngster of 72 years, six months and 22 days.

— Richard Jolly (@RichJolly) February 5, 2022
At the back, Burnley haven't the same concerns. No team in the bottom half of the Premier League has conceded fewer goals than the bottom-placed side and Dyche knows he can rely on his trusted back four to make their blocks and win their headers.
The Clarets remain as hard to beat as they ever were – but far too easy to stop. Even with a new front pair, featuring their best player this season back from AFCON and their huge new signing.
There were some glimpses of quality from Maxwel Cornet and Wout Weghorst, but too few and fleeting. Which wasn't entirely their fault. Both spent most of a filthy night fighting for scraps to feed upon.
That has been the case all season, regardless of who Dyche has played up front. Burnley could have imported Robert Lewandowski from Germany, rather than Weghorst, and even he would struggle to get a sight of goal in this Clarets' side.
Dyche recognised the problem and it seems the will was there to do something about their chronic lack of creativity from midfield. But none of Miroslav Orsic, Aaron Ramsey, Jesse Lingard or others could be tempted to Turf Moor.
That recruitment failure looks increasingly likely to prove fatal. Prior to today, Burnley had mustered only two goals in six games, a run in which they attempted only nine shots on target. With the window closed, they were similarly shot-shy today, managing only two attempts that forced Ben Foster to muddy his mitts and neither was difficult save. The closest they came was a blocked Weghorst shot that the wind blew on to the bar.
There is no obvious remedy. After Burnley missed their opportunity to strengthen in January – Weghorst was merely a replacement for the departed Chris Wood, one at half the price – Dyche is left hoping for near-miracles from Cornet, or for Weghorst to unexpectedly take the Premier League by storm. But if Watford, with their ropey rearguard, can shackle the pair, the outlook looks as grim for Burnley as the weekend weather forecast.
Worryingly, the fans who endured the horizontal rain at Turf Moor can sense where this is all heading. Many of those supporters have concerns over the overall health of the club in the wake of the ALK Capital takeover, especially if Dyche doesn't have the answers to spare them from relegation. But the boos at the final whistle alluded to the type of disgruntlement Dyche has rarely encountered in a decade in charge.
All hope is not lost. With their games in hand, Burnley can control their own fate. But without a swift and dramatic change in their attacking output, the Clarets simply don't look capable of capitalising on their advantage.