Neither stodgy Spurs nor mediocre Milan look much like two of the 16 best teams in Europe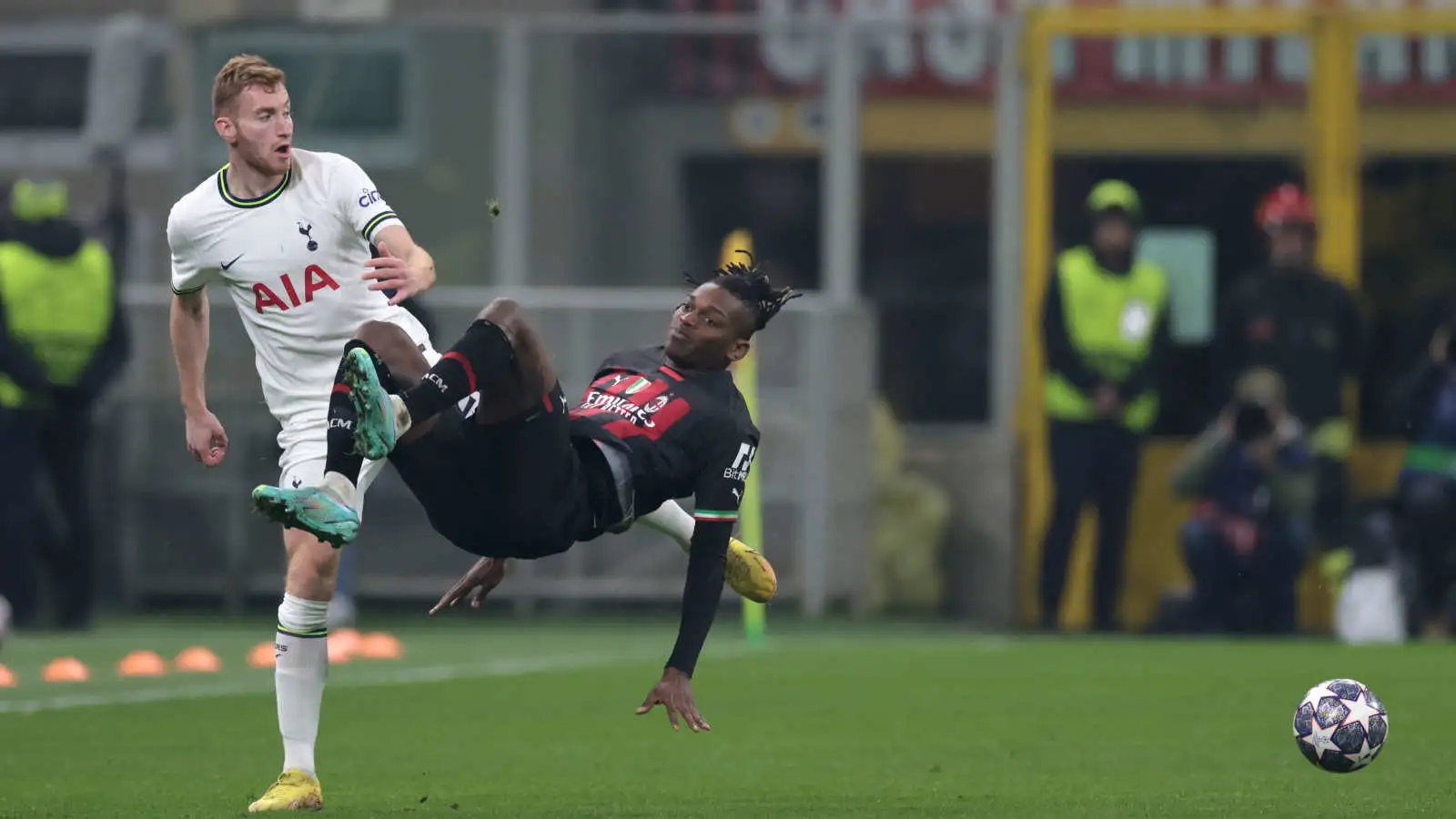 Spurs and Milan will both have all to play for in the second leg of their Champions League tie, but that doesn't mean either of them can win it this year.
To be absolutely clear, the week and a half immediately prior to their Champions League match with AC Milan was a point of Peak Spurs in a season during which they've been out-Spursing themselves with increasing regularity.
Goalkeeper and captain Hugo Lloris picked up an injury that will see him miss at least the next month, while Yves Bissouma, Ryan Sessegnon and Rodrigo Bentancur were also sidelined with issues the recovery time for which will be measured in months or weeks rather than days. Even Antonio Conte's gallbladder gave up the ghost.
And in the middle of all this, they managed an extremely Spurs 1-0 win against Manchester City with Conte absent, a result which only makes sense when you remember that they lost their next match 4-1 to Leicester City in what may rank as one of their worst performances of the last five years. Spurs that! Bring on the Champions League knockout stages!
Milan went into the game in the same position in Serie A – fifth – that Spurs occupy in the Premier League, but their season has been somewhat different.
They've only lost five league games whereas Spurs have lost eight, and while Spurs are two points adrift of fourth-placed Newcastle United having played a game more, Milan are separated from third place on goal difference only and second by just three points, though their league position does also carry the asterisk of Juventus's 15-point deduction, without which they'd be a position lower.
And 2023 had started pretty badly for them. Having ended last season as the Serie A winners – their first league title in 11 years – their title defence has primarily consisted of watching in disbelief as Napoli flew clear at the top of the season. An edgy 1-0 win against Torino in their previous game was their first in Serie A since January 4, a run which took in two draws followed by three successive defeats. And those defeats were pretty bad: a 4-0 loss at Lazio, a 5-2 home defeat by Sassuolo and a 1-0 reversal in the Milan derby.
The San Siro – okay, the Stadio Giuseppe Meazza – is soon to be torn down, but while it remains a daunting venue to visit, this Milan team is nowhere near the calibre that most among us of the middle-aged dad persuasion will recall from Football Italia in the 1990s. For all of Spurs' Spursiness, their opponent's form suggested a potential vulnerability that made a tie against the current Italian champions to be somewhat more winnable than we might ordinarily expect.
Such breezy optimism lasted six and a half minutes. The tendency of the Spurs defence to occasionally look like the final move in a game of human Jenga has been notable throughout the season, and on this occasion, it was the turn of Fraser Forster and Ivan Perisic to tangle up in an appropriately Valentine's Day-esque clinch as Brahim Diaz bundled the ball over the line at Milan's third attempt.
Forster could consider himself a little hard done by, having pulled off a quite incredible save to keep it out at the second go, but all that counts for little if the only defensive cover arrives clattering into you at a rate of knots and the ball eventually goes in regardless.
And as with all first legs – and especially these ones, which are laid out across the month like Jacob Rees-Mogg on the front bench of the House of Commons – this hardly fizzed with tension. Spurs loitered in the Milan half with little obviously apparent intent for much of the second half, but it never felt much as though the gas was about to be turned up under this fixture.
Even the moments that mattered felt a little as though they'd been formed with artistic direction from Jackson Pollock. With a little over 10 minutes to play Milan had two golden opportunities to make Spurs' job considerably more difficult in the second leg, but both Charles De Ketalaere and Malick Thiaw fluffed their lines with headers from close range. Less than five minutes later, an opportunity landed on the head of Eric Dier, unmarked from six yards. He planted the ball down into the ground instead.
In a sense, both teams will emerge from this game feeling reasonably satisfied with the job they've done. Away goals don't count double any more so that's an irrelevance, but Milan do at least have a slender advantage to take to London for the second leg, while Spurs will consider a one-goal deficit to be extremely surmountable. It should be added that on the basis of their performance in this first leg, it's challenging to say exactly where this goal might come from.
When the delivery line to Harry Kane, Heung-min Son and (for the last 20 minutes) Richarlison isn't flowing – and it certainly wasn't in this game – Spurs look like little more than a collection of paper tigers.
None of this is to say that there weren't elements to praise. Pape Sarr was making his Champions League debut, and was an assured presence in midfield.
Oliver Skipp showed the greater amount of confidence that his performances this season have needed. Both players were starting through necessity, thanks to injury and suspension.
The rest of the season might be about Tottenham taking positives where they can, and Sarr is one of those. Skipp was good too, and both showed that they're worth nurturing.

— Seb Stafford-Bloor (@SebSB) February 14, 2023
They were Spurs' two best players on the night; not that the bar was set exceedingly high by more senior players. Forster had a decent evening in goal, and did everything he could to prevent the one that he did concede, but otherwise too many senior players had too much of an anonymous evening.
This was an unimpressively scrappy match, with fouls seemingly every 30 seconds and numerous passes that seemed to roll a couple of feet behind their intended targets. It's not that Spurs played particularly badly. Milan just never looked unassailable. And ultimately, at no point throughout the evening did either of these two teams look like serious contenders to be the champions of Europe.
Somehow, you still can't quite completely write either of them off. After all, Spurs stumbled to the final in 2019 like a contestant on Jeux Sans Frontieres, while Milan have won the Champions League as many times in the 21st century as they have won Serie A.
But neither of the current editions of these teams are anything as strong as those from even their relatively recent past, and should either of these clubs end up getting anywhere near lifting this trophy this season, on the basis of these performances it will be because something has changed by quite a considerable amount.