Premier League survival looks like a sprint that no-one knows how to win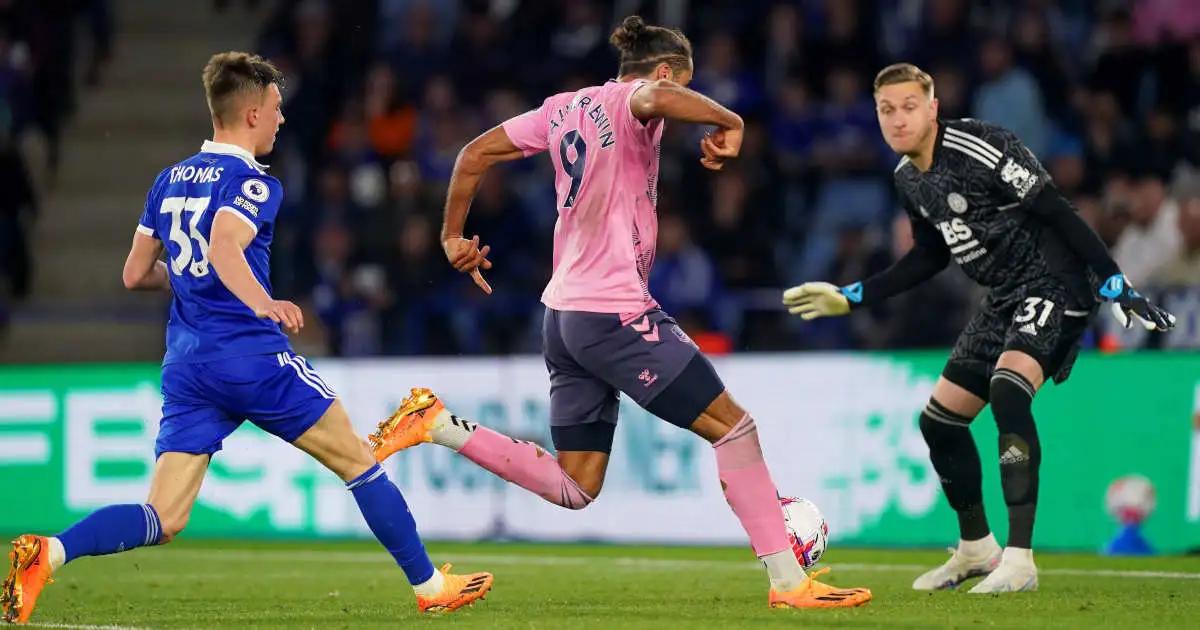 Everton, Leeds, Leicester, Forest and Southampton are locked in a desperate fight to stay in the Premier League, but none of them seem ready for it.
The atmosphere at the King Power Stadium for the match between Leicester City and Everton could be best described as 'feverish'.
With an axe swinging precariously above both teams, it was an accident-prone evening of football which reflected the growing panic around the bottom of the table, from James Maddison's abysmal penalty-kick to Dominic Calvert-Lewin trying to finish in front of an open goal with his ankle, it was all terrific entertainment for the rubber-neckers amongst us with nothing at stake, but doubtless nerve-shredding for anyone actually emotionally involved.

There are now four games of this Premier League season left to play, but even now only Southampton seem to have any degree of certainty whatsoever about their fate. They're six points adrift and with a goal difference that is markedly worse than almost everybody else still wallowing in this mire, but even they're only half-relegated. Four wins from their last four matches – stop giggling – could yet see them haul themselves above the dotted line. It's not… mathematical. Not yet, at least.
Others have managed to pull themselves clear. Bournemouth remembered that they actually like that winning feeling just in time. Crystal Palace went back to the future by hauling the septuagenarian Roy Hodgson from his comfy chair and back into the dugout. Wolves took advantage of a winnable run of fixtures by, well, winning just enough games. West Ham are almost there, and may even end this season with a piece of silverware should they get through their Europa Conference League semi-final with AZ Alkmaar.
But that bottom five all seemed to be locked into a run of wretched form from which there seems to be little escape. They've won just two of their last 25 matches between them, and the clash between Leicester and Everton felt like an encapsulation of this. Everton came out of the traps with what felt like a real feeling of intent, but every time they lost possession of the ball in anything like an attacking position Leicester were able to break at will and create chances of their own.
It was an evening dominated by insecurity which ended which in a result which, in keeping with so much of the rest of this season, raised considerably more questions than it could ever hope to answer.
The remaining fixtures are a potpourri for all four of the teams who might feel that two wins from their last four will be enough. Leicester play Fulham, Liverpool, Newcastle and West Ham. Nottingham Forest play Southampton, Chelsea, Arsenal and Crystal Palace. Everton play Brighton, Manchester City, Wolves and Bournemouth. Leeds play Manchester City, Newcastle, West Ham and Spurs. Southampton play Nottingham Forest, Fulham, Brighton and Liverpool. There's little case for arguing that any of these four have a substantially 'easier' final four fixtures than any of the others. As things stand, it looks highly likely that this scrap will go all the way to the wire.
Mental fortitude will come heavily into play. When we talk about professional football, we tend to talk about the abstract and the theoretical, but while the reams of statistics that are now available for every player and every squad tell a story of sorts, to focus entirely on the facts and figures disregards the peculiar tensions that come to the forefront at this time of the season.
It's not all about the preparation at this time of the year, and supporters of each of the clubs involved might be forgiven for feeling some degree of relief at this being the case because none of these clubs have seemed particularly well-organised this season.
Leicester, Forest, Leeds, Everton and Southampton have burned through 12 managers or managerial combinations between them this season, with Steve Cooper the only person to have survived the entire season so far, and even he hasn't marked himself as 'Safe from the great relegation bunfight of 2023' on Facebook just yet. While the managerial revolving door always slows as the season reaches this point, it may not yet have completely stopped spinning just yet, with considerable talk that Javi Gracia apparently set to be replaced by Leeds United with Sam Allardyce after just 12 games in charge of the club.
Perhaps, when the dust has settled on all this chaos and the clubs involved start to take stock of the wreckage of the last nine months or so, they will start to understand the sort of entirely reactive behaviour that leads to this sort of situation can have only a very limited shelf-life.
Club owners have become too dependent on the 'new manager bounce' theory, to the point that they're relying heavily on it to pick up any points whatsoever. Depending on three teams being worse than you over the course of 38 games may not be the winning strategy that those involved had hoped. This season the bottom of the Premier League has been governed by strategising on the fly, with long-term planning long ago replaced by a constant need to fire-fight.
The biggest irony of all is that, come the last day of the Premier League season, at least a couple of these clubs will be celebrating. To a point, this is understandable. All concerned are professionals, and survival boosts their chances of remaining in employment beyond the start of June. But supporters of these clubs may also be forgiven for wondering what, exactly, they are celebrating. Doing just about enough? Dramatically increasing the likelihood of another such battle of attrition next season?
After all, there were wild celebrations at the end of last season, when first Everton and then Leeds United managed to scramble above that dotted line in their last couple of matches. We might have expected such scenes to be followed by an overwhelming wave of relief and planning to start for this to never happen again. Yet here they both are again, if anything looking even weaker than they did this time last year, and in no small part because two of the three promoted teams didn't accept their anointed role of relegation strugglers this time around. Fulham have been a revelation; Bournemouth are just about safe with room to spare.
Yet each of these five clubs have ultimately been the victims of their own decision-making or ill-fortune. Everton were throwing money around like confetti until suddenly they couldn't anymore. Leicester City have fallen foul of the post-COVID losses made by their owners' other businesses. Nottingham Forest had to build a completely new squad after basing promotion on too many loanees, with all the uncoordination that we might have expected to come with it. Southampton botched their replacement of Ralph Hasenhuttl. Leeds did likewise over Marcelo Bielsa more than a year ago, and with few signs of any outbreaks of common sense from the Elland Road boardroom since.
And the upshot of all this has turned out to be exactly where we all are right now. Four games to play, one team half-relegated, tensions rising, and little indication of who will actually be making up the bottom three places come the end of the season. It may well be entertaining for us neutrals, but it's agony for just about everybody with a stake in it. Regardless of which way this all ends up, all concerned should probably plan a little better next time around.