The World Cup feels distant as excitement takes even longer to build than the infrastructure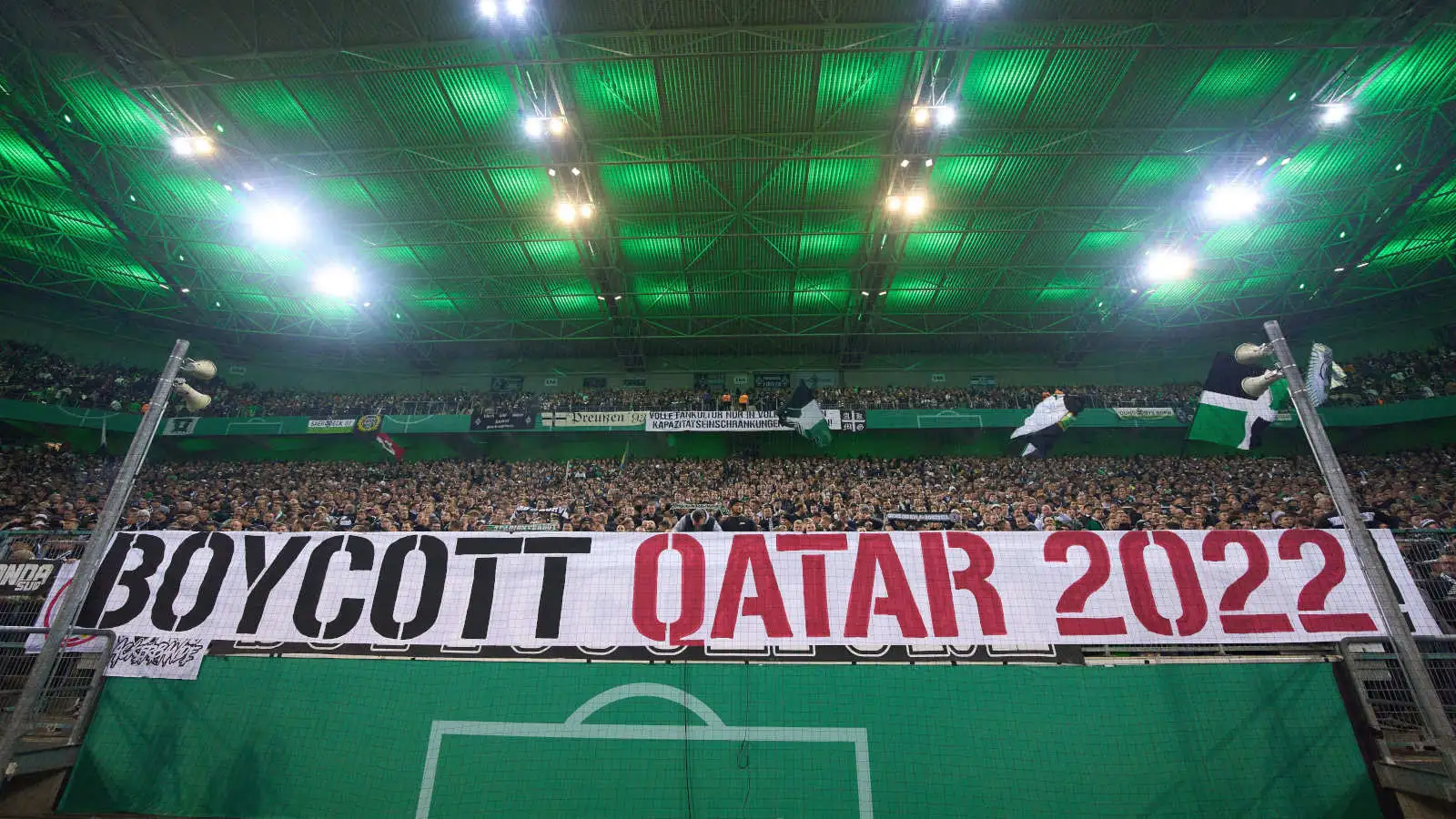 ITV went back in time for their Qatar World Cup trailer; small wonder when the present mood surrounding this tournament is the way it is now.
In many respects, the World Cup finals are an attempt on all our parts to travel back in time. As any fool knows, the best World Cup is that which is held closest to your 10th birthday, and it's the sheer otherness of the tournament that tends to rope you in. The stadia, the teams and kits, even in an age in which the details of any professional player on the planet are available at the touch of a button, that vibe of 32 countries taking a leap into the unknown and one of them emerging several weeks later as the world champions remains an intoxicating promise.
Broadcasters seem to be aware of this. ITV recently broadcast their pre-World Cup trailer and it leant heavily on sun-drenched images from tournaments gone by. Faces of the past – Gerald Sinstadt, Brian Moore and Gary Newbon – fill its first five seconds. Over-saturated pictures and commentary coming down a telephone line, all the proustian rushes that anybody in their 40s or 50s could ever want.
'Remember when you were nine years old and sat in front of the television like a coiled spring?', it all implied. 'Well, you could be feeling something like that again in a couple of weeks' time.'
It was very light indeed on anything related to Qatar itself.
But the otherness of Qatar 2022 is very different to the otherness of previous tournaments. Even four years ago in Russia there was nothing like this, even though we may all reflect that perhaps had we known what direction global events would take in the four years since then things might have been somewhat different.
There were clues of this otherness all over the trailer. For all the tugging at our collective memories as fans of the game, there's no mention of the host nation, no shots of Qataris with facepaint on, smiling for the cameras. Were it not for the fact that it's finally mentioned at the very end of the trailer, the viewer with no interest in the game could be forgiven wondering where it's even being held.
And this coyness is understandable on the part of broadcasters, because if there's one thing that we can say for certain about what passes for a 'build-up' to this tournament, it's that audiences aren't completely focusing on the football to the exclusion of everything else to anything like the extent that Qatar and FIFA would like.
Those pesky human rights complaints don't seem to be going anywhere, and those seeking to keep the plight of migrant workers and the repressive laws against gay people and women at the forefront of all of our minds are doing a pretty good job.
Qatar and FIFA would very much like us to 'focus on the football', but that doesn't seem to be happening. World Cup previews have started to be produced, but the lack of enthusiasm over it all feels palpable and news headlines continue to be dominated by stories that the governing body and the tournament organisers would rather weren't being published.
Be it the revelation that fans – including some members of the England Band, as if they couldn't be rendered any less popular among just about everybody else than they already are – are to be paid 'spies' during the tournament, or FIFA sending out letters to national federations requesting that they, 'please do not allow football to be dragged into every ideological or political battle', none of this feels like a PR battle that they will win. It doesn't feel like a PR battle that they can win.
It is now two weeks until Ecuador and Qatar kick off the tournament. Usually by this stage, even allowing for the diminishing size of the gaps between the club season and the start of a summer World Cup, excitement is starting to build. But that isn't happening this time around, and it's not just about the feeling of ick that comes across many of us when we think much about this tournament.
For one thing, the club season is still very much continuing, just as it has since its very beginning. The absolute weirdness of having to stop everything in the middle of winter to play a World Cup hasn't quite kicked in yet, and probably won't until a few days before the tournament, when club coverage abruptly slows and Qatar takes over. It's likely to feel like stopping in the middle of your main course to have your dessert before going back to it.
This isn't a matter of an entitled European football fan demanding the primacy of their calendar. The schedule will be upside-down for everybody. It's not a matter of whether a tournament is held in the summer or winter, or at which exact point in the goddam Gregorian calendar it happens. It's the reasons behind why it was moved, with no true consultation made to anybody apart from themselves and as a result of a process that has been reported to have been fundamentally corrupt.
These things matter, and all this is before we even consider all that other stuff.
Of course, the point of boycotting the tournament is that it is – and should be – a personal choice, and this seems to be fairly commonly understood at the moment. It's highly likely that social media will amplify the loudest, most extreme opinions from either end of several spectrums, but there doesn't seem to have been too much open arguing about it.
There's other football on, so no-one has to miss the live football experience, should they not wish to. Lower division and non-league clubs may even benefit from bigger clubs being closed for a few weeks. And those who are angry at the Premier League being suddenly closed for business should take their complaints to the same place that others have been taking their complaints about all that other stuff.
It's likely that they'll get the same response; at the absolute best, obfuscation and blind-siding from a body that seems to have learned nothing from a decade of having its reputation repeatedly and very publicly trashed. And in the meantime even as the World Cup gets closer and closer it still feels feint, distant, on the horizon.
Small wonder ITV reached back to the past with their trailer, then. In 1970 colour television was new, and nowadays we can all bathe in the over-exaggerated colours of Mexico City that summer, even those amongst us who weren't born at the time.
ITV themselves have a reason to look fondly back on that tournament too, since it was the only time they beat the BBC in the television ratings for a World Cup finals.
For those a little younger, there are little hints at 1982 right the way through into this century. 'Please try to remember why you love this tournament so much in the first place,' they seem to be saying, and whether intentional or not, it speaks volumes for the plain weirdness of the state in which the world finds itself that it can even be interpreted this way.
But the overwhelming feeling that I pick up towards this World Cup is resignation. Those of us who will be watching seem largely to be heading towards it all with sagging shoulders. The reasons for this may vary, but the outcome is the same. It all feels a little bit… diminished. And the same goes for those who have decided to sit the whole thing out, too. These people aren't doing this because they want to. Their feeling of resignation over this will feel just as great.
And perhaps, though in 2022 it should be added this could turn out to be any one of a range number of unimaginably worse things, that feeling of resignation will be the legacy of this World Cup. Ironically enough, it is the one thing that FIFA and the Qatar PR machine can't really objectively control. National team boycotts were never likely to happen, but what is occurring doesn't feel like much of a victory for the tournament hosts and the governing body. It doesn't feel like much of a victory for anyone.