The Women's FA Cup Final between Chelsea and Man Utd is a reminder of how far the game has come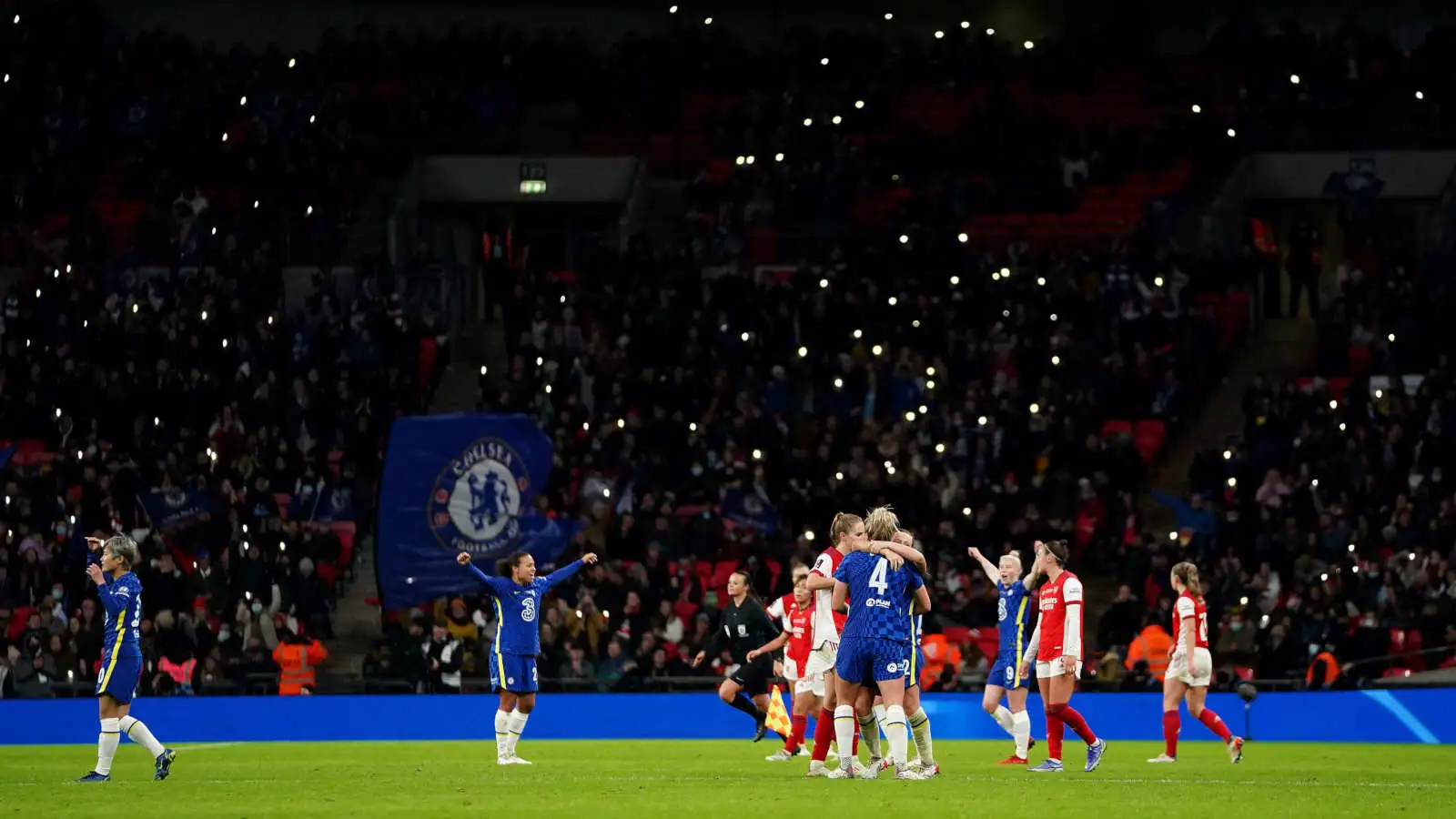 This year's Women's FA Cup final between Chelsea and Manchester United will be watched by a sell-out crowd at Wembley, but that growth has brought questions of its own about the future.
Ten years ago at The Keepmoat Stadium in Doncaster, Arsenal beat Bristol Academy 3-0 in front of a crowd of 4,988 to win the Women's FA Cup for the 14th time. A lot has changed in the intervening decade. This year's final will be the ninth to have been played at Wembley, and the days of four-figure attendances for this fixture are long gone.
This year's final between Chelsea and Manchester United sold out long ago. There will be close to 90,000 people at Wembley for Sunday afternoon's match, and if women's football wants a gauge of exactly how far it's come in the last decade it can be seen in the Daily Mail running scare stories about how fans could be denied entrance to the match if they've bought them from touts or re-sale sites.
🚨Excl: Fans who have bought women's FA Cup final tickets from unofficial channels risk having them cancelled. Some re-sale websites charging 3X the original price while one ticket appears to be incorrectly offering VIP access for a small fortune of £505 https://t.co/UUIiLPrQG4

— Kathryn Batte (@KathrynBatte) May 12, 2023
And there is a germ of a point to be made about this. Growing a sport carries considerable benefits, but it also comes with potential costs. The explosion of interest in the women's game has been unprecedented in the 160-year history of football in this country, but this has also meant that it can no longer be what it used to be.
This is fantastic thing in many ways. The players are professionals now, and television coverage is already at a level that would have been considered close to unimaginable ten years ago. The Women's FA Cup final will be shown live on BBC1, just as matches are every weekend from the Women's Super League. Crowds and television audiences have grown enormously, participation among girls has risen and a shift in attitudes means that the game is increasingly being taken seriously in its own right.
But the challenges that the women's game faces can be seen from the television coverage of matches this season. Of the four games currently listed on the BBC's iPlayer, three feature Manchester United. Men's clubs have colonised the women's game, and the biggest clubs have done so more than anyone else. The top four in the Women's Super League are Manchester United, Chelsea, Arsenal and Manchester City, and a gap is already starting to grow.
With a handful of games still to play, the gap between leaders Manchester United and fourth-placed Manchester City is six points, but the gap between City and fifth-placed Aston Villa is 11. That can be seen in the Women's FA Cup, too. Only five of the last 20 teams to take part in the Women's Cup final were not one of these four clubs – and none of that quintet won it.
Of course, the clubs concerned have an entirely justifiable argument here. They've invested in women's football and are reaping the rewards of this investment. They might even argue that this is a case of damned if you do, damned if you don't. Manchester United, for example, were heavily criticised for not relaunching their women's team earlier, after the previous one associated with the club was wound up shortly after the Glazers took control in 2005. Well, they've been doing that as of May 2018 and the rewards have been spectacular. With a team studded with familiar names such as Ella Toone, Mary Earps, Nikita Parris and Alessia Russo, they'll take to Wembley sitting atop the Women's Super League.
Even relatively modest levels of investment will change women's football. Take, for example, transfer fees. The world-record transfer fee in women's football is the £400,000 that Barcelona paid Manchester City for Keira Walsh last September, but the January transfer window indicated that the days of relatively modest transfer fees may also not be long for this world. Spurs spent a British record £250,000 to sign Bethany England from Chelsea, while Arsenal were reported to have offered Manchester United £500,000 for Russo, even though she only had six months left on her contract.
And all of this starts to raise some uncomfortable questions, the most obvious of which is whether it is desirable for the women's game to start opening up the sort of inequalities that exist in the men's game. Should they continue to open up, will the Women's Super League be able to maintain the growth that it has managed over the last few years? Is the interest really going to be there in the long run for another league that feels as much like a closed shop as the men's Premier League so often does?
There are certainly reasons to question the involvement of some men and their motives when it comes to women's football. Consider, for example, Gianni Infantino's recent outburst over the value of television rights for this year's Women's World Cup in Australia and New Zealand. Infantino has decried the bids made for television coverage of the tournament, calling them – with typical tact and decorum –  a "slap in the face" of the players and "all women worldwide".
Now, it might be argued that if Infantino was serious about equality between men's and women's football in this respect, he'd pool the amounts for both the men's and women's World Cups and split it down the middle, but that wouldn't potentially earn FIFA millions of pounds, would it? It also remains to be seen how the tournament's sponsors might react should Infantino come through on his threat of a television blackout of it in Britain, Spain, Italy, Germany and France, four of which are among the 10 biggest economies on the planet.
Infantino can't force broadcasters to pay what they're not prepared to, and cutting off television access in these five countries may well damage the women's game there. On the basis of Infantino's comments, that would likely just be considered collateral damage in his endless quest for ever more television money. That this idea seems to have occurred to him before before potentially pooling the men's and women's broadcasting revenues and splitting it speaks volumes for where his priorities really lay.
But while these concerns are real, this weekend's Women's FA Cup final is an opportunity to celebrate the incredible growth of the women's game over the last 10 years and longer. The very idea of the possible hyper-inflation of transfer fees or touts and resellers (translation: more touts) gouging fans for tickets would have been unthinkable a decade ago. If women's football does have questions to answer about its further development, sooner this sort of question than those that used to be asked, one of which – until as late as 1971 – was: "Will the FA ever let us play football again?".