Wrexham 'villains' Reynolds and McElhenney incorrectly cast as feel-good story enters second act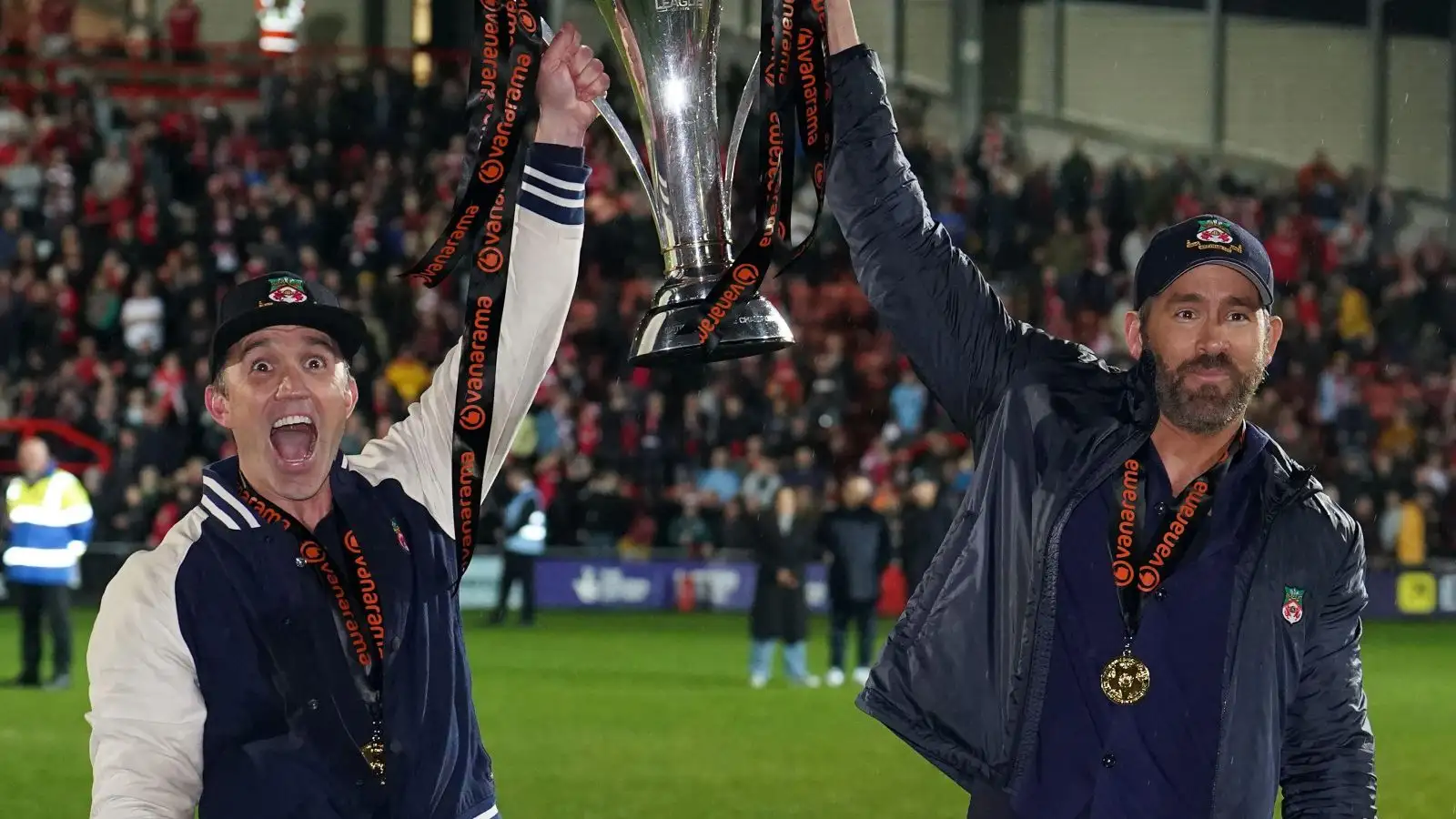 Ryan Reynolds and Rob McElhenney have fallen in love with Wrexham. Those casting them as villains have got this feel-good story all wrong…
Plenty of eyebrows were raised when it was announced in November 2020 that two Hollywood actors were becoming the new owners of a non-league club.
Accused of attempting a significant PR stunt and little else, Ryan Reynolds and Rob McElhenney had a job on their hands to prove that the well-being of Wrexham was a priority.
And they have comfortably managed that. Wrexham has quickly become a home away from home for the high-profile pair and their love for the Welsh club has been abundantly and gloriously clear throughout this season's remarkable promotion race in the National League.
Wrexham and Notts County have tussled over the title and both have amassed over 100 points. It will soon become the case that the ever-progressing National League cannot be denied and the EFL will have to reform their promotion format to allow an extra team to go up into the Football League each year (a change which is long overdue).
The Red Dragons' presence at the top of the table this season has no doubt been aided by the club's rich owners. But manager Phil Parkinson and those behind the scenes deserve immense credit for using these funds to create success on the pitch.
Being the richest club in your division is not a cheat code. You only have to look at Chelsea's woes this season to evidence that. So everyone at Wrexham deserves praise for pulling everything together to earn promotion back into the Football League after 15 years away.
Wrexham got over the line via a 3-1 victory on home turf against play-off hopefuls Boreham Wood over the weekend. Inevitably, jubilant scenes erupted around the Racecourse Ground at the final whistle and this was just as much the case in the directors' box as in the stands and on the pitch.
Rob and I kinda blacked out during this moment, but somehow we'll never forget it.

🎥: Paul Rudd

cc: @wrexham_afc – @RMcElhenney pic.twitter.com/pVCYOHyKoC

— Ryan Reynolds (@VancityReynolds) April 23, 2023
Reynolds and McElhenney were in tears as over two years of work came to fruition in front of their eyes. While their takeover may have started as a PR stunt, their experiment in Wrexham has become much more than that.
Outside of Wrexham, they are largely popular but they have certainly ruffled a few feathers and been portrayed as villains by some. We football fans are often quite fickle and while focused on your own club's small bubble, it can be hard to see other teams enjoy success.
Jealousy is obviously at the core of this as Wrexham's rivals would all give their right arm to be in their position. The non-league can be a miserable place to be for a club, especially one that previously enjoyed the Football League high life.
During Wrexham's 15-year stay in non-league, there have been times when the club's supporters will have lacked hope, with no sign of progress coming their way.
Hope is at the forefront of our desires as football fans, so Wrexham are right to lap up their years of bliss under their current regime and feel-good stories like theirs are what football is all about.
The sport would be a miserable place if the majority of clubs are struggling. So when Hollywood-esque stories such as Wrexham's come along, they need to be embraced and not eyed with an envious glance.
While some will argue that Wrexham have made the National League unfair with their increased backing, the division has benefitted as there have never been more eyes than ever on the National League.
READ MORE: Wrexham confirm return to Football League as Reynolds and McElhenney bask in Mullin brilliance
This added publicity will carry into League Two and their achievements this season will likely see them among the favourites for promotion in the league above.
Wrexham's new rivals are unlikely to take too kindly to this, but it is worth remembering that Reynolds and McElhenney are far from being the worst owners in this country. If anything, they are among the best.
At a time when an increasing number of clubs are growing more distant from the suited figures behind the scenes, Reynolds and McElhenney have broken down the stereotypes of North American owners.
They have mucked in and fully immersed themselves in local culture. In the ego-driven world of football ownership, they are coming out smelling of roses simply by doing the right things and treating their club with the respect it deserves.
Their story is still in the early stages and you know that they will not be settling for life in League Two. The co-owners are vitally not just invested in a financial sense; emotionally they are here for the ride as well.
Wrexham's rags-to-riches story is one on its own and is unlikely to be repeated ever again. This Football Manager in real-life tale has all the hallmarks of a Hollywood blockbuster and the success of the first movie is going to lead to more sequels in the coming years.
They are using their immense wealth to fund their Wrexham dream and they are giving the city a facelift in the process. The negative nancies may as well get on board because this incredible sporting story is only just getting started.