Ozil's agent hits out at Arsenal, Arteta over treatment of outcast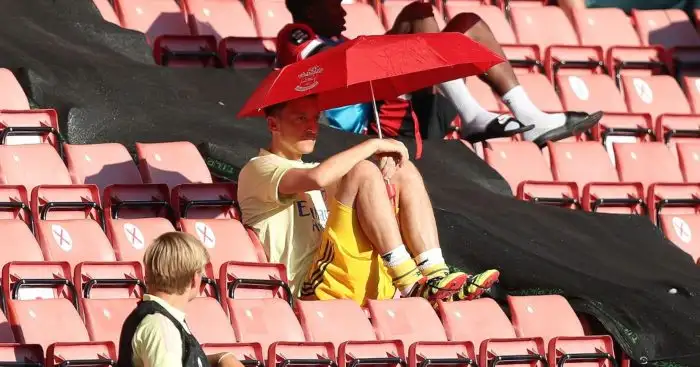 Arsenal supporters "deserve an honest explanation" as to why playmaker Mesut Ozil has been left out of their 25-man Premier League squad, according to his agent Dr Erkut Sogut.
Ozil released a statement on Wednesday saying he was "deeply disappointed" not to have been included in the 25-man group and believes his loyalty to the club has not been reciprocated.
The 32-year-old is the highest-paid player in Arsenal's history but has now been omitted from both the Premier League and Europa League squads.
---
BIG WEEKEND: Man Utd v Chelsea, Brewster, Ancelotti, Villa
---
Ozil has not played a single minute for the Gunners since March 7, having initially been a mainstay of the team following Mikel Arteta's appointment last year.
Speaking to ESPN, Sogut said: "Arsenal fans deserve an honest explanation, not [Arteta] saying 'I failed Ozil.' You didn't fail Ozil: you failed to be fair, honest and transparent and treat someone with respect who has a contract and was loyal all the time.
"Every single person outside knows he hasn't treated him fairly. He didn't give him a chance to show himself this season.
"If he is still under contract, the player should have the option to stay and fight for his place. Mesut hasn't been given that. Why would you put a player on the bench twice for 90 minutes [against Brighton and Crystal Palace in June] if he wasn't fit or committed?
"Everyone says he's training well. Per Mertesacker [Arsenal defender, 2011-18 and now a coach at the club's academy] said this publicly. I spoke with at least five team-mates who say he is training great. They say Mesut is one of their best players, and they cannot understand why he is left out.
"So it can't be the training – if it is not the pitch, what are the footballing reasons? If you talk, you should tell the truth that the Arsenal fans deserve otherwise don't talk at all."
Will Chelsea fall into Manchester United's trap again at Old Trafford? And is Virgil van Dijk really so big a loss for Liverpool as has been made out? Winty and Mark dissect what is sure to be a Big Weekend.