Portrait of an icon: Javier Zanetti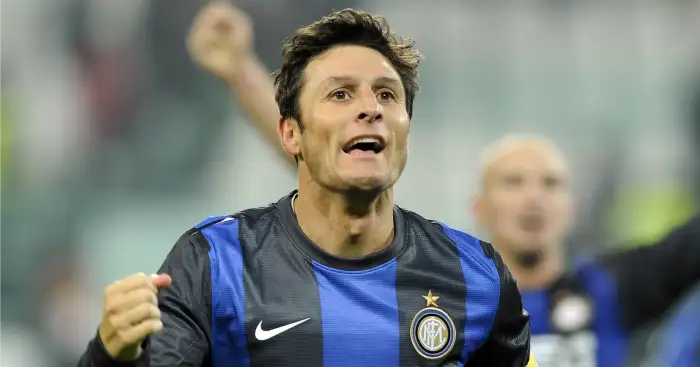 With Samson, the power lay in the hair. With Javier Zanetti, the strength was in the hairstyle.
It's usually advisable not to extend a metaphor beyond its reasonable limits, but not here. It is an unusual thing to say about anyone, but Zanetti's hair defined him as a player: Simple, efficient, enduring and resilient. Rather than an affectation or fashion statement, Zanetti's side parting was an extension of his personality. It became iconic in its own right.
"If I had a lock of hair out of place then I would not feel ok," Zanetti told OK Salute magazine in 2009. "I am a precise person in everything I do. Feeling my hair in place gives me confidence. It's a question of image but also of character."
Most players forge a reputation through the brilliance of their football, but Il Capitano was different. Zanetti's stature was not formed by the things he did, but how he did them and how long he did them for. By the time he retired from football, Zanetti had broken the record for the most appearances by an outfield player in football history, with 1123 matches played.
Between 1995 and 2014, Zanetti played 858 matches for Internazionale. He is the club's record appearance-maker, captaining the Nerazzurri for 15 years. The club retired his No. 4 shirt and named him as Vice President of the club after his final match. It was the least they could do.
Zanetti's captaincy coincided with one of the most successful periods in Inter's history. The Argentinean led the club to 15 trophies: Five Scudetti (2005–06, 2006–07, 2007–08, 2008–09 and 2009–10), four Coppa Italia (2005, 2006, 2010 and 2011), four Supercoppa Italia (2005, 2006, 2008 and 2010), the UEFA Cup in 1998 and the 2010 Champions League. That 2010 triumph, when Diego Milito's double gave Inter a 2-0 victory over Bayern Munich, was Zanetti's 700th match for Inter. He marked the occasion by becoming the first captain to win the treble with an Italian team.
"It's an honour to coach him," said coach Jose Mourinho of Zanetti. "He has strength and character, these things make the difference in a player. Physically and mentally he doesn't seem like a 35-year-old man." It wasn't just the hairstyle, then.
The tendency is to marvel at Zanetti's longevity, but that is only the effect. The cause is far more impressive. Such durability does not happen by accident; Zanetti was arguably the greatest professional of the modern game.
'Football training according to Zanetti' is the imaginary textbook for every child to follow. Every decision was made with a view to extending and improving his career, every action a step closer towards the greater good. As Italian journalist Luigi Garlando wrote: 'Javier Zanetti is the figurine of a saint which every father would put in the hand of his son.' Train like this, behave like this, play like this.
There are an infinite number of anecdotes regarding Zanetti's commitment, but by far the best comes via his wife Paula, who he married in 1999.
"If I got angry every time Javier went training," Paula said. "Then I would have had a sour face on every day since I was 14 years old." Paula was referring to her husband changing into his tracksuit in between their wedding ceremony and reception in order to go for a run.
"There's some time to spare, Amore," Zanetti recalls telling his wife Paula in his autobiography. "The church ceremony is over. We've exchanged rings. The guests are yet to arrive for the reception. I'm going to go for a jog. I've brought my running shoes."
Zanetti and Inter continuously reaped the rewards of his astounding professionalism, but never more so than in 2013 when he ruptured his Achilles tendon at the age of 39.
"I just want to play at least once more in front of the Inter fans, and I would hope it might be more than once," Zanetti said. He returned to the pitch just six months later, three months before his 40th birthday. What Zanetti wanted, Zanetti made happen.
In his autobiography, the Argentinean remembers comments from international teammates Fernando Gago and Sergio Romero regarding the sacrifices he was making just to return to the game for a short time. His response pricks up the hairs on the back of your back.
'I'd like to say to them: "Lads, it's no sacrifice," Zanetti wrote. 'I love this hard work. I love this sport. I love this life. Every training session, in the cold and under the snow or sweating in the heat has given me joy, has made me smile. I am a lucky man.' Football was just as lucky to have him.
Merely focusing on Zanetti's longevity would undermine his quality. There were no flashes of brilliance or mesmeric skills to his play, but consistency was the signifier of his greatness. Nicknamed El Tractor in reference to his stamina and strength, that moniker fails to represent Zanetti's poise, range of passing, vision and anticipation.
"The most difficult opponent to play against was Javier Zanetti," said Ryan Giggs. "I faced Zanetti for the first time in the Champions League quarter-finals in 1999, he was the right back and I was on the left. He impressed me with his qualities, his speed, power, intelligence and expertise. I played against him twice more and he was my most difficult opponent, a complete player."
Zanetti was also flexible, superb when moved to left-back after the arrival of Maicon, and also played in central midfield when required. He excelled in every position, changing his game in his late 30s to rely on positioning over pace. Quite simply, Zanetti made those around him play better.
"Zanetti is better than all the rest of us put together," said Diego Maradona after taking over as Argentina coach in 2008. Two years later, Diego left Zanetti out of his World Cup squad, a foolish move. Zanetti would last longer than Maradona did, retiring from international football in 2011 after 145 caps. It remains a record.
For all the plaudits for Zanetti the footballer, they are insignificant in comparison to Zanetti the man. He is a global ambassador for the Special Olympics, and has founded three separate charities to help children affected by poverty and problem with social integration. The first was started shortly after he arrived in Milan.
On the field, Zanetti was the personification of dignity, meeting with triumph and disaster and treating those two impostors just the same. He was sent off twice in his 858 Inter appearances. This is the player you would most want your daughter to date.
Inter owner Massimo Moratti paid tribute to Zanetti after he broke Guiseppe Bergomi's appearance record for the club: "He is a wonderful person, an equally wonderful athlete and I am happy he is so loved, because he deserves it."
Paolo Maldini refers to Zanetti as "my most respected enemy", while Bergomi himself says that he always knew his teammate was destined for greatness: "At his very first training session, we were doing a possession exercise. He never lost the ball, it was always glued to his foot. That day I knew he was going to make history."
Loyalty is a dying trait in football. Zanetti is not necessarily a reminder of a better age, but certainly a markedly different one. He was an antiquity, the antithesis of modern celebrity culture. Simply a man completing his craft to the highest limits of his potential ability.
"Zanetti is a timeless character," Inter legend Giacinto Facchetti once said. "He is extraordinary at being ordinary." He was right, too. When Javier Zanetti retired, we lost the last gentleman of the game.
Daniel Storey