Premier League Predictions Week 4: Robbie Savage takes on F365 as Arsenal face Man Utd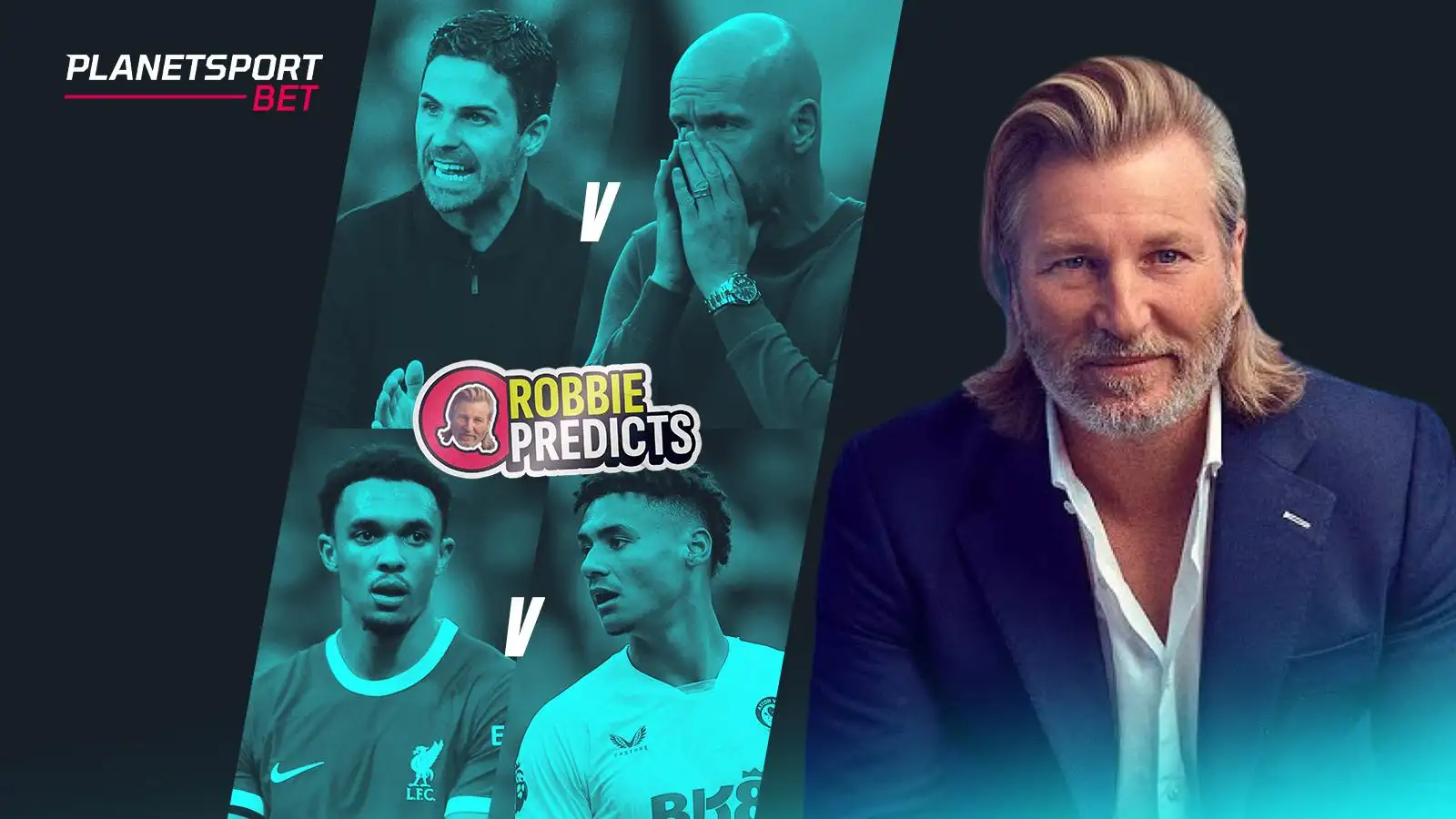 It is matchday four in the 2023/24 Premier League campaign and we return with more bold predictions as we call every result this weekend…
After week three, Robbie Savage (25 points) remains ahead of F365 by four points. TEAMtalk and Tipstrr are on 19 and 18 points, respectively.
The biggest fixture of the weekend is undoubtedly Arsenal against Manchester United on Sunday but before that, we have Luton Town's first home game of the season against in-form West Ham.
There is nothing like an early season six-pointer and that is exactly what we have on our hands on Saturday lunchtime when Sheffield United host Everton. The 3pm matches are Manchester City vs Fulham, Chelsea vs Nottingham Forest, Brentford vs Bournemouth, and Burnley vs Tottenham.
Saturday evening gives us a potential corker between Brighton and Newcastle United and on Sunday before the Arsenal, United clash it is Liverpool at home to Aston Villa and Crystal Palace against Wolves at Selhurst Park.
Strap in for our predictions…
Luton Town vs West Ham
F365: Kenilworth Road will be bouncing but West Ham will carry their good form into Friday night. 2-1 away win.
Robbie: Luton take on West Ham. West Ham flying at the top of the table. Can Luton stay up? That is the big question. This is the first Premier League game at home for Luton Town. This is the first competitive fixture these two teams have played since March 1994. Jarrod Bowen, he is doing so well for West Ham United. I think he'll get a goal, but you know what? I think Luton will score. The atmosphere at Kenilworth Road will be amazing. Fans can't wait to see Luton in the Premier League, but it's going to be a step too far. I'm going Luton Town 1-2 West Ham. Bowen to score.
TEAMtalk: Luton Town 1-3 West Ham.
Tipstrr: Luton Town 1-3 West Ham.
Sheffield United vs Everton
F365: This is an absolutely massive game already. It is going to be cagey and it is hard to see a lot of goals in it. Blades 1-0 Toffees for us.
Robbie: It's a big one already for Sheffield United and Everton. Everton going behind in the Carabao Cup [against Doncaster], one nil, but then come back with two goals. Beto looks a very very good player, physical presence, pace in-behind, balls into the box. He looks a really good signing for Everton, I know it's early days. [Arnaut] Danjuma got the winner [against Doncaster]. Pace on that left hand side, cutting in on his right foot. Sheffield United. This is a huge, huge game, losing in midweek to Lincoln city on penalties. It's going to be a huge game in the Premier League. The last four meetings, guess what, the away team have won. The last three games 1-0. I'm going to go with an Everton 1-0 win, with Beto – the new signing – to get the goal.
TEAMtalk: Sheffield United 2-1 Everton.
Tipstrr: Sheffield United 1-1 Everton.
Manchester City vs Fulham
F365: Fulham won't have a similar result to the one against Arsenal. Comfortable 3-0 victory for the champions.
Robbie: What about this for a stat… Man City against Fulham in the last 14 times they faced each other, the score is Manchester City played 14 and won 14. No brainer at all. This will be Manchester City played 15 and won 15 against Fulham. I'm gonna go with a 2-0 victory.
TEAMtalk: Manchester City 3-0 Fulham.
Tipstrr: Manchester City 4-0 Fulham.
Chelsea vs Nottingham Forest
F365: This is going to be a tight game. 2-2 draw.
Robbie: Nottingham Forest, as I've said in previous predictions, will score away from home. They scored at the Emirates, and they scored two at Old Trafford. I think they'll get on the scoresheet here at Stamford Bridge but I don't think they'll get enough goals to beat Chelsea. I'm going with a Chelsea 3-1 win.
TEAMtalk: Chelsea 3 Nottingham Forest.
Tipstrr: Chelsea 2-1 Nottingham Forest.
Burnley vs Tottenham
F365: Spurs will bounce back from their Carabao Cup setback with an emphatic 3-0 victory at Turf Moor.
Robbie: Burnley on the back of a win against Nottingham Forest in the Carabao Cup. Spurs going out of the competition – a competition maybe some felt they could've won. Spurs going to Turf Moor. A difficult place to go. Spurs have only failed to score once in their last 15 Premier League away games, but they had Harry Kane. Richarlison got off the mark with a head against Fulham. Will he get on the scoresheet at Turf Moor? I think he will. I think there'll be goals. I'm going for Spurs to win 2-0.
TEAMtalk: Burnley 1-3 Tottenham.
Tipstrr: Burnley 1-2 Tottenham.
Brentford vs Bournemouth
F365: Two Premier League clubs who nearly got knocked out of the Carabao Cup by lower-league opposition go head to head. Brentford to win 3-0.
Robbie: Bournemouth travel to Brentford. Bournemouth's record in the capital is not very good. They've just won two of their last 15 away games in the Premier League. They go to a Brentford side who love to play that dynamic, brilliant possession-based football at times. I think Brentford here at home, especially with Bournemouth's away record in the capital, I think Brentford will win and win the game to nil, 2-0 to Brentford.
TEAMtalk: Brentford 2-0 Bournemouth.
Tipstrr: Brentford 1-1 Bournemouth.
Brighton vs Newcastle United
F365: Both sides were stunned last weekend will play out a 1-1 draw at the Amex.
Robbie: Brighton take on Newcastle United and I think one thing we can guarantee in this game is goals. Look how many goals have been in games featuring Brighton and Newcastle already at the start of this season. So I'm going for goals, I think they'd be goals in the first half. I tell you what, look at [Alexander] Isak for Newcastle. I think he'll be on the scoresheet. And look at Solly March for Brighton. I think there's going to be goals. Those two I fancy scoring. Goals in this game. I'm going for Brighton 3-2 Newcastle United.
TEAMtalk: Brighton 2-2 Newcastle.
Tipstrr: Brighton 2-2 Newcastle.
Liverpool vs Aston Villa
F365: We have a sneaky feeling the Villans will get all three points at Anfield. Liverpool 1-2 Aston Villa.
Robbie: Big game, Liverpool taking on Aston Villa. Liverpool 1-0 down and 10 men against Newcastle, but Darwin Nunez, two unbelievable finishes. What a performance that was at Newcastle United – some who are tipping to win the Premier League? Liverpool. Reading reports this week, looking at other pundits previews think that Liverpool will be the team that pushes Manchester City the most. But I'll tell you what, this is a real difficult game against an Aston Villa side who are playing with confidence, who were scoring goals under Unai Emery. And I'll tell you what, Liverpool's record against Aston Villa in the Premier League is good. They won nine out of their last 11. But I'll tell you what, I'm gonna go for a shock. It will be a shock on that record. I'm going Liverpool 1-2 Aston Villa.
TEAMtalk: Liverpool 2-3 Aston Villa.
Tipstrr: Liverpool 2-1 Villa.
Crystal Palace vs Wolves
F365: Back to back 1-0 away wins in the Premier League for Wolves.
Robbie: Both teams scoring goals in the Carabao Cup in midweek. Wolves getting five. Crystal Palace, with changes at halftime, getting four goals. There will be goals in this one. Crystal Palace have won their last three home games against Wolverhampton Wanderers in the Premier League. I tell you what, make it four in a row. Goals in this game. I'm going Crystal Palace 2-1 Wolves.
TEAMtalk: Crystal Palace 1-0 Wolves.
Tipstrr: Crystal Palace 2-0 Wolves.
Arsenal vs Manchester United
F365: This is undoubtedly the fixture of the weekend. If Arsenal come out firing, they could win this very comfortably. They always seem to concede at home and will against United. 3-1 home win.
Robbie: It's the big one. It's Arsenal taking on Manchester United. If you're looking at the history in the last five Premier League games at the Emirates, Arsenal have won four. And I tell you what, this is going to be an intriguing encounter. Manchester United are not playing well at all, but they've got six points. The win against Wolves and the win against Nottingham Forest, not playing well.
I think Arsenal on this occasion will be too strong for Manchester United. I think there'll be goals though, I think Manchester United will have to relinquish possession. I think they'll sit back. But what they've got is Rashford on the counter-attack. Will Rashford play as a number nine, or will he play out on the left? I think Rashford is better out on the left. He can face the play, he can get his body on the half-turn, he can let the ball to run across him and his first touch will take him forward going towards the goal. I think as a centre forward, most of the time he'll play with back to goal and I don't think that suits Marcus Rushford. That's why I think [Rasmus] Hojlund has come to the football club to be that focal point.
So for Manchester United to get the best out of Rashford, for me, he has to start down the left. And if he does that, I think he'll score. But look at Arsenal. [Bukayo] Saka just announced as the Young Player of the Year, deservedly so, I think he's a great player. Good form. I think Saka will score also. I'm gonna go Arsenal 3-1 Manchester United.
TEAMtalk: Arsenal 2-2 Man Utd.
Tipstrr: Arsenal 3-1 Man Utd.
READ MORE: Frozen out: Ranking all 20 Premier League clubs by the size of their unwanted Bomb Squad