Big Weekend: Last-day PL title shoot-out, relegation deciders, peak Spursiness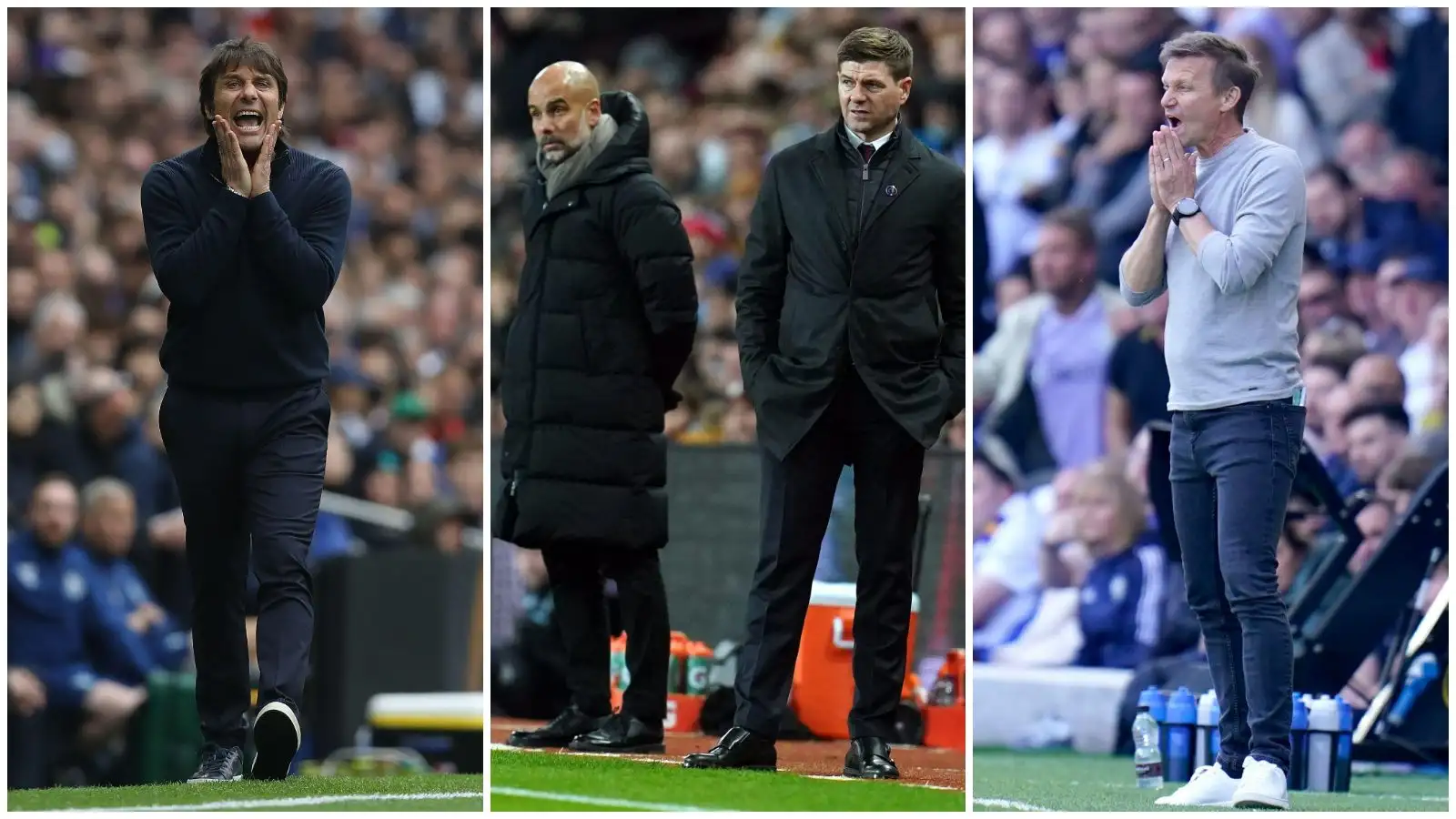 It all comes down to this. Steven Gerrard wants to stop Man City but Liverpool face the Premier League's goalkeeper of the season. Then there's the bottom…
Game to watch – Manchester City v Aston Villa
It all comes down to this. City win and the Premier League title is theirs. Villa win or draw: Liverpool can nick No.20.
City should complete the job. They are at home to a side with little else to play for other than a top-half finish. Which should provide some motivation for the Villans since they haven't managed that in 11 years, even if it looks a tall order.
Then, of course, there is the Steven Gerrard sub-plot. The former Liverpool captain, try as he might to play it down, will be aching to help out his former side by taking points off City.
City have been here before. A decade ago, looking to deny Man Utd their 20th title, Bobby Mancini's men went into the final game of the season at home against a side they were expected to beat and they very almost f***ed it. Wayne Rooney isn't convinced they weren't given a helping hand, which certainly won't be available to them on Sunday.
At Brighton in 2019, they had a similar objective: win and be champions. They did and they were – but only after coming from behind to triumph 4-1. For tense excitement, neutrals would perhaps prefer a similar scenario. Maybe Philippe Coutinho doing Liverpool another favour in addition to helping them rob Barca of £142million. City fans would be grateful for the bowel-settler of an early goal. Handily for them, City have that in their locker. Only that 2018/19 title-winning side have scored more often in the opening 15 minutes than Guardiola's current team.
So it is on Gerrard to be the turd in the punch at Pep's party…
Player to watch – Jose Sa
Meanwhile, down the road at Anfield, the Premier League's best goalkeeper will be looking to establish himself as this generation's Ludek Miklosko.
Sa is certainly Wolves' best hope of denying Liverpool the win everyone expects them to achieve on Sunday. The visitors have been on the beach for weeks, having won only one of their last eight matches.
Their last outing was a 1-1 draw at home with relegated Norwich, after which most Wolves fans did not stick around to applaud Bruno Lage's side for a creditable season overall. But all their good work was done well before the run-in. Since the middle of March, it seems most at Molineux have just been killing time before a much-needed shake-up of the squad.
Perhaps the last thing many of the players fancy right now is a chasing from a rampant Liverpool side still pursuing a Quadruple. So Sa will be a busy man at Anfield on Sunday.
He's used to that. Only Illan Meslier and David De Gea have made more saves, but no goalkeeper in the Premier League has made a bigger difference to his team this term. If City find themselves in the unfortunate position of needing a favour from Wolves, Sa might help them out.
Team to watch – Tottenham
Spurs' objective is similar to City's: win and their mission is accomplished. The aim in this instance being fourth place and a return to the Champions League. And Spurs have an easier game – on paper, at least, the easiest game – against rock-bottom, Championship-bound Norwich. But, Spurs…
They could even draw at Carrow Road and unless Arsenal put 15 past Everton, their seat at Europe's top table next term is secured. Still, though, many Spurs fans are bricking it.
The quite reasonable fear for Sunday is that Spursiness might peak once and for all. Chucking away a two-point advantage against the division's worst team, the side to have conceded the most and scored the fewest, to allow Arsenal a pass into the Champions League all sounds very Spurs.
What those supporters can cling to is the presence of Antonio Conte. Surely the Italian, a serial winner and collector of titles, won't allow Spurs to screw this one up?
You would think not. Logic, of course, favours Tottenham. But Conte is just a man. Spursiness in its most potent form is a power greater than any individual. Spurs will make it harder than it ought to be – that's almost guaranteed. But if they f*** this one up…
---
Spurs present Antonio Conte with his biggest test yet: overcoming Spurs
---
Manager to watch – Jesse Marsch
At the bottom, it's going to be an arse-twitcher for Leeds and Burnley, but no doubt they are nipping more on the Yorkshire side of the Pennines.
Thursday night's results have put Leeds on the back foot. They slipped back into the bottom three as a consequence of their wretched goal-difference. United and Burnley each have 35 points but the Clarets have a 20-goal cushion if need be.
So it's simple: If Burnley beat Newcastle, they stay up, and Sean Dyche didn't die in vain. For Leeds, they must better at Brentford whatever Mike Jackson's men get at Turf Moor.
The only thing either side can cling to is the brittleness of the other. Both have showed plenty of fight but whichever drops into the Championship, they will have few complaints, while the survivors should be dropping to their knees to thank whichever God they pray to for a lucky escape.
No doubt Marsch will bound into Thorp Arch on Friday morning brimming with positivity but even he will have to fake much of it in the face of a perilous situation. Largely through no fault of his own, optimism has been in short supply throughout the manager's reign after the Bielsa love story ended in tears. Marsch will extenuate the positives, in public and behind closed doors, but Leeds' body language of late suggests his enthusiasm hasn't been as infectious as he might have hoped.
It will be a hard sell for Marsch at Brentford but Leeds are neither down nor out just yet.
EFL game to watch – Sunderland v Wycombe
The League One play-off final sees 45,000-plus Mackems descend upon London once more for another visit to Wembley, against Gareth Ainsworth's Wycombe.
From Sunderland's perspective, four years is quite enough in the third tier. They've flirted with promotion before, this being their second play-off final in three years. But League One is a tricky b*stard to shake off.
Alex Neil's presence, though, offers the Black Cats greater belief than any other point since they were relegated that this could their year to banish their play-offs hoodoo. And their 48-year Wembley jinx was ended in the EFL Trophy final last year.
All they have to do is get past Ainsworth's stubborn Wanderers, who slayed third-placed MK Dons in the semis, despite stats like these…
Wow. pic.twitter.com/xfG2tw70TI

— Roker Report (@RokerReport) May 5, 2022
Dons had 29 shots in the second leg but couldn't score the two goals needed to overturn a deficit. Sunderland will fear similar frustration against a side who went 13 unbeaten to secure the final play-off spot. They have the momentum and play-off pedigree to secure an instant return to the Championship and keep the Wearsiders rooted in League One.
European game to watch – Sassuolo v AC Milan
If it's title drama you want on Sunday and City have scored four by half-time, switch channels to take in Milan's trip to Sassuolo on Serie A's final day.
Milan need just a point to secure the Scudetto ahead of Inter, who kick-off at the same time at home against lower-but-safe Sampdoria.
Inter fans scratching around for reasons to believe will cling to the fact that Sassuolo have already beaten Milan this season: 3-1 in November at the San Siro. But belief has been in short supply since Inter shot themselves in the foot by losing their game in hand against Bologna.
It's also a biggie in Germany, with the DFB Pokal taking place on Saturday evening, before the Bundesliga relegation play-off second leg sees Hertha Berlin go to Hamburg on Monday night chasing a one-goal deficit.