Prick of the Week No. 18: Lionel Messi finally loses his sh*t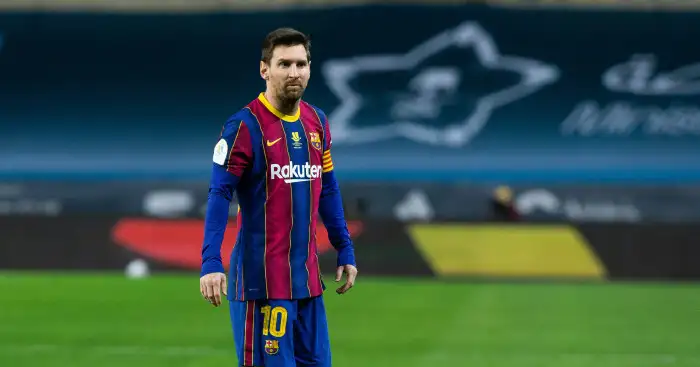 In which we call the greatest footballer of all time a prick.
So who's this week's prick then?
Lionel actual bloody Messi for finally at long last losing his head in the 120th minute of his 753rd game and getting the first red card of his quite decent club career.
What's he done?
Cursed with the sort of greatness that makes everyone else want to kick and foul you, Messi has somehow managed to avoid retaliating and getting himself sent off in club football for 15 and a half years. Until now.
With Barcelona making a bollocks of the Super Cup against Athletic Bilbao, Messi finally snapped and gave Asier Villalibre a smack in the head in the final minute of extra-time.
Messi sees red for an off-the-ball swing. pic.twitter.com/PAW8cm95OR

— ESPN FC (@ESPNFC) January 17, 2021
We also like this video because thanks to the caption "VAR CHEQUEANDO POSIBLE TARJETA ROJA – CONDUCTA VIOLENTA" we've learned that we can actually speak perfect Spanish (see also "Supercopa de Espana").
Villalibre also had a magnificent game, by the way. Starting as a sub, he came off the bench to score the 90th-minute equaliser that took the game into extra-time and then spent most of extra-time falling to the ground and generally making a nuisance of himself before eventually antagonising the world's greatest player to the extent that he smacked him in the head. Surely at this point you're thinking that's a solid day's work; it would be foolish to try and squeeze any more out of this one perfect day.
You'd be wrong, though. Villalibre topped everything off by quite literally blowing his own trumpet during Athletic's celebrations after a 3-2 win earned their third Super Cup.
🔴⚪️ 𝗧𝗛𝗜𝗦 𝗜𝗦 𝗔𝗧𝗛𝗟𝗘𝗧𝗜𝗖!

🏆 #DenonAmetsa 💭 #BiziAmetsa #AthleticClub 🦁 pic.twitter.com/2F1NmCVmEt

— Athletic Club (@Athletic_en) January 17, 2021
As an aside to the aside to the aside here, Super Cup is a much better name for this kind of thing than Community (or indeed Charity) Shield. There are few things more embarrassing in English football than clubs trying to claim the Community (or Charity) Shield as a legitimate piece of silverware, yet really it should be. Big part of the problem surely the fact it's a shield, and therefore by definition the sort of trophy that should be won by an U13s side or a pub darts team. Other countries have got the right idea; not just a cup but a Super Cup. Now that's silverware you can be proud of. Spain have even chucked in semi-finals, which might admittedly be a step too far in an English football calendar already bursting at the seams.
Anyway. Messi. He smacked the fella. Hilariously, it needed VAR to actually get Messi sent off for his "conducta violenta," which might also go some way to explaining why he's never been sent off for Barcelona before.
Additionally, he could in theory now face a 12-match ban. That seems pretty mad for a first offence, but I suppose if you're going to get yourself sent off for the first time after all these years you might as well do it with your cock (or indeed prick) all the way out, and fair play. Messi has delivered greatness once again here.
Any previous?
Sent off twice for Argentina. First on debut back in 2005, more recently in a bad-tempered Copa America clash with Chile in 2019 when he was probably a touch unfortunate to see red after an animated disagreement with Gary Medel. The Chilean was also dismissed and appeared to be very much the instigator and main perpetrator of the handbags.
Mitigation?
A fun part of Messi getting his first red card for Barcelona after all these years is that there are layers and layers of subtext for people to get all beard-strokingly obsessed about. Does this show his frustration at not being able to leave Barca last summer? Is this proof that he remains determined to leave? Could Barca's financial situation have prompted this uncharacteristic meltdown? Or covid in some way maybe? It could be any of those things. Equally, he might have just been a bit pissed off about Barcelona twice pissing away a lead and then falling behind with a trophy on the line. It might just have been that.
So what happens next?
At least a four-game ban and a marked increase in the already heavy, heavy flow of Messi transfer rumour stories.
Mourinho Corner
Has worked his magic on Tanguy Ndombele and successfully turned a unique and ridiculous footballer into a Mourinho one. Happily, Ndombele is so ridiculous that even as a hard-running Mourinho midfielder he remains a nonsense. No escaping the fact that Ndombele is now getting more out of his outrageous skillset, though, and we're going to have to acknowledge that Jose gets some credit for that. Luckily, this is Mourinho we're talking about, so he's still managing to be a prick about it, turning every single one of the now great many words of praise he sends Ndombele's way into increasingly transparent digs at Dele Alli.
Dishonourable Mentions
Every single one of us who failed to predict that a goalless draw would secretly suit both sides at Anfield and that, given the history both ancient and recent between the two it was always the likeliest outcome. Happily, it also had people acting pricks at both ends of the scale by insisting it was either an utterly dreadful game of football or a fascinating chess match of a title tussle when it was clearly a bit cagey and crap in the first half before picking up in an entirely fair to middling second half. Sometimes things are just… okay. Which is okay.
Prick of the Week Hall of Fame
No. 17: Steve Bruce and Mike Ashley
No. 16: Covid rule-breakers
No. 15: Leeds Twitter
No. 14: Mikel Arteta
No. 13: Danny Drinkwater
No. 12: Anti-Marxist Millwall
No. 11: Head injuries
No. 10: Liverpool
No. 9: Ademola Lookman
No. 8: Roy Keane
No. 7: Monday 5.30pm PPV
No. 6: Pickford, Richarlison et al
No. 5: The Big Six
No.4: Deadline Day
No. 3: David Elleray
No. 2: Frank Lampard
No. 1: Jose Mourinho
Dave Tickner