Quote unquote: Durban, Stoke, Arsenal, 'clowns'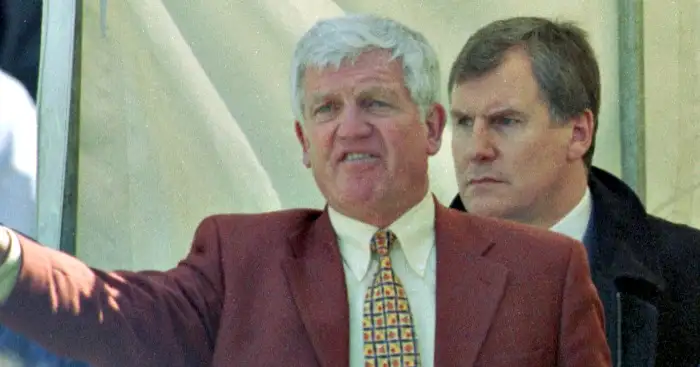 The question of whether football really is a form of public entertainment can be and has been debated long and loud. It has all the basic appearances of public entertainment: large numbers of people congregate to watch it, paying money to do so, and those on the stage are lauded or criticised for how they perform. And yet, as Nick Hornby wrote in Fever Pitch, this is a form of public entertainment that one can pay a great deal of money for and expect – not just consider the possibility – that you're going to have a thoroughly terrible time.
The question of whether we need to be entertained has come up even more as ticket prices and the proportion of tourists in the crowd rise. Football is binary in that two sides compete to win the game, but the question of what the people in the crowd want is a slightly murkier one. The people that travel to Barcelona for a jolly weekend and a football game, for instance, want to see Messi, Neymar and Suarez knock it around a bit, possibly try a few tricks and win, but they don't want to see Leganes play 5-4-1 and try to grind out a draw, even though only one of those is a true sporting contest.
But what exactly is entertainment in football? The ding-dong 5-4 will tickle the fancy of most, but many will hold a fondness for a hard-fought 1-0, or a keen tactical tussle. Some may appreciate a fine defensive display that others will be horribly bored by. Fans of a struggling club will derive enjoyment from a grim, 'professional' performance by their team. And sport differs from other forms of entertainment because of its partizanship, so ultimately pleasure is gained from the objective result. You won't find many people who will gain more from poring over Beyonce's sales figures, rather than actually listening to 'Lemonade.' Or, as David Lacey rather more pithily put it in the Guardian in 1980, for fans 'the fact of victory or avoidance of defeat is an indivisible part of the entertainment'.
Back in the early 1980s, when football was popular but regarded as rather grubby and uncouth and looked down upon, like a Wetherspoons pub, there was a fair amount of discussion about what represented entertainment. The general consensus was that Alan Durban's Stoke team were not it. Often defensive, frequently rather 'rambunctious' in the tackle, Stoke were few people's idea of a good time, and this came to a head after a particularly grim game against Arsenal early in the 1980/81 season, in which Durban's team showed little ambition and were duly and appropriately rewarded with a 2-0 defeat. Afterwards, attention focused on Stoke's unadventurous style, not least because it had lost them another match, leaving them outside the relegation zone by a single point having won one game all season. But, it was mainly on the lack of diverting fare on offer, questions about which Durban took rather tetchily.
"Who are we running soccer for?" he enquired, not expecting an answer, one suspects. "If you want entertainment, you could go out and get a bunch of clowns. If obtaining pleasure from matches is the only concern, then you could get rid of all the coaches and let the players go out and get on with it."
Watching the players mill around uninstructed, just doing whatever the hell they want like a group of excitable dogs set loose in a playground, certainly would be entertaining, to a point. But that wasn't really what he was getting at. Durban, perhaps a little ironically a stylish midfielder who won the league with Derby in his playing days, was appointed as Stoke manager in 1978, their third boss in a season spent in the Second Division. He got the promoted the following season, and set about solidifying a club that very much needed some substance.
"No disrespect to George or Alan (Eastham and A'Court, the other two managers), but I don't think they had got the best out of the players who were there," he told the Stoke Sentinel in 2010. "The club was maybe lacking in confidence, so I tried to get them organised and bring in some discipline."
Durban's words were certainly eye-catching, if only for the use of the word "clowns", implying the masses would only be kept pleased by the most simple, shiny forms of entertainment. They predictably provoked some criticism too, much of it fairly sniffy, aesthetes aghast at the idea of this artisan apparently dismissing the need for art in football. 'The answer (to his first question) is clearly not the fans, with their silly desire for pleasure and entertainment,' snarked the Observer.
But the absence of context was striking, in many of the responses, as if Durban was duty-bound to put on a show for the clapping masses, the interests of his own team be damned. This was a side still finding its way in the top flight, and whose previous two away games that season had resulted in 5-0 and 5-1 defeats, so you can hardly blame the man for shutting up shop just a little. "My job was to send the Stoke supporters home happy, not entertain the bloody Arsenal fans," he said years later. Quite so.
Of course, Durban was both right and wrong. He was absolutely correct in that he should not compromise his primary responsibility, doing the best he can for a club of slender means, in the wider interests of public diversion. But stubborn, pragmatic football rarely lights the soul on fire, and people generally do not fall in love with the game for hard-fought away draws, as nourishing as they sometimes can be. Fans tend to lose patience with the pragmatists of the world much quicker than the dreamers.
Still, by the end of that season Stoke had finished 11th, and wouldn't achieve a higher league position until Mark Hughes took them to ninth in 2014. Point proved, Durban might think.
Nick Miller