Quote unquote: Kevin Keegan would 'love it'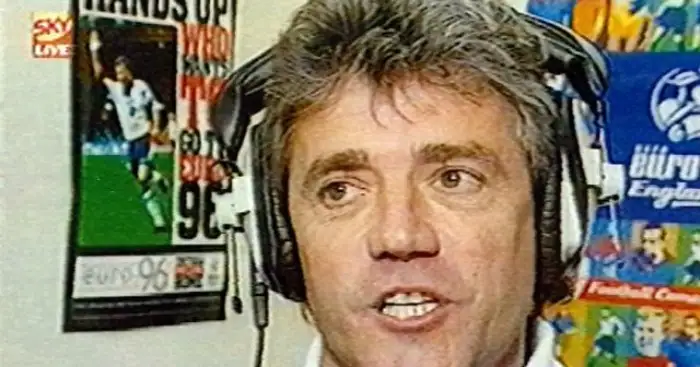 We end a brilliant Quote Unquote series (and almost ten years of the wonderful Nick Miller) with a doozy. It's the one we've been waiting for…
Kevin Keegan: "We just want to keep our hopes alive, and a lot of things have been said over the last few days, some of it almost slanderous, and we've never commented, we just got on working, trying to pass the ball like we do in training…"
Richard Keys: "What do you mean by that? That people have been having a go at you and your team?"
A bit dramatic, perhaps, but you could argue that something died inside Kevin Keegan on April 29, 1996. Alex Ferguson has said a good lot of bollocks in his time – including the line that this piece stems from – but he might have had a point in his assessment of Keegan later that year.
"He's a man who I believe is his own worst enemy, the sort who always had to get his own way," said Ferguson. "Maybe it was because he'd always known success. Once he'd left Scunthorpe it was silver lining all the way, both as a player and manager. His career flew on gossamer wings. But he also gave me the impression that if he didn't get his own way he was liable to pick up his ball and go home."
Granted, Ferguson framed his theory in the idea of Keegan as an entitled child, the sort who would scweam and scweam until he was sick if he didn't get the right colour iPhone for Christmas. But with the odd exception, Keegan's career was pretty blessed. As a player, there were four league titles, a European Cup, two Ballons d'Or, 63 caps and 21 goals for England, and he did pretty much everything on his own terms. Then when he became a manager, he swept Newcastle from the gurgling bowels of the Second Division to thrilling title contenders in just over three years. Broadly speaking he hadn't really failed until 1996.
Keegan: "I think you've got to send Alex Ferguson a tape of this game, haven't you? Isn't that what he asked for?"
Andy Gray: "Well, I'm sure if he was watching it tonight Kevin he could have no arguments about the way Leeds went about their job and really, they tested your team."
Keegan: "And we're playing Notts Forest on Thursday, and he objected to that. Now, that was fixed up four months ago, we were supposed to play Notts Forest. I mean that sort of stuff, we're bigger than that."
Newcastle started the 1995/96 season like a train. They lost just one of their first 16 games, and were famously 12 points clear of United in January. "Newcastle are bound to come in for a testing time soon," Ferguson prodded, possibly while giggling, in February. "It's hell when you lose the title late." And he was right: by the spring, they had stumbled. In eight games between the end of February and the start of April, they collected just seven points. They lost five of those games, including to United via one of Eric Cantona's many 'put the team on his back' efforts that season, that game against Liverpool, and to Blackburn when Geordie Graham Fenton bagged a couple. In March, having been top of the table since the first game, they slipped to second.
Still, it wasn't all bad. Just after the Liverpool game Keegan was sent a fax by none other than Sepp Blatter, complimenting him on his commitment to attacking football – a little like praising a man with two broken legs for his optimism after thinking he could jump between two buildings, but nice nonetheless. "Please allow me on behalf of Fifa," said Blatter, "and all those who believe in the spirit of fair play, to comment you for the positive attitude you bring to our game – especially in the disappointment of defeat in such an important match. Fifa greatly appreciates your refreshing approach."
And if that wasn't enough good news, around that time the Storm modelling agency crowned Newcastle the sexiest football team in Britain. Presumably David Ginola and Les Ferdinand were significant factors in that decision, but apparently the boss was too. "I think Kevin Keegan clinched it for Newcastle," said a Storm spokeswoman. "He is much better looking than United's manager." That, as a man once said, is the real quiz.
Keys: "That's part and parcel of the psychological battle isn't it, Kevin?"
Keegan: "No, that's…when you do that with footballers, like he said about Leeds, and when you do things like that about a man like Stuart Pearce, I've kept really quiet, but I'll tell you something, he went down in my estimation when he said that."
Perhaps another reason to be cheerful was a slight wobble in United's form. That Cantona-driven juggernaut, which from the middle of January to the second week in April had dropped just four points, had shown faint signs of a wheel loosening, if by no means coming off. They lost 3-1 to Southampton at the Dell, the game when Ferguson decided that their grey away shirts camouflaged his players rather than them simply being bobbins. Then they made bloody heavy work of beating a Leeds side who'd only won three times since the turn of the year, were down to ten men and for whom Lucas Radebe had to play in goal for 73 minutes.
It was after that game that Ferguson decided to have a word in the shell-like of the Leeds players, who were due to play Newcastle a few days later. Via the Daily Mail, of course. "I can't understand the Leeds players," Ferguson spat. "I'm absolutely in support of their manager. He doesn't deserve his players. If they had played like that all season they'd be near the top. They raised their game because they were playing Manchester United. It was pathetic. I think we can accept any club coming here and trying their hardest, so long as they do it every week."
By the time Newcastle travelled to Elland Road, the title might not have been in the bag, but it was in the bagging area. Keegan's men had three games left and Ferguson's just one, but Manchester United were six points clear with a slightly better goal difference. Leeds did indeed try pretty hard: Radebe hit the bar and Andy Gray (not that one) the post in the first half, but a Keith Gillespie header gave Newcastle a 1-0 win. Then Keegan went on TV.
Keegan: "We have not resorted to that, but I'll tell you, you can tell him now if you're watching it, we're still fighting for this title, and he's got to go to Middlesbrough and get something, and… and… I'll tell you, honestly, I will love it if we beat them. Love it."
As you know, United did go to Middlesbrough and did get something, but after Newcastle drew with Forest then Tottenham, it turned out to be moot: they won the league by four points. "I might have changed some things [with hindsight]" said Keegan after the final game. "We will be playing the same way [next season], scoring goals and letting them in, taking the plaudits and the criticism."
Ferguson, for his part, denied this was part of the old 'mind games' for which he has a rather overblown reputation. 'My remarks on 17 April were never meant to have anything to do with Kevin Keegan: they were aimed entirely at Howard Wilkinson's players,' he wrote in his first autobiography, presumably with a straight face. 'But Kevin took them personally and exploded in front of the cameras…One would have thought he would have felt more secure, since many of the emotional cards were stacked in his favour, with just about everybody outside Old Trafford rooting for him.'
Ferguson had been out for lunch the day of the Leeds v Newcastle game, a lunch that ended up being, shall we say, rather extended. 'When I arrived home to face Cathy's wrath the game at Elland Road was just finishing, so I sat in my favourite seat to watch the closing minutes,' Ferguson wrote, impressively doubling-down in the 'pissed husband returning home late' stakes. 'I started to attempt an explanation of why I was so late and was stopped dead in my tracks by Kevin's outburst. God, I felt for him…Although I was a little disappointed when he attacked me, I just put it down to pressure.'
Keegan agreed, telling the Irish Examiner last year: "It was nothing to do with mind games, it was just that Sir Alex Ferguson, I think, sometimes struggled to give teams credit and always looked for excuses. What he said [about Leeds] was wrong…it was almost saying that football's not straight. And it is…I respect Sir Alex very much for what he's done but I think he and Arsene Wenger are the two least favourite managers of mine because they never give anyone else credit."
Keegan was never quite the same after that. Perhaps it's too easy an explanation, but you could argue that the root cause of his 'nearly man' status as a manager was cemented then, or at least in those last few months. For a man fuelled by enthusiasm, football's biggest romantic, you could say that this was a loss of innocence. He left Newcastle a few months later, and never really found another managerial home: even when he did return home, to Newcastle again. Of all the great sliding doors moments in English football, this was one most of us might wish had gone the other way.
Keegan: "I think football in this country is so honest, and so, honestly, when you look sometimes abroad you have your doubts, but it really has got to me, and I've voiced it like, not in front of the press or anywhere, I'm not even going to the press conference, but the battle's still on. Man United have not won this yet, not by any means."
Nick Miller