Top 10 best available managers features Conte, Nagelsmann and Zidane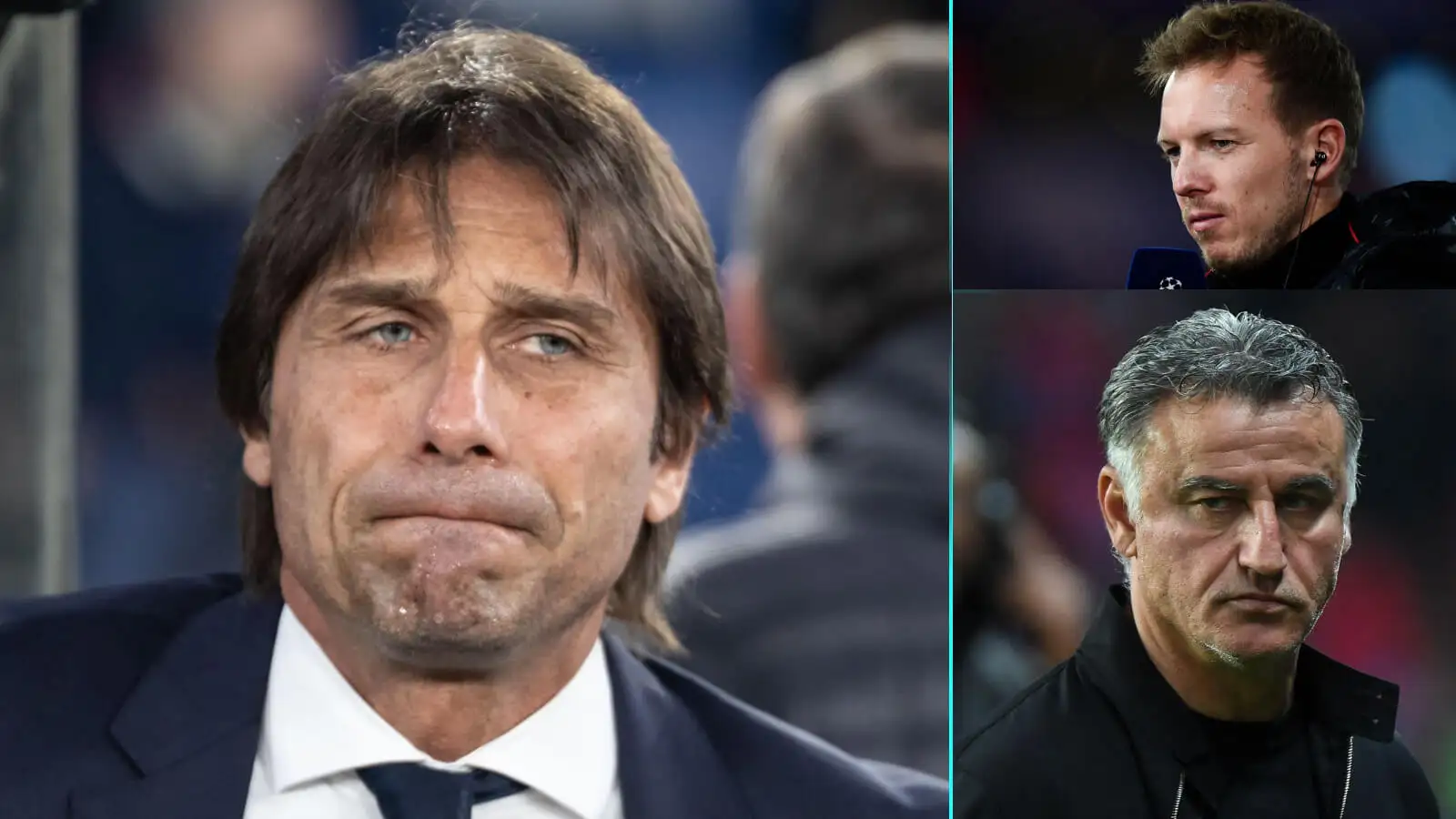 Christophe Galtier, Philippe Clement and Oliver Glasner are among those managers on the shelf this summer…
10) Jesse Marsch
You might laugh but he managed Leeds for pretty much a season and that season would have kept Leeds in the Premier League with ease.
9) Ruud van Nistelrooy
Winning the Dutch cup and taking PSV Eindhoven to second in the Eredivisie with 2.20 Points Per Match in his first managerial season isn't bad going. Reports of tension between Van Nistelrooy and his players and a 'strained relationship' with his assistants isn't a great addendum to his CV though.
8) Graham Potter
The shredding of a managerial reputation took just a few short months at Chelsea in a marriage that always looked absolutely doomed, but there's nothing like being replaced by someone entirely incapable to restore that reputation.
7) Oliver Glasner
"I accept the decision of the club management, which has been explained to me in a reasonable way," said Glasner, which was incredibly reasonable considering that Eintracht Frankfurt were dispensing of his services just a year after he had led the German club to the Europa League, their first European trophy in over 40 years.
Glasner – once strongly linked with Tottenham – should really have options in the Bundesliga next season after his sterling work with Wolfsburg, who he led into the Champions League.
6) Philippe Clement
After dominating Belgian football, Clement's first 18 months in France as Monaco coach brought the highs of qualification for the Champions League but then the lows of just one win in the last seven games of 2022/23 to see him sacked with the principality club missing out on Europe altogether.
"It is a difficult decision to make because Philippe has given the best of himself and has always behaved in a professional way. On behalf of the club, I wish to thank him for all his efforts," said the Monaco sporting director, so we suspect he will get an excellent reference.
5) Joachim Low
The German is one of only 21 managers to have won the World Cup. But no-one has given him a route back into club football just yet after he stepped down in 2021 from the Germany post which he occupied for 15 years – the longest international reign for a European nation.
"The will is there," Low said last summer. "I would like to coach a club again. That would be fun for me."
Low 'studied one or two offers' and was heavily linked with the Fenerbahce job but his last club position remains the manager's role at Austria Vienna, which he stepped away from 18 (eighteen) years ago.
4) Christophe Galtier
Two Ligue Un titles – one, impossibly with Lille – make him one of the more successful French managers of recent years, but PSG sacked him after just one season because PSG.
One slight issue with him being employed again any time soon is the upcoming trial into his allegedly racist comments while manager of Nice. It would be a PR nightmare to employ him only to see him convicted a few months later.
3) Zinedine Zidane
Is Zizou a great coach, or just a great Real Madrid coach?
That isn't to denigrate his achievements at the Bernabeu. Only Carlo Ancelotti has won the Champions League more often than the three occasions Zidane has lifted it. And the Frenchman stockpiled his winners' medals in consecutive seasons. Add a couple of La Liga titles and Zidane's record is unimpeachable.
Still, though, we'd love to see Zidane take another job. He seems to be very choosy – fair f***s, he's certainly earned that right – having been linked with PSG, Manchester United and Chelsea in the past. He has spoken about his level of English being a barrier to managing in the Premier League, but we all want to Zidane to take the chance to prove he's brilliant beyond the Bernabeu.
2) Julian Nagelsmann
Brutal from Bayern, who faced with the unacceptable prospect of an actual fight for rather than procession to the Bundesliga title have sacked Nagelsmann and snaffled the previous holder of top spot on this list, Thomas Tuchel. And just as Tuchel replaces Nagelsmann at Bayern, so Nagelsmann replaces Tuchel here. And thus we are all connected in the Circle of Life.
Obviously it's going to be absolutely fascinating to see what the still outlandishly young and outlandishly clothed Nagelsmann does next.
1) Antonio Conte
Yes, it got toxic at Tottenham in the end but he still made them their fourth-best side in the Premier League under his reign. Add that to a Premier League title at Chelsea and he is still the sixth-best Premier League manager of all time.
But that undoubted success pales in comparison to what he has achieved in Italy. Four Serie A titles and a PPG record of 2.26 make him the best of all time in Italy. He should sashay into a new job having finally escaped Daniel Levy, Tottenham and English football.