Ranking Premier League clubs based on longest trophy droughts ever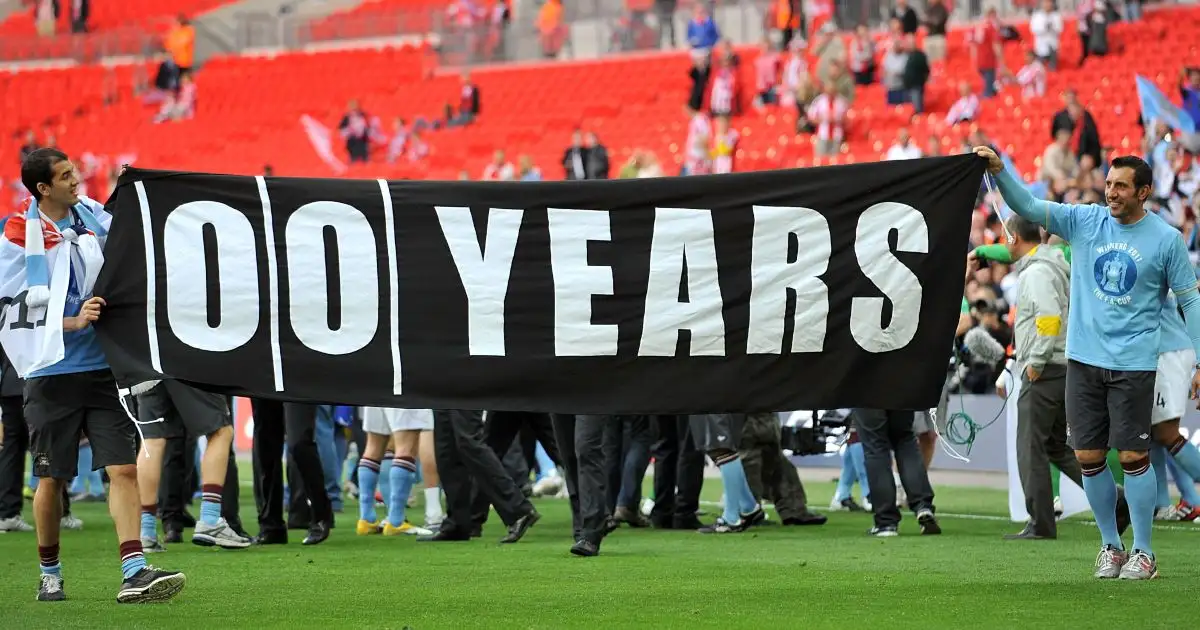 Manchester United are middle of the pack when it comes to the longest trophy droughts ever suffered by the 20 current Premier League clubs.
For the purpose of this ranking we are counting only major trophies and not including league titles from the second tier and below. And the gaps are counted from the club's first silverware, not their formation. That would be a bit harsh.
Fulham (144 years and counting)
Aside from a Division One title in 2001, a handful of Division Two and Division Three (South) crowns and the 2002 Intertoto Cup, Fulham have a bare trophy cabinet to show after almost a century and a half of existence. They have lost two major finals in their history, with West Ham (1975 FA Cup) and Atletico Madrid (2010 Europa League) providing slightly different opposition. Roy Hodgson was their last manager to do so much as reach a quarter-final before Marco Silva.
Brentford (133 years and counting)
Even if we counted the Football League Trophy, Brentford have failed three times to win the darned thing despite reaching the final. We cannot be too harsh on a club that has spent most of its existence in the non- or lower leagues, though two years ago they teased us before losing in the semi-finals of the Carabao Cup to Tottenham while still a Championship club.
Bournemouth (124 years and counting)
The Cherries have at least claimed a Football League Trophy (beating Hull in the final in 1984) but major trophies have not even been on the radar for much of their existence. Even under Eddie Howe, they never advanced further than a quarter-final.
Brighton (121 years and counting)
The three-time third-tier, two-time fourth-tier and one-time Southern Football League champions have otherwise rarely threatened when it comes to major silverware. There was a 1910 Charity Shield win over Aston Villa when it was presumably considered to be slightly more than a pre-season Curtain Raiser. The Seagulls did reach the 1983 FA Cup final and even forced Manchester United to a draw at Wembley but one-game Liverpool captain Jimmy Melia watched his relegated side slip to a 4-0 defeat in the replay. When they returned to the national stadium in 2019 they managed a creditable 1-0 semi-final defeat to a Manchester City side headed for a unique domestic Treble. And no, those 14 Sussex Senior Challenge Cups count for nothing here, son.
Crystal Palace (117 years and counting)
By default of forming four years later, Crystal Palace hold a slight advantage over their bitter rivals. It should be said that any patron of Selhurst Park is contractually obliged to refer to themselves as a Zenith Data Systems ultra but the Full Members' Cup was an unserious competition and thus that 4-1 victory over Everton in the 1991 final deserves to be overlooked. Other than that, Palace reached the 1990 FA Cup final but could not quite put the final nail in Alex Ferguson's Manchester United reign, while Alan Pardew put a Bela Guttman-style hex on them forever with that sodding dance in 2016.
Nottingham Forest (61 years)
There were two world wars between Forest's first FA Cup triumph in 1898 over rivals Derby County and their second in 1959 v Luton. Bizarrely, there have been no more FA Cups even though they have since claimed four League Cups, one league title and two actual European Cups. It's been 33 years since their last silverware but that's a shortish drought compared to the one ended at Wembley under Billy Walker, the only manager to win FA Cups either side of the war.
Newcastle (54 years and counting)
What exactly do Newcastle fans want? Not to have to pretend that beating Lillestrom in the 2006 Intertoto Cup is an honour worth mentioning in these discussions. That would be a start. There is no such doubt over the legitimacy of the 1969 Inter-Cities Fairs Cup, which the Magpies lifted by beating Ujpest to end what was then a 14-year drought since their last FA Cup victory. They did manage to reach the Carabao Cup final in 2023 but were thoroughly outclassed. Nice day out, mind.
Southampton (47 years and counting)
Lawrie McMenemy chose quite the moment to deliver Southampton's only silverware to date. The second-division Saints sunk Manchester United in one of the finest Wembley shocks in history, the 1976 showpiece also being the last FA Cup final attended by the Queen. We are the champions etc and so on.
Wolves (43 years and counting)
They won the 1908 FA Cup but had to wait until the 1949 edition to taste such success again, with their current barren spell stretching as far back as the 1980 League Cup victory over Nottingham Forest. And no, we're not having this…
29th May 1988. Wolves 2 Burnley 0.
A year after nearly losing its Football League status, Burnley were at Wembley in the Sherpa Van Trophy Final.
Wolves won 2-0. Andy Mutch and Robbie Dennison scored.
A crowd of 80,841 watched the game. pic.twitter.com/UNOTd8jDgl

— Phil Bird (@PhilBirdBFC) May 29, 2020
West Ham (43 years and counting)
The last team outside the top flight to win the FA Cup was, of course, West Ham. Arsenal never saw Trevor Brooking coming in 1980. The Hammers actually won the Second Division and finished as League Cup runners-up a year later, plugging that ongoing gap ever so slightly with a 1999 Intertoto Cup win over Metz. Steven Gerrard happened to them in the 2006 FA Cup final.
Aston Villa (37 years)
The resounding victory over Leeds in the 1996 League Cup final was the last time Aston Villa lifted a trophy outside the play-offs or the bloody Intertoto Cup. Those 27 dry years pale in comparison to the 37 they spent yearning for glory after the 1920 FA Cup final. A Peter McParland double in the same competition in 1957 pipped Matt Busby's champions and European Cup semi-finalists.
Manchester United (37 years)
It was actually Busby who ended Manchester United's own wait after the same length of time. Blackpool were outclassed at Wembley by a side in the middle of finishing second for three consecutive First Division seasons in 1948. The Red Devils had spent a decent amount of time in the second tier since Ernest Mangnall took them to their second title in 1911. Their recent 'drought' looks a bit like a flood in comparison.
Manchester City (35 years)
Manchester United had handily provided a reminder to Manchester City as to how long it had been since their bitter neighbours won a pot, with the mocking banner at the Stretford End first appearing in 2002 and showing 26 years on the clock. It had ticked over to 35 when Yaya Toure scored the only goals in 1-0 semi-final and final wins in the 2011 FA Cup, laying the foundations for a club that would come to dominate the domestic game.
Leicester (33 years)
There was a period around the late 1990s when Leicester just decided that the League Cup was where it was at. Martin O'Neill guided the Foxes to the final of the competition in 1997, 1999 and 2000, beating Middlesbrough, losing to Tottenham and overcoming Tranmere respectively. It was actually the same tournament that brought Leicester's first major honour when they beat Stoke in a two-legged tie in 1964.
Leeds (31 years and counting)
Don Revie was the manager responsible for six of the seven major honours Leeds have won in their entire history. He guided them to the league championship in 1969 and 1974, the FA Cup in 1972, the League Cup in 1968 and the Inter-Cities Fairs Cup in 1968 and 1971. Some might point out that Jimmy Armfield was in charge when they absolutely definitely won the European Cup in 1975. But the 20-year wait for Howard Wilkinson to win the title again in 1992 was nothing compared to the three decades of trophyless pain since. Leeds were in a Champions League semi-final (2001) more recently than they were a domestic cup final (1996 League Cup).
Tottenham (30 years)
The current drought is 15 years and counting. They have uncharacteristically rarely gone all that long without silverware, their longest stretch coming between the 1921 FA Cup and 1951 First Division title. And it would be harsh to blame even Spurs too much for an actual World War.
Everton (28 years and counting)
Everton's post-1995 FA Cup win run has included a solitary final in which they scored after 25 seconds and still lost. Ouch.
Chelsea (26 years)
Managers will come and go but Chelsea will surely never come close to 26 years without silverware again. Their last 16 trophies have been won by seven different managers, though Graham Potter is nowhere close to adding no. 17. The club had 13 coaches in the two-and-a-half decades between Dave Sexton securing the 1971 Cup Winners' Cup and Ruud Gullit delivering FA Cup success in 1997.
Liverpool (24 years)
When a quarter of Liverpool's longest trophy drought ever was taken up by the Second World War, you do start to realise that they are historically pretty good at doing the football. That was certainly the case when they beat Sunderland to their third league championship in 1923, as well as when they pipped Manchester United to their fourth in 1947. Imagine going 24 years without winning a title. How incredibly embarrassing.
Arsenal (17 years)
It seemed like a lifetime had passed when Arsene Wenger finally ended his personal nine-year dry spell by eventually winning the 2014 FA Cup final in ridiculous yet typical circumstances. Arsenal themselves had gone almost twice as long between trophies before, edging the 1953 First Division title with a slightly superior goal average to Preston and then recovering from a 3-1 first-leg deficit to beat Anderlecht in the 1970 Inter-Cities Fairs Cup final.