Spurs fixtures: back at Wembley before Liverpool stadium opener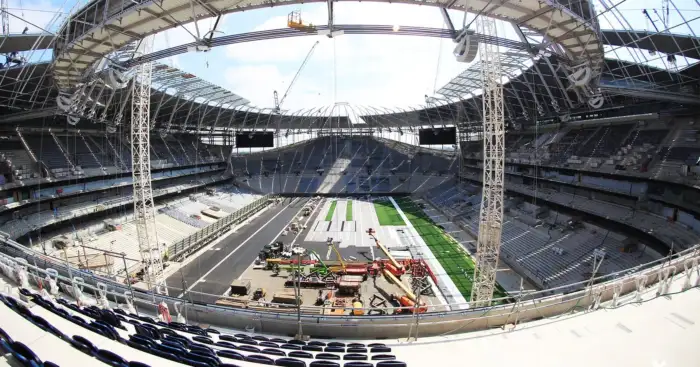 Tottenham's first game at their new stadium will be against Liverpool on September 15 as they begin their home Premier League campaign back at Wembley.
Spurs, who start 2018-19 away at Newcastle, were hoping to move into their 62,000-seat arena for the start of the campaign but work has overrun, meaning they will return to the national stadium for one game, with Fulham the visitors on August 18.
Away fixtures at Watford, which has been reversed, and Manchester United and an international break buy them some time to complete work on the stadium before Jurgen Klopp's men visit for the first game in the middle of September.
They had the option of returning to Wembley, where they played all of their 2017-18 home games, or reversing all of their early home fixtures, but Mauricio Pochettino was wary of starting the season with a run of games on the road.
He told the club's official website: "We are so excited to have the date of the first Premier League match at our new stadium.
"We discussed the timings and the ability to play away games and I think it is a good solution to have an earlier home game.
"Wembley was great for us last season and we are even more used to that than we are the new stadium.
"We are excited about the season ahead and making the new stadium our new home. I have stood inside the bowl and I know the atmosphere will be unbelievable – it will be well worth the wait."
🙌 We are delighted to announce that we shall play our first home game at #SpursNewStadium on the weekend of 15/16 September 2018 against Liverpool. 🏟

📰 Read more ➡️ https://t.co/01RpLePND4 pic.twitter.com/1VvYfoYV56

— Tottenham Hotspur (@SpursOfficial) June 14, 2018
The Premier League has given Tottenham special permission to play their home games in more than one stadium as rules do not allow it, while the Football Association extended their deadline until Friday to allow Spurs extra time to decide whether they wanted to return to Wembley.
Over 3,000 construction staff are working on the site of Tottenham's old White Hart Lane ground in order to get the stadium finished.
Operational test events are in place for August 5, 18/19 and 25/26 and September 1/2 in the build up to the opening against Jurgen Klopp's men.
That game against Liverpool comes three days before matchday one of the Champions League, meaning Spurs will definitely play their group stage matches at their new home.
Chairman Daniel Levy added: "I am absolutely delighted to announce the date of our first match in our new home. Our fans have been hugely supportive and this has been much appreciated during a challenging but momentous time.
"We had always intended to request a few games away at the start of the season. The coaching staff were keen to place a home game within the early fixtures so we shall have one home game at Wembley.
"We have held extensive scheduling discussions with Mace, our construction manager, and our lead sub-contractors. Our first operational test event will be held on 5 August."
🗓 Here is our full, provisional @premierleague fixture list for 2018/19.#COYS pic.twitter.com/5NotX8FYvX

— Tottenham Hotspur (@SpursOfficial) June 14, 2018